That awkward moment when your eyes dart across the room and you spot the blasphemous act in perfect disguise. Somebody's wearing the same outfit as yours! While some girls embrace and hug it out, complimenting each other for their great fashion sense, (remember Miley Cyrus and Samantha Jones in Sex and the City 2?) some others retrace their steps, hoping that they would stealthily escape the prying eyes of the media.
These ladies donned the same dresses. But who wore it better? Help us decide:
1. Aishwarya Rai and Kristin Chenoweth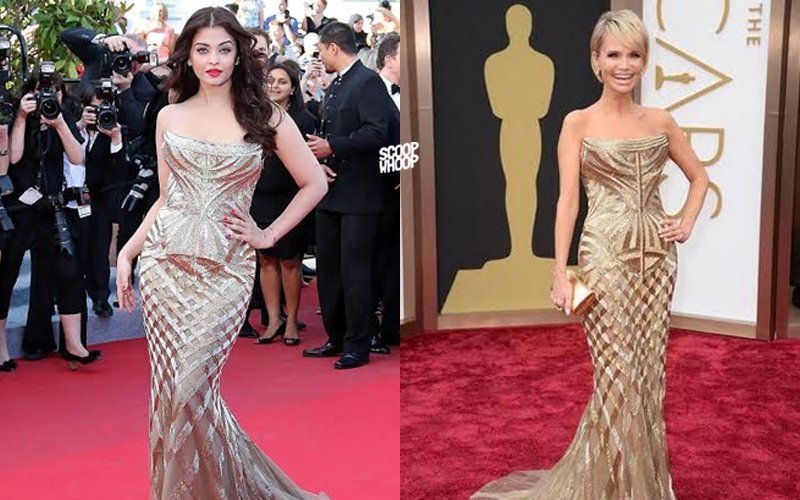 This Roberto Cavalli dress is everyone's go-to-piece to strike that perfect powerful pose. Aishwarya Rai Bachchan has it all and so does Christin Chenoweth. Now this is a hard one.
2. Alia Bhatt and Jennifer Lopez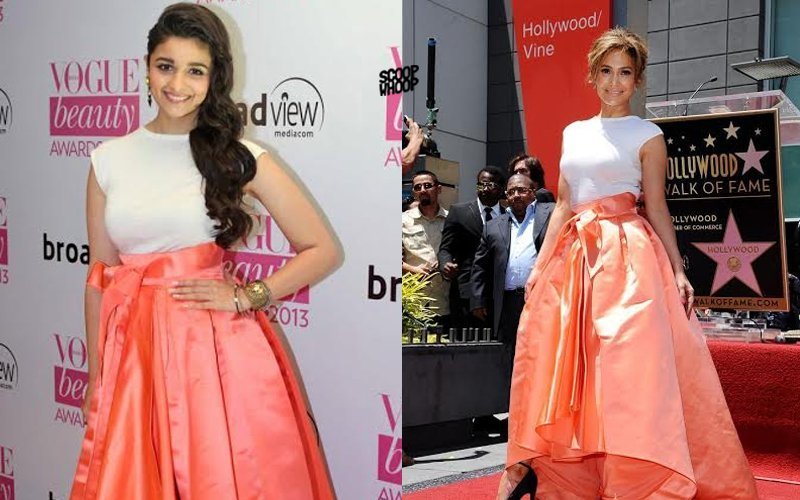 Both the ladies are rocking this Dior dress. JLo with that tied up messy bun, and Alia with the perfect accessories. Take your pick and help us, will you?
3. Amal Clooney and Taylor Swift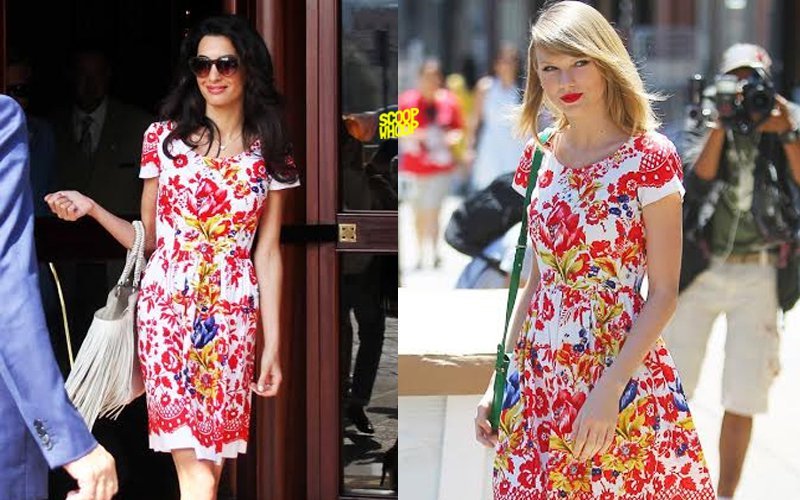 Both the ladies have accessorised the Oscar de la Renta floral dress to perfection. One, an elegant woman and the other a happy-go-lucky girl of pop! That red lipstick does add to the colour though. No, we cannot decide this. What do you think?
4. Amisha Patel and Bipasha Basu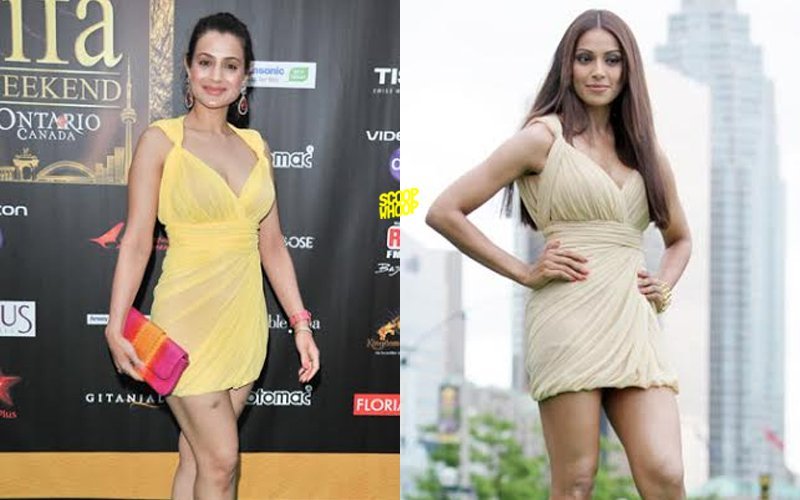 So apparently, these ladies wore the same outfit to the same award function. No, there were no cat fights. But it's so hard to decide who wore it better. That clutch is pretty, no? No, we're not trying to influence your decision. Just pick the best one.
5. Cara Delevingne and Mindy Kaling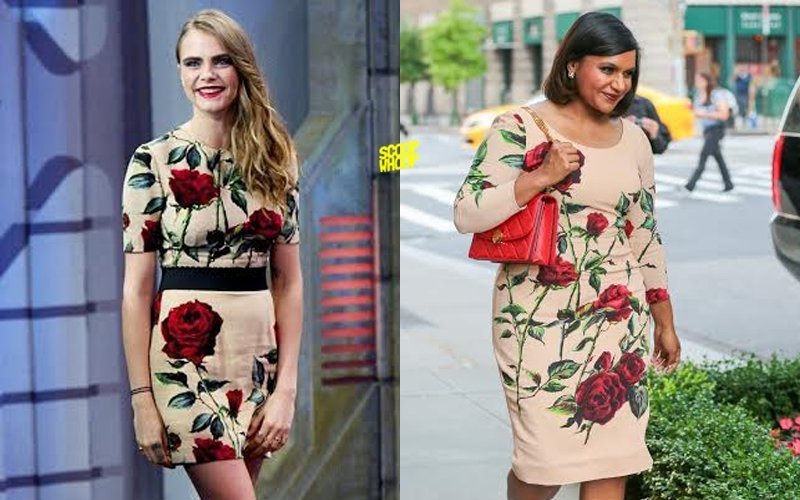 It's the belt that makes all the difference, right girls? But who are we to pass judgement on a Dolce&Gabbana; dress. We'll let you guys decide.
6. Angelina Jolie and Jane Fonda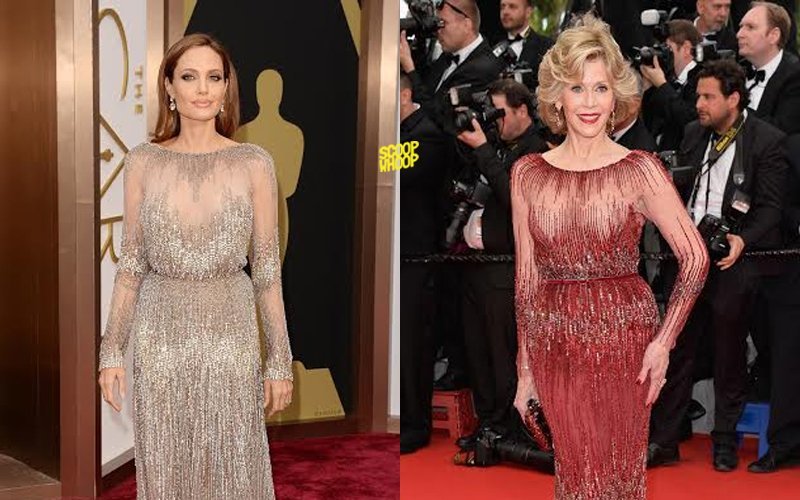 Two equally powerful actresses in Elie Saab is a rare sight. Take your pick!
7. Ashley Benson and Deepika Padukone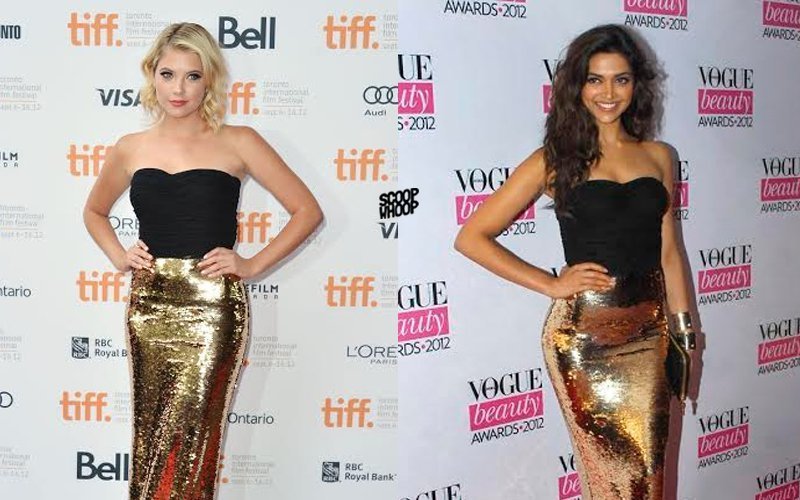 The gold cuffs do tilt the scale, but both the beautiful ladies look stunning in yet another great ensemble from Dolce&Gabbana.;
8. Bipasha Basu and Lea Michele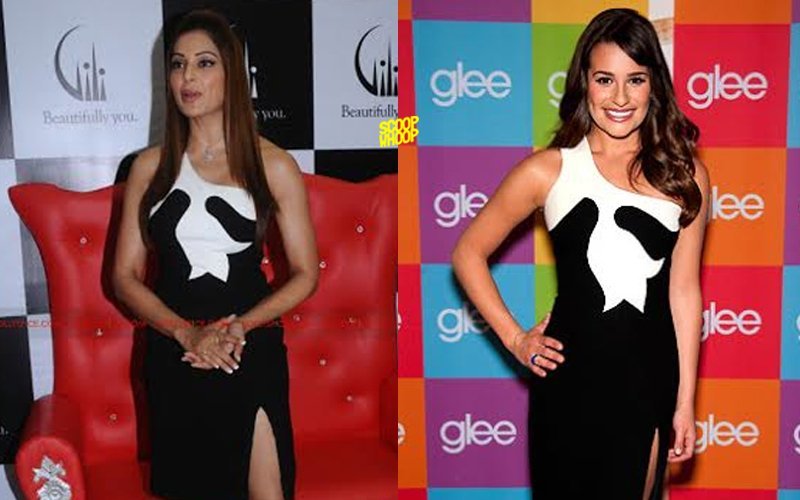 The ladies are killing this black and white, one-shoulder Versace beauty. But who will get crowned as the best-wearer? The 'Glee' star or our 'Raaz' girl?
9. Claire Danes and Victoria Beckham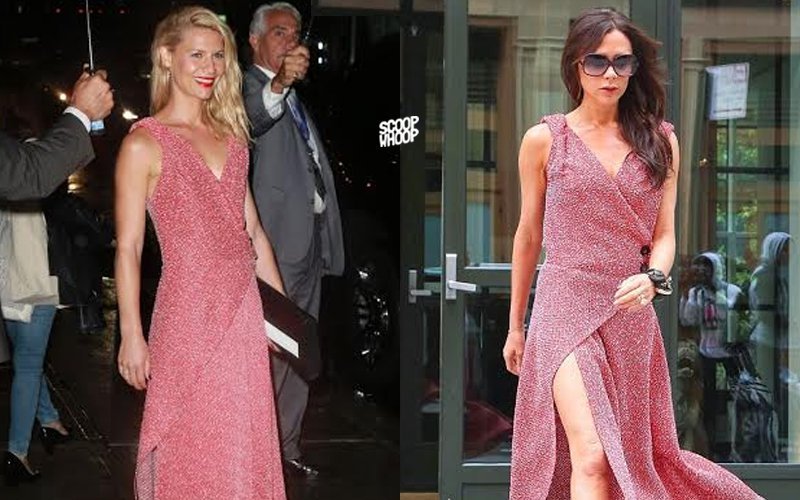 Victoria Beckham in her own line of clothing looks beautiful. And so does the 'Homeland' daredevil. Who will win? The lady with the red lipstick or the one with the cool accessories.
10. Deepika Padukone and Sonam Kapoor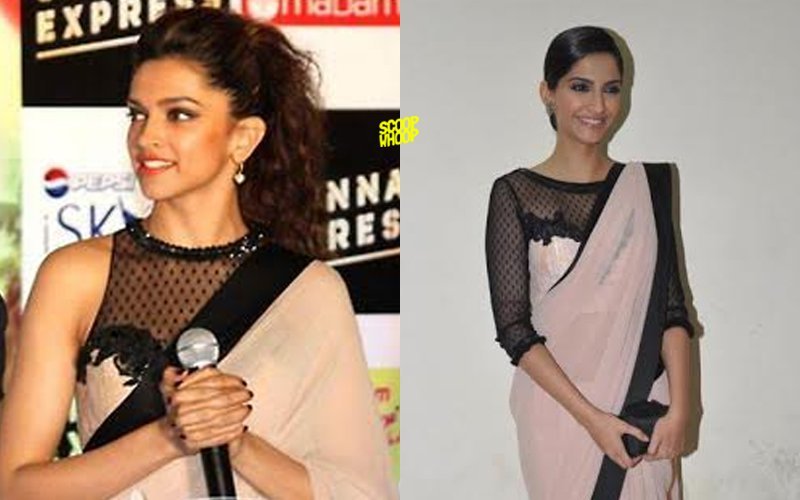 The same design, but different blouse styles. The slick bun Sonam sports a vintage look, while Deepika compliments the Atsu saree with the perfect cut blouse and the casually perfect hair do. You know it. Tell us the answer.
11. Kareena Kapoor and Kim Kardashian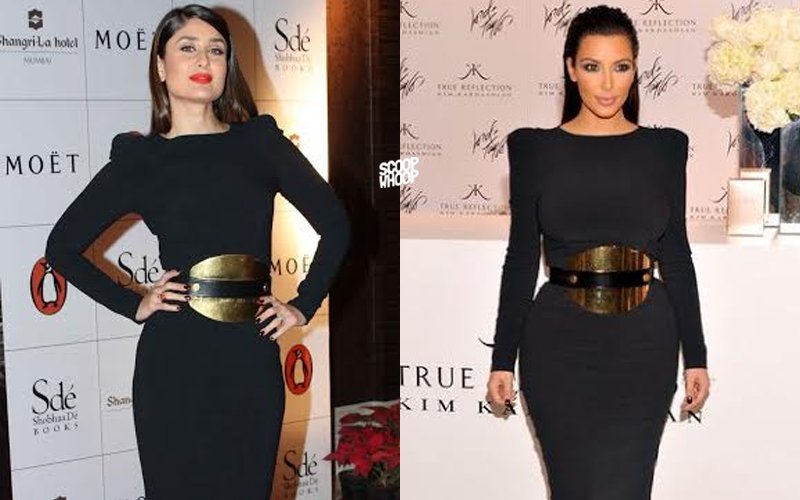 The long sleeved Tom Ford ensemble is a perfect fit on both the lovely ladies. With minimal make up, these ladies are making it so much more difficult to judge.
12. Katrina Kaif and Rita Ora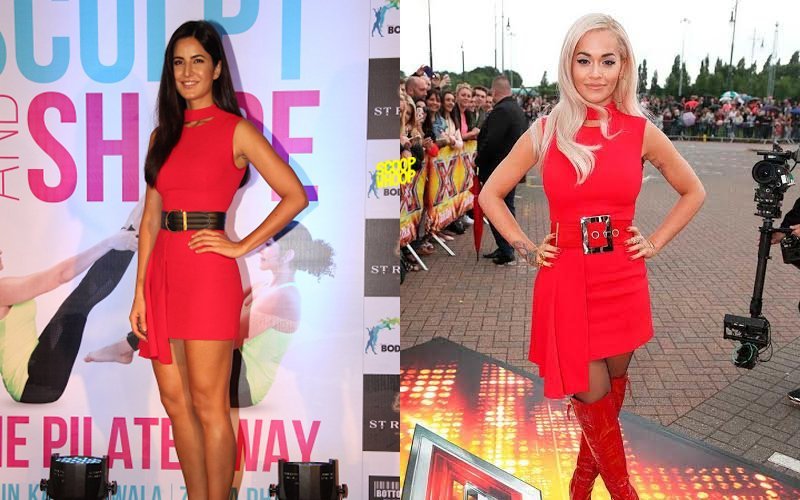 You don't over-accessorise a Versace. All you need is some major oomph factor and Voila you have worn the Versace to perfection! Both these ladies seem to have nailed the look. Which one do you like better?
13. Naomie Harris and Priyanka Chopra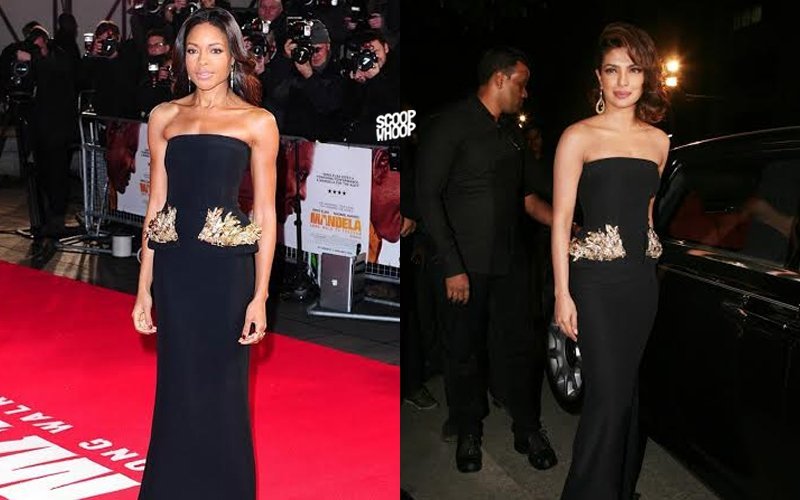 Both the ladies look powerful in this edgy Alexander McQueen outfit. It's so difficult to pass verdict on a McQueen.
14. Shamita Shetty and Shruti Hassan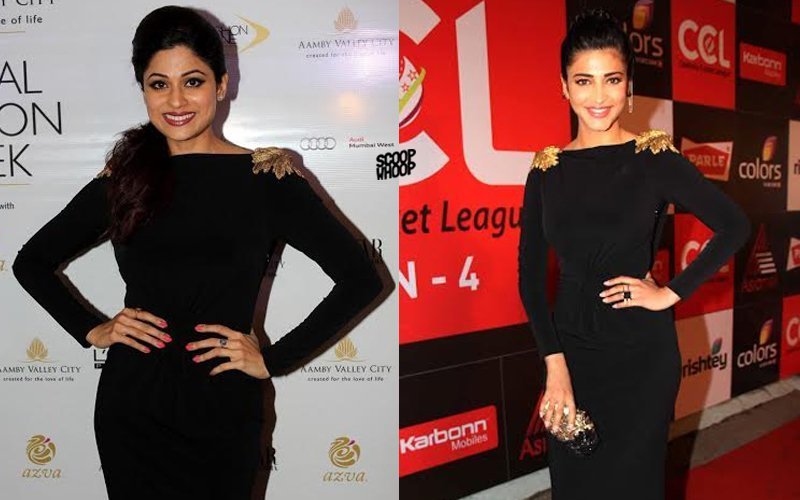 This Shantanu-Nikhil long sleeved dress looks perfect on both the ladies. Everything from the minimal make-up, to the black ring and ear cuffs blend to form a visual delight. It's so difficult to decide this! Take your pick guys.
15. Emmy Rossum and Shraddha Kapoor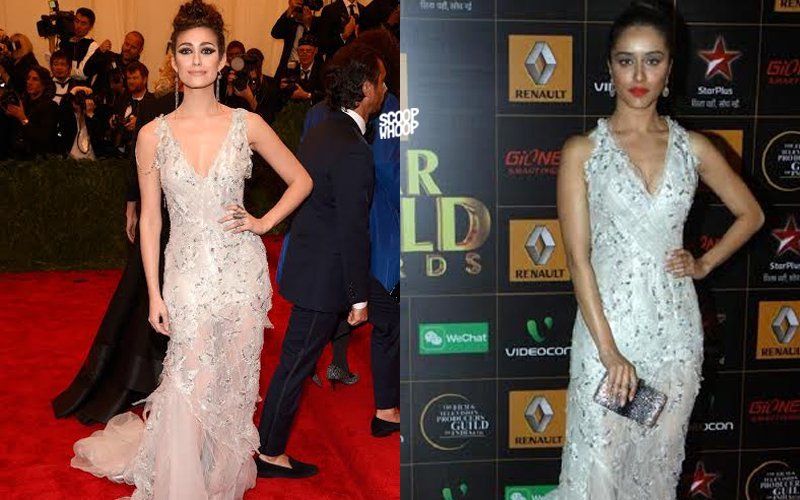 The 'Shameless' actress and Shraddha Kapoor don the Donna Karan Atelier piece with so much grace and panache. But, who wore it better?
Same outfit or not, there's so much we can learn from each other ladies!