Bollywood has taught us a lot when it comes to romance. 
With every song shot on snow-clad mountains and every goosebumps-inducing dialogue, our idea of romance has only expanded further. But if you try selling creepy, almost stalker-ish behavior in the name of love, then it's time we sat down and talked!
No, not everything is fair in love and war.
I don't want guys following me around because they saw some actor in some movie get a girl after doing this. I don't want a random dude whistling at me in the hope of getting a positive reaction because that's how Govinda found 'love' in a certain movie.
And we all know how seriously Indians take their movies. It's time we call out all those creepy characters who have been wrongly hailed as 'loverboys' by Bollywood standards. 
1. Dhanush as Kundan in Raanjhanaa 
If you don't agree with this then please avoid reading the article further, because this one is as in-your-face creepy as it gets. 
'An eternal love story that chronicles the journey of Sunder and Zoya, as they travel through the realms of life.'  Google Raanjhanaa and this is what you get. And that my friends is the biggest lie of this decade!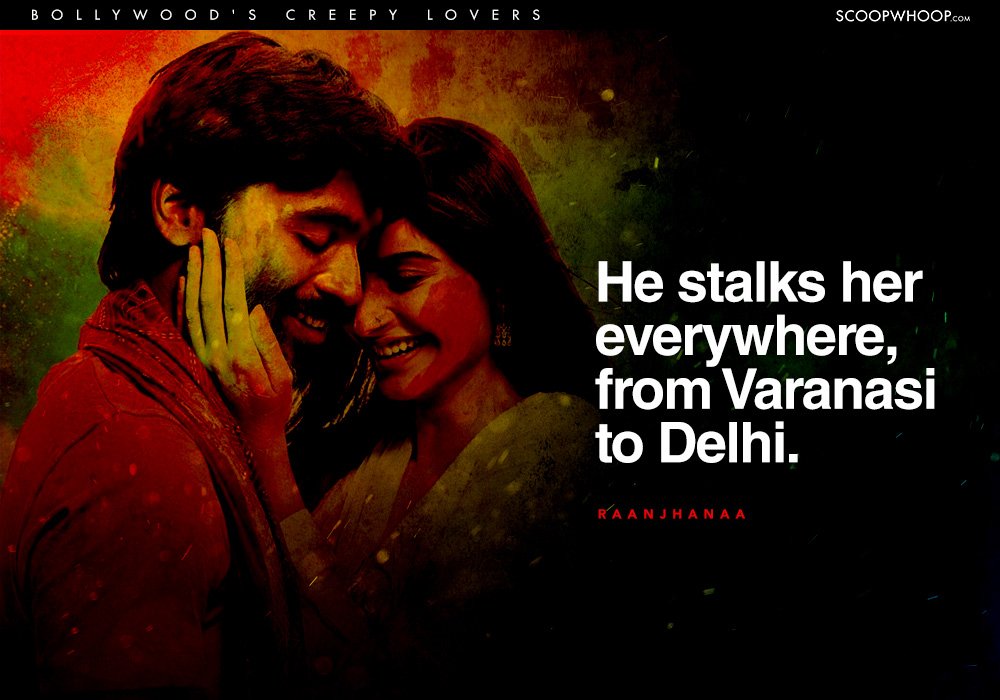 2. Ranbir Kapoor as Ayan in Ae Dil Hai Mushkil 
You may or may not have felt for Ayan's unrequited love in ADHM but it was almost impossible to ignore his over-powering, obsessive and almost abusive characteristics. We understand that it is impossible to snap out of love when the feeling isn't mutual, but that does not give him/her the right to mentally and physically abuse the other person.
Karan Johar might've tried to sell a different 'happy-ending' in ADHM, but he was just not able to sell Ayan's character to us!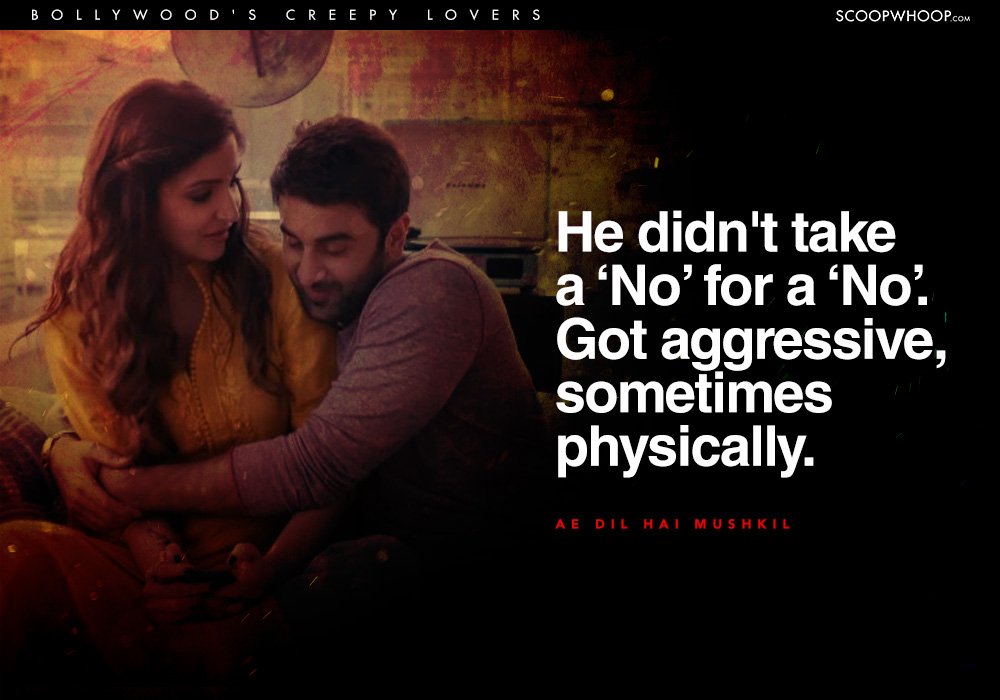 3. Dharmendra as Veeru in Sholay
Veeru might've been a great friend, but he sure was not the best man when it came to love. 
From forcefully jumping on the tonga to touching Basanti 'playfully' as many would say, Veeru was nothing but a creep.
He even manipulated Basanti's mausi into getting him married to her niece, by threatening to commit suicide. How idealistic is that, now?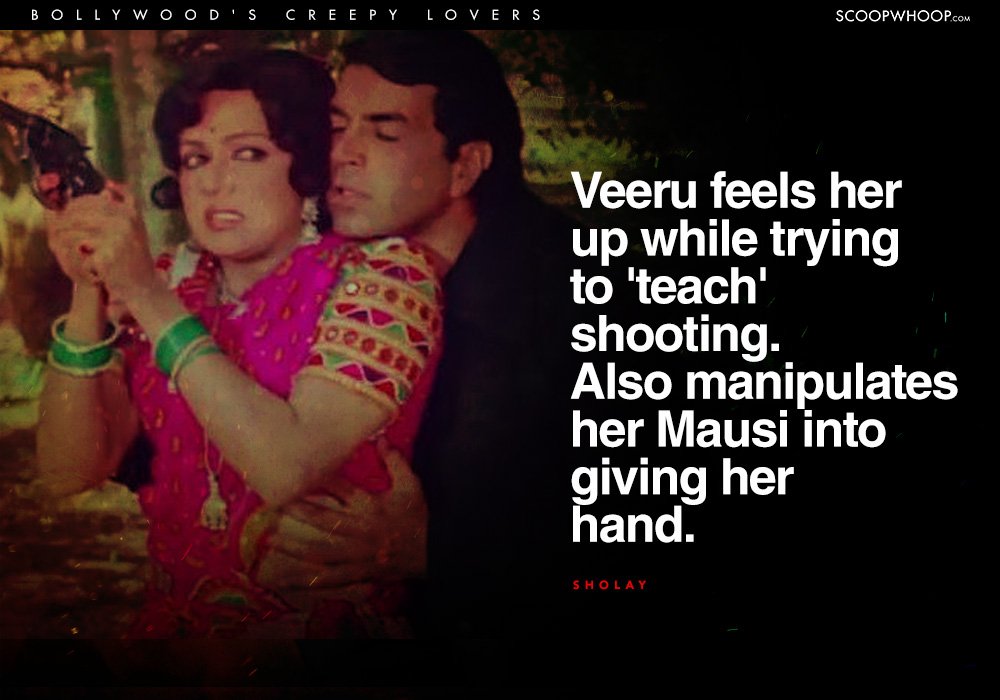 4. Ranbir Kapoor as Raj inSaawariya
Saawariya was Sonam's acting debut, but all she did in the film was run through extraordinarily blue corridors. We won't blame her, because there was a doe-eyed creep named Raj chasing her through every nook and corner of a set so blue, it felt like the film was shot with an Instagram filter.
But does a boy with six-pack abs and an awkward towel-dropping stunt give up? No! He keeps fostering his innate creepiness till the girl goes away with someone else.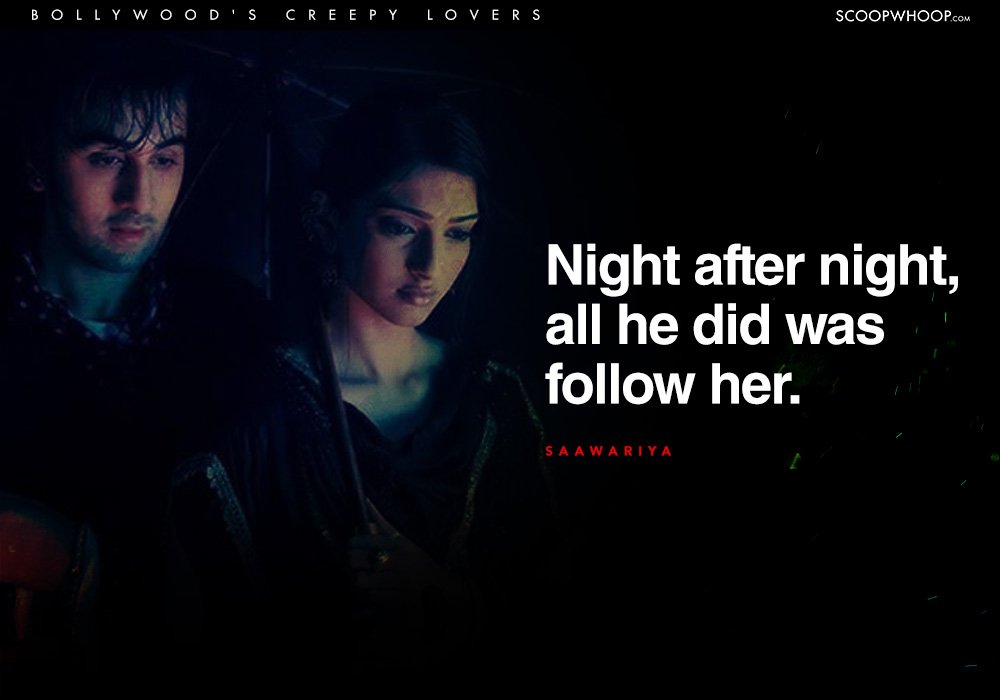 5. Salman Khan as Sameer in Mujhse Shaadi Karogi
This movie might not come to your mind when we speak of ultimate love stories, but it revolved around love nonetheless. Remember how the film had us rooting for Salman, after Akshay enters the scene?
Sameer has Rajpal Yadav playing his wingman. No problems yet. It is in that particular scene when a magician hypnotizes the girl so that she sees Sameer as her lover. THAT is just messed up!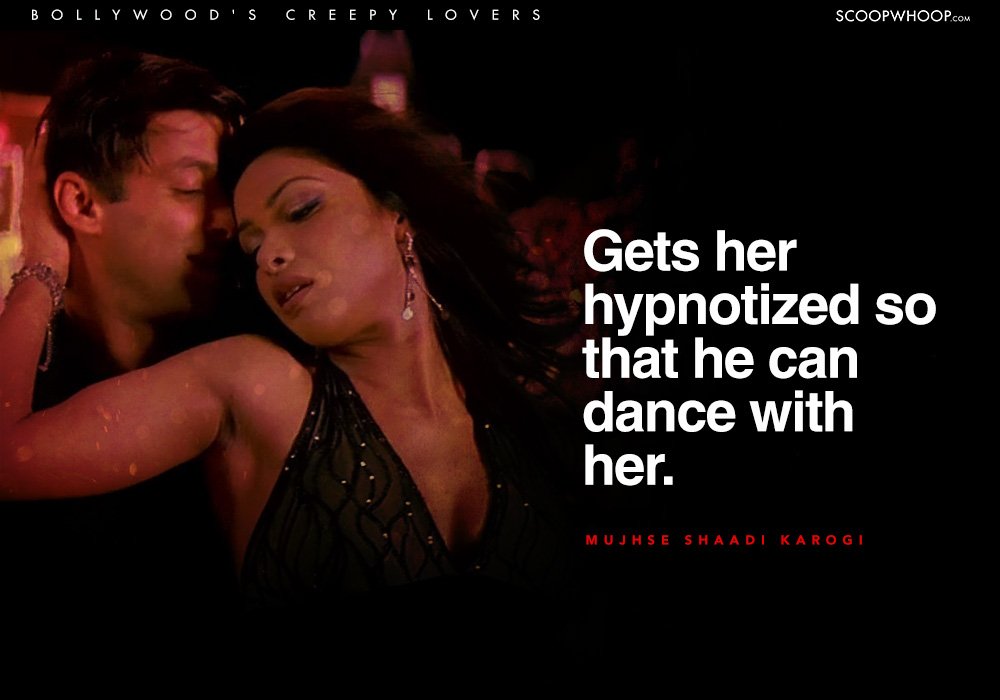 6. Uday Chopra (Vicky) and Jimmy Shergill (Karan) in Mohabbatein
If you don't already know how Mohabbatein messed up my childhood, then take a minute and read this. But turns out, that the concept of a school was not the only thing that they fucked around with. 
Mr. Raj Aryan, the utopic music teacher, was breeding a batch of boys to go out and infest the lands around Gurukul with creep-o-mania. From finding ways to get into the girls' college to self-harm in order to get the girl's attention, this movie was a creep's 101.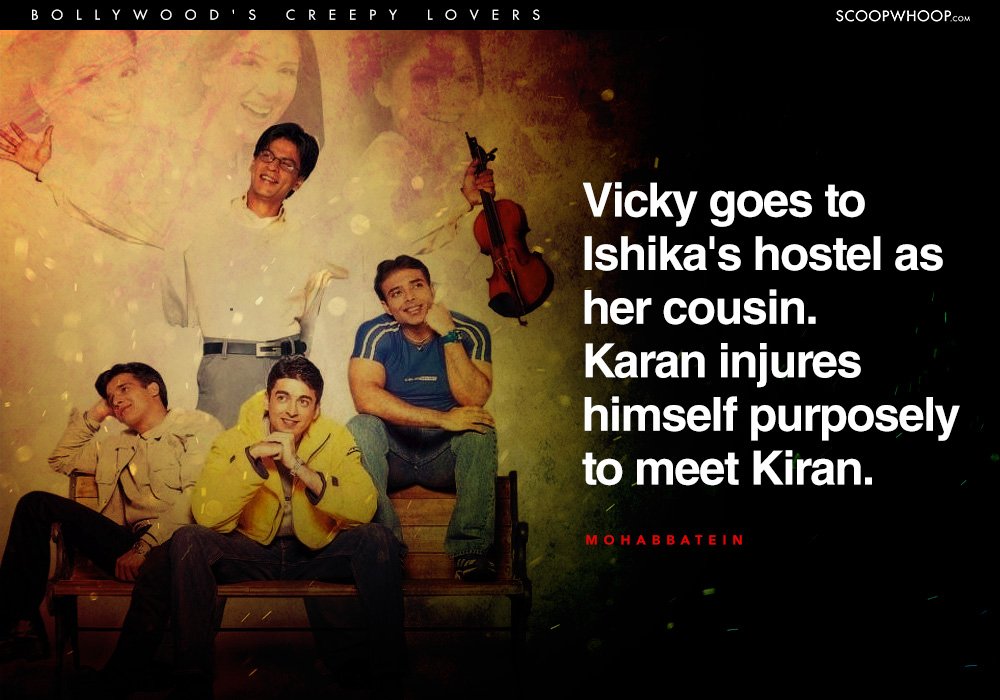 7. R. Madhavan as Maddy in Rehnaa Hai Terre Dil Mein
For all you Maddy fans, sorry, but your hero was a creep!
The man impersonates Reena's fiance until the real one comes into the scene. From lies to deceit, he indulges in everything because, apparently everything is fair in love and war. No, Sir! You're a manipulative liar who has no moral grounds and the unfortunate reality is that people choose to ignore this.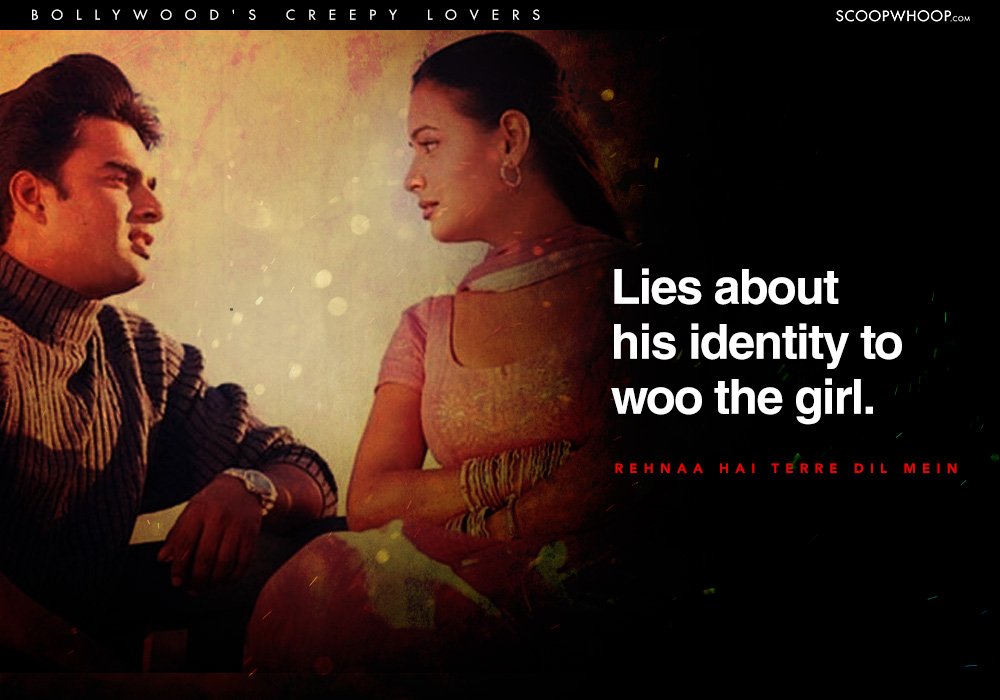 8. Shah Rukh Khan as Raj in Rab Ne Bana Di Jodi
Talking of fake identities how can we forget SRK from Rab Ne? 
A boring man leading a simple life, he impersonates as a fun-loving awaara, who joins the same dance class as his wife, just to impress her. 
If he had it in him all along, why the fu*k did he have to become a different person to make his own wife fall in love with a person who doesn't exist, only to find her heartbroken in the end?
 Hey, but he was her husband, so he could do whatever! *facepalm*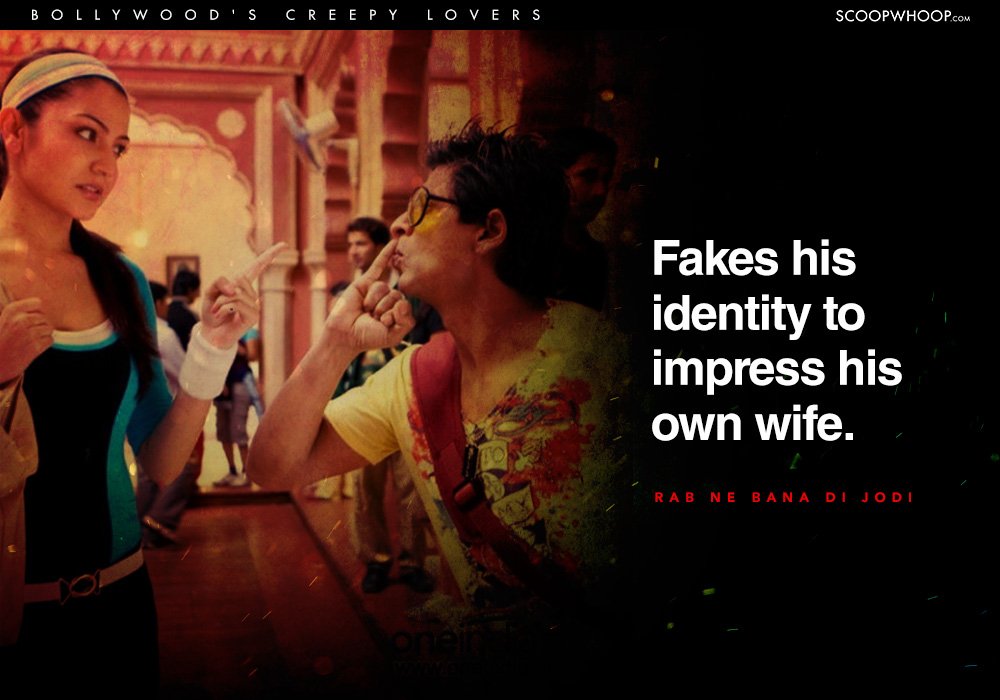 9. Shahid Kapoor as Rajkumar in R… Rajkumar
After the film bombed, the makers said that it wasn't meant for the multiplex audience, which clearly meant that it is completely fine for the men comprising of the single-screen audience to watch the hero harass a girl into becoming his girlfriend.
For starters, this movie had an entire song based on eve-teasing, where the girl is clearly not interested and the guy in not giving up. 
And if that isn't convincing enough, then there's a scene where Shahid breaks into Sonakshi's room, watches her change and in return removes his shirt, because now both of them have seen each other naked from the top. Logic? What's that?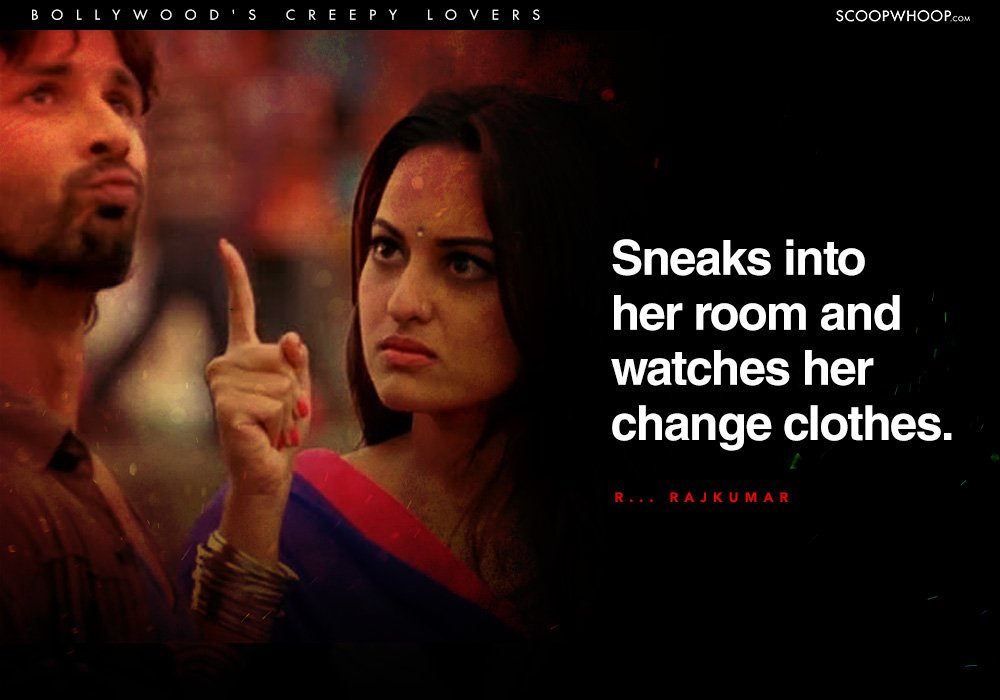 I understand that there's something called creative liberty, which a filmmaker is entitled to. However these films not only propagate but idealize a certain kind of behavior that endangers the very existence of womankind. 
It's time we wipe the rosy tint off our lens of vision and call out the wrong!
Designs by Suvojyoti Ray