Zaira Wasim, who played the young Geeta Phogat in the critically acclaimed Dangal, bowled over the audience with her performance in the first half of the film. The feisty 16-year-old actress was even hailed as a role model for the youth of Kashmir.
Which is why a Facebook post from her apologising and saying that she did not want to be considered a role model for children from the state has left many surprised.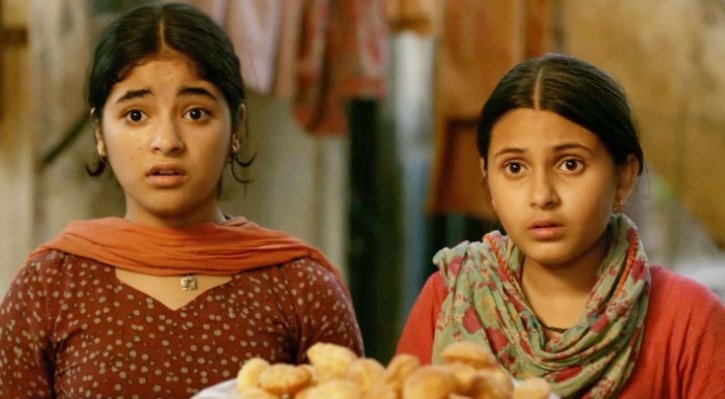 Wasim wrote in the post that she wanted to apologise to all the people she had "unintentionally hurt" and that she understood their sentiments. 
She also pointed out that there were certain circumstances beyond her control and that she was just a teenager. 
She also said she was not proud of what she was doing and the youth of the state would be better off finding better role models. 
 Read her full post here: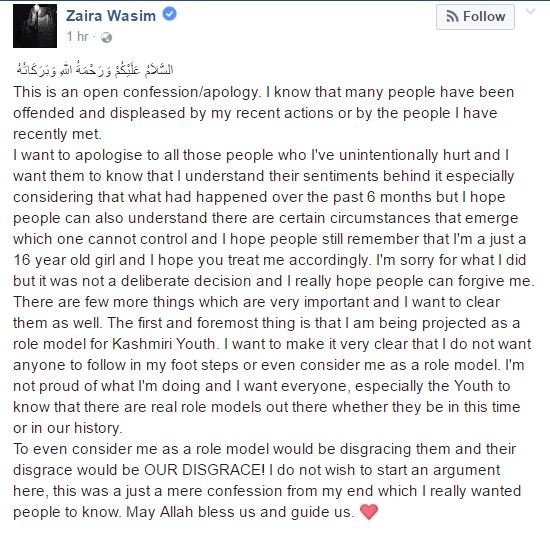 However, just a little over an hour later, she took down the post and posted a fresh status update in which she said that her previous post was being blown out of proportion. 
"I just wanted to make sure that I did not hurt anyone's feelings and all of a sudden it has been turned into national news. Again and again I am telling people that I have not been forced into anything by anyone," she wrote. 
She said that her previous post was "not meant against anyone" and she "just wanted to make sure that people were not hurt by what I was doing."
Read the second post here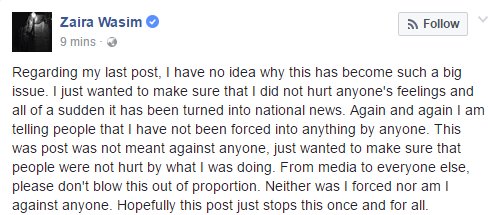 She then deleted that post shortly afterwards. 
Zaira will be next seen in 'Secret Superstar' which also stars Aamir Khan in a special role.