So, you know how Navratris are coming up and how this is an absolutely sanskaari time for Hindus. My mother wouldn't even allow me to have onions, and here is a woman talking about sex. 
Yes, just imagine the audacity of Sunny Leone who chose this auspicious occasion to promote her Navratri-themed condom.
Listen Ms Leone, all this might be okay in the Western world, where you come from, but we Indians are raised better than that. And even uttering the "C" word is against our sanskar. Oho! not the C***iya word, woh toh theek hai, but the condom word. 
Look at this shameful hoarding!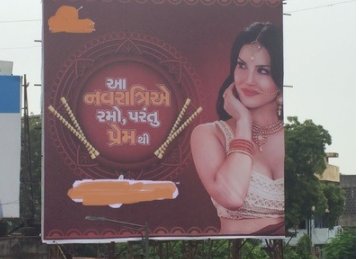 The message in Gujarati reads, 'Aa Navratri a ramo, parantu premthi' – Play but with love, this Navratri. 
Chee Chee! What is she even trying to insinuate? That Gujaratis have sex instead of playing with dandiyas? Insulted and clearly scandalised, city-based group Hindu Yuva Vahini and other traders are now protesting against the condom brand to take the hoardings down. 
@narendramodi ji Mankind pharma put hording of Sunny Leone in vulgar dress with manforce condom Ad in every of Navratra is this justified ?

— क्रूर तानाशाह (@maheshtibrewal) September 18, 2017
Because, how dare she attack our culture and hurt our religious sentiments like this? Everyone knows what happens during Navratris right?
Just last month, an article convinced us that Gujarat just gets no action during Navratris, because everyone is so engrossed in worshiping the goddess to even think of sinful things like sex.
This is what a survey conducted by ThatsPersonal, a sexual wellness products destination, reads, "During Navaratri, the nine consecutive days of clanking daandiya sticks, Gujarat gets three times kinkier. The sale of sex products including condoms go up at this time. Products like adult games, edible lingeries, edible body paints and pleasure rings do well during Navaratri too. Smaller towns in Gujarat like Rajkot, Baroda and Bhuj love lubricants, adult games, penis pumps, sexy lingeries and intimate massagers".

Wonder, why such curiosity about that time of the year then! Why is the youth asking such questions? 
How can they even about clubbing the words 'Sex' and Navratri together?

 Read how a fellow Gujarati shuts this stupid query by giving a fact-based detailed answer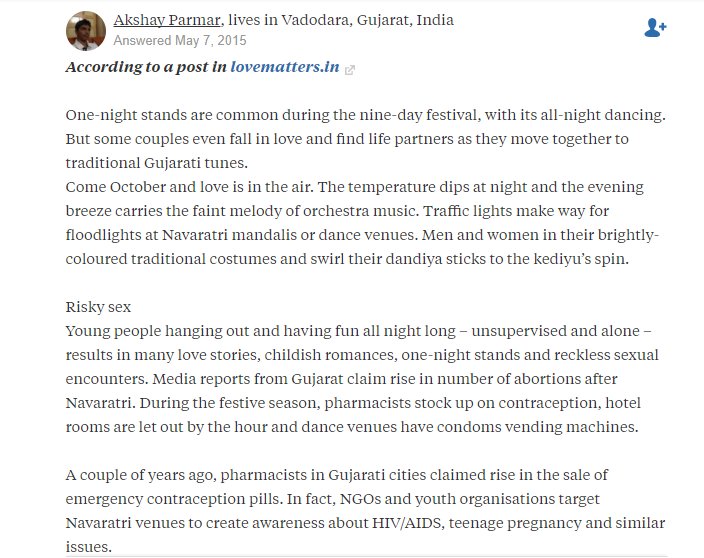 Even these reports are crying the same



So when Gujarat is not even indulging in sex, then what's the whole point of promoting safe sex, Sunny Leone? Why do you have to corrupt this holy atmosphere by talking about condoms and ruin the thinking of our youth? Thanks but no thanks, Sunny Leone. I don't know how many times we have to tell you that we are Indians, we don't have sex. 
(This is meant to be a sarcastic article)