Films are a medium of telling stories. Of course, there are some which are just meant for the sole purpose of entertainment (read: the Housefulls and the Mastis), but the ones that stay close to our hearts for a long time are the films that mean something to us.
In Bollywood, the story telling is quite formulaic. 
While this actually stands true for most of the stories in the world, but closer home, the stories we watch on screen are all based on fixed templates. The treatment of these stories is what makes them stand out and in some cases memorable, but the broad plotlines are more or less the same.
Here's what Bollywood's 5 different genres are composed of:
1. The 'Coming of age' films
Hindi films discovered the 'coming of age' formula with the success of Dil Chahta Hai and before we knew it, it was everywhere. 
With films like Udaan & Wake Up Sid, this genre found a strong foothold but in the past few years, we have seen an abundance of such films.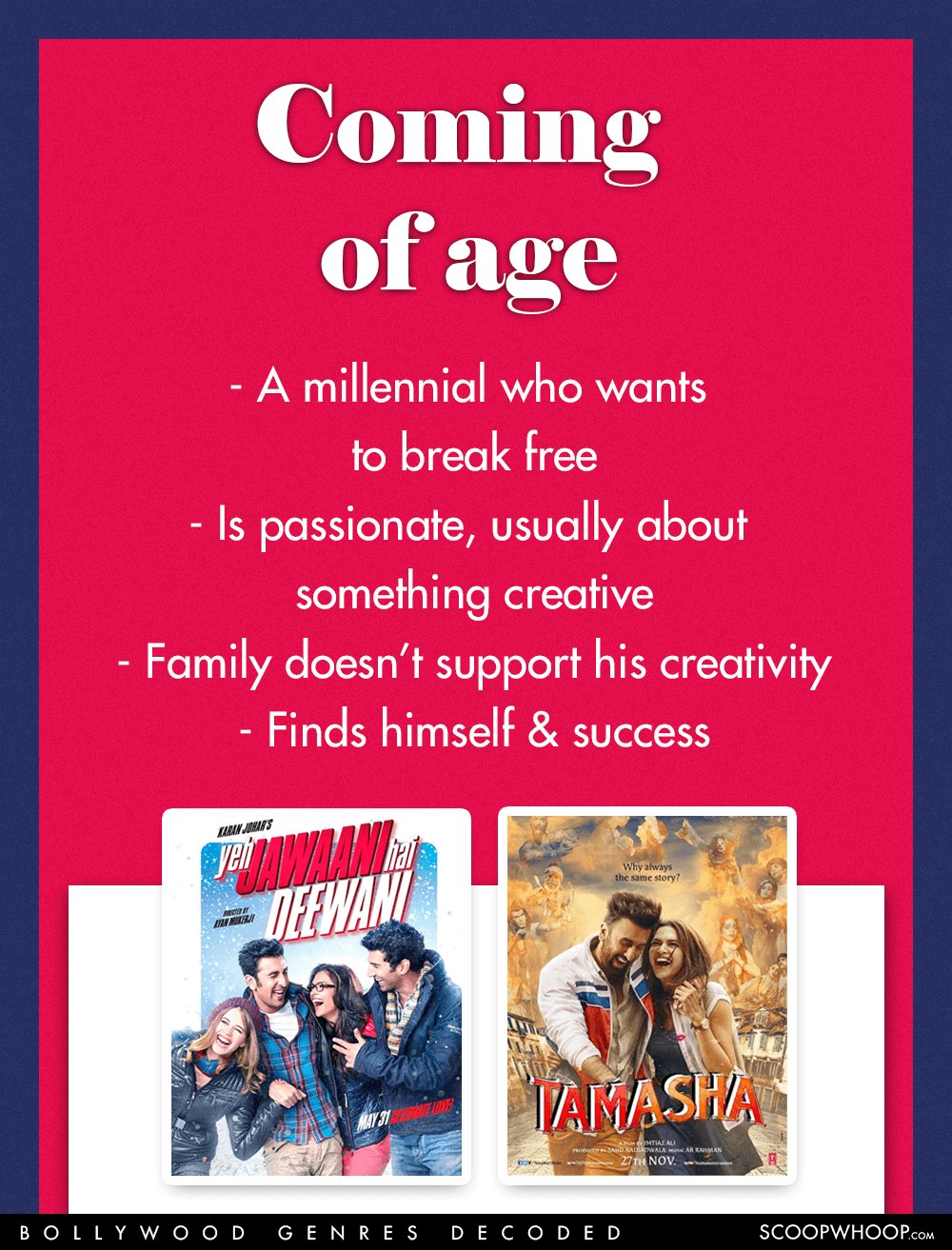 After the 'so-bad-that-it's-good' era of Ramsay brothers, Bollywood never went back to the horror genre with full gusto. 
Of course, there was the Ram Gopal Verma era which was pretty cool in the start but faded soon after. Bipasha Basu has been trying to revive this genre single-handedly but seems like nothing is scaring us anymore.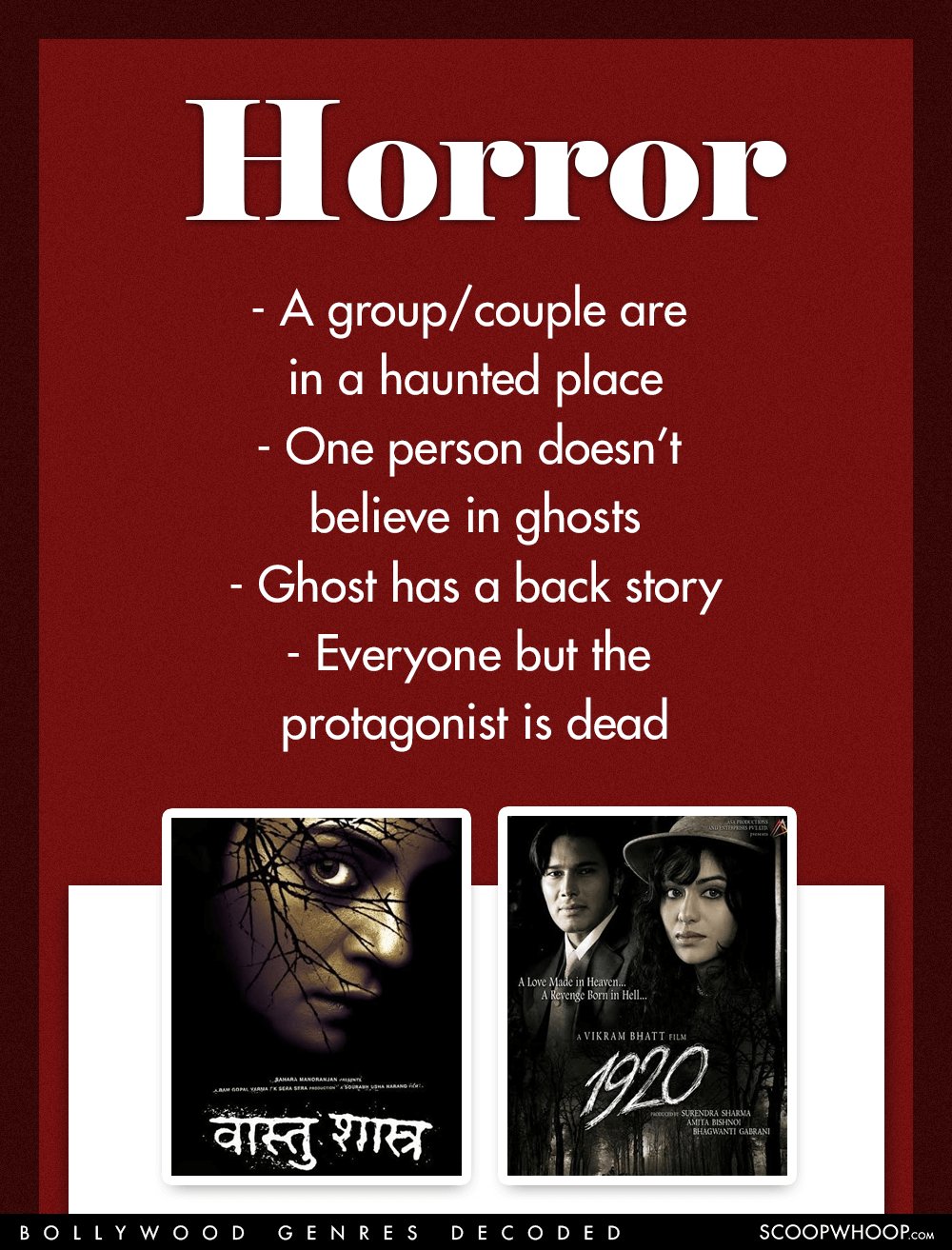 3. The 'Spy Action' films
Heavily inspired from Hollywood films, this genre is constantly compared to films in the West. 
With some sleek action sequences, the plot of these films is usually insignificant. The action genre in India makes an appearance quite often and boasts of some great locations and actors who perform their own stunts.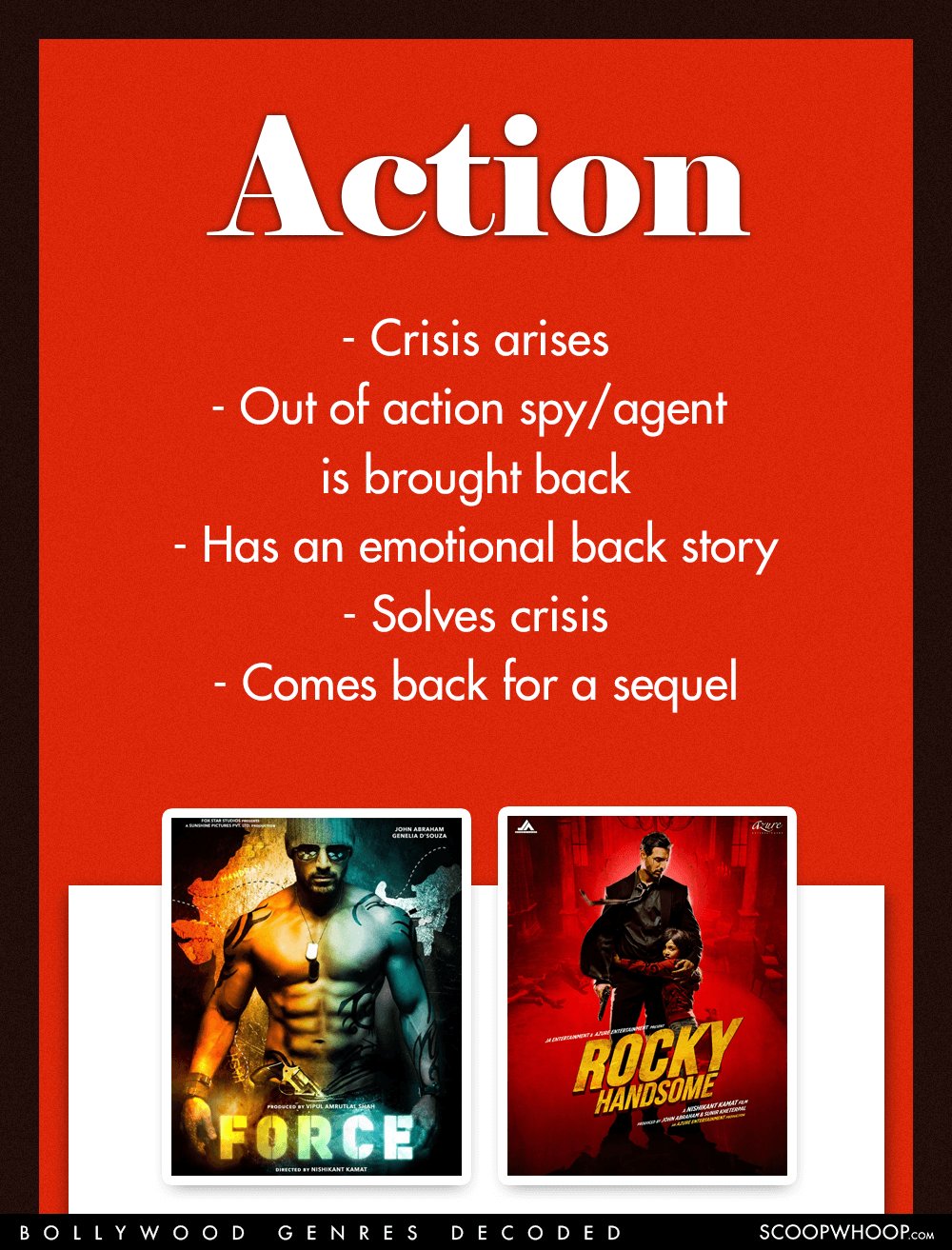 4. The 'Rom-Com' films
The romantic-comedy genre has seen a drastic change in the past two decades. 
Earlier, the hero-heroine films had different kinds of conflicts (family, society). But in the past decade or so, this conflict has shifted to being more internal. The struggle of the film's story has more to do with the character's feelings than the obstacles created by external factors.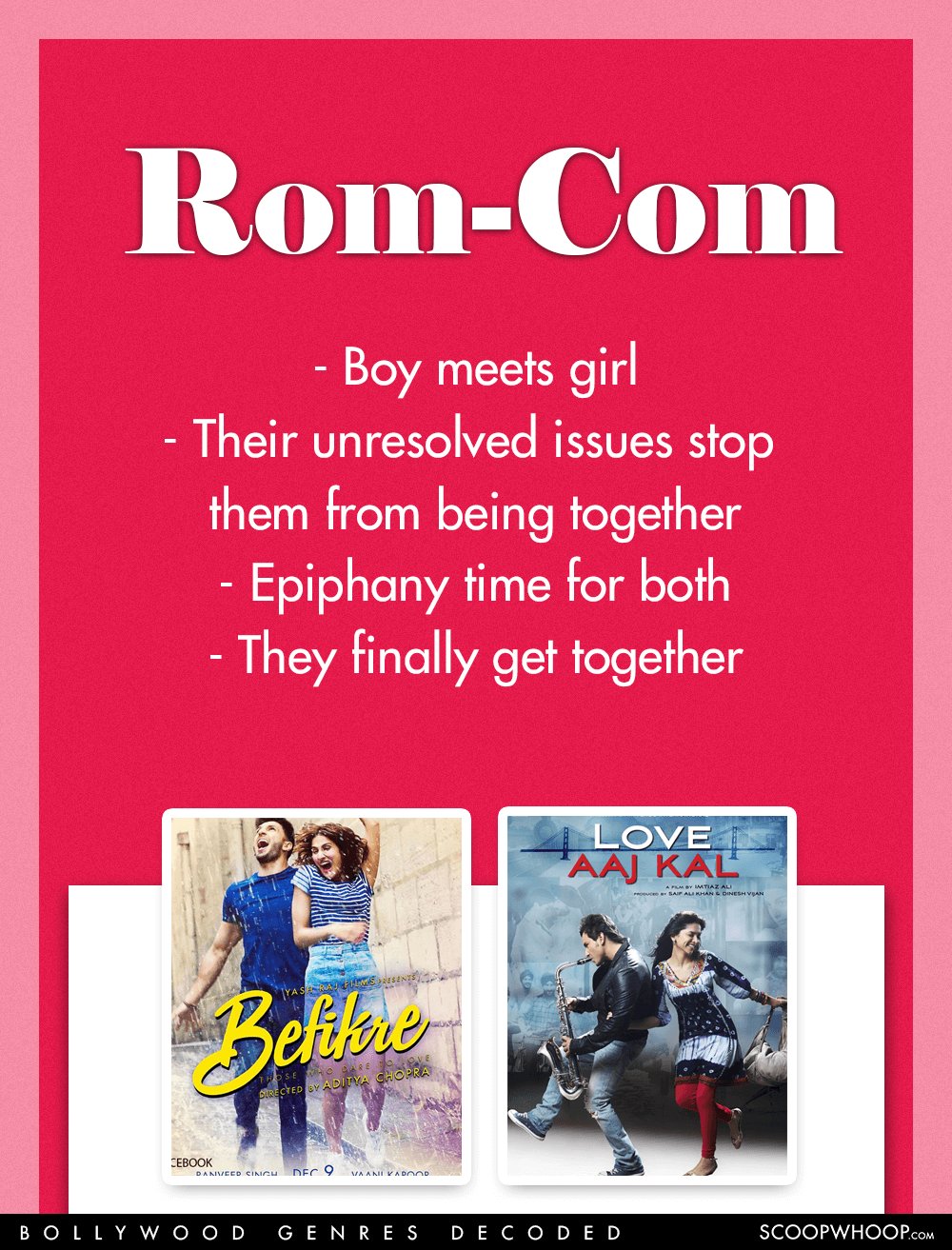 5. The 'Sci-fi' films
Other than Mr. India, our record for science-fiction films has been pretty bad. 
With films like Krrish, Drona & A Flying Jatt, our science-fiction genre has been suffering quite badly. Attempts like Ra.One were not appreciated by anyone and we're still waiting for the day when our science-fiction films are actually good.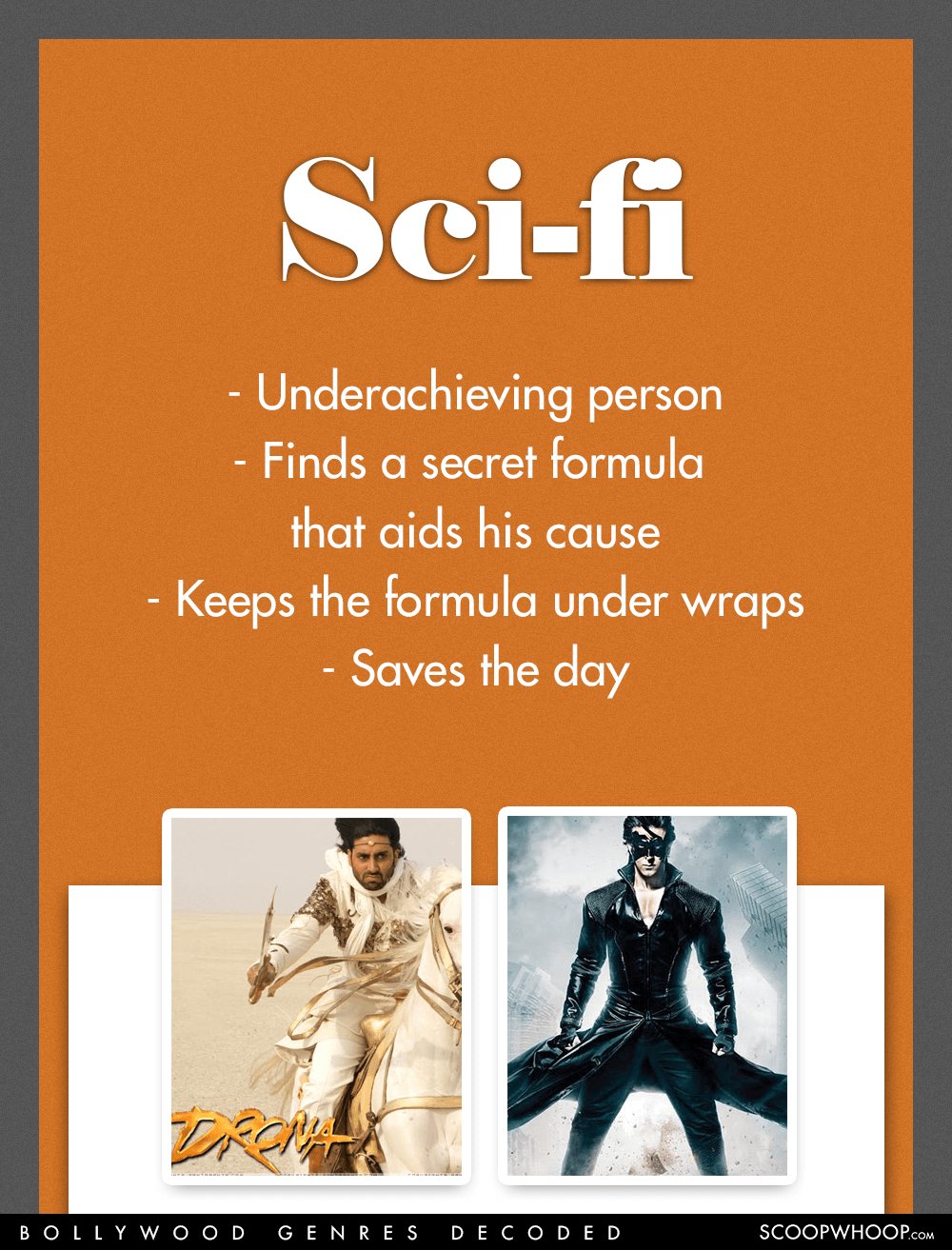 Do you agree with our list? Let us know in the comments section.