There are many ways to tell Mahendra Singh Dhoni's story and 'M.S. Dhoni: The Untold Story' as with other 'official' biopics takes among the least challenging ones. It cuts out everything that could be even remotely controversial and presents you with such a sanitised version of events that you'd rather turn on the television and watch the man play a real match instead.
The film begins in Ranchi with the birth of Dhoni and chronicles his life till the 2011 World Cup-winning six at a pace that could be best described as pedestrian.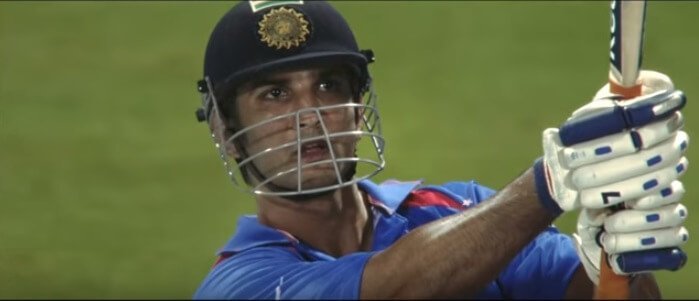 The first half has its moments — how 'goalkeeper' Dhoni was converted into a wicketkeeper; how he learnt the helicopter shot; the evolution of Dhoni the batsman; the battle between sports and studies — and they make you smile. The movie up to this point is a basic retelling of Dhoni's life — it is simple and it focuses on sport.
Then things get a little tacky. Dhoni's first love is introduced early in the second half and that takes up some screen time. A little later, Sakshi makes an appearance and that goes on for a bit. A few songs are sung but mostly, you wait for the cricket and there isn't enough of it.
A Dhoni biopic has to be about the sport… isn't that why people would want to watch it? Instead, we have a long-winded yarn that you are eventually happy to get out of.
The script is weak, the build-up pathetic, the romance unnecessary. Sushant Singh Rajput — who plays Dhoni in the film — is sincere but there is little else in the movie worth recommending. 
Harry Tangri pulls off a young Yuvraj Singh superbly. Even though, he is on screen for less than 5 minutes, he makes an impression. If there is ever a Yuvraj biopic in the works, they certainly know who they need to get.
At no point is this the 'Lagaan' kind of inspirational movie which had people cheering in theatres, but what is galling are the numbers of holes in the script.
It gives no real insight into how Dhoni's mind works — he just seems to make up his mind and things get done. There is no real clue as to how he improved as a batsman and wicket-keeper. Instead, it seems to skirt around the topics that leave you none the wiser.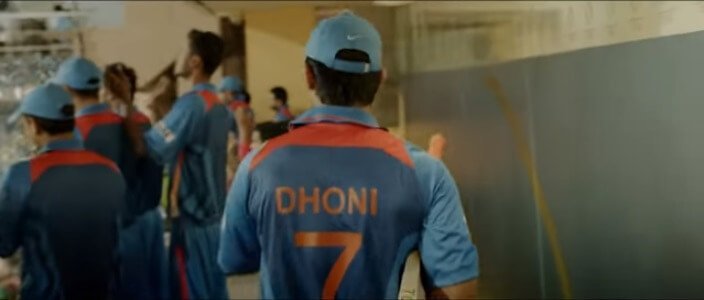 Even when Dhoni's first girlfriend dies in an accident, the movie makes no attempt to show you how Dhoni dealt with the grief and how it affected his game. Instead, when he gets the sad news just after returning to India, he simply gets out of the car and stares into the distance. 
Then, we cut to the 2007 World Cup. There is no mention of his elevation to captaincy in 2007 — we just see the final being played instead. Details? Who wants those?
The most irritating aspect of this movie is the CGI. The director Neeraj Pandey has chosen to face swap Rajput's face into original match footage throughout the movie. If the CGI was seamless, it might have passed muster. Instead, this feels forced, tacky and gimmicky. One almost felt like telling him: 'Calm down dude, we know who played in the 2011 World Cup.'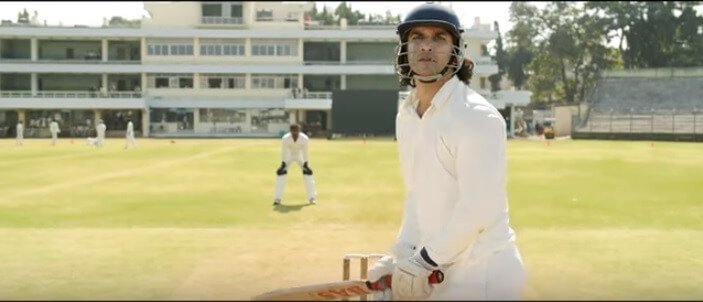 Surely, he could have found a way to re-enact some scenes — rather than have this half-baked attempt at reality. The scenes on the cricket field are about Dhoni and Dhoni alone — it is almost like the rest of his team-mates didn't exist.
Pandey is so reverent that there's nothing here to discover and that is a bit of a shame. Dhoni's story is tantalising and to see it reduced to a Bollywood song and dance routine robs it of whatever charm it might have. It soft-pedals through his life and never quite grips you in the way a Dhoni innings does; indeed the drama of the Dhoni innings is what this movie sorely lacks.
Watch it only if you are a Dhoni fan and even then be prepared to be disappointed — for this, unlike most Dhoni innings, does not end well.