Celebrities are constantly scrutinized for everything they do and needless to say, they're also a soft-target of body shaming. 
While on one side we're fighting against body shaming, a news channel ran a story with a highly insensitive and offensive headline that read 'Can you believe how ugly Disha Patani looked once, see the contrast', comparing the actress' childhood & recent pictures.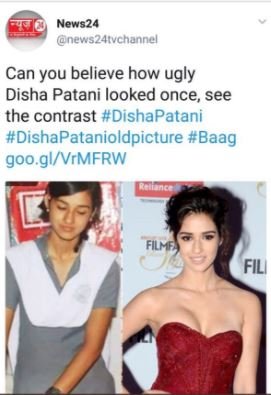 Model and actress Disha Patani was in no mood to let the haters win. She hit back at the bullies with some quick wit and badass self-confidence. 
In no time, Twitter came out in her support and called out the publication's derogatory piece. 
What a fitting response to haters.