Stuck in a traffic-jam, while on her way with a birthday cake and decorations for her younger sister's birthday party, Naina is on the phone with her twin sister, Sonia who's alone at home, decorating the house. Suddenly, the door bell rings and Sonia opens the door while still on the phone. Sitting in a taxi, what Naina hears next are struggles and screams of her sister. She starts running on the road, urging people to help her, asking them to call the police because someone is beating her sister. But of course, she isn't able to do anything!
Sonia is brutally beaten, raped and eventually, killed by Gokul, a serial rapist on the run, working as a postman. 
It's a scene straight out of a nightmare and is one of the many gut-wrenching moments in a film that's perhaps one of Bollywood's finest crime thrillers and revenge dramas, ever. 
As you would have guessed, I'm talking about the film, Dushman.
Towards the end of the 90s, as Bollywood was taking a turn towards richer, more content-driven cinema, released this film that's certainly one of the industry's better depictions of crime against women.
Produced by Mukesh and Pooja Bhatt, Dushman was directed by Tanuja Chandra. That it had a female director behind the reigns could also explain why the film had a woman at the forefront, taking on the villain and getting revenge for his actions. Because the film came at a time when female-centric plots weren't that common, having Kajol save Sanjay Dutt from the hands of Ashutosh Rana in the climax was even more amazing! 
The real strength of the film certainly lies in the performances of the cast. Playing Suraj, the blind military veteran who helps Naina acquire both physical and mental strength, Sanjay Dutt brought in just the right amount of intensity and softness to the part. There's also the ever-reliable Tanvi Azmi as Naina's mother and Vani Tripathi as Sunanda, Gokul's girlfriend who's also killed by him.  
However, the film is majorly boosted by Kajol and Ashutosh Rana and both of them don't miss a beat!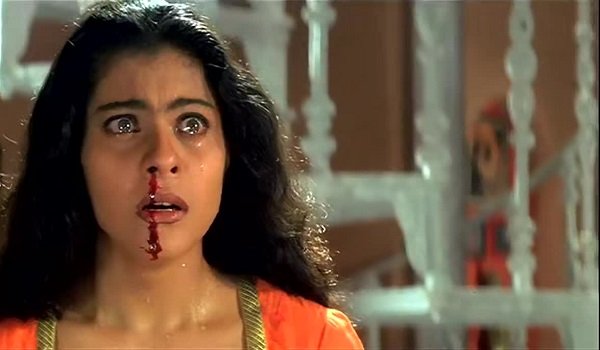 Playing a double-role for the first time in her career, Kajol is spectacular as both Sonia and Naina, playing the sisters differently in terms of personality and vibe. And her transformation from the vulnerable and scared Naina to the woman who eventually finds the strength and courage to take on a serial rapist is both convincing and credible.
Without a doubt, Dushman is one of Kajol's most nuanced performances and stands out amidst all the otherwise-commercial films in her repertoire. 
And then there is Ashutosh Rana, of course.
Gokul Pandit isn't an easy part to play. He's dirty and disgusting and you're meant to hate him from the very beginning of the film. But he's also meant to get you scared. Unpredictable and inhuman, he isn't a character an actor would choose at the very onset of his career in films. Full marks to Ashutosh for firstly, choosing to play the part and secondly, playing it with such conviction. 
At the end of the film, he's the man you come out remembering. His lecherous expressions and disturbing actions stay with you long after the film is over. Even after so many years, Dushman remains one of Ashutosh's most talked-about performances. 
While films are meant for entertainment, Dushman doesn't fit in the standard stereotype of the word. By no means an easy watch, there are plenty of disturbing moments in the movie that aren't easy on the eyes. 
Sonia's rape scene, in particular, is an uncomfortable watch. As she is dragged around, stabbed with a pair of scissors and eventually, hit by a big slab of ice, you can't help but shut your eyes in pain. There's also the scene where Gokul kills his fiancee, Sugandha, using a python in the middle of a jungle. And a scene where Naina is chased by Gokul after she somehow stops him from raping another girl.  
But despite all these scenes, you just can't look away. 
Maintaining the thrill element, scene after scene, director Tanuja Chandra masterfully plays out the film, never going easy on the gore and yet, never losing grip on the pace of the movie.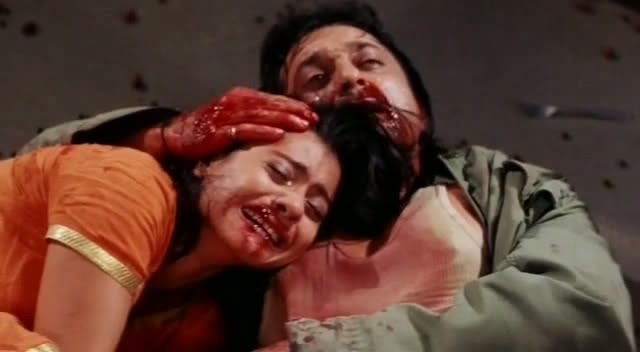 At a time when violence against women is at an all-time high, Dushman becomes more relevant than ever. 
It's a film about standing up for what's right, fighting to get justice against all adversities and finding your inner strength to take on the world. And more importantly, it's a film that proves that when a woman decides to do something, there's nothing that can stop her. 
A taut thriller filled with wonderful performances, 19 years later, Dushman remains one of Bollywood's most powerful, female-driven films.