Robert De Niro, Al Pacino, Marlon Brando, Meryl Streep – these are some of the immortal names in cinema that you can bet won't be forgotten long after we're gone. But if you had to pick a younger actor who could fill the same shoes, there are very few who deserve the spot than the ever-so-versatile Edward Norton. You'll hardly see the man play the same kind of roles. Agreed, his filmography is perhaps shorter than the Dicaprios and the Pitts, but you can bet it's not for a lack of opportunity. The man carefully selects his roles, and as fans, we couldn't be happier.
So here's a countdown list of some of Norton's best roles till date. He doesn't play the lead in all of them, but but that doesn't mean he doesn't leave his impact on them. Check it out.
10. Rounders
While Rounders had Matt Damon playing the lead, we probably cherish the film more for Edward Norton's role as the friend who somehow has a knack for ending up in trouble. The fast-talking con, who's every friend's worst nightmare – no wonder his name in the film was 'Worm'.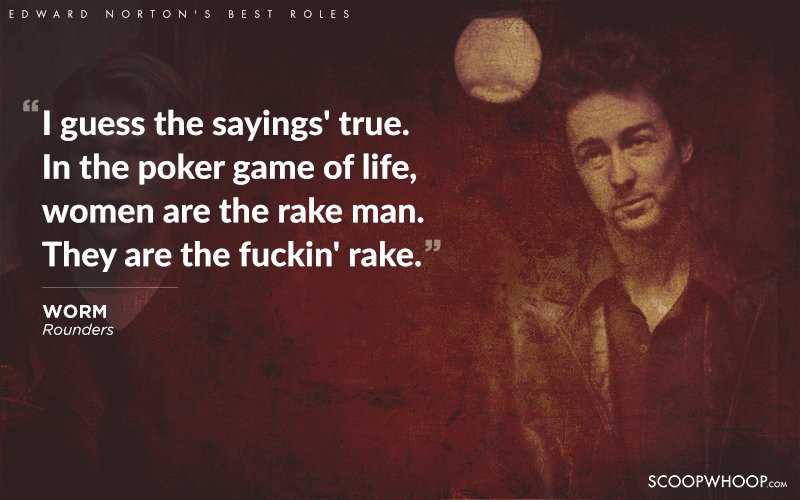 9. The Illusionist
We've always felt The Illusionist doesn't get its due. I get it, any film about an early 1900s magician would be eclipsed by Nolan's The Prestige which came out around the same time. But these two films are as different as apples and oranges. If nothing else, watch it just to check out Norton in a role where he is crazy in love, something we hardly get to see.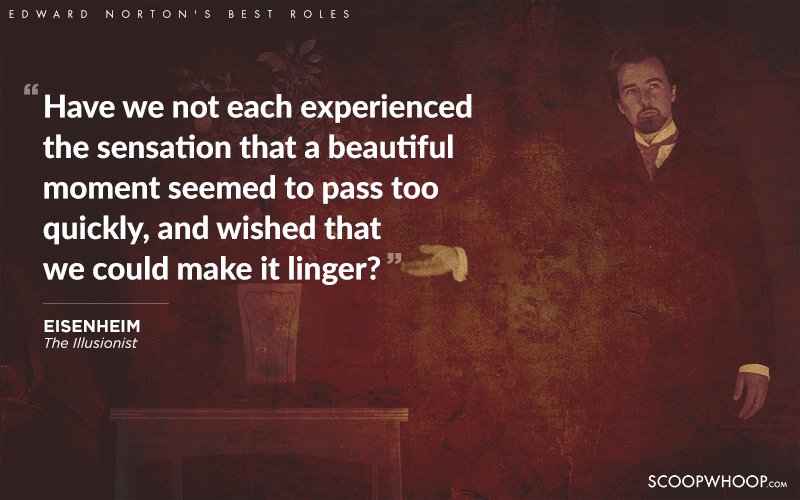 8. Leaves of Grass
This is one of those films that stayed under the radar for such a long time that it's almost a tragedy. Norton plays twins in this film – one a college professor and the other a marijuana 'entrepreneur'. A dark comedy, written and directed by another talented actor, Tim Blake Nelson, Leaves of Grass is named after a Walt Whitman poem.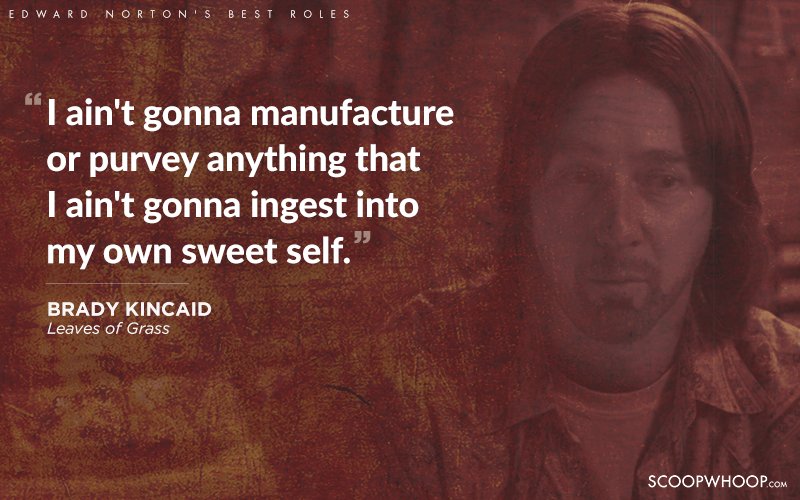 7. Kingdom of Heaven
When I first watched Kingdom of Heaven, I thought it was an okay film. But then I watched the director's cut version of the film and realized how epic it really was. And part of the charm was purely the character of King Baldwin IV, the leper king of Jerusalem who understood the importance of peace between the Muslims and the Christians during the crusades. Throughout the movie, we don't get to see the face of the king, who's always behind a mask to hide his afflictions. And Norton absolutely nails it. Not too many actors would take up such a role.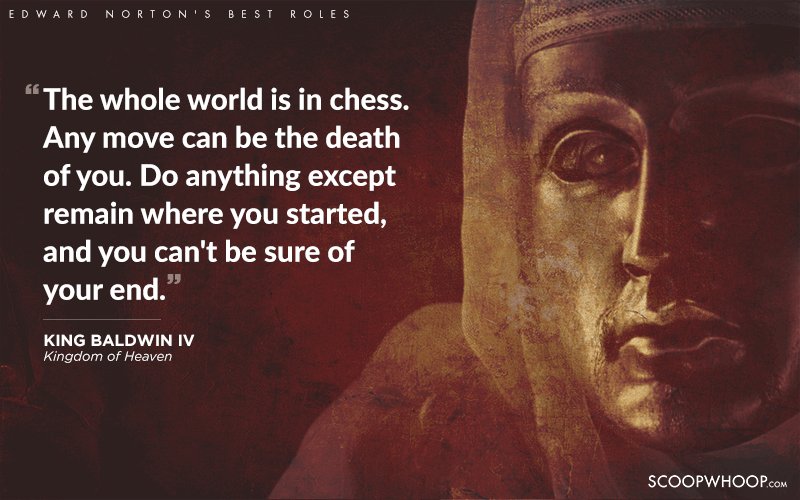 6. The People vs. Larry Flynt
Norton plays the role of Alan Isaacman in this movie, which is mainly about the antics of Larry Flynt, the founder of Hustler magazine, played by Woody Harrelson. Isaacman is Flynt's lawyer in a movie that spans over years. As the plot progresses, you also get to see how the relationship between the client and the attorney comes full circle.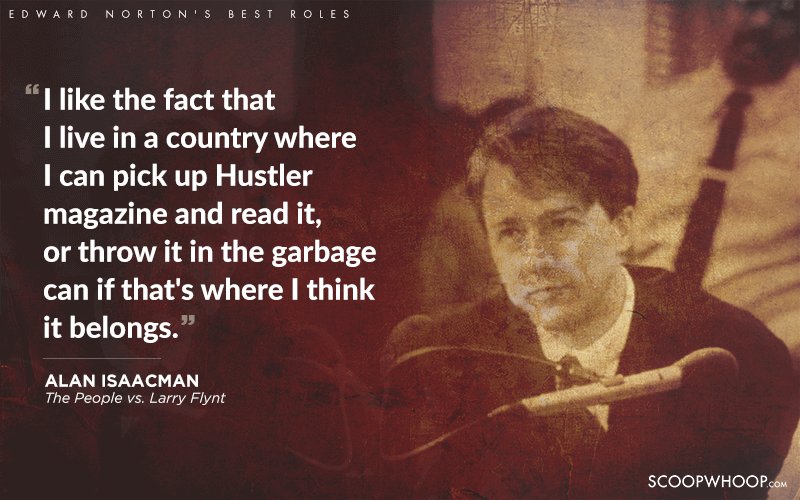 5. 25th Hour
For those who don't know this, Spike Lee's 25th Hour is based on a book written by David Benioff (yep, the Game of Thrones guy) who also wrote the screenplay for the film. It's about a the last day of freedom in the life of a man who's about to start a 7-year prison sentence. It perfectly vines the regrets and frustrations of the protagonist with the post 9/11 New York scene. Many movie critics have called it one of the best films of the decade. If you think Travis Bickle's 'You talkin' to me?' in Taxi Driver was great? Wait till you watch Monty Brogan's 'Fuck monologue' in this.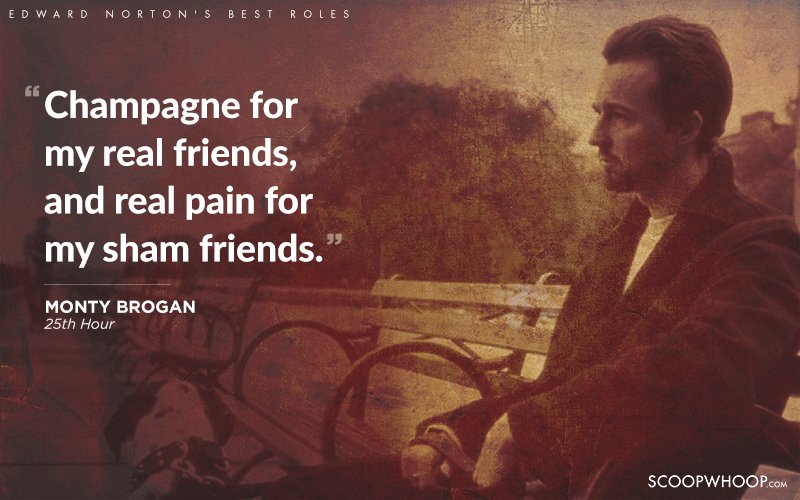 4. Primal Fear
This is the movie where the world got to know that 'Edward Norton has arrived'. Playing the role of the shy Aaron Stampler and his more aggressive alter-ego Roy, Norton plays Richard Gere's client to perfection, in a thriller that keeps you guessing till the last minutes.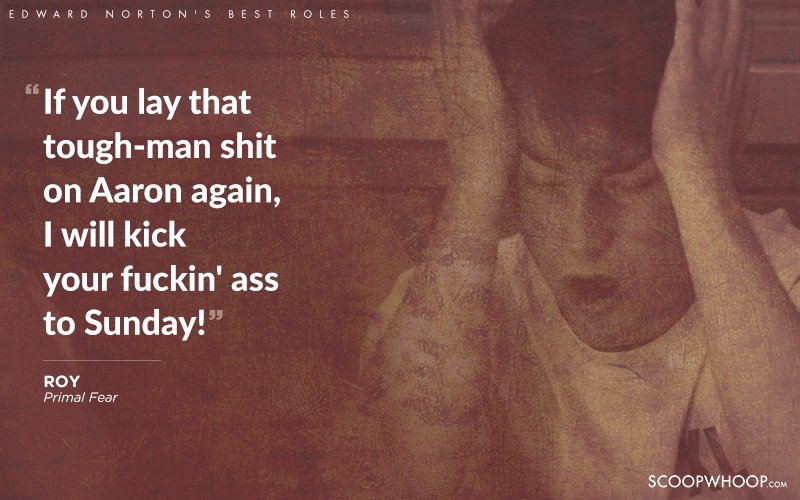 3. Birdman
Okay, so by the time Birdman came out, the world already knew what a great actor Edward Norton is. Which makes this role even more hilarious. Norton plays Mike Shiner, a douchey but talented stage actor, who knows he's awesome and doesn't mind telling that to everyone in the room.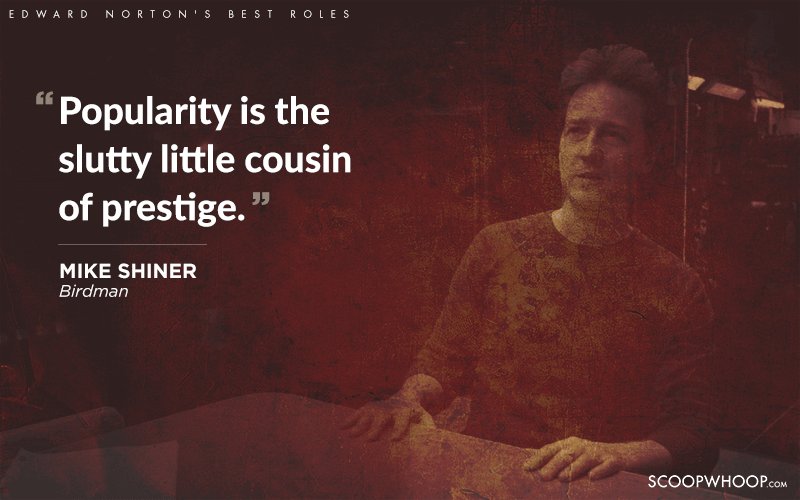 2. Fight Club
While most casual fans go gaga over Brad Pitt's Tyler Durden in Fight Club, the real fans see how the entire plot is actually glued together because of one man – the unnamed Narrator played by Edward Norton. If you're someone who works a regular job, you're bound to relate to almost everything the Narrator says during the course of the film. I am Jack's over-hyped generalization.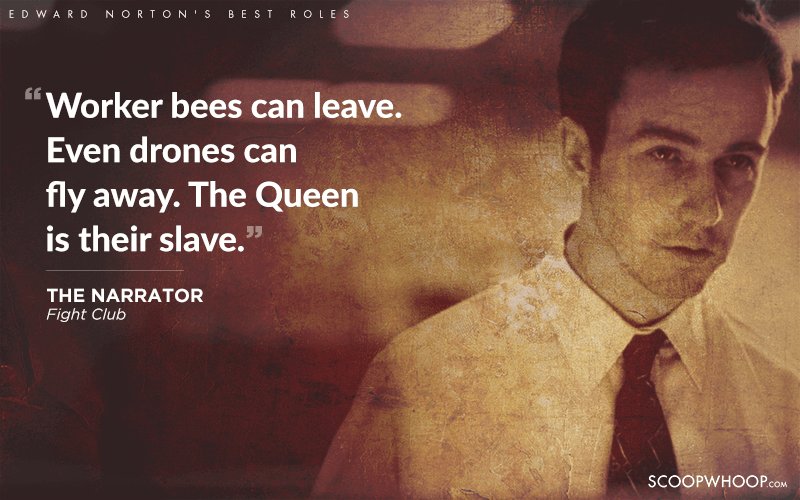 1. American History X
One of the best roles ever created in cinema will forever be that of Derek Vinyard, the once neo-Nazi skinhead who's trying to get his and his family's life back in order after serving years in prison for a vicious crime. Norton pulls no punches while playing Vinyard, who spews racial hate like bullets coming out of an Uzi. Oh and who can forget that creepy smile on his face right after he curb-stomps an African American man? I get goosebumps every time I watch that scene.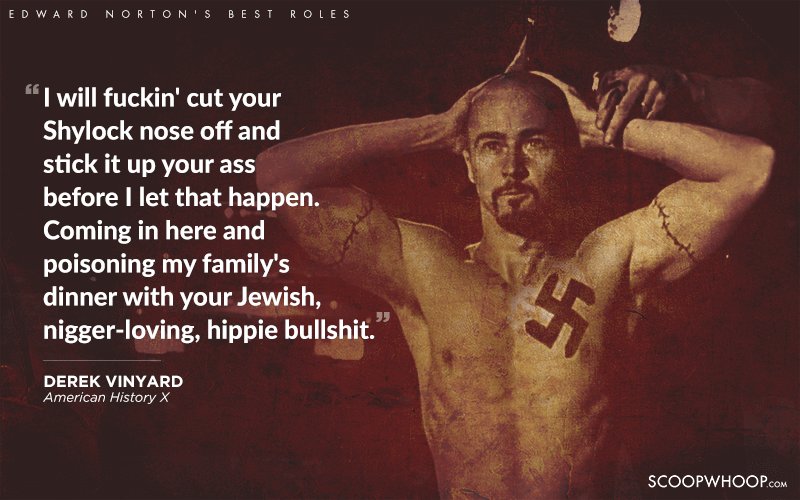 So there you have it, our argument as to why Edward Norton is one of the bests of this generation of actors. We can't wait to watch what the man comes up with next.
Design credit: Disha Bhanot