"Will the real Slim Shady please stand up?"
If you know this sentence, you know who Marshall Mathers 'really' is. Since he was never attached to his family as a kid, he fashioned himself a stage name. And once he entered showbiz, everyone knew who Eminem was – a young man with a messed up background who used music as his escape from a terrible past. He did not fight his demons, but sang about them, and in the process became one of the most inspiring rappers in history.
Today, as he turns 44, here are some things about the real Slim Shady that you might not know:
1. His mom filed a defamation suit against him because of the sentence, " My mother does more dope than I do," in his single 'My Name Is'.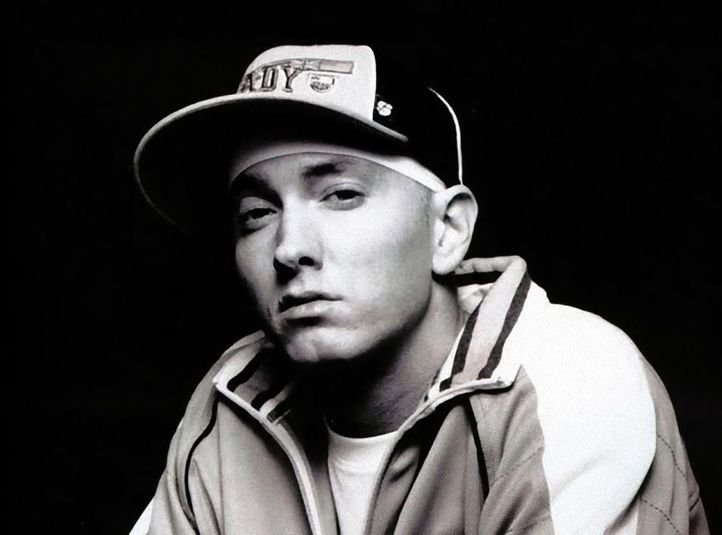 2. Eminem has been reported dead, falsely of course, 4 times in a car crash, and one time because of drug overdose.
3.The character 'Slim Shady' came to his mind while he was on the toilet seat.
4. If
you want to be signed by his music company, 'Shady Records', you have to compete in a rap battle with Eminem.
5. He has won a total of 13 Grammy Awards.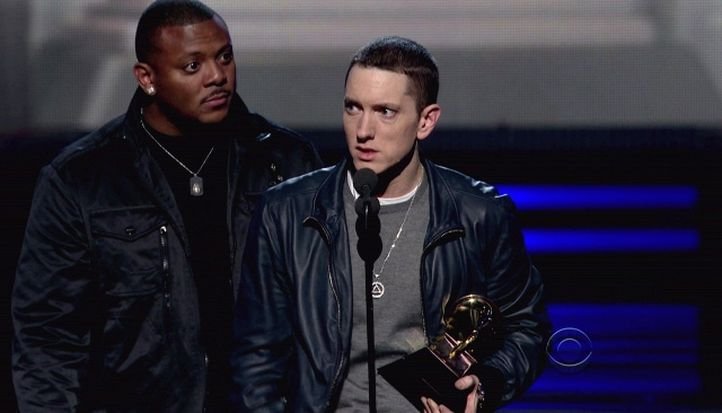 6. It took him only 30 seconds to write the hook for 'Just lose it'.
7.  He was discovered by Dr. Dre at the Rap Olympics in 1997, where he stood 2nd.
8. He did all the 3 verses of 'Lose Yourself' in a single take.
9. Tennis star Andy Murray claimed that he used to listen to Eminem before going to the court during championships.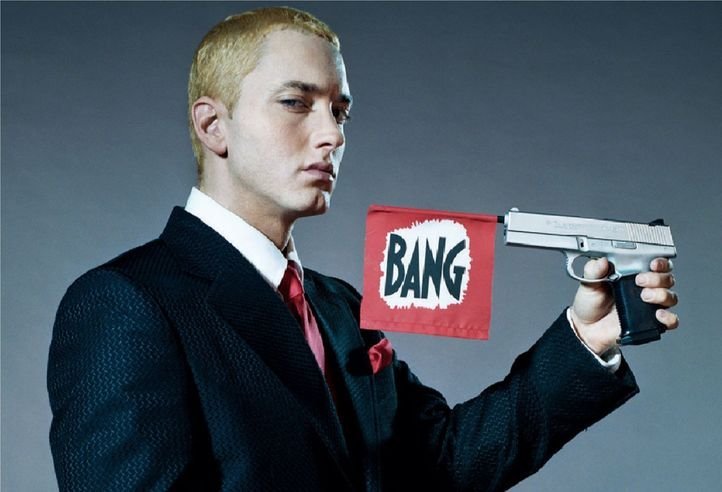 10. The movie 'The Fighter' was originally written for Eminem, but the role eventually went to Mark Wahlberg.
11.  As a small kid, he was nicknamed Mickey, because he had big ears.
12. His 2010 album, 'Recovery', was his best-selling album worldwide and the 'Eminem Show' was the best selling album in 2002.
13. He had to pay $100,000 as assault charges to John Guerra after he kissed Eminem's then-wife Kimberley and Em punched him.
He even put that in his song, 'Sing for the moment'. The lyrics read: "You're full of shit too Guerrera; that was a fist that hit you".
14. When he was a teenager, he was shot while walking to Kim's house.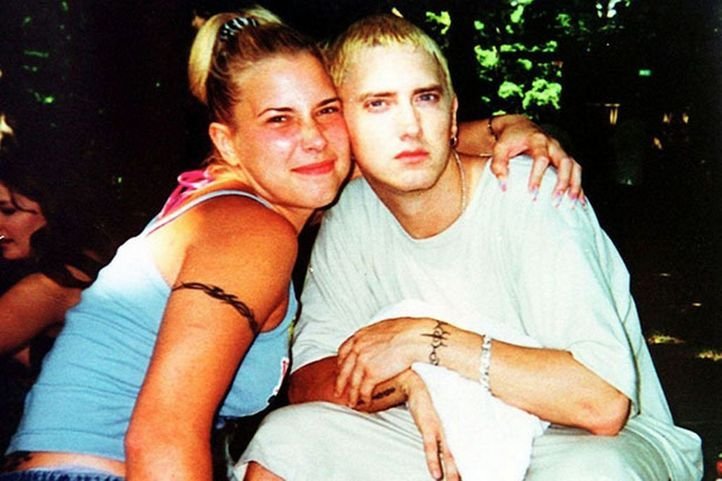 15. He failed the 9th grade 3 times before he dropped out.
16. Universal & Interscope wanted 'Cleanin Out My Closet' as the soundtrack for his movie '8 Mile', but he disagreed and chose 'Lose Yourself'.
17. To get off of drugs, he called Elton John for help. Elton helped him for 18 months to kick his addiction to Vicodin and other prescribed drugs.
18. He has taken up to 60 valium and 30 vicodin pills a day.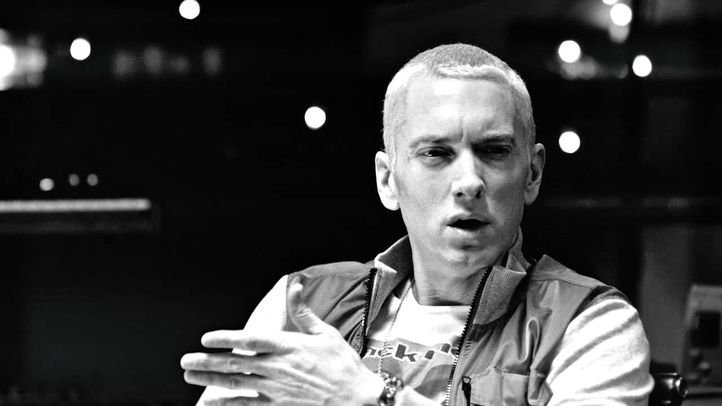 19. His radio station is called 'Shade 45'.
20. The Marshall Mathers LP became the fastest selling solo album in US history.
21. He refused to perform at the Oscars because they wanted him to sing the clean version of 'Lose Yourself'.
22. He also holds a place in the Guinness Book of World Records for the most successive US number 1 albums by a solo artist.
23. He discovered Curtis Jackson III, who gained international fame under the stage name '50 Cent'.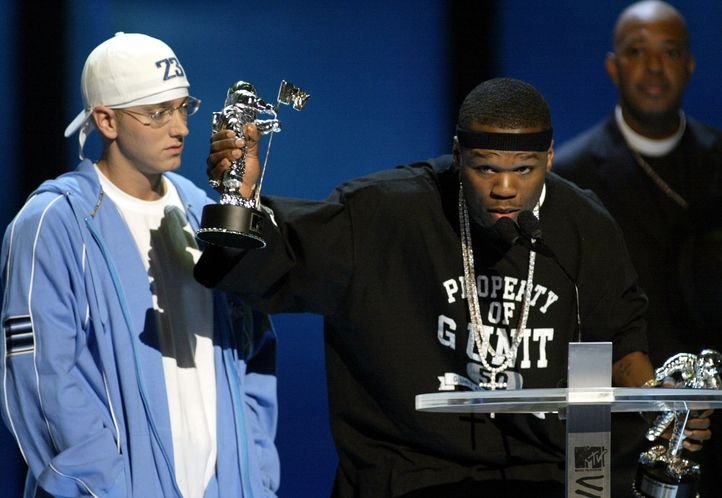 24. To expand his lyrics, he used to extensively study the dictionary.
25. His track 'Survival' featured the trailer for the video game 'Call of Duty: Ghosts'.
26. Before the role went to Matt Damon, Eminem was meant to be the lead in 'Elysium',
27. He wears XXL sized clothing.
28. And size
10½ shoes.
29. When Em was 9, he was beaten so bad that he was in a coma for more than a week.
30. He had issues with people staring at him.
31. He was the first singer in history to win the best rap album for three consecutive LPs at the Grammy's.
32. He gave one of his Grammys to his manager, Paul Rosenberg, in 2000.
33. The only book he has read completely is LL Cool J's 'I Make My Own Rules'.
34. One of his high school bullies filed a case against him saying that Em's single, 'Brain Damage' hurt is reputation.
DeAngelo Bailey wanted $1 million in settlement, but his legal action was dismissed.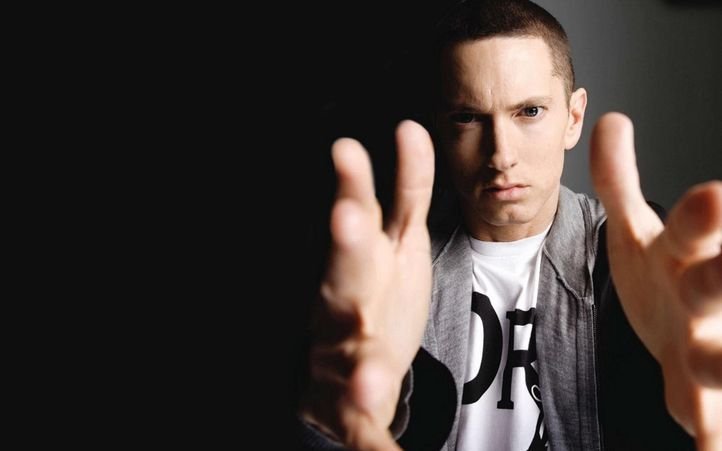 35. Eminem also claims that he had a relationship with Mariah Carey in 2001, although she disputes it.
36. He has a large comic book collection & was also part of a comic book called Eminem/Punisher.
37. There is a portrait made of M&Ms; in Florida inspired by Eminem and created by artist Enrique Ramos.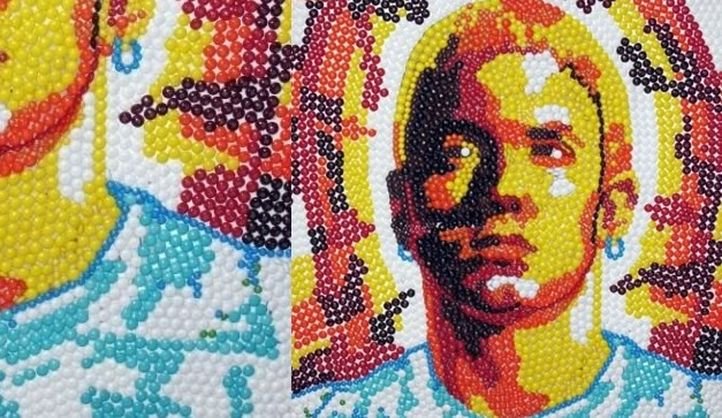 38. Taylor Swift is a big hip hop fan and wanted to collaborate with Eminem.
39. It is said that the character played by Brittany Murphy in '8 Mile' is not Kim Mathers but music marketer, Marissa Cirillo. It was rumoured that they dated secretly.
40. Eminem has been targeted by Snoop Dogg, Jay-Z and Kanye West in their songs. Although, he has a strong relationship with Dr. Dre, which is shown in their song 'I Need A Doctor'.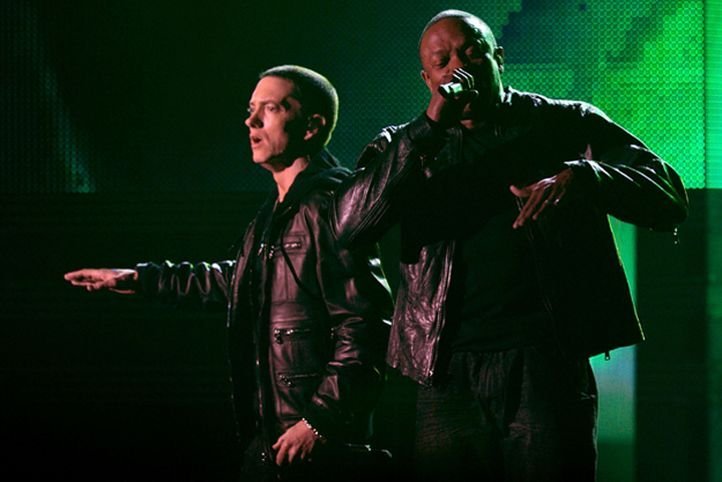 41. He is a big fan of pornstar Janet Jacme.
42. Amsterdam was the original title for the Album 'The Marshal Mathers LP' because he wrote much of it in the city. Some of it has been inspired by Dutch journalists.
43. He has a huge gay fan base as well.
He was accused of being homophobic, but he disagreed.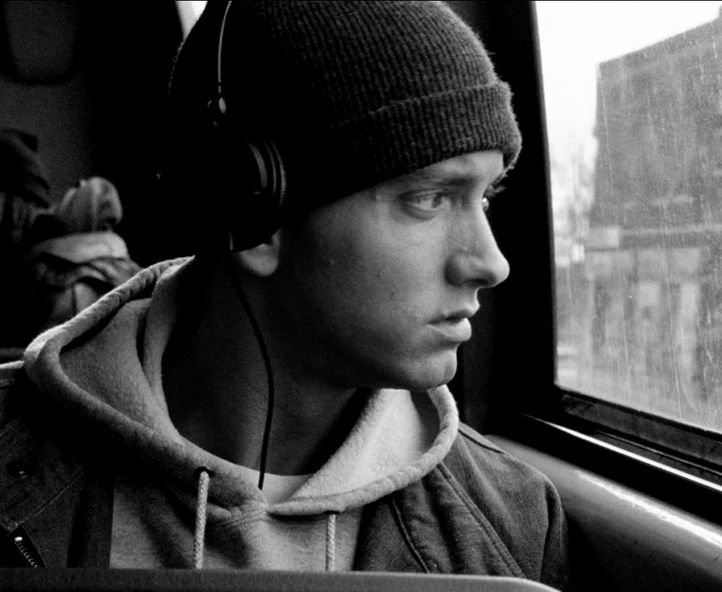 "I say what I want to say and do what I want to do. There's no in between. People will either love you for it or hate you for it." – Marshall Mathers