Bollywood does it again!
At a time when the entire country, including the Hindi film industry, is fighting for its freedom of speech and expression, a female actor is being targeted by her own peers (and the common folks on Twitter) for expressing her opinion on a film.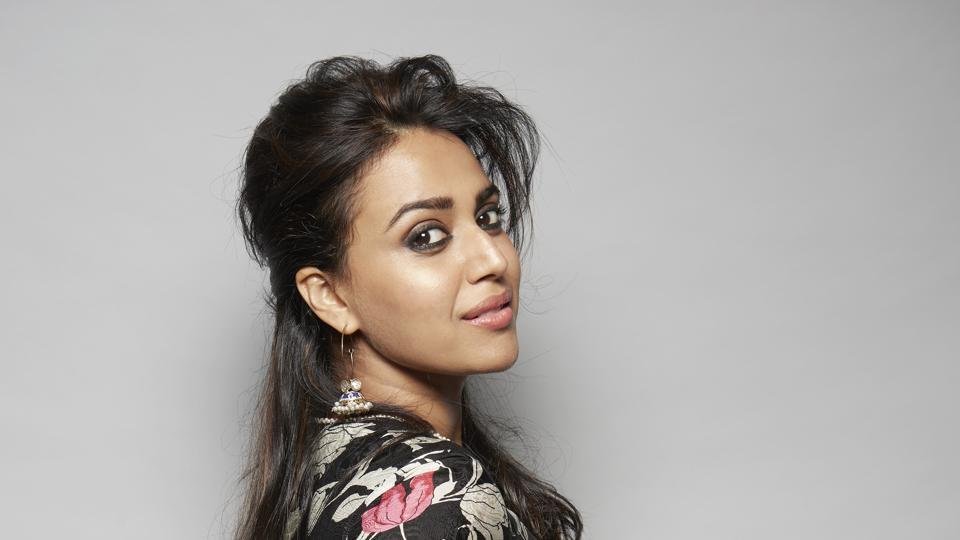 One of the most talked-about films in recent times, Sanjay Leela Bhansali's Padmaavat has been in the news ever since its shoot began in Rajasthan. 
Thanks to Karni Sena and its goons, the film faced many troubles – from Bhansali being physically assaulted to a bounty being placed on Deepika Padukone's nose – before it finally released in theatres with a new name after being denied a release late last year.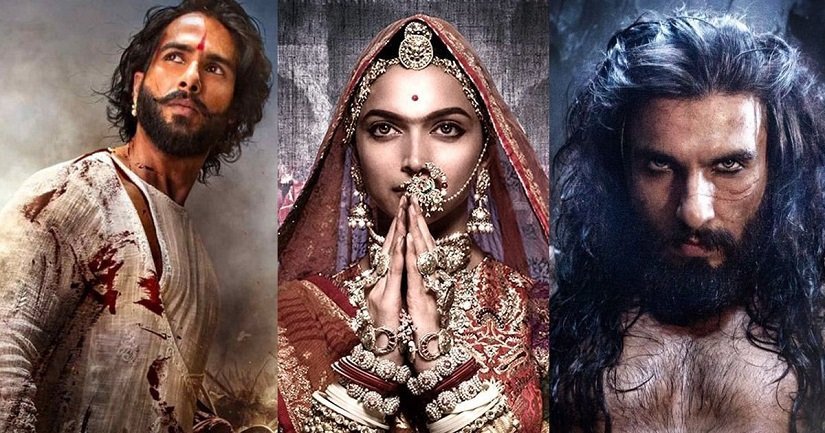 While any and every film deserves a proper theatrical release, things haven't been all pleasant for Padmaavat as it has earned major flak from a certain section of the audience for glorifying and glamorizing the archaic practice of jauhar, all in the name of Rajput honour and pride. 
One of the most prominent pieces of criticism came from actor Swara Bhaskar who wrote an open letter to Bhansali, expressing her opinion and emotions after watching the film.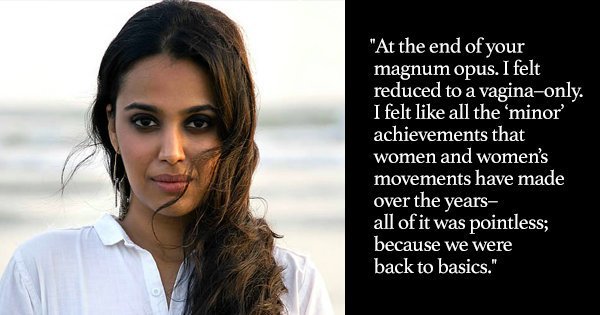 However, as it happens with most women, Swara was trashed, ridiculed, slut-shamed and heavily criticized in no time. Not just by trolls on Twitter, mind you, but also by many Bollywood personalities.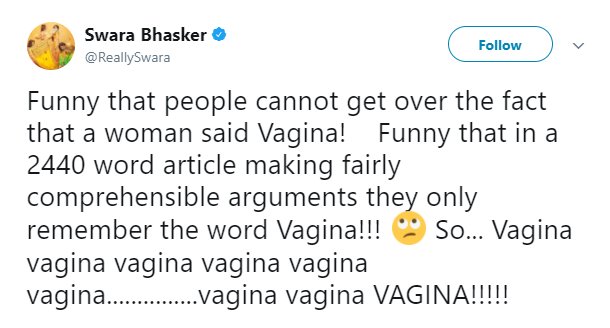 One of the leads of Padmaavat, Shahid Kapoor called Swara's letter 'awkward' and 'frivolous' and wondered why she was saying what she did at a time when the entire industry is standing with the film.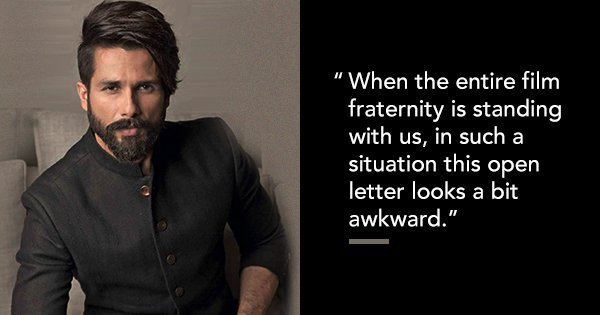 Actor-singer Suchitra Krishnamoorthi was next in line and called out Swara for her 'standards' as she has, in the past, played a 'prostitute with much elan'.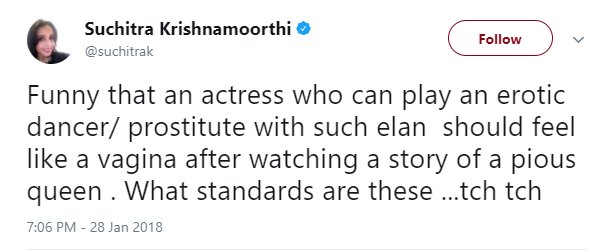 There have been many others from the industry who've lashed out at Swara for having an opinion on the film.
One of the most appalling comments though comes from director Vivek Agnihotri who's asked Swara to make a trip to Naxal areas and experience what 'a real vagina feels like'.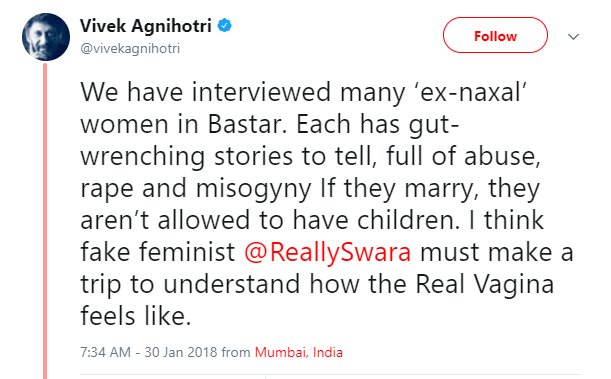 Unfortunate doesn't even begin to describe the situation – a female actor is being attacked for expressing an opinion on a film, the same film that fought for many months in the name of freedom of speech and expression!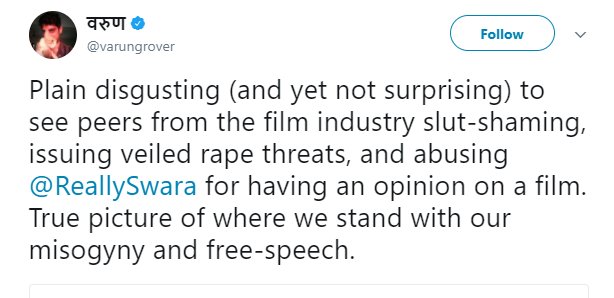 Bollywood is a strange industry. When there are causes actually worth fighting, no one comes out and says anything. But when there's something that shouldn't be such a big deal, every one from the industry is up in arms.
As stand-up comedian Kunal Kamra pointed out, more Bollywood celebrities have criticized Swara Bhaskar for having an opinion than those who lashed out at Karni Sena.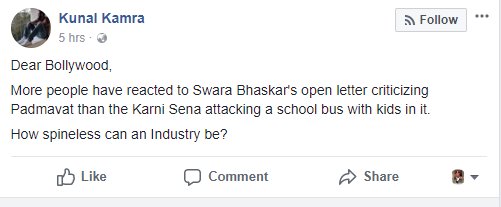 How many Bollywood celebrities spoke against Karni Sena during the entire hullabaloo over a film? Sadly, not many.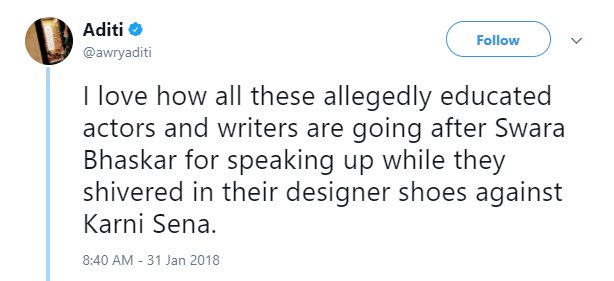 Just like the rest of the country, Bollywood too has rampant sexism and misogyny and this reaction from the industry is yet another proof of that.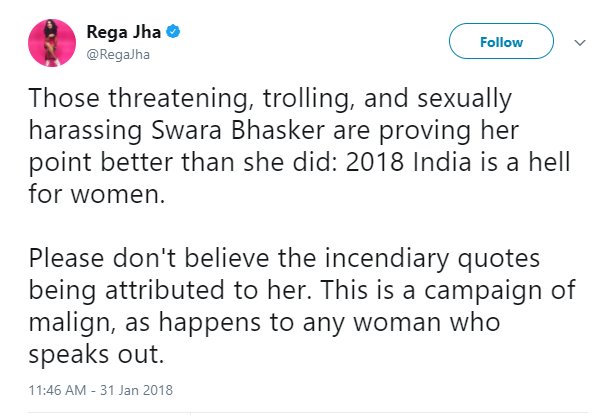 Attacking Swara Bhaskar for having an opinion shows exactly where Bollywood stands when it comes to treating women with respect & respecting their opinions.