If you are a big cinema fan and constantly check IMDb (Internet Movie Database), the world's most popular source for films, television, and celebrity content, then this is for you. So, you click on the website, look for Sandeep Reddy Vanga's upcoming film, Animal in the search box, reach its page, and check the star cast of the movie. You will find Ranbir Kapoor, Anil Kapoor, and Rashmika Mandanna's names there. Like this: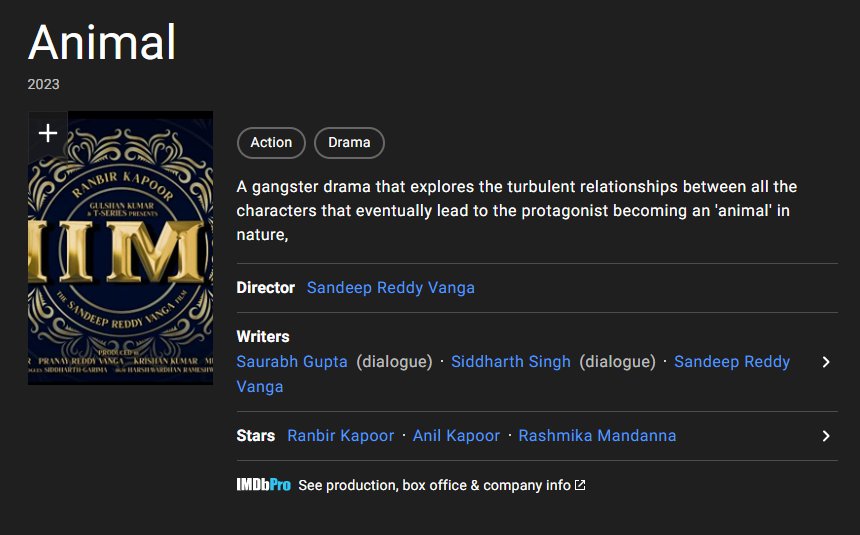 However, this wasn't the case earlier. It featured an unknown name which has turned out to be fake. A Twitter thread has exposed the person and delved into how IMDb is being vandalised by fake profiles these days.
Instead of Rashmika, there was some random guy, Subhankar Bagchi from West Bengal whose name has now vanished from the star cast on the page. The thread posted by @prstb has screenshots of Bagchi's name being added on Animal's IMDb page. Check it out here:
1. "Young Indian men from small towns are gaming the system to manufacture their fake online clout"

2.  "This is what his bio and filmography look like"
3.  "These edits are not getting reviewed effectively"
4. "According to his Google search results, he is actually a legit musician"

5. He has "biographies written about him on a few websites of doubtful credibility"
6. "He doesn't have a lot of followers or any music content" online
7. The guy has been tricking "Google into believing that he is a person of eminence"
8. Here's how knowledge panel works when you Google a famous personality
9. However, Subhankar has "fooled" Google search algorithms
10. Not just Subhankar's, a lot of other fake profiles are there on IMDb with the "exact same modus operandi"
11. Star cast of KGF: Chapter 2 also featured "fake credits" on IMDb
12. "All of their IMDb bios are written in an identical styles"
13. "All are part of the cast of big Indian movies with a vague mention of their roles"
Phew! Ye sab milke humko pagal bana rahe hain! Next time when you are checking IMDb, don't get misled with such profiles. Anyone can edit IMDb. Certainly, these changes on the platform are not being reviewed properly. As of now, the aforementioned movie pages on IMDb have been fixed.