Gone are the days when only Johnny Lever, Shekhar Suman and Raju Shrivastava defined the comedy scene in India. Now, we have a cool, new group of young comedians who are acing the comedy game, one joke at a time. 
With a fresher perspective, these comedians come with a no-damn attitude about being politically correct. While the stand-up game of the new lot is pretty spot on, those who are really making heads turn with their wit and tongue-in-cheek humour, are the ladies of the industry. They are peppy, they are witty, and yes, they have a lot of things to say to you. So you better be all ears.
We talked to two of India's leading comediennes and they got candid about their unconventional job, jokes, et al.
Aditi Mittal
One of the first few ladies who broke mould and took to the stand-up comedy floor and, quite honestly, nailed it. Aditi Mittal, is now a well known face, thanks to the AIB Roast, and her recent video on Sanitary Napkins. Ask her how she entered the industry, and she has a beautiful love story to tell. She tells ScoopWhoop: 
"I was at a bar attending an open mic. I saw stand up, our eyes met. I walked over and asked, Hey you wanna try something? After much pleading and begging on my knees, I clubbed it over the head and took it home."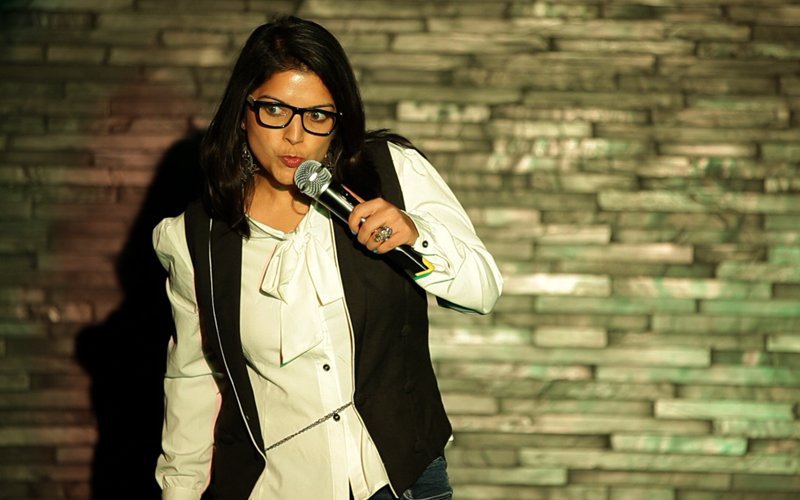 She believes
Everybody should be made fun of. Because this hipster feminist shit is quite exhausting and unproductive. If you're made fun of, then don't look to naara giri, make it a narrative, have fun and make fun of the people making fun of.
her message to aspiring female comedians is somewhat on the same lines: 
Keep your head down. If your jokes are amazing, then continue standing strong. Your audience is who matters the most to you, but develop thick skin against. You'll need it. 
Follow her on Facebook,  Twitter, and subscribe to her YouTube channel for some crazy stuff. 
Neeti Palta
A writer by profession, Neeti started working as an advertising professional selling cola to kids! But then she got bored of the monotony and had a genre jump. She went from telling kids to drink cola to telling them not to in the Hindi version of Sesame Street, called Galli Galli Sim Sim. But by what she said, we know that she loved the latter a lot more.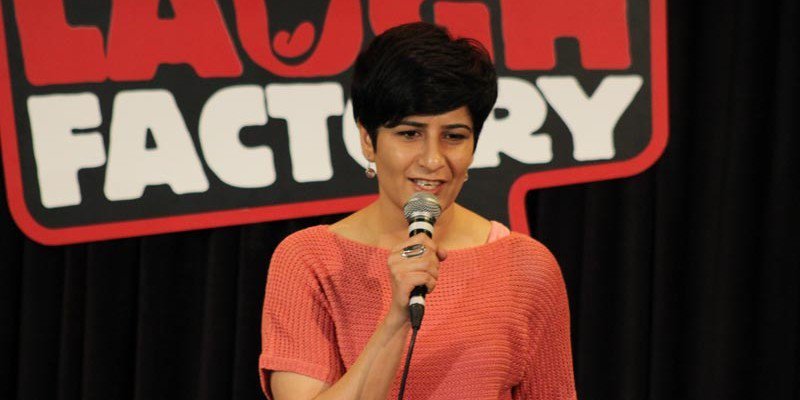 Her initiation to stand up happened one fine day when she was attending a stand up show where the cast of Whose Line Is It Anyway? were performing. She got lucky and was called onstage. To her as well as the casts' surprise, she pulled off the improv segment with much ease. And then came the next step, and before she knew it, she was doing open nights, which finally led to her bagging her own gig.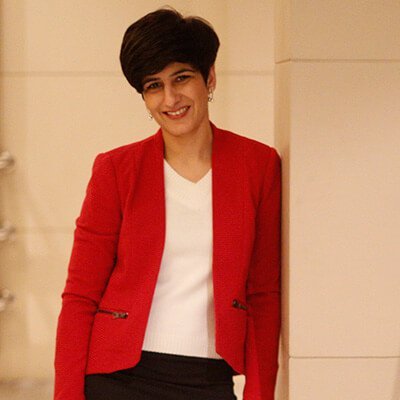 For Neeti, "Stand up is an art. It's like anybody thinks that they can do it, until they actually do it." Her style of comedy is also observational, because hey, there's so much scope in just observing people and making fun of them. She's not afraid of being tongue-in-cheek, and absolutely loves being subtly sarcastic. 
But according to her,  "What attracts most laughter is when she starts talking about her own life, parents and childhood stories." If you've ever been her audience, you'll know how she used to lure her brother's prospective girlfriends with promises of setting karva dungi and what not. Alas! those girls fell for it too. 
To our surprise, all her jokes have the stamp of her parents' approval. Be it cuss words, making fun of her brother, or just randomly pulling people's leg on stage. But even then, because of the fact that she's a woman, she continually deals with the "Tch Tch- The sound of Indian judgement," as she likes to call it, almost every time she's up on the stage, and there's an auntyji sitting in the audience. 
We ask her if being a woman along with being in an industry which is still in its infant stage is a hard run, and she has a lot to say. 
Her message for aspiring comediennes is quite hilarious, but trust me, it's just what you need: 
I would like to say, invest in one cream. This cream permeates your epidermal layer and makes you thick skinned from the inside. So no matter, what every Tom, Dick and Harry may say, it wouldn't bother you. It will make you immune to nonsense. 
Follow her on Facebook, Twitter and YouTube. 
Here's to the ladies who make us laugh. Cheers!