"And the handsome prince carried the prince away and they lived happily ever after…"
We were 11 or 12 or 13 when Mr Milind 'too good to be true' Soman first popped out of a courier box sending a lot of butterflies running wild in our stomachs. It felt like he gave rise to a wave that left girls across India swooning as it traversed the length and breadth of the nation.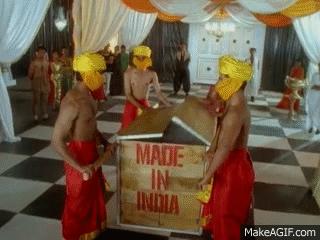 Every single girl sat waiting for the day when he would finally appear, carry them away in his long gorgeous arms and put a stamp on their happily ever after.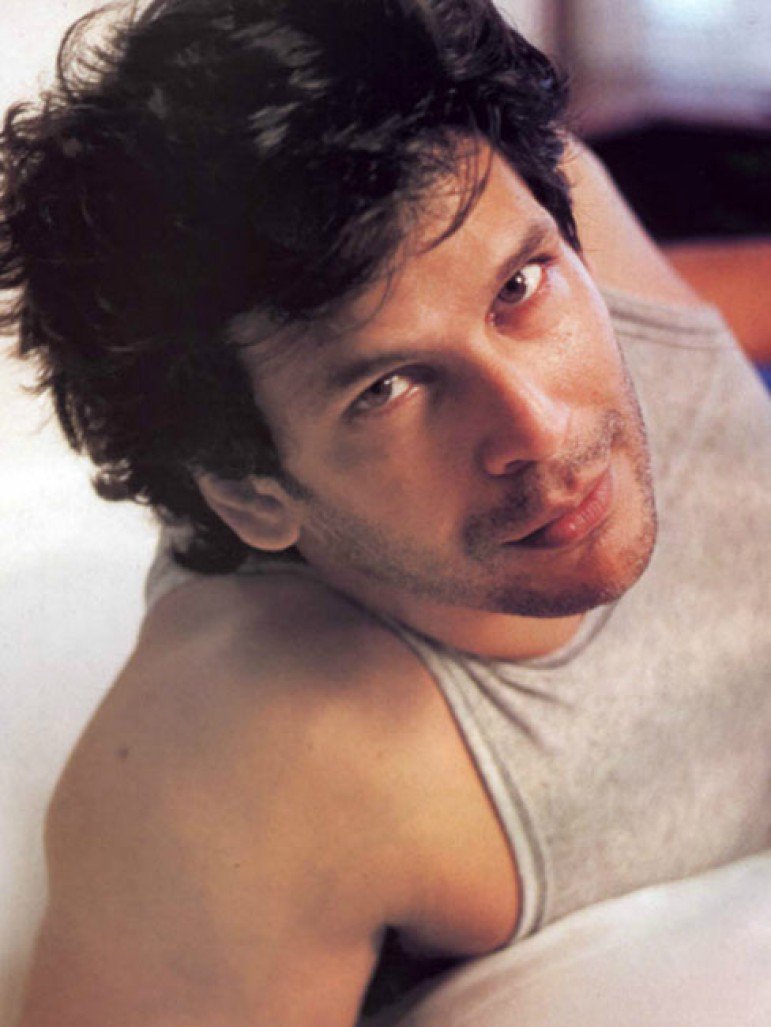 Many years later, the feeling still lingers even though life has changed and so has Mr Milind 'hot AF' Soman.
1988 was the year this engineer-turned-model first started twinkling among the million stars out there but we wouldn't lie, his light had our undivided attention.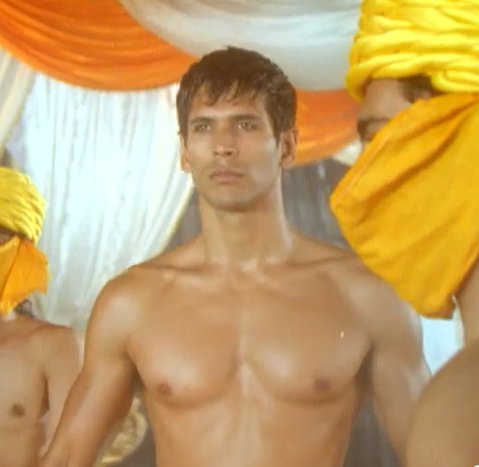 In 1995, when that box opened and out came this gorgeous hunk, our hearts literally stopped beating. 
We followed him around like a lost little puppy as he transformed from a hot bod in the 1995 music video of Alisha Chinai's, 'Made In India' to a super hero — 'Captain Vyom' — in 1998. It almost felt like those characters were carved with him in mind for the perfection with which he fit into their shoes.
The August of 1995 saw Milind concocting a dream-like photograph that filled our nights with fantasies about him and him alone.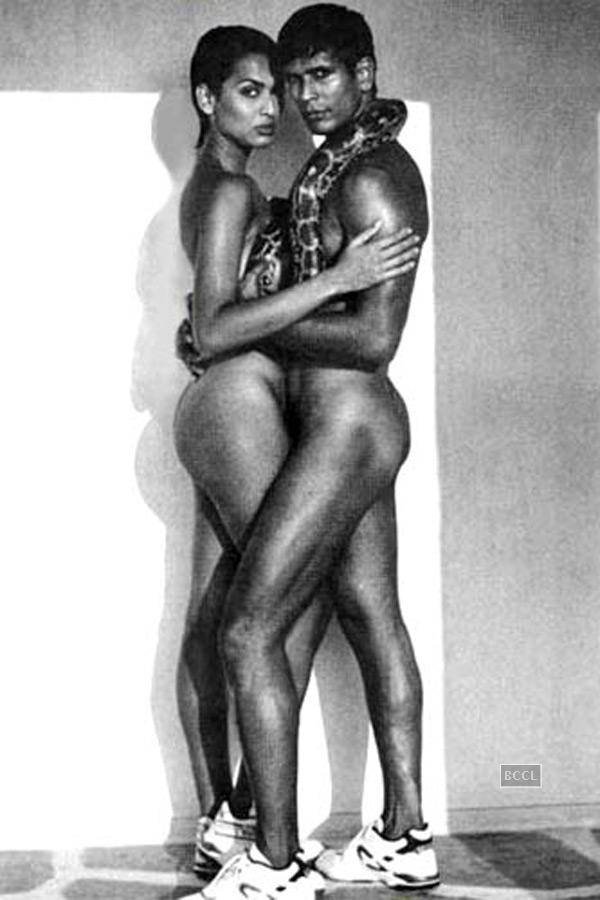 A body to die for and a mind that we wanted to take a dive into. There is a famous Hindi slang which reads – "Nayan Sukh Prapti". Just the sight of you was enough to set a lot of hearts on fire and faces break into a smile.
It was a dream come true when we saw him in Sea Hawks as an Indian Coast Guard Officer. 
They say, "ladkiyaan toh uniform walon par marti hain," but to have a Milind Soman inside that uniform as Commandant Vikram Rajpoot was like having a chocolate donut only to later find out there's chocolate filled inside it.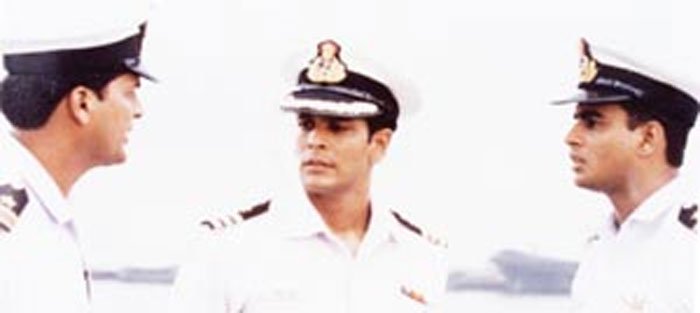 He kept us on our toes as he moved around and delivered his dialogues with God-like perfection as we stared at you all that while.
Age never seems to catch up with this man.
We got a little older but Milind didn't seem to age as his aura strongly held its hold on us through the 2000s. 
2003 superhit — Rules: Pyaar Ka Superhit Formula — was like a magic potion that made us want him even more.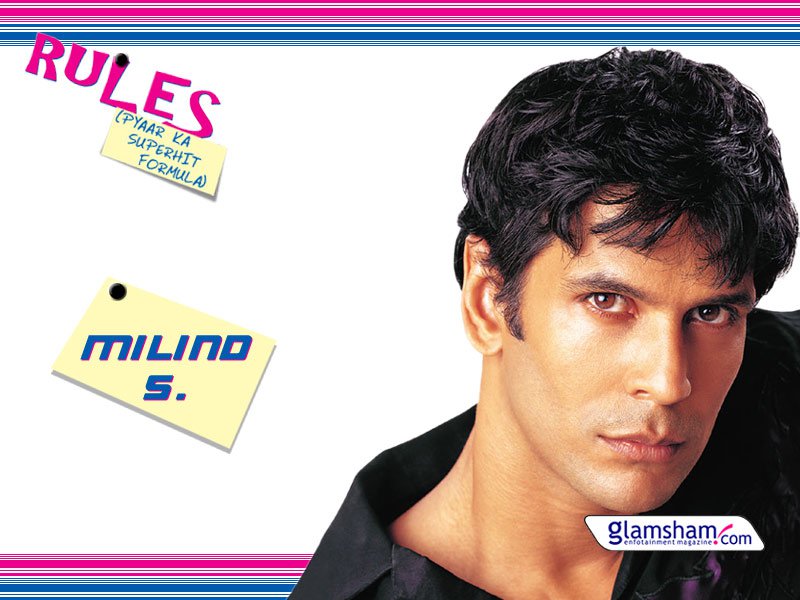 In the same movie, there were 5 rules that Radha's grandma asked her to follow to make Vikram a.k.a Mr. Milind 'heartbreaker' Soman fall in love with her. His work made us realise that love is above and beyond rules and games. He made us believe that true love existed. He made us fall in love with him a little more.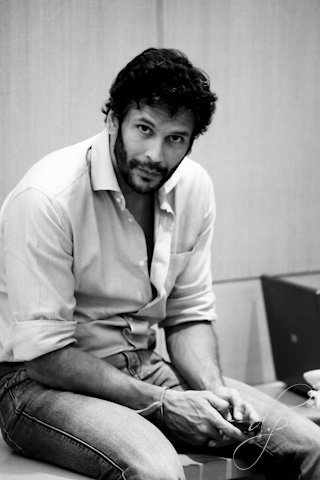 16 December, Agni Varsha, Valley of Flowers, and other movies left us only asking for more of this man.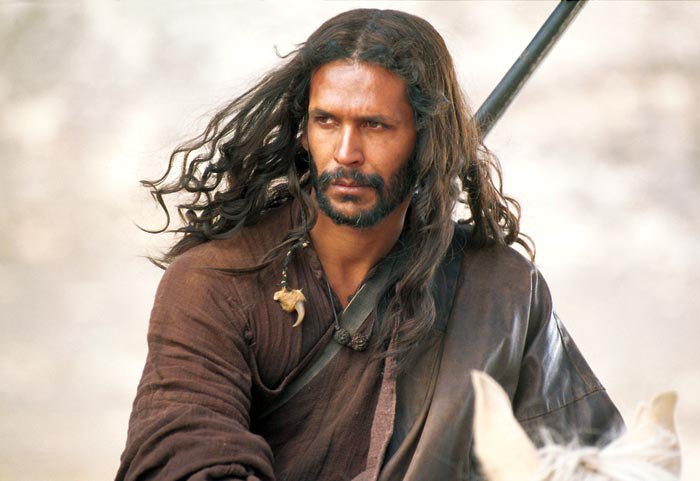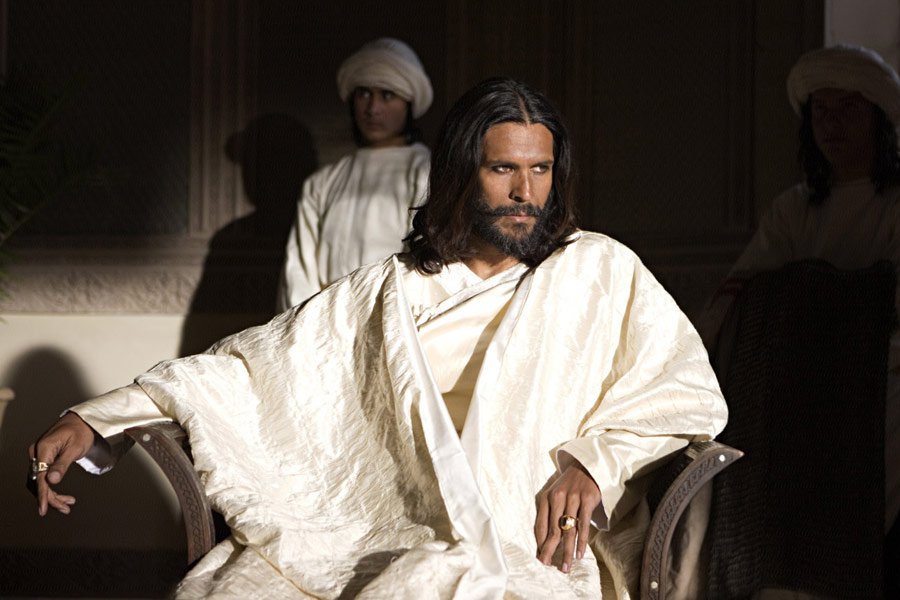 He blew the trumpets of our hearts in his grey tee and blue jeans in the music video of the 2006 "Raat shabnami, bheegi chandni" by Asha Bhonsle. Steaming hot, nothing more nothing less.
But he wasn't done yet. He then left us a little bekaraar sa with "Chhodo na mujhe yun beqarar sa" – the 2007 song by Kunal Ganjawala. This man never failed to look good or do what he does best, right.
He reinvented himself, and somehow managed to flutter our hearts even more.
Time flew. We were born and raised in the summer haze reflected from the eyes of this man who not only won her hearts but also our respect.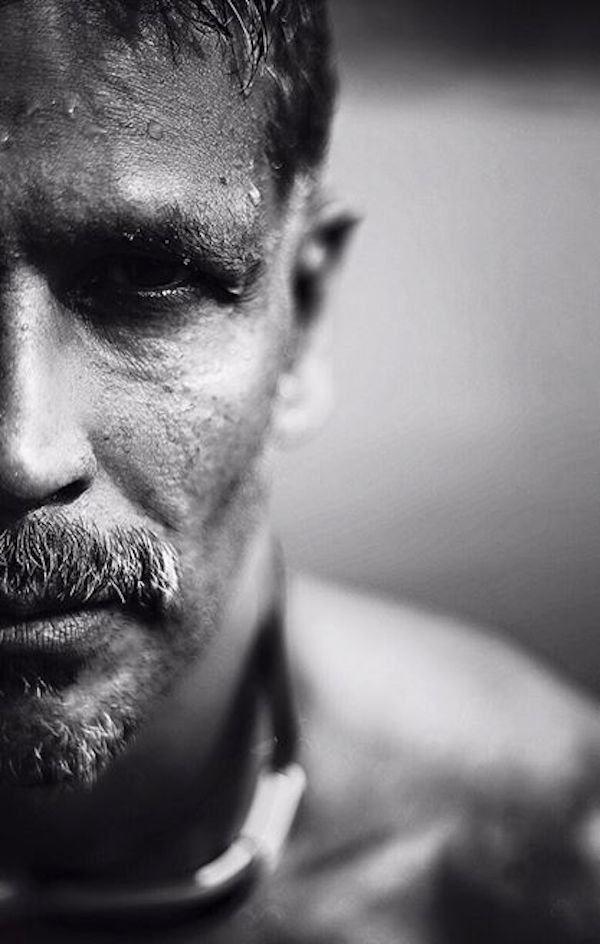 He sent our hearts racing as he ran. He was unstoppable. He is unstoppable. A supermodel-turned-actor-turned-runner made everyone go gaga over his fabulously fit body and determination as he made his way to complete one of the world's toughest races, The Ironman Triathlon, at the age of 51.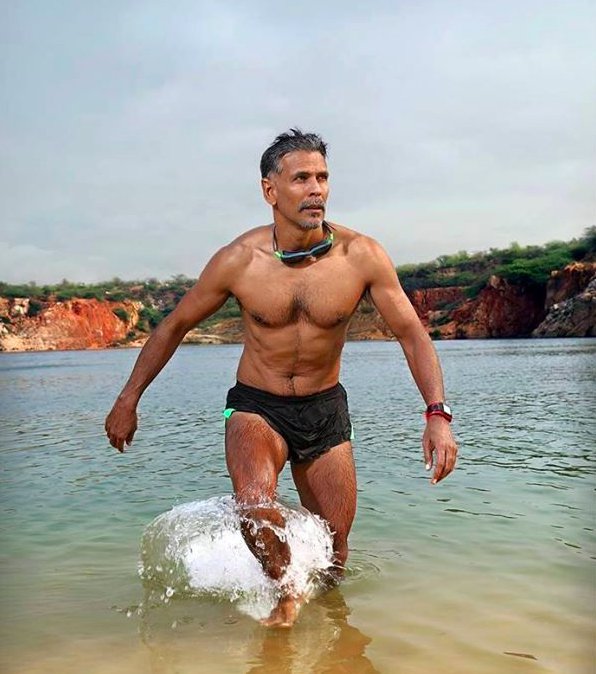 Milind's performance in Fear Factor Khatron Ke Khiladi x 3 hosted by none other than Miss Priyanka Chopra was nothing like how we had ever imagined him. These were the kind of surprises that made us silently trust Milind to be a headstrong person who knew what he loved and loved what he did. We knew he wasn't doing anything to please anyone, but himself. That was a major turn on, to be honest.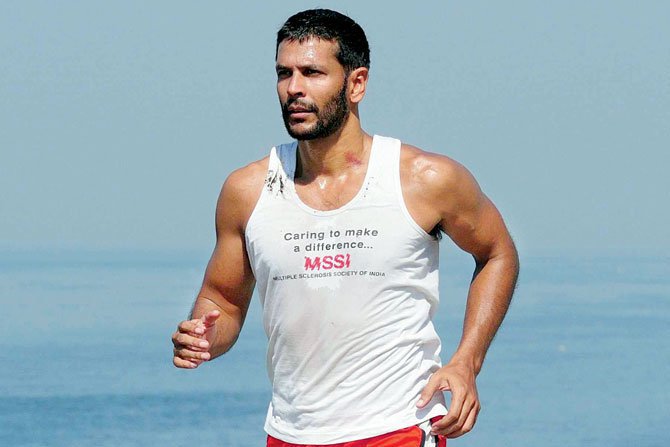 This four-time national swimming champion only started running at the age of 38. A living example of 'age being just a number', Milind picked increasingly difficult physical challenges every year, including the one he ran from Delhi to Mumbai, covering a total of 1500 km in 31 days, in 2012.
To add to all the glamour he brings to running, he is also an ambassador for the Pinkathon, India's biggest all-woman running event.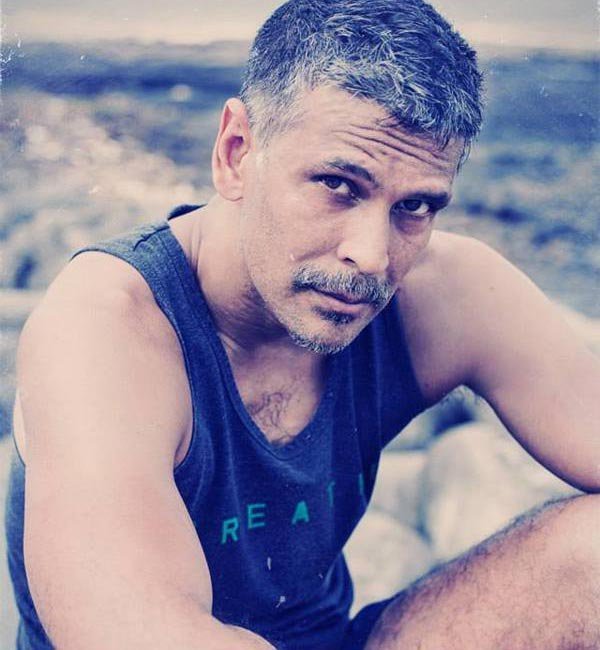 These colours of this man unfolded so beautifully in front of our eyes. 
Not just his ageless body but also the hope he gave to so many. "That's why I keep my hair grey," he once told The Hindu in an interview about encouraging people to start taking fitness seriously, "Then the younger people think, if he can run, so can I."
Milind 'Ironman' Soman was featured on the Humans Of Bombay page in 2015 where he talked about his transformation from being a chain smoker to winning the title of Ironman. Honestly, how is he such a perfect human being despite all the imperfections?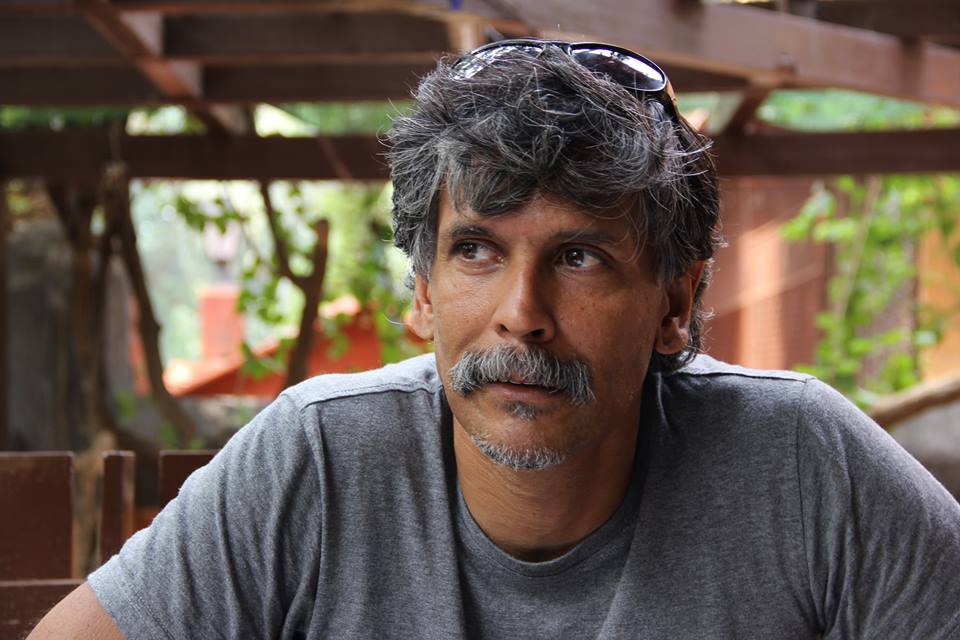 But we literally fell off the couch when we saw him in the ad of a vintage brand — Old Spice — while he sat on a throne bare-chested, in classy glasses, a blingy watch and a towel in his not-so-humble fort and shared his thoughts on what constitutes "manhood". If manly could ever be described as a human being, we got our fingers pointed towards Milind So'man'.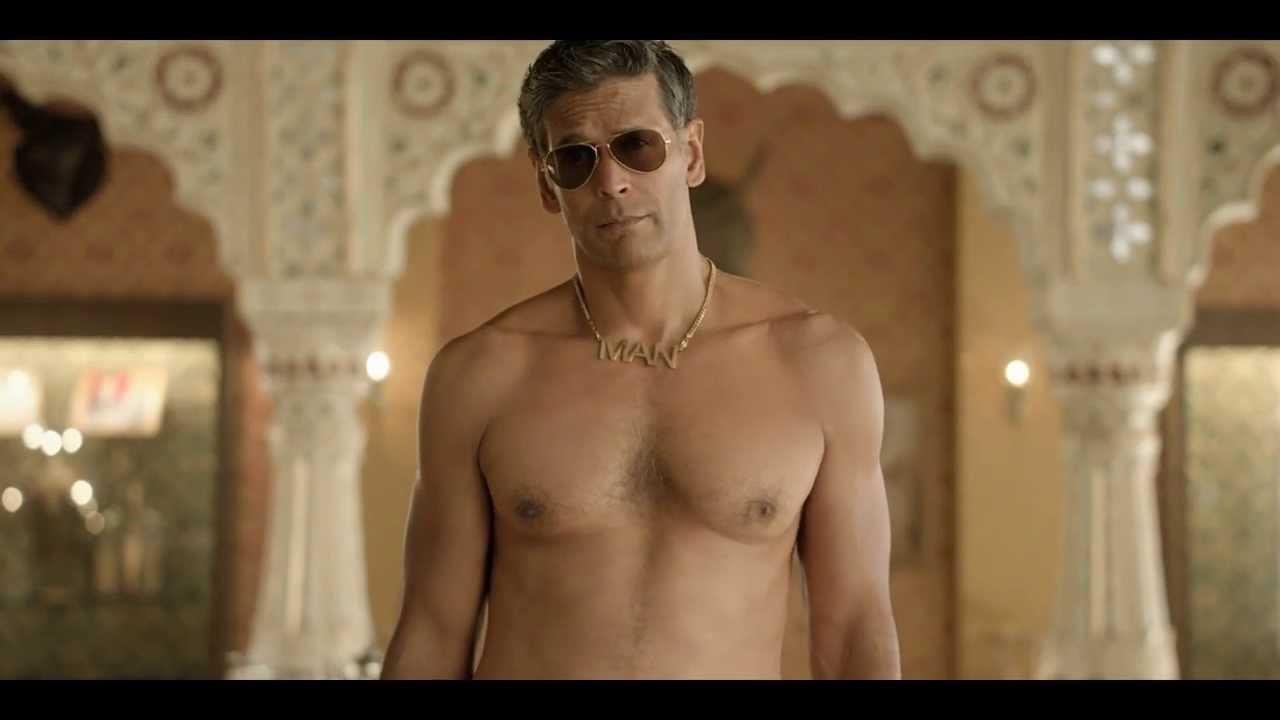 Beards may be too mainstream now but his shines with a stunning grey sheen to it.
Our love for you goes beyond time and age, you are still the heartthrob that you used to be when we were 12, 13 or 14.