Forbes has released a list of 10 highest paid actors in Bollywood, after their list of highest paid male and female actors in the world came out. 
The earnings are recorded from June 1, 2016, to June 1, 2017, and are based on data from Box Office India, Box Office Mojo, IMDB, press interviews etc. While SRK tops the list as the highest paid actor from Bollywood, it is interesting to note that only 2 female actors make it to the list. Here's what the list looks like: 
10. Ranbir Kapoor
Net worth: $8.5 (Rs 54 crore) 
9. Amitabh Bachchan
Net worth: $9 million (Rs 57 crore)
7. Priyanka Chopra
Net worth: $10 million (Rs 64 crore)
7. Ranveer Singh
Net worth: $10 million (Rs 64 crore)
6. Deepika Padukone
Net worth: $11 million (Rs 70 crore)
5. Hrithik Roshan
Net worth: $11.5 million (Rs 73.6 crore)
4. Aamir Khan
Net worth: $12.5 million (Rs 80 crore)
3. Akshay Kumar
Net worth: $35.5 million (Rs 224 crore)
2. Salman Khan
Net worth: $37 million (Rs 236 crore)
1. Shahrukh Khan
Net worth: $38 million (Rs 243 crore)
As we can see, only two female Bollywood actors made it to the list: Deepika Padukone and Priyanka Chopra.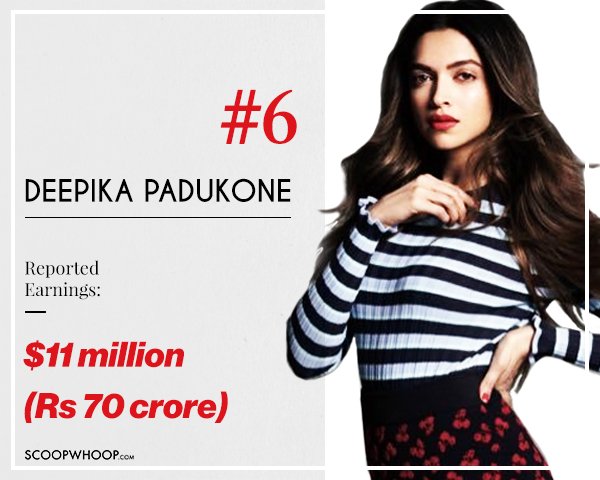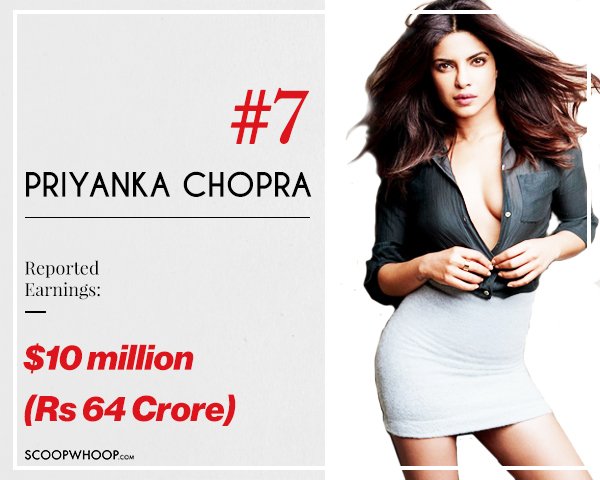 According to Forbes, both Hollywood's and Bollywood's highest-paid actors continue to out-earn their female counterparts.
Talking about the Hollywood list, Forbes noted,
"The top 10 actors banked a cumulative $488.5 million – nearly three times the $172.5 million combined total of the 10 top-earning women. While only three actresses made more than $20 million in 12 months, 16 actors broached the mark."
It is the same with the Bollywood list.
There are merely two female actors who could manage to get into the list and somewhere, it feels unfair. While film industries around the world are still fighting for equal pay for women, the story back in India is also not very different. It is astonishing to note but according to the World Economic Forum, there is no country on earth where women make as much as men for the same amount of work. 
While we have a Game Of Thrones that prides itself in paying its lead actors the same amount of remuneration irrespective of their gender, we have lists like these that act as a dampener. We are happy to see Deepika and Priyanka in the list, but it would have been nice to see more female representation in the list, considering we have no dearth of fine talent in the industry. Both these bankable stars are still making less money when compared to their male counterparts. 
Bollywood churns out the most number of films anywhere in the world, while there are a dozen films that have come out that purely rested on a female character, we are still debating if they should get the same amount of money as their male colleagues.