Let's start this review with a simple agreement. Let's all agree that Hollywood is at its best when it chooses to laugh at itself. Unbridled, throw-your-head-back, am-I-really-that-silly laughter. It's only when the big boys decide to take themselves less seriously that they blossom into men. The Guardians Of The Galaxy franchise stands testimony to that. 
A large portion of the first film was about establishing the chemistry between the loveable ruffian hero,Quill (Chris Pratt), a raccoon-thingy, Rocket (voiced by Bradley Cooper), a trisyllabic tree, Groot (voiced by Vin Diesel), a green assassin Gamora (Saldana) and a vengeful and incredibly dumb hulk, Drax (former pro-wrestler Dave Bautista). 
In a ridiculously satisfying prison break sequence, where Quill convinces a prisoner to part with his prosthetic leg, among many other random things, the template of their relationship is set. Each character is made to play off the other, each wisecrack is meant to prick a balloon. 
Guardians of The Galaxy Vol:2 is true to its roots. I meant Groots. Never mind. It's throbbing with 1980s references, there are moments when you can see a Total Recall set piece dissolve into a scene from Raiders Of The Lost Ark. And it has a show stealer in the form of a talking tree. Actually, a talking shrub. But size doesn't really matter. 
Yes, like in the first instalment, the irreverent cockiness of Guardians Of The Galaxy 2 makes you stop and wonder if this is indeed a Marvel product. So self-aware is its irreverence that it feels like some incredibly talented nerd has spliced scenes of an unmade superhero film together to make a fan film.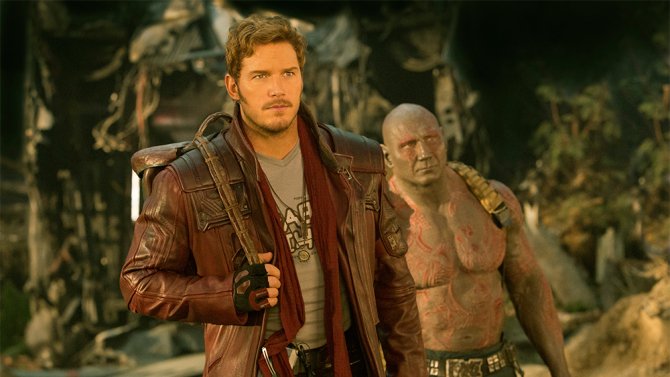 But here is the catch.  Director James Gunn is that nerd. You can tell that he is having a field day lovingly hacking most superhero stereotypes.  But his artistic vision is way more ambitious than a mere fan-made spoof. Guardians Of The Galaxy 2, has a meatier script than the first instalment. It relies more on human emotions, which is not necessarily a bad thing. 
The film opens with the most spectacular bit of special effects you will see this year and it has nothing to do with inter-galactic ships blowing apart. The marvel of the Marvel VFX team is a young Kurt Russell, the man who gave a string of 1990s B hits like Escape From LA.  Here, we see a young, digitally remastered version of the 60 something Russell, driving down sun-dappled highway of Missouri and courting Quill's would-be mother in 1980. Like in the first film, nostalgia is induced through a splendid soundtrack. 
The scene immediately shifts to Guardians slaughtering  an oversize tentacled monster. That is title sequence. However, the focus is on Groot, now Baby Groot, swinging to ELO's "Mr. Blue Sky."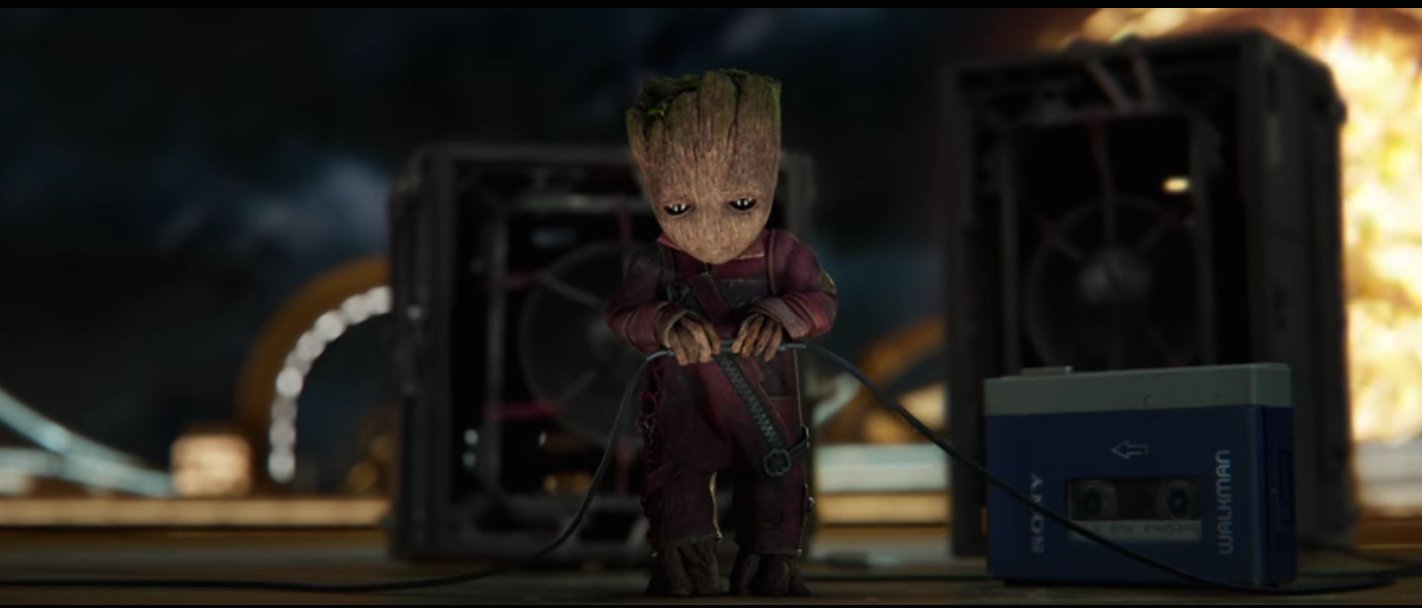 Instantly, we know that this is a film that will not take itself seriously. 
Peter's daddy issues are addressed at length here. And it's done with the right mix of scorn and sympathy. We know the man who impregnated his mother is Ego, a celestial. With a name like that, what do you expect him to be like? Ego is a narcissistic ass, who wants Peter to rule the universe with him. We all know how that ends. 
Gunn also chooses to explore the sibling rivalry track between Gamura (Zoe Saldanha) and Nebula (Karen Gillian). Which means there are festering wounds to be tended to. But does the proceedings descend to melodrama? Hell,no! 
A film like this would never work without assured, self-effacing performances, and Guardians Of The Galaxy has it in abundance. Kurt Russell is deliciously loopy and flamboyant as Ego. Chris Pratt, Zoe Saldanha and the rest of the voice cast are in good form too. Sylvester Stallone, who has a cameo in this one, seems to have internalised the spirit of the franchise. 
But my favourite thing about the Guardians Of The Galaxy films is the fact that it so successfully recalls the feel of 1980s Hollywood. Clearly, the era is much in vogue now, remember Stranger Things? Yet, Guardians Of The Galaxy 2 isn't just about invoking the memory of a specific decade. Quill, with his mix tape, is already living in it. Guardians Of The Galaxy 2, with all its self-effacing humour, is a true love-letter to genre of science fiction adventure films the era. For it makes everything, even if for a few moments, seem tantalizingly, scarily new.