Harnaaz Kaur Sandhu recently walked the ramp for the last time as Miss Universe before crowning the winner of the 2022 Miss Universe, R'Bonney Gabriel from the United States. Sandhu, who won the title in 2021, graced the event in a black gown. Well, her appearance wasn't just an ordinary one. It will make you relive India's contribution to the Miss Universe beauty pageants since the 1990s.
Harnaaz Sandhu paid a special tribute to her 'inspirations', 1994 Miss Universe Sushmita Sen and 2000 Miss Universe Lara Dutta during her last walk on the stage. Photos and videos of the moment are going viral on social media.
The official Instagram handle of Miss Universe posted the clip of Harnaaz, in which she can be seen walking the ramp in her stunning black gown that has a giant bow on its back. Designed by Saisha Shinde, the gown features Sushmita Sen and Lara Dutta's crowning moments from their respective Miss Universe pageants.
"Moments before @harnaazsandhu_03 takes her final walk as Miss Universe!" the caption reads.
As seen in another clip, Harnaaz went teary-eyed during her final walk on the stage. "I was 17-years-old when I first took the stage and since then becoming Miss Universe was my goal. I've been given the megaphone on a worldwide stage to present the topic of menstrual equity before world leaders asking them to keep this conversation ongoing." the voiceover of her speech plays in the background.
Here's a clear glimpse of Harnaaz's gown:
Designer Saisha Shinde posted the photo of Harnaaz's gown on her Instagram story. Saisha named the gown as "the 3 stars in the universe from India". She had also designed Sandhu's outfit during her winning moment at the 2021 Miss Universe.
Here's what she wrote in her post: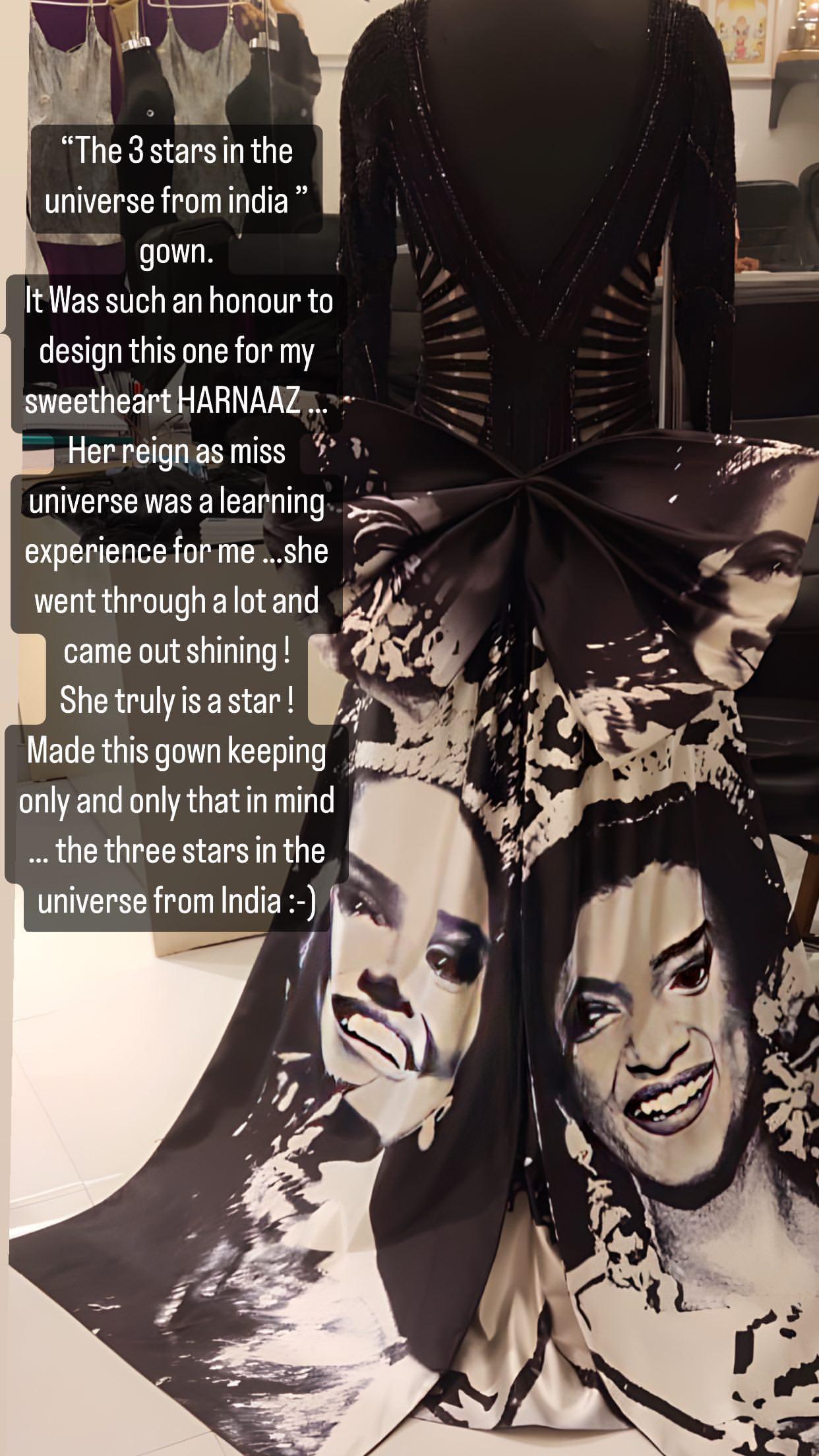 What a beautiful tribute to both former beauty queens, Sushmita Sen and Lara Dutta.
ALSO READ: Answers That Won The Crown For Sushmita Sen & 9 Other Beauty Queens