'"Kabira speaking"
As a child, I always wished for someone to call me so I could say these two words. It was and still remains the coolest way to answer the phone! 
Believe it or not but it's been 17 years since the release of Hera Pheri. And without a doubt, the film is just as funny as it was when it first released. As far as Bollywood goes, we haven't seen a comedy quite like this one in a long, long time. 
Unlike a script that could've easily been inspired from a series of WhatsApp jokes with actors playing along the usual stereotypes, Hera Pheri was a film that had us involved not only because it was funny but also because it had a believable story line.
The film remains special because of its peculiar characters. I mean, how can one not be in love with Baburao Ganpatrao Apte? 
Thanks to Babu Bhaiyya, the chaos went on. 
From going ballistic on the people who would prank-call him to drinking all day and ridiculing Raju, Babu Bhaiyya became the favourite character of all times. Every time he would utter the word 'chamaaila' in his thick Marathi accent, we would land up in a fit of laughter. He was the grumpy old man we've all seen in real life, just funnier and well, grumpier. 
And he had only one fight. To tell the world that he was NOT Deviprasad.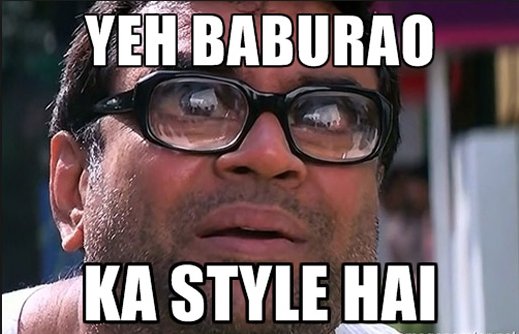 But Babu Bhaiyya's craziness would've been incomplete without Raju and Shyam. 
Their love-hate relationship and mutual respect for Babu Bhaiyya made the trio a legend. Raju's eccentric ideas to make easy money lands them into troubles and then, the riot begins. Shyam is desperately trying to get a job so that he can run far away from Raju. And in the middle of all this Kabira calls!
Kabira was the guy who could make people shit their pants. With a deadly scar on his face and an entire team of thugs, he is probably the last badass villain to have featured in a Hindi film. 
No wonder I was never able to listen to Ranbir's Kabira without having a passing image of Gulshan Grover flash in my head!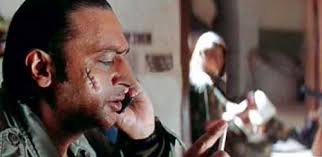 And just when we thought how many more bizarre characters could we encounter in this one film, they gave us Khadak Singh.
Now, this man was chasing Shyam so that he could get some money out of him to fund his sister's wedding. Sounds like just another thing in the plot, right? Not when Om Puri is playing the part!
Khadak Singh would land up out of nowhere in hopes of getting his money. He would come with his entire pind and still manage to lose Shyam. I can't forget the scene where he has so many people in the car that every time he tries to sit, somebody from the other end falls off. 
Speaking of hilarious scenes, this movie had them in abundance. 
Remember how Babu Bhaiyya's dhoti falls off when Tabu enters and he thinks that Raju is asking him to pick her up instead of the dhoti? 
Also, how Shyam would hear 'golmaal hai bhai sab golmaal hai' whenever he was to sign a piece of paper. Then there was also the whole confusion between Star Garage and Star Fisheries. And Babu Bhaiyya losing his shit in the end when he can't find his 'chyaasmaa' and somebody hands him a gun.
Hera Pheri got us tearing up with laughter.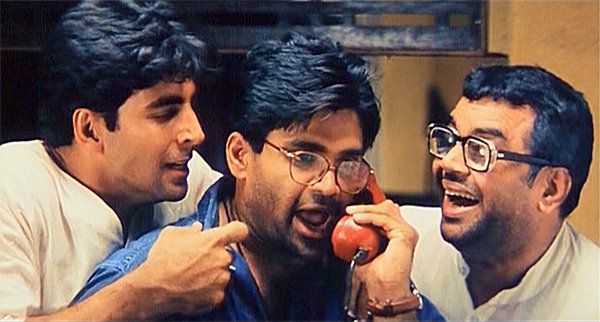 Absurd lyrics like pom pom po and tun tunak tun made absolute sense in this film. 
When Khadak Singh called the guys judwa for wearing helmets, it seemed normal. And just like that we also bought into their plan of making easy money, which wasn't the best plan ever.
This film was more than just a film. It took over everybody like madness. I haven't met anyone who hasn't tried impersonating Babu Bhaiyya. 
In fact, I have a friend who even went for a fancy dress competition dressed like Babu Bhaiyya. But then, that could also be because I have weird friends!
However, there is no denying that nothing comes close to the level of craziness that was Hera Pheri.