The world has Bechdel test, a metric which asks whether a work of fiction features at least two women who talk to each other about something other than a man. India now has the Karan Johar test. Will Karan Johar, after watching Lipstick Under My Burkha, stop shaming female actors for having contrarian opinions? Will this film turn your boorish boyfriend into a bra-burning feminist? 
Okay, now that I have gained your attention by somehow weaving in Karan Johar's name in the introduction, let me answer some real questions. No, Lipstick Under My Burkha is not the magic pill that will flush out patriarchy. Neither it's the revolution that its psychedelic posters and uplifting trailers make it out to be. And it's definitely not the sex-fest that Pahlaj Nihalani, in his trademark double-meaning style, insinuated.  It's straight-forward tale of a group of women from a tier-2 city, their dreams and their struggles.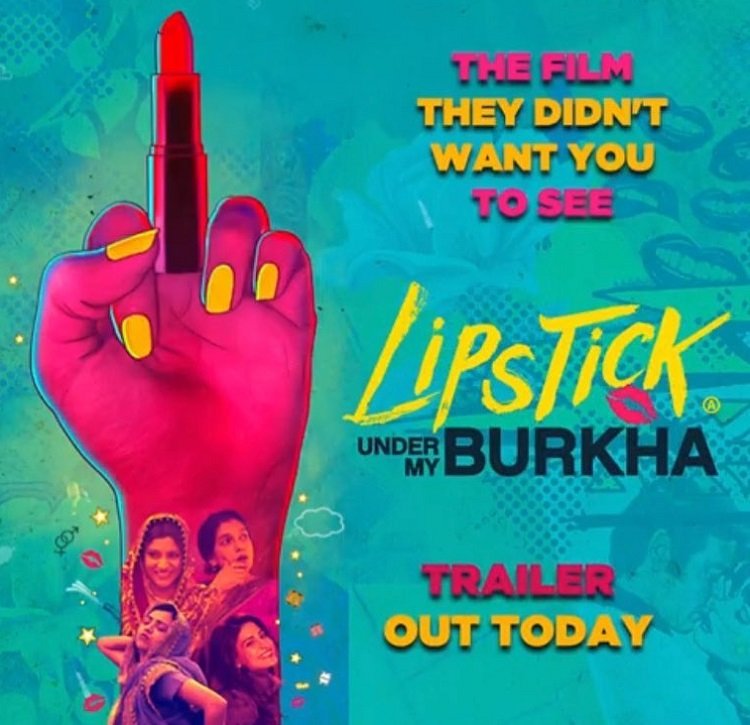 Set in contemporary Bhopal, the film chronicles the lives of four women who live in the same building, Hawai Mahal. This is the innards of the city, we are led to believe. Steaming tea is poured from kettles into stained glasses, azaan reverberates across the Bhopal skyline as these women go about their daily chores. Just within touching distance, is another Bhopal. Of malls and nightclubs and protest marches,  a city itching to be a metropolis. 
The mood is sombre without being maudlin. A middle-aged widow (Ratna Pathak Shah), a homemaker and a mother of three (Konkona Sen Sharma), an ambitious beautician (Aahana Kumra) and a college-going Muslim girl (Plabita Borthakur), are all victims of patriarchy. But their tragedy is everyday tragedy. 
 There is no 'aurat pe zulm karne walla' moment here. 
The Hindi film audience is acquainted with these prototypes. 
A decade back,  the dowdy, eager-to-please wife to an uncaring husband would have been advised to revamp her wardrobe and win back her husband (remember Biwi No 1). Aahana Kumra, a woman walking into a loveless marriage with a nice guy would have been made to see the virtue of the match (Dhadkan). The rebellious college girl would have been tamed by the college dude. And the older woman with sexual needs would have ended up being a caricature in the able hands of a Dhawan or a Nihalani.
Here, director Alankrita Srivastava gives these women breathing space. She also gives them the agency to fantasise. Because of this, the film has a decidedly feminine gaze. Something our very erudite film certification board read as "lady-oriented". 
Alankrita also chooses to give them the vocabulary to express their needs.This results in some of the most chuckle-inducing moments of the film. Aahana Kumra, has no qualms about demanding sex from her boyfriend even after a fight. "Sex toh karle yaar!"
Konkona's character, who is routinely subjected to marital rape, goes to her husband's lover and almost gleefully reveals her identity.
Ratna Pathak Shah, a matriarch leading an exciting double-life (satsang-going buaaji by day, phone-sexpert Rosie by night), gets the films best moments and its best metaphors too.
In one of the sharpest scenes of the film, Ratna's character,Buaajee, the building matriarch, is introduced to a 65-year-old widower by her neighbour. The man, a good decade older than Buaajee, is looking for a suitable match for himself. The audience looks at him expectantly, as does Buaajee. Could this be the second chance to conjugal life that Buaajee deserves? The neighbour then promptly asks Buaajee to find a susheel girl for the man within the age of 35 to 45. Then, the 65-year-old man is asked to thank buaajee. "Thank you Buaajee," he says sheepishly. Buaajee bristles away. 
Buaajee is also shown taking swimming classes just when she wades into the murky waters of her own sexual self-discovery. She develops a crush on her muscled swimming instructor and starts fantasising about him.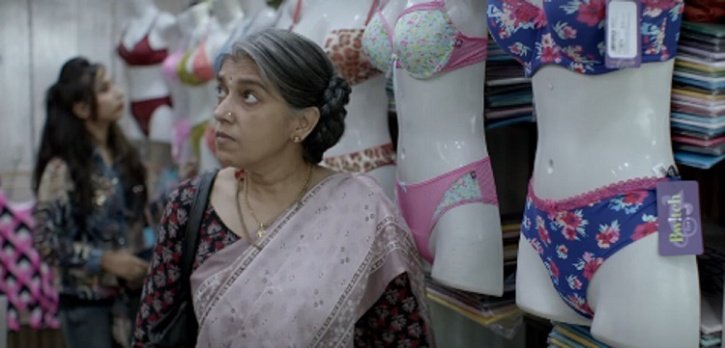 That, actually, is the most risque element of the film. 
 It won't be wrong to say that Lipstick Under My Burkha, is a safe film about a volatile subject. Three decades back, filmmaker Aruna Raje made a film about a village where all the menfolk go to cities to work, leaving behind their families. The film focused on the way these women negotiated their desire and took on other lovers. Strangely, in 1988, the censor board didn't think that Rihaee was too 'lady-oriented'. In comparison, Lipstick... is decidedly tame. Which is why I would go on to state that the real tragedy of Lipstick Under My Burkha is that a film like this can still elicit such response in our country. 
All said and done, this is a good film, involving and wonderfully acted. I was drawn into the characters and quite moved, even though all the while I was aware it was a feel-good fable, a story that deals with pain but doesn't care to be that painful. We don't always go to the movies for searing truth, but more often for reassurance: Yes, patriarchy is vile and cruel, but hey, we find our way about it everyday.