After Filmfares and Critics Choice awards, "Shotgun Junior" Sonakshi Sinha has received yet another award, but this time, for a very interesting cause.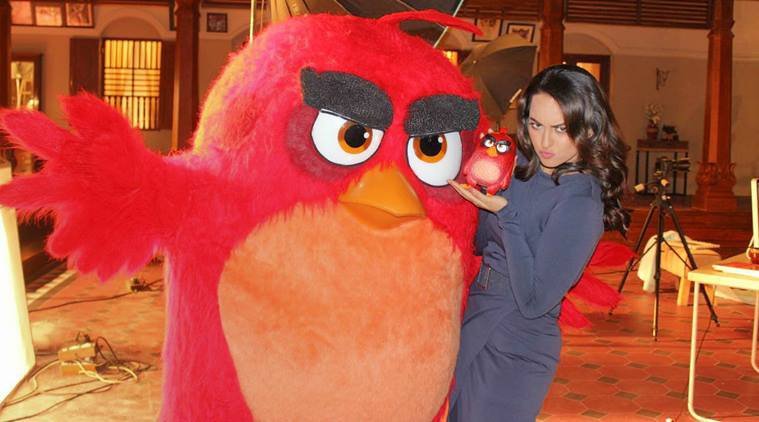 Sonakshi, who is part of the yet to be released "The Angry Birds Film", recently received 'The Angries', an award the film's team specially came up with as part of the film's campaign. 
The Angries have been introduced for celebrities who get angry for a good cause and Bollywood's very own Sonakshi Sinha is the first ever recipient. She was reportedly given the award by her team because of her reputation as an active denouncer of cyber bullying and social media trolls. 
And we love our firebrand Junior Shotgun for it. 
Here is an awesome compilation of ten times Sonakshi Sinha lost her cool with Social media trolls and effectively shut them up. 
1. The time she got back to KRK for being a misogynistic prick. 
Please RT this if u think @kamaalrkhan is a woman disrespecting waste of space and deserves to be hung upside down and given 4 tight slaps.

— Sonakshi Sinha (@sonakshisinha) November 13, 2014
2. When she had the perfect reply for beauty shaming 
3. When she didn't shy away from getting personal when trolls got personal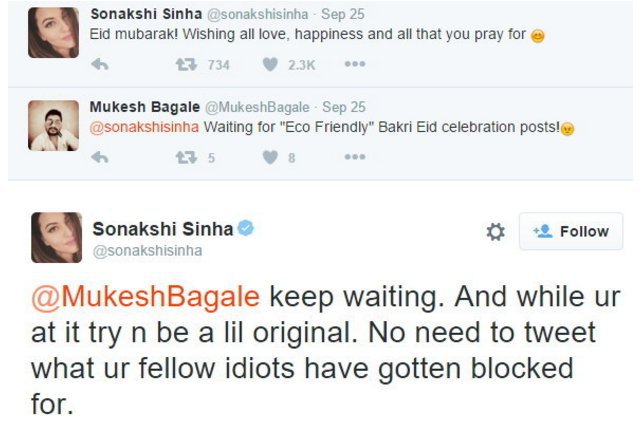 4. When she was not afraid to prove herself 
@ShyLadki yeah actually i do. Because i dance. We've given u the power to sit at home and vote, is it because everyone is a maestro? Chill.

— Sonakshi Sinha (@sonakshisinha) August 8, 2015
5. When she wasn't afraid to call out India's hypocrisy
This is a free country! Welcome to BAN-istan… I meant india.. Stupid autocorrect.

— Sonakshi Sinha (@sonakshisinha) September 8, 2015
6. And then wittily defend her stance against vengeful trolls
Welcome to twitter. Whr only trolls r allowed to have their say 😂 yep, the only space they shud be takin up in life is the 140 chars here!

— Sonakshi Sinha (@sonakshisinha) September 9, 2015
7. When she showed no tolerance for perverts and creeps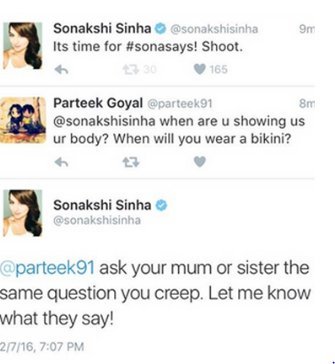 8. Or when she flawlessly shut up this woman who supported the pervert
@aditi_ca US?? So ur sayin ur in his category 😂?? What a dhabba on womankind u urself are for sharing his disgusting line of thought.

— Sonakshi Sinha (@sonakshisinha) February 8, 2016
9. When she tirelessly defended environmentalism against stupidity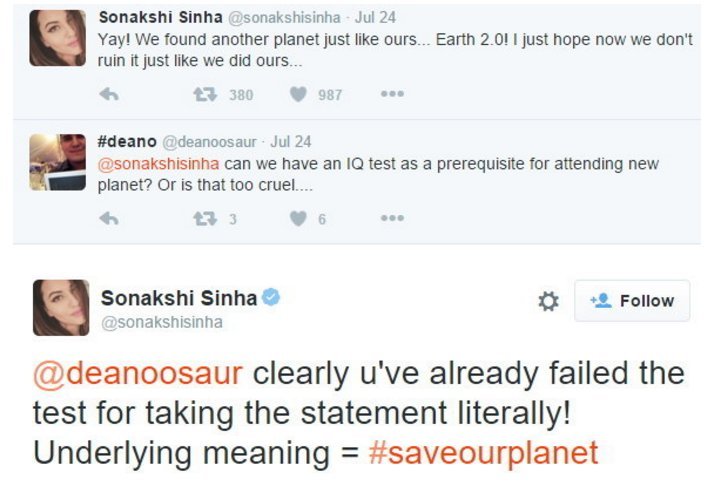 10. When she politely distanced herself from unwanted publicity

I support my friend but i would never support such insensitive and negative talk. Please dont tag me in ur tweets @abhijeetsinger sir.

— Sonakshi Sinha (@sonakshisinha) May 6, 2015
What can we say? Sonakshi Sinha says it all herself, and doesn't even break a sweat while she's at it. And we completely admire her for it. 
You go, girl! 
(Feature Image Source: Twitter/Bollywood IGN)