On Wednesday, Twitter India suspended singer Abhijeet Bhattacharya's account. The move by the micro-blogging site came after social media users accused the 58-year-old singer of using inappropriate and insulting language.
Here are some tweets which earned the singer the moniker of Abhijeet Pottymouth Bhattacharya
1. Sexist remarks against JNU activist Shehla Rashid
On May 22, 2017, Abhijeet in a series of tweets insulted some female Twitter users, in particular, JNU student activist Shehla Rashid.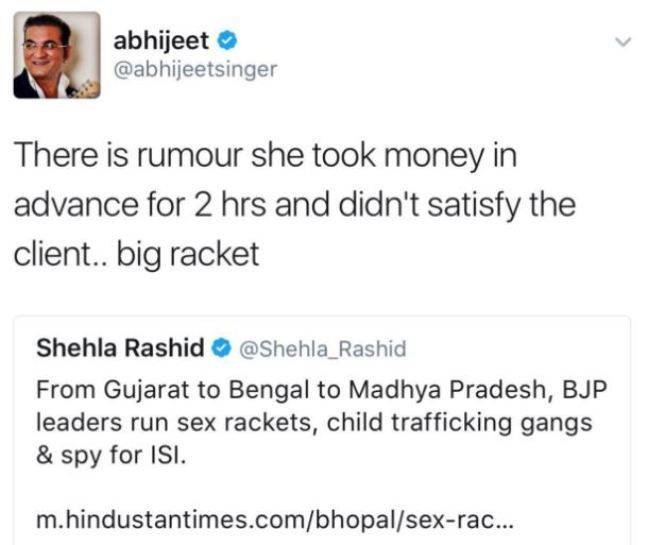 2. Homophobic tweets against Karan Johar and Fawad Khan
During the controversy surrounding the release of Karan Johar's Ae Dil Hai Mushkil, Abhijeet tweeted a series of homophobic messages for Johar and Fawad Khan.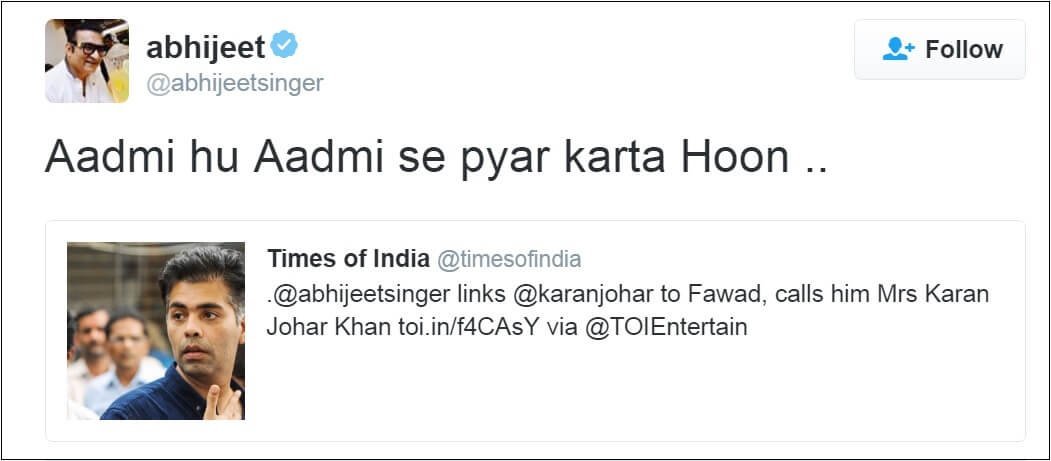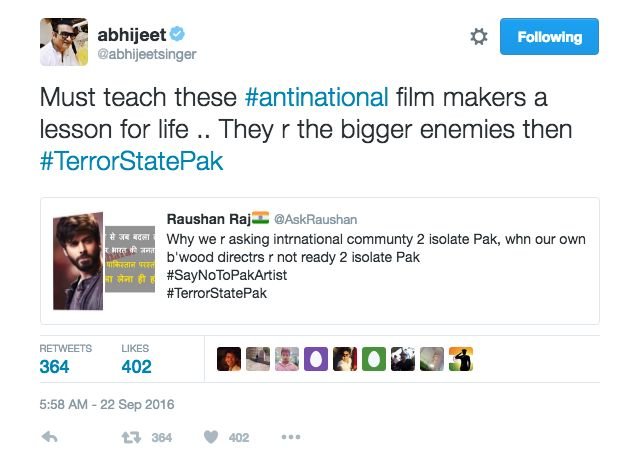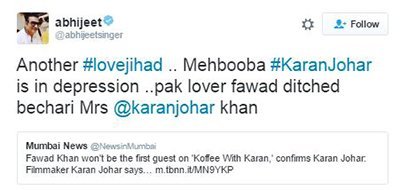 2. FIR by journalist Swati Chaturvedi for offensive language
Talking about the murder of Chennai Infosys techie S Swathi in July 2016, the singer tweeted messages with communal overtones and was not spared by the Twitterati for it.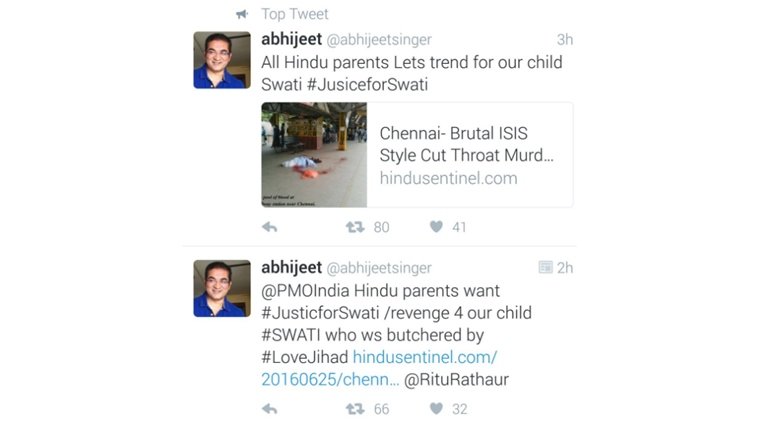 When a female journalist, Swati Chaturvedi, and other Twitter users pointed out that he should be arrested for unnecessarily stoking communal hatred, Abhijeet lashed out with choicest abuses calling her "an old woman" in his expletive-filled rant.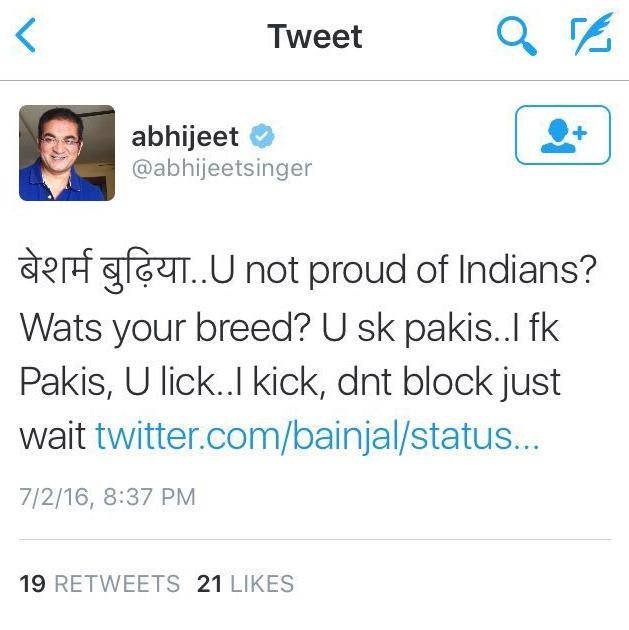 Following the singer's rant, Chaturvedi filed an FIR against him to the Mumbai Police. The FIR was filed on charges of public obscenity and outrage of modesty. The Mumbai Police confirmed that the singer was arrested by the BKC cyber police and also released on bail soon after the arrest since it was a bailable arrest. The Mumbai Police confirmed that the singer was arrested by the BKC cyber police and also released on bail soon after the arrest since he was arrested in a bailable offence.
3. Remarks against Ghulam Ali
In October 2015, the singer targeted Pakistani Ghazal maestro Ghulam Ali, objecting to his concert in India. He called the acclaimed singer "a dengue artist from a terrorist country Pakistan".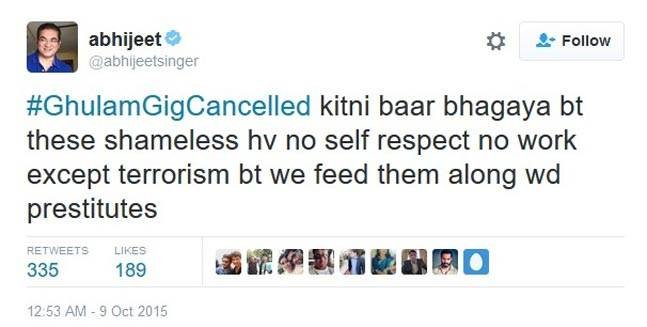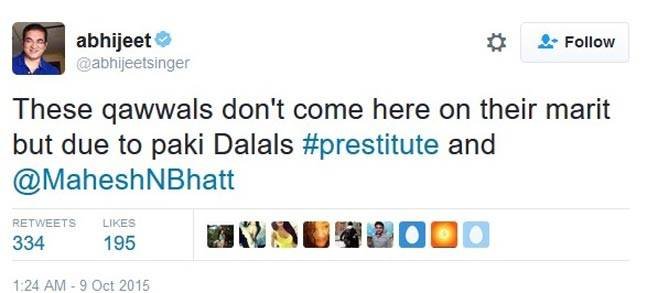 4. Offensive tweets while supporting Salman Khan in 2012 hit-and-run case
Back in 2015, when actor Salman Khan was sentenced a 5-year jail term for the 2012 hit-and-run case, Abhijeet while taking Salman's side said that roads are meant for cars and dogs and not for people to sleep on.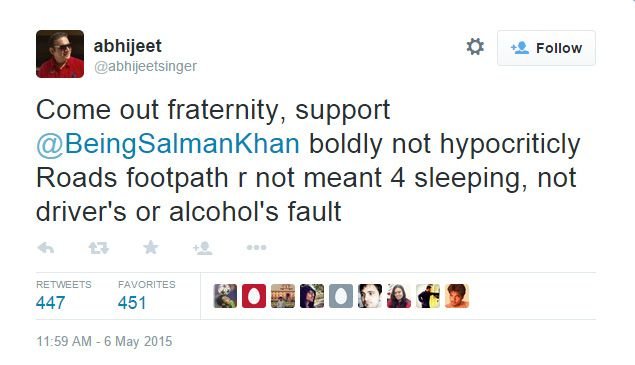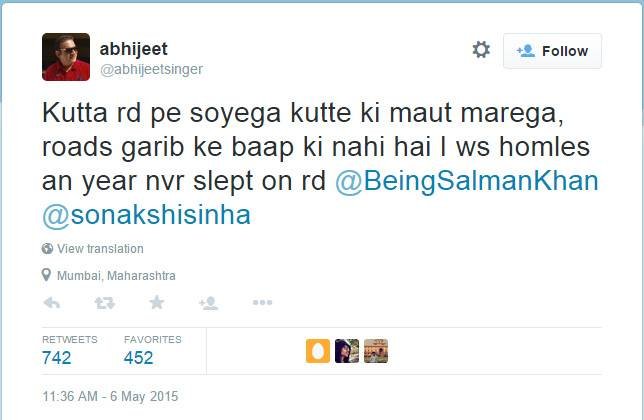 Undeterred by the backlash, Abhijeet went on to tweet another line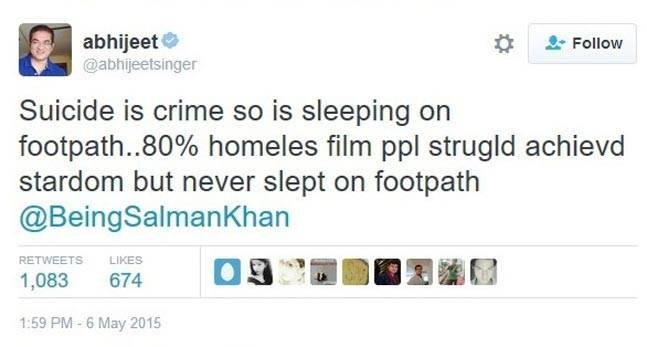 5.  Remarks on hanging of Yakub Memon
In July 2015, Abhijeet also slammed lawyer Prashant Bhushan, targeting him for seeking a stay on Yakub Memon's hanging.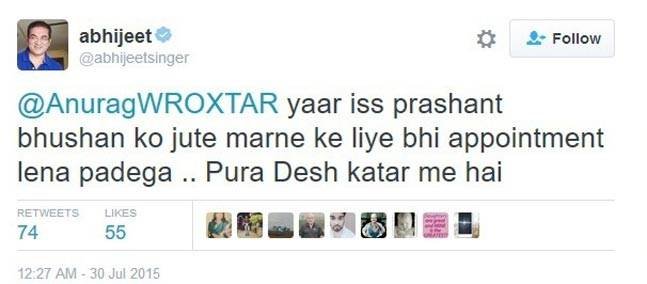 When asked about the suspension, Abhijeet told PTI, 'author Arundhati Roy and people supporting JNU' were behind the suspension of his account.
"Yes, I just saw it. They are trying to block Paresh Rawal also. All Arundhati and JNU group behind this after Paresh Rawal and I tweeted against Arundhati for her anti- India stand," he said. 
(Feature image source: