They are young, they are restless and supremely talented. YouTube is no longer the refuge of the confused, the disillusioned. There are quite a few who may have been there, felt that, but are now generating good quality content and raking in a lot of moolah. Is YouTube, therefore, one of the most lucrative career options, out there? Well, maybe. It does take a lot of effort, but the rewards are equally attractive. 
Here is a list of top earning YouTubers in India who have made a career out of pure genius and talent and of course, the Internet.
Note:
The estimated monthly earnings have been calculated on the basis of the artists' monthly Youtube views with CPM (cost per thousand impression) rates
The creatives below, show the total number of subscribers and total number of views of the respective channels
The calculations are based on the monthly views of the artists multiplied by the average CPM (which is currently 0.93 dollars) and divided by 1000
The lowest and highest bracket signify the month with the lowest and highest number of views. This can vary greatly, depending on the number of videos released, views on videos etc.
 Please note that these artists may be making money from other sources like offline events, activities, brand integration which have not been included in the estimate. It is an estimate, may vary every month and there are several mitigating factors which decide what your overall CPM will be
1. Trouble Seeker Team
These funny pranksters make a living out of street pranks and magic, a genre, currently untapped in the country.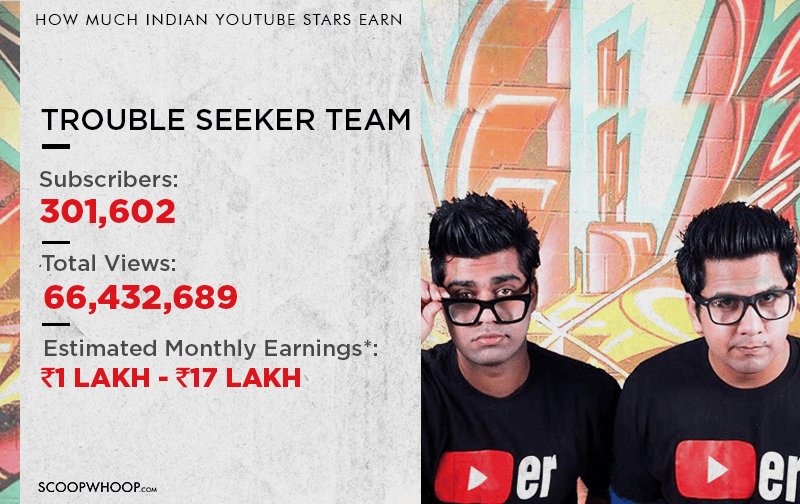 2. Rickshawali
Anisha Dixit or Rickshawali as we now know her, wants to educate the world and express herself, one video at a time, and all this from the back-seat of her rickshaw. She is quirky, funny and real.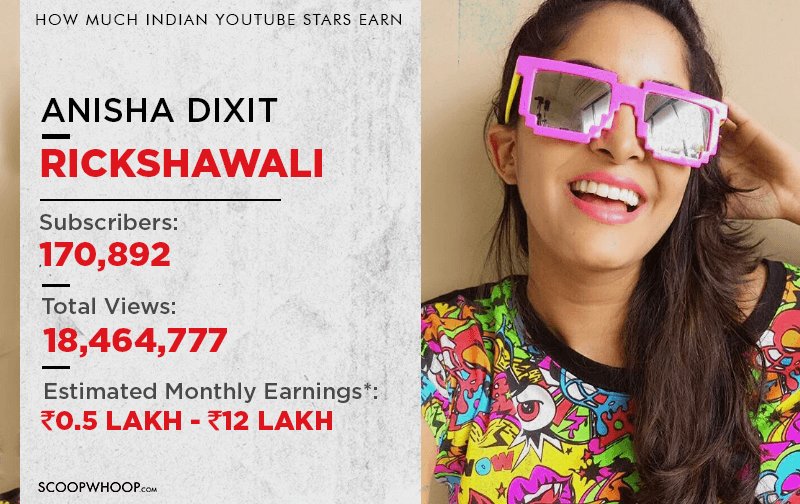 3. Scherezade Shroff
This Mumbai-based, chirpy fashion and beauty blogger, and now a full-time YouTuber, is hell bent on making our lives easier with her 'haul' videos and beauty/fashion tips.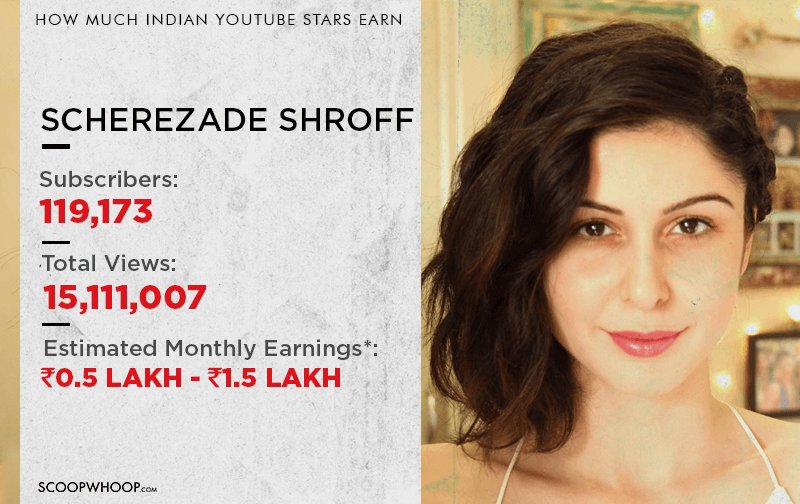 4. Abish Mathew
This stand-up comedian left his job as a radio jockey for comedy. And let's say it was a pretty wise decision. His 'Abish'isms are clean-for-all ages and have made him quite a name to reckon with.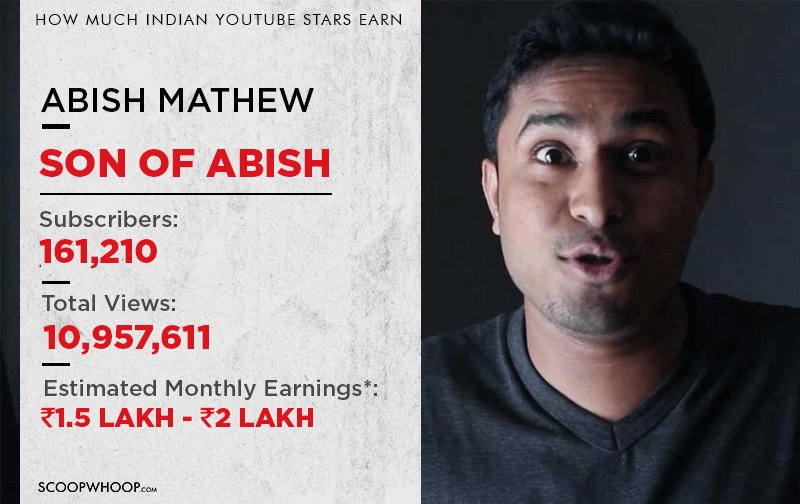 5. Love Rudrakash
From social experiments to commentaries, Love Solanki aka Love Rudrakash's YouTube channel generates youth centric content and one look at his YouTube stats, suggest, this college graduate is making a lot of money too. 
He tells ScoopWhoop, 
I was in the second year of college. Rather than wasting my time, I decided to YouTube, I didn't do it for money. But now it has become my main source of income, since I have established a name for myself.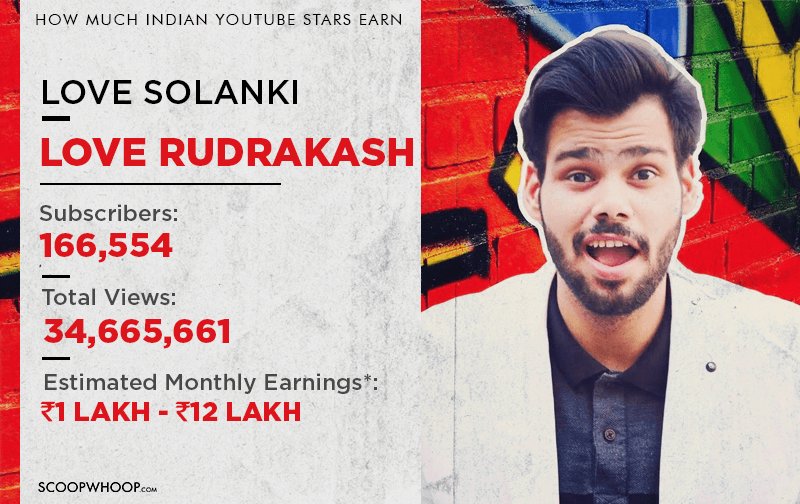 6. Nisha Madhulika
A home cook and now a celebrity chef, all thanks to YouTube, Nisha Madhulika is cooking up a storm, quite literally. Her easy recipes have managed to make this homemaker a millionaire now.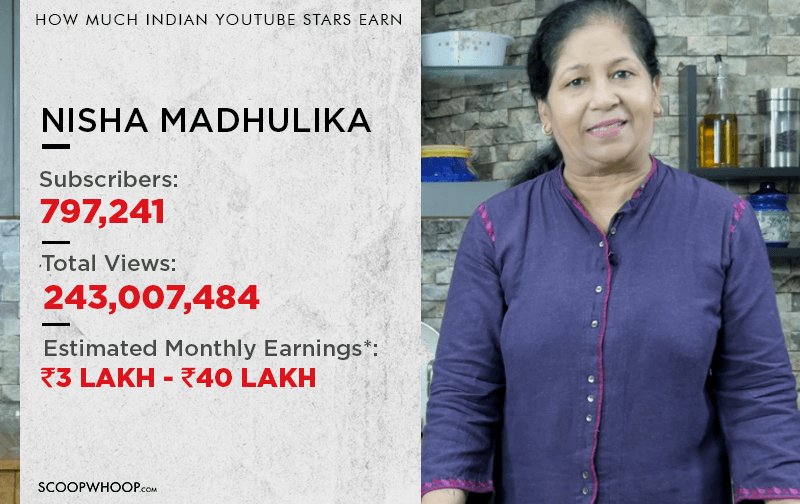 7. Sanjay Thumma
This celebrity chef got on the bandwagon back in 2007, and there has been no looking back for him. His wacky sense of humour and interesting recipes make for a perfection concoction for 'virtual' success.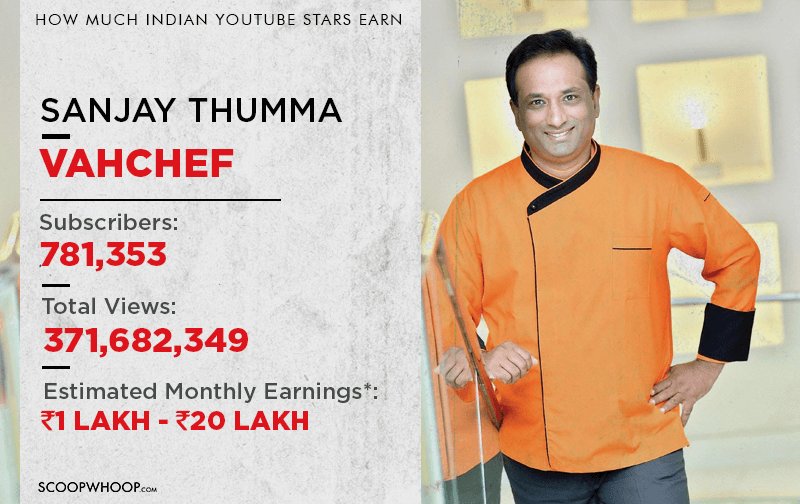 8. Kanan Gill
This techie turned comedian is a popular face in the Indian YouTube scene. His 'pretentious' movie reviews are quirky, realistic takes on movies we all loved and grew up watching. Let's just say, those movies are not the same for us, anymore.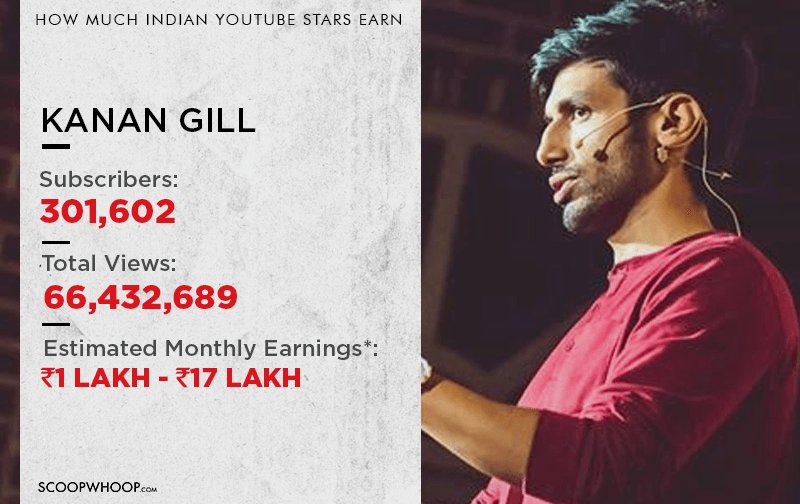 9. Gaurav Gera
This lipstick-slapstick combo has won many hearts. His 'Chutki' is a household name, and while Gera has been a well established television actor, he is one of the few to have made it big, even on social media.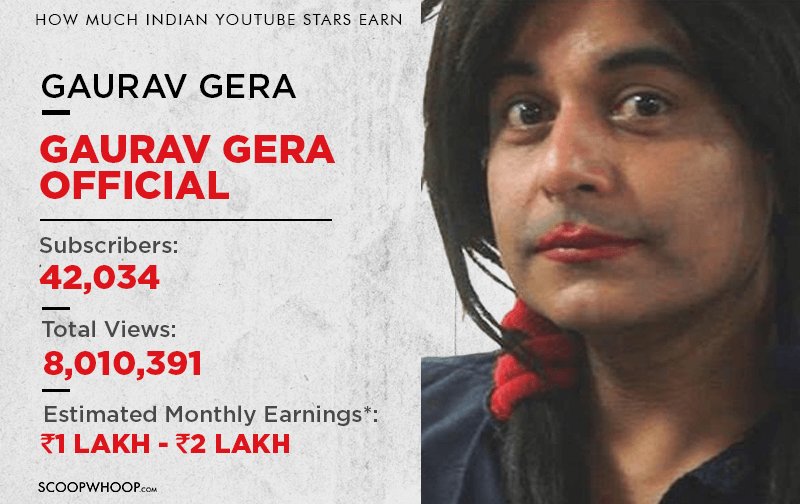 10. Shruti Anand
This accidental beauty Vlogger is one of the hottest YouTube stars of India. Her beauty tutorials are easy and meant especially for the Indian skin tones.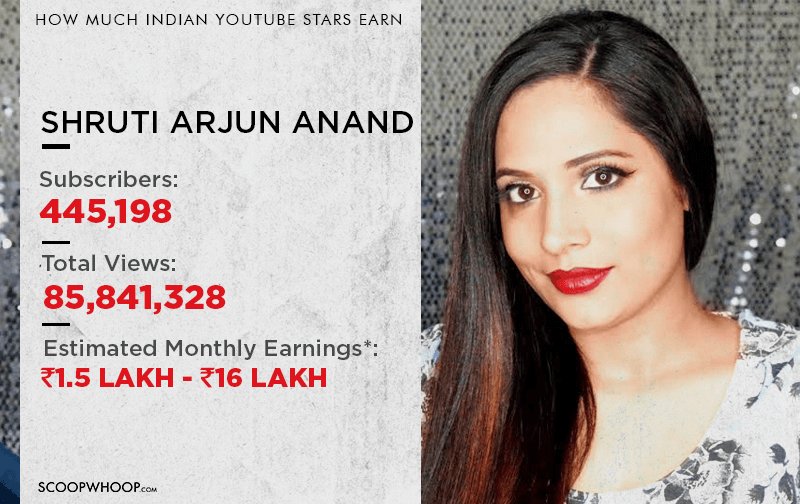 11. Bhuvan Bam
This one man army's YouTube channel BB Ki Vines has over a million subscribers. His funny take on real life incidents has raked him a niche following that is only growing.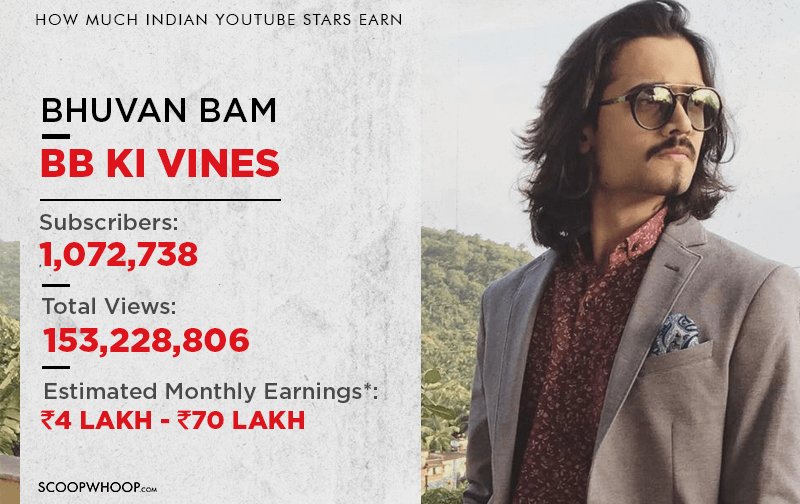 12. Geeky Ranjit
This Hyderabad-based programmer turned YouTuber has instilled his passion into churning tech videos for geeks. From reviewing gadgets to answering tech related queries, his channel boasts of over 5 lakh subscribers.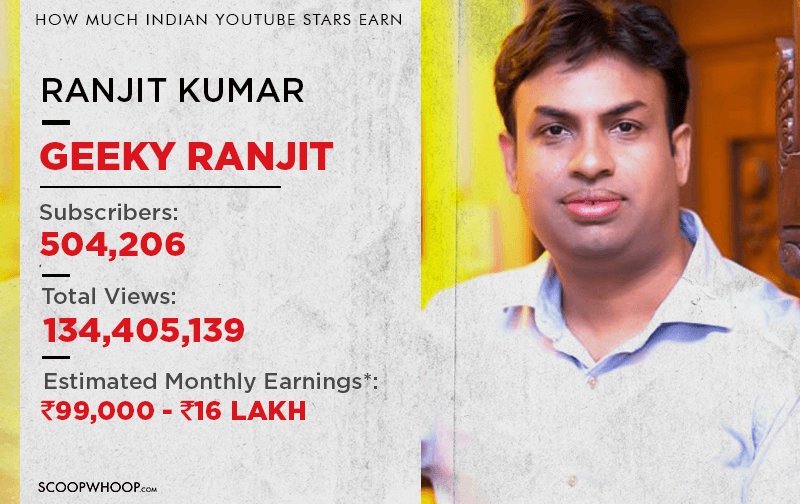 13. Vir Das
From small acting cameos to stand-up comedy, Vir Das has come a long way.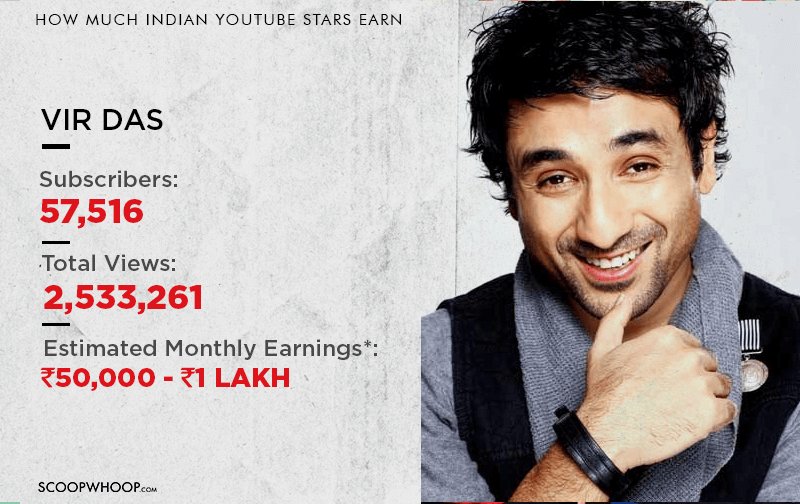 14. Bollywood Gandu
Karan Talwar aka Bollywood Gandu has made a career out of slamming Bollywood. And yes, you may remember him from his infamous face-off with Junior Bachchan on Twitter.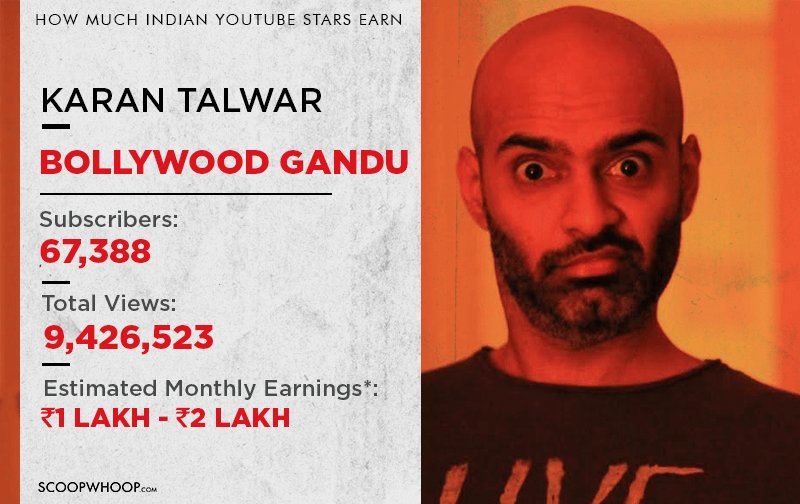 They may have had a humble start, but this video-sharing juggernaut has catapulted these ordinary artists with exceptional talents, into a life of stardom and wealth. Content is king, indeed.
Note: This is a rough estimate and the earnings may vary.
Design Credits: Lakshya Vij