If you've opened this article, it's probably because you're a '90s kid. 
If you're not and are still here, then go ahead and give yourself a pat on the back because you're probably aware of the goldmine that was '90s decade. 
Bollywood was on an all time high during this decade. There were so many movies being made, some real gems unfortunately got overshadowed. 
For instance, the absolutely-fascinating Baadshah that somehow never got its due.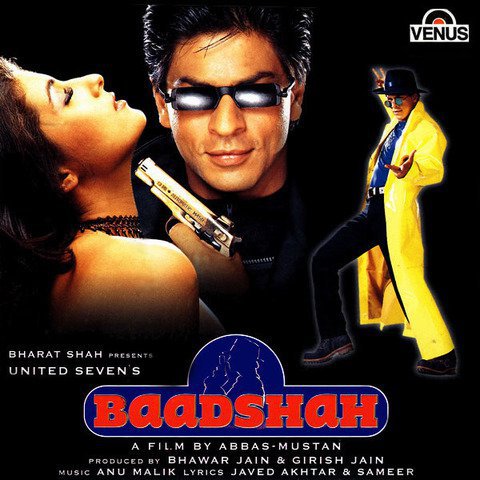 Even if you never saw it in the theatres, if you've grown up on a staple diet of Star Gold and Zee Cinema, it is impossible that you haven't seen this film. 
While the movie gave SRK his nickname, it didn't quite make a mark at the box-office. And till date, I wonder why! 
I mean, the film had everything! 
It had the typical romance. It had Bollywood's favourite element of confusing people because of a similar name. It had some superhit songs. And it had absolutely stupid jokes thrown in at the right time, in the right situation.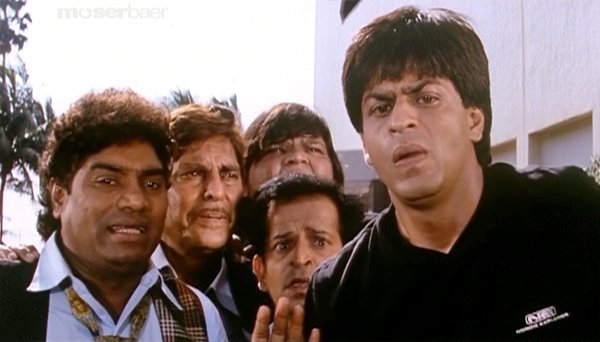 Baadshah and his sidekicks made me want to grow up and become a private detective. I mean, who wouldn't have wanted an office as cool as Baadshah's, right?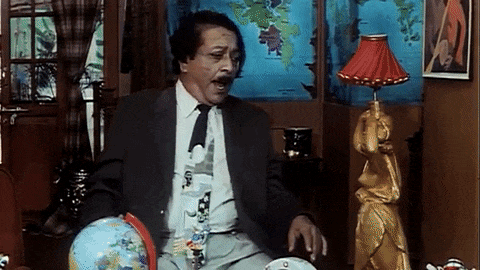 Way before Munnabhai turned his adda into a hospital, Baadshah and gang had been there and done that. They turned the walls around, dropped down beds, flipped over the boards and Baadshah's Detective Agency turned into Dr. Rustom Eye Clinic. 
Call it insanity or out-of-the-box imagination but Johnny Lever's idea of fitting a bakre ki aankh and an ullu kii aankh to restore SRK's eyesight had us all in splits. 
And this was not even the beginning.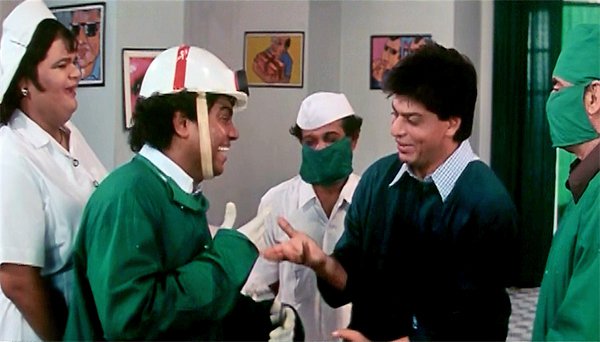 Like Munnabhai wasn't the first to feature a makeshift hospital, Om Shanti Om wasn't the first to feature SRK's abs. It happened in Baadshah!
Remember this? 
Why lift, when you can stick?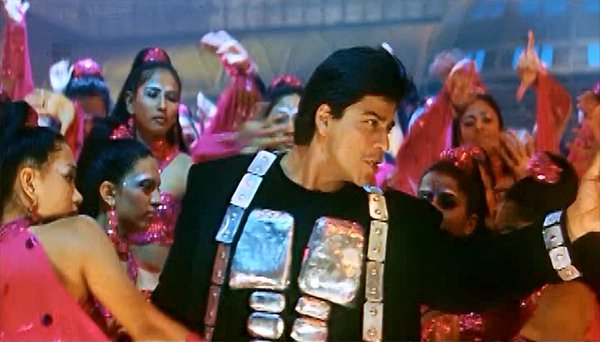 While the movie had an abundance of such quirks thrown around, there was one bit in particular that took the cake. I have failed to meet a person who doesn't know of the toffee bomb, chhipkali joote and X-ray glasses. 
When I say that this film broadened our imagination, I say it by keeping these fascinating gadgets in mind. As a child I have wasted multiple toffees by chewing and throwing them away, hoping for a blast to happen. I have genuinely believed in the existence of shoes that could help one walk on walls. And even though the X-ray glasses were extremely fascinating, I hope something like that is never made because our world is clearly not ready for it!
Despite all the scientific advancements of today, never have I come across gadgets that could match up to everything that Baadshah had!
While everything around him was exciting, Baadshah himself was someone you wanted to be friends with.
He would sing songs out of fear every time a dog came in front of him. He had an absurd theory about falling in love which would involve throwing a walnut at a mirror. And above all, he was called Baadshah. 
Who wouldn't want to be friends with a dude called Baadshah!?
While he was crazy, his gang was crazier. They followed him around in all of his deeds. Remember how Johnny lever wore sunglasses with cards printed on them that confused the shit out of Razak Khan?
This light-hearted chaos soon turns into a national level chaos and Baadshah finds himself right in the middle of it. He has to save a child and the Chief Minister. There are two Baadshahs and two Bachchis and even though we know that SRK will win in the end, we don't know how it'll happen.
And just like the first half of the movie, the final part unfolds in a fascinating manner. Do you remember how Baadshah wrote an entire letter with a rose stem over a carbon paper? That was genius, right?
There were colourful slides everywhere. The kid was made to wear a bomb jacket. And amidst all this, Baadshah and team were fighting Chief and his men. That shit was thrilling!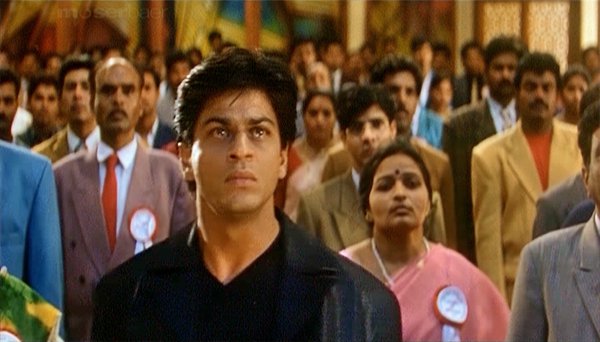 One would say that Baadshah had a very cliched story line. Well, who cares? It gave us moments that have become timeless. 
Today, when I meet people and talk to them about this film, they have stories to tell. They have memories attached. They've sung Main Toh Hoon Pagal multiple times and are willing to break into it at the slightest of cue. They've imagined a world with Baadshah's gadgets and lived till today. 
They've seen this movie over and over again and fallen deeper in love.
Such is the magic of this film and it's time we acknowledge it!