When you hear the word 'love', chances are, names like Romeo-Juliet, Heer-Raanjha and even Raj-Simran pop in your head. 
But in all honesty, I think, they are couples I'd like to see just in books and movies. I don't want to be in the middle of a romantic relationship where I have to go through the problems that Juliet went through. I just want to be madly and deeply in love and enjoy every damn second of it!
Honestly, I want someone to love me like Praful loved Hansa!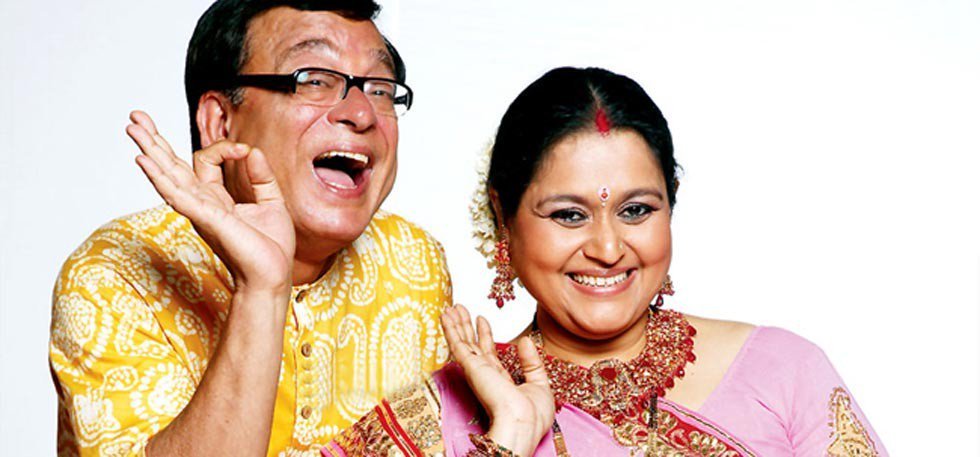 Before you label me crazy for equating relationship goals with Hansa and Praful, take a second and think about it. 
What is it that you expect from your partner in a serious relationship?
For me, it's all about understanding, loyalty and a whole lot of fun. While these things sound cliched, they're pretty much everything that one desires in a relationship. 
So, when Hansa is furious about not knowing the meaning of a certain English word, Praful comes to her rescue and how!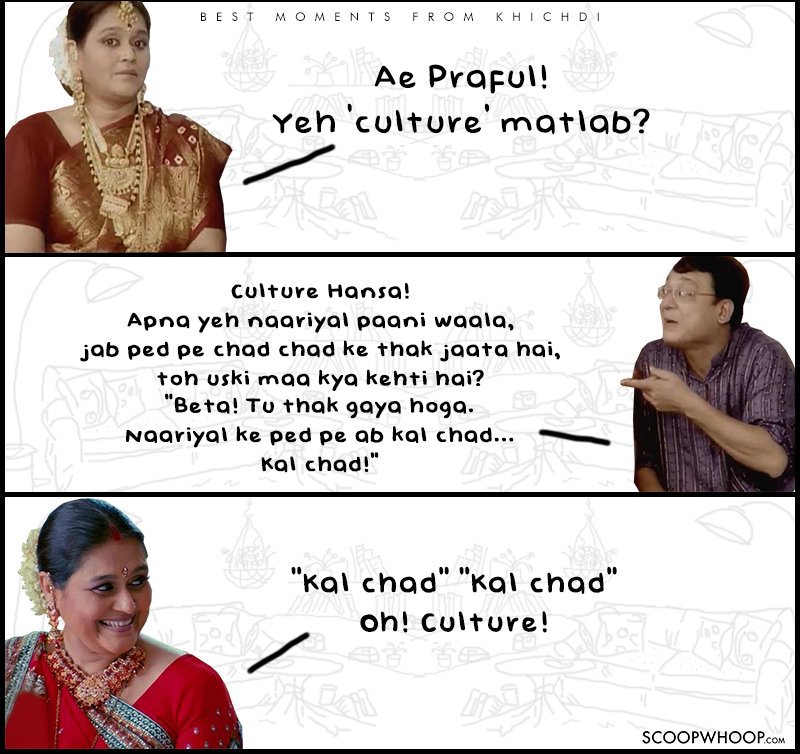 All Hansa needs to do is utter the words, 'Ae Praful' and all of his attention is towards her. 
She is the center of his world and he is her go-to guy for every damn thing that stumps her. They might not be the smartest people on this planet but they're so compatible, it's almost surreal. 
Hansa might not know half of the things but she knows that Praful would know. 
It's adorable how they bring each other out of situations of confusion and chaos. They don't need no pot, because they're so high on love that not giving a damn about the world comes naturally to them.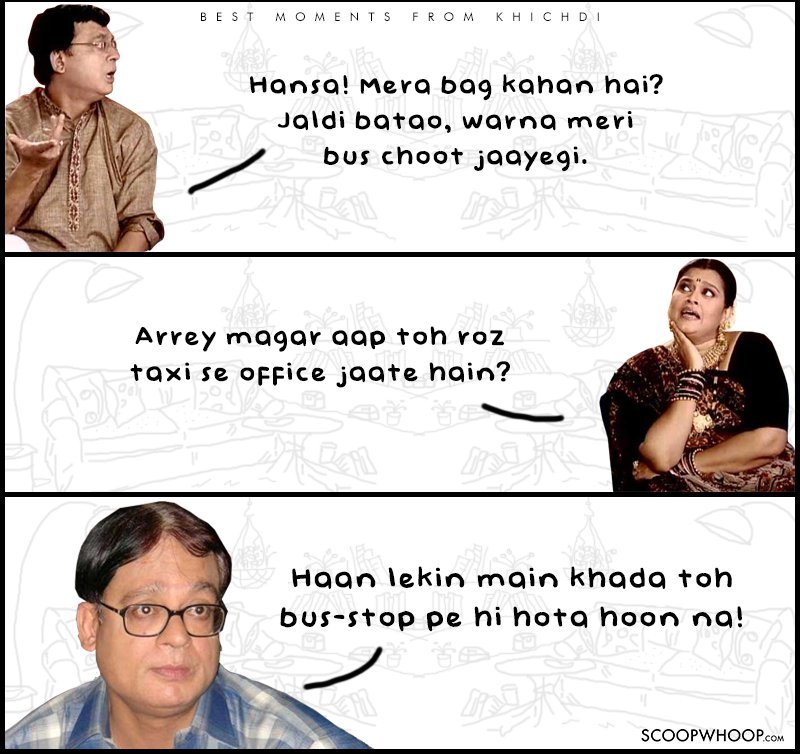 Hansa might have 99 problems but judgement ain't one of them.
While the world around them might go on judging them, never have we seen Hansa doubt Praful's intellect. She will stand against the world for her husband. And every time she utters the words 'Babuji ko toh kuuuch bhi nahi pata' to defend Praful,  the possibility of any judgement dies there and then.
I mean, I want to be able to do something outrageously embarrassing (yet fun) and not be given a guilt trip about it by my boyfriend. I want to go for a masala movie and clap and whistle, while watching it. I want to say stupid things in public and not be given a lecture about how ghaati I was. I want to do everything chhichhora and not be dumped for it.
That's what a perfect relationship looks like!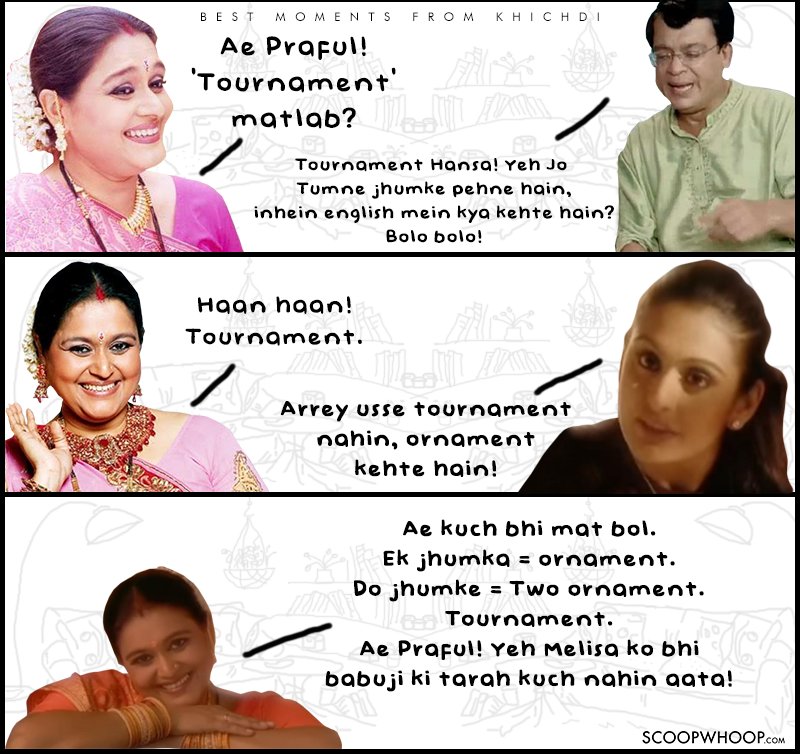 He might be a useless son but Praful pampers Hansa like she's the Queen of this world.
I'm not saying that a guy should shower his girlfriend with gifts every second day. But once in a while, we really don't mind. From gajraas to sarees, Praful gets anything an everything that can put a smile on his wife's face. And every time he does this, it seems like she falls in love with him, all over again.
Gesture. It's the gesture and not the gift that counts, guys!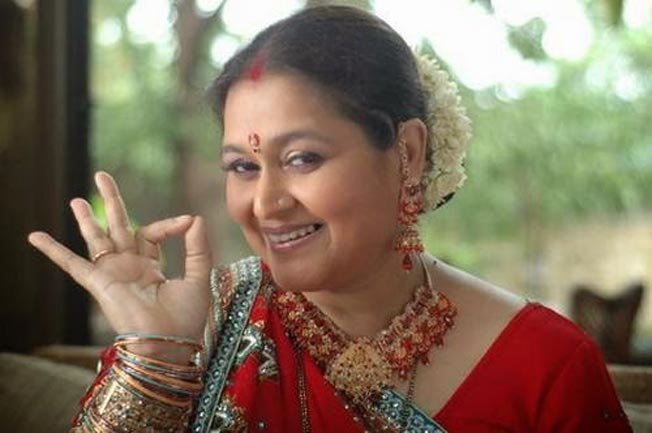 All of this and much more makes this couple totally goals worthy. 
I think we've been idealizing the wrong love stories. All we needed to do is be like Hansa and Praful. And trust you me, it doesn't take much, especially brains. 
I hope to find someone who lets me be me, and loves me deeper with every stupid antic of mine. I mean if you let me hoot my lungs out in a movie theatre, I'd fight the world for you. 
And this is just one example.
So, go ahead, find your Hansa/Praful and discover a whole new side of love!