You don't need the nose of a hound dog to smell a Madhur Bhandarkar film from miles away. It stinks. Like a polyester sweat patch or a stale onion, you can depend on a Bhandarkar film to repel you with its familiar foulness. 
Indu Sarkar doesn't disappoint. Staying true to his cinematic impulses, Bhandarkar has distilled one of the most turbulent periods of Indian history into a starchy, stuffy, sanitized period piece that never fully engages on an emotional or educational level.
Bhandarkar, the self-styled 'expose' filmmaker of this unfortunate country, has so far attacked "Fashion ki duniya", "Corporate ki duniya", "Page 3 ki duniya" and "Calendar Girls ki duniya" with the diligence of a myopic bulldog (I know, this is the second dog analogy in this review). He gnaws and gnaws at the title till the credit rolls. Like clockwork, every three minutes, the viewer is reminded that everything is possible in this nefarious fashion, page 3, corporate etc etc ki duniya.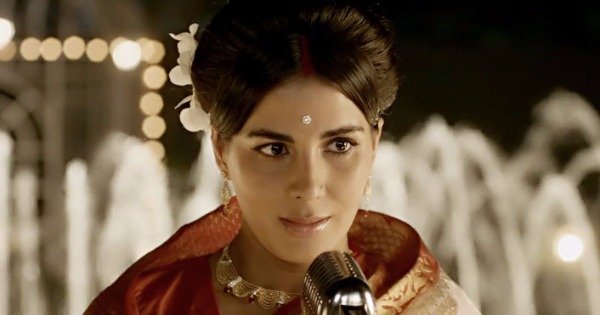 In Indu Sarkar, Emergency is this cardboard cutout entity that everyone either swears allegiance to or curses passionately. These are actual lines from the film:
"Mere ghar mein koi Emergency ke khilaaf ek labz bhi nahi kahega."
"Emergency mein emotion ki nahi, chaabuk ki zaroorat hai."
"Mere jeevan ka sabse bada dushman Emergency hai."
This evocation is done so consistently that you half expect Amrish Puri, to walk in and declare himself – "Emergency khush hua!"
Well, that would have made for a real scathing parody. Let us not forget that Indu Sarkar is a spawn of Bhandarkar's fertile imagination. 
So, there is an orphan woman with a minor speech impediment, Indu (Kirti Kulhari, a complete waste in the underwritten part), who is taken in by an ambitious Bengali civil servant Mr Sarkar (Tota Roy Chowdhury) in a strange mixer event. He is, for the lack of a better term, psychotic and starts frothing at his mouth when anyone says anything against Emergency. In other words, he is like the shaitaan ka pujari who ritualistically offers virgin blood to sleeping shaitaans. Except, here the shaitaan is Emergency.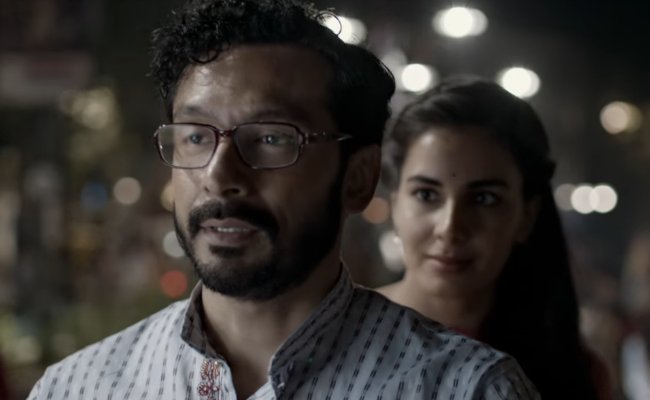 Indu marries Mr Sarkar and becomes Indu Sarkar. Just in case you are a millennial and can't fathom the full implications of this title, here is a quick refresher course. 
Indu, whose life ambition so far has been to be a good wife to her husband, is horrified by the happenings around her. She goes to the market and there are people complaining about shortage of ration, she goes to take a stroll around the Turkman gate in Delhi, and jhuggies are being demolished there, people being shot.  She rescues two kids from the rioting site and brings them home and her husband is like, please take these gaandi naali ka keeda away. Shit happens, poor people die.
But Indu, being a true Bhandarkar heroine, is like, main is Emergency ki duniya ka parda phash karungi.
The rest of the film is all about Bhandarkarism and involves Neil Nitin Mukesh with a prosthetic forehead, mouthing lines like "Aapne apni nasbandi ki?". He plays a character modelled on Sanjay Gandhi and Bhandarkar didn't want to take the chance of us forgetting that Gandhi's pet project was forced vasectomy of poor men from economically weak background. His coterie includes a chiffon clad mannequin hiding behind jumbo sunglasses, who is supposed to be Delhi socialite Rukshana Sultana, and a couple of bungling men in 1970's safari suits.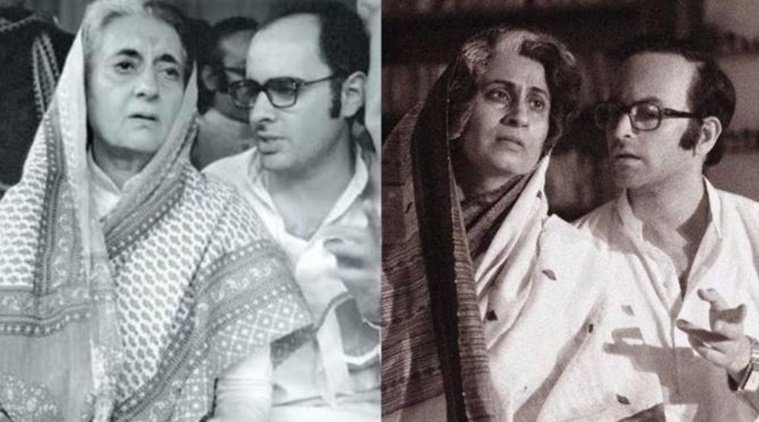 Really, if you want to find out more about the Emergency, click on the links provided in this article. Or better still, watch Hrishikesh Mukherjee's brilliant satire on the period, Khoobsurat. Trust me, it will be an enriching experience. 
All pics sourced from Twitter