We are the heroes we need. We can dream about Batman or a Superman saving the day for us or we can pray to Gods to help us out. But in, all honesty, nobody can help us better than we, ourselves.
But quite often that is a side of us hidden even from ourselves. And sometimes we need someone to tell us that we can, someone to inspire us to be what we can be.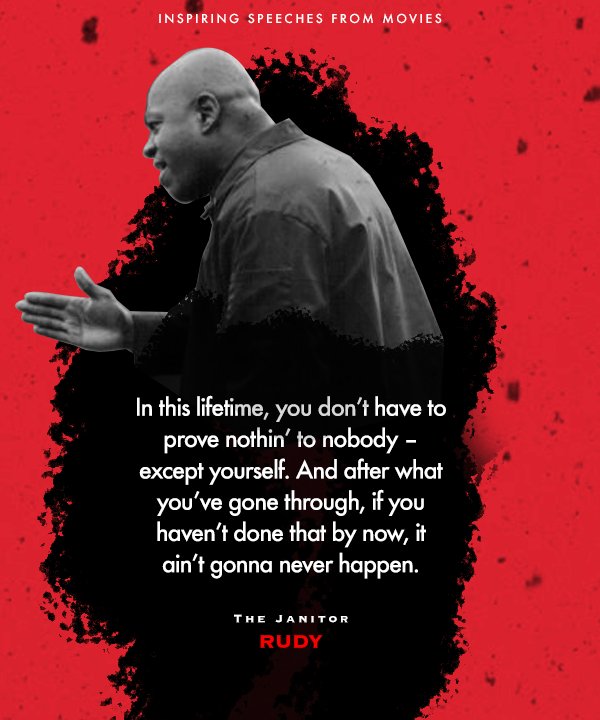 You're 5 feet nothin', a 100 and nothin', and you got hardly a speck of athletic ability. And you hung in with the best college football team in the land for two years. And you're also gonna walk outta here with a degree from the University of Notre Dame. In this lifetime, you don't have to prove nothin' to nobody – except yourself. And after what you've gone through, if you haven't done that by now, it ain't gonna never happen. Now go on back.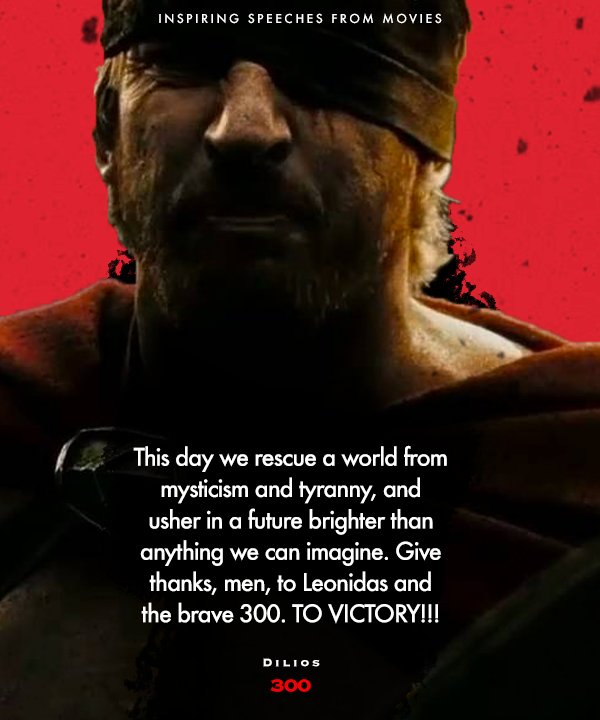 Now, here on this ragged patch of Earth called Plataea, Xerxes' hordes face obliteration! Just there the barbarians huddle, sheer terror gripping tight their hearts with icy fingers, knowing full well what merciless horrors they suffered at the swords and spears of 300. Yet, they stare now across the plain at 10,000 Spartans commanding 30,000 free Greeks. The enemy outnumbers us a paltry 3 to 1; good odds for any Greek. This day we rescue a world from mysticism and tyranny, and usher in a future brighter than anything we can imagine. Give thanks, men, to Leonidas and the brave 300. TO VICTORY!!!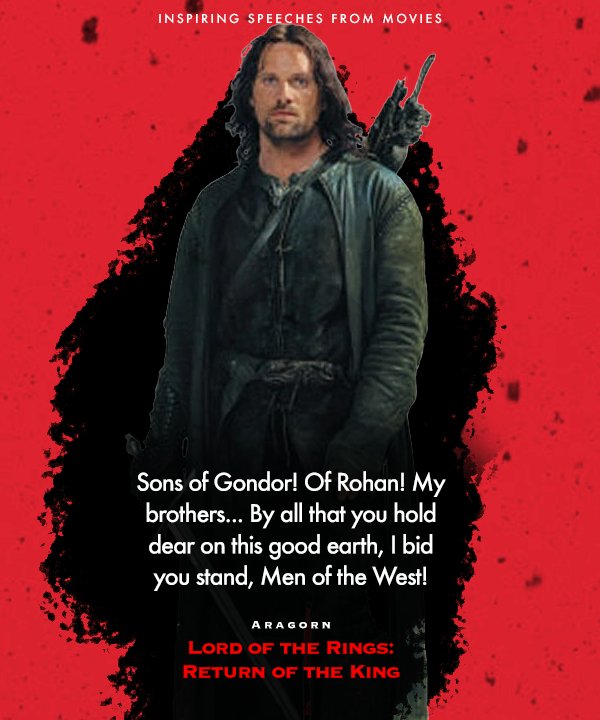 I see in your eyes the same fear that would take the heart of me. A day may come when the courage of Men fails, when we forsake our friends and break all bonds of fellowship, but it is not this day. An hour of wolves and shattered shields when the Age of Men comes crashing down, but it is not this day! This day we fight! By all that you hold dear on this good earth, I bid you stand, Men of the West!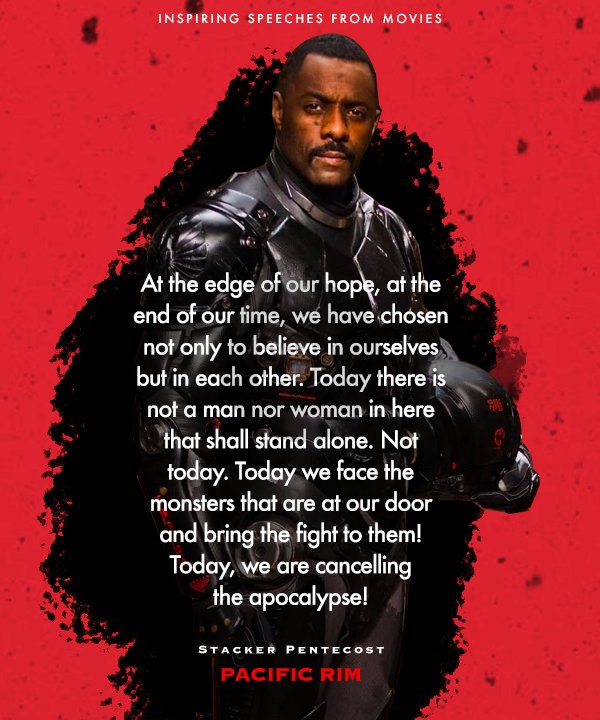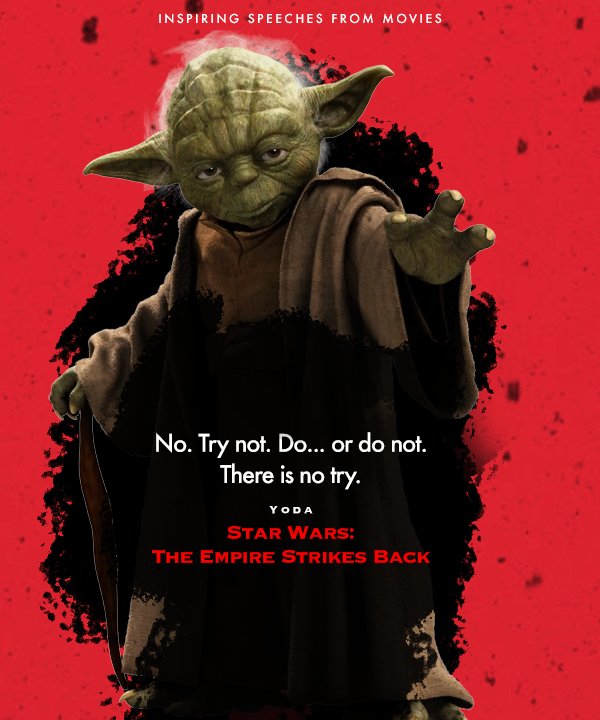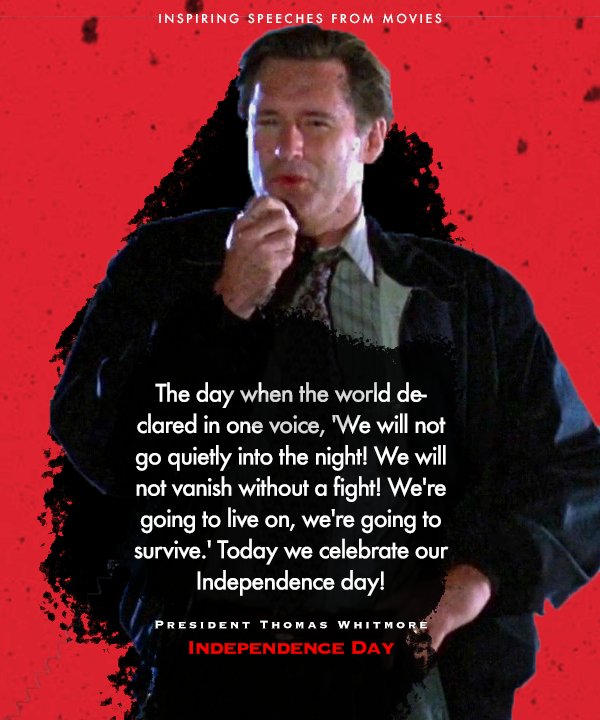 Today is the 4th of July, and you will once again be fighting for our freedom. Not from tyranny, oppression, or persecution, but from annihilation. We're fighting for our right to live, to exist and should we win the day, the 4th of July will no longer be known as an American holiday, but as the day when the world declared in one voice, 'We will not go quietly into the night! We will not vanish without a fight! We're going to live on, we're going to survive.' Today we celebrate our independence day!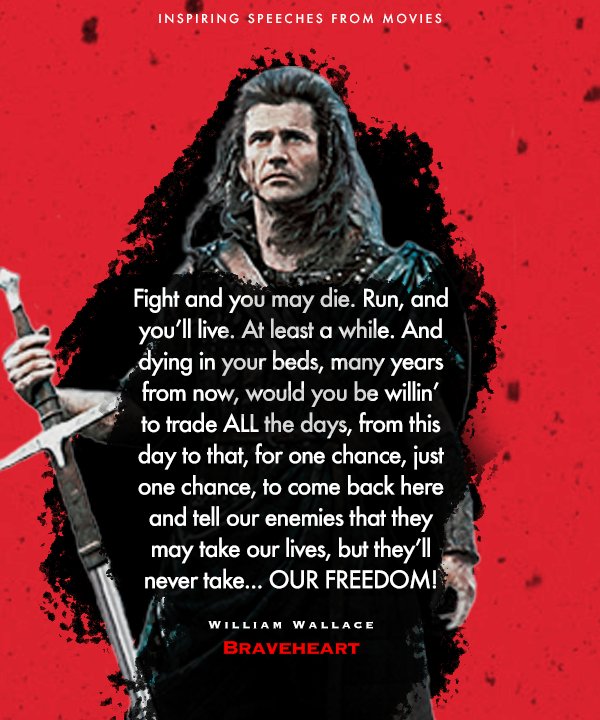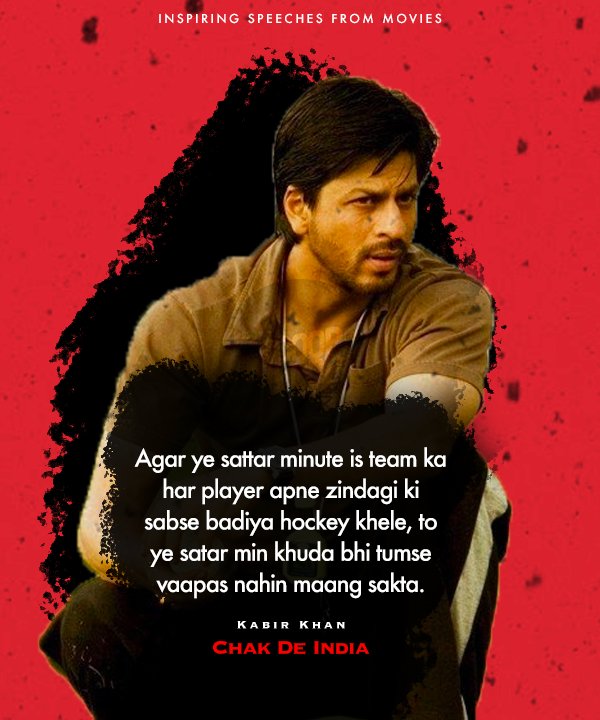 Sattar minute hain tumhare paas. Shayad ye tumhare zindagi ke sab se khaas sattar minute. Aaj tum aacha khelo ya bura, yeh sattar minute tumhe zindagi bhar yaa rahenge. kaise khelna hai.. aaj mein tumhe nahi bataunga, bas itna kahunga, ki jao aur ye sattar minute jee bhar kar khelo, kyonki iske baad aane wali zindagi chahe kuch sahi ho ya galat, chahe kuch rahe ya na rahe, haaro ya jeeto, lekin ye sattar minute tumse koi nahin chheen saktha, kyunki mein jaantha hu ki aagar ye sattar minute is team ka har player apne zindagi ki sabse badiya hockey khele, to ye satar min khuda bhi tumse vaapas nahin maang sakta.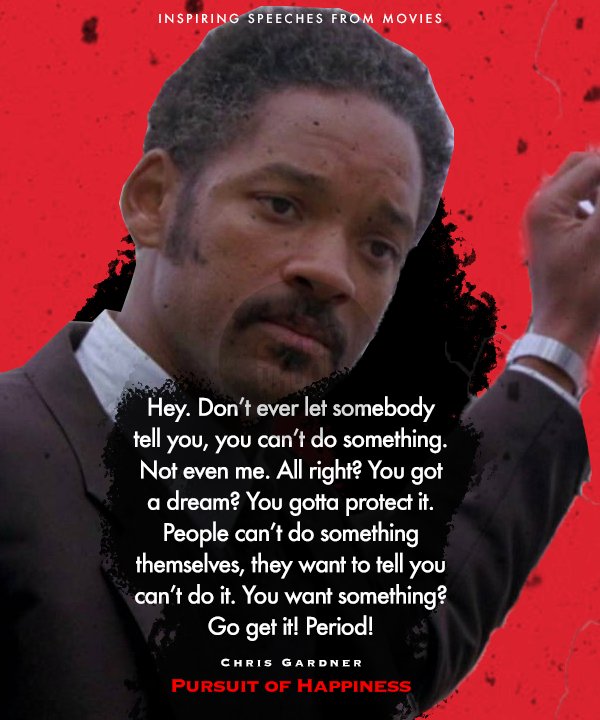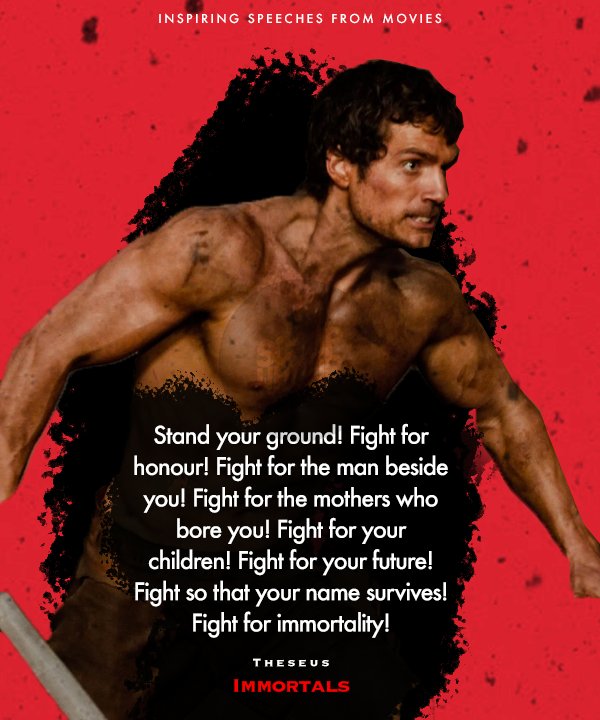 Stand your ground! Stand your ground! Show them that we are not weak. Because they scar their faces and scar their bodies does not mean they're braver or stronger than we are! They are cowards! They hide behind their masks. They are human and bleed like you and I! Stand your ground! Fight for honour! Fight for the man beside you! Fight for the mothers who bore you! Fight for your children! Fight for your future! Fight so that your name survives! Fight for immortality!