Kalki Koechlin is one of few Bollywood celebrities who balance their professional roles and social responsibilities very well. She's a proud feminist and has addressed significant issues in her career span. On International Women's Day, Kalki made her Reddit debut to speak about LGBTQ rights, and more. She kept the answers short and to the point, with a dash of her trademark sass. In case you missed it, here are the best bits from the session.
On actors promoting fairness creams
"I don't think there is anything wrong with being fair, but when an entire nation bases its idea of beauty on being fair it's sad, because there are such beautiful people who are dusky or of a different skin tone."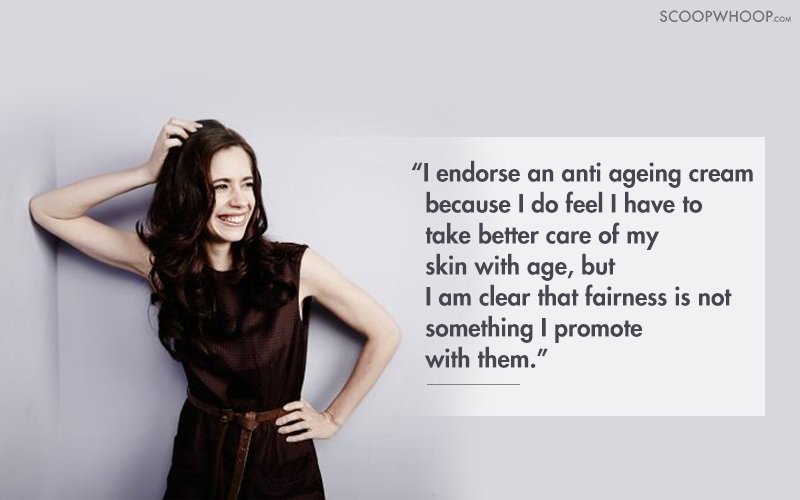 On her favourite films and favourite female characters
"Pyaasa, Jaane Bhi Do Yaaron, Mirch Masala, Ek Doctor Ki Maut, Bandit Queen, Maqbool, Queen, Court, Gangs of Wasseypur, Socha Na Tha, Satya, Black Friday, The Lunch Box, Salaam Bombay, it's a long list… Favourite female characters will be Basanti in Sholay and Rani in Queen."
On the way forward in creating awareness about LGBT rights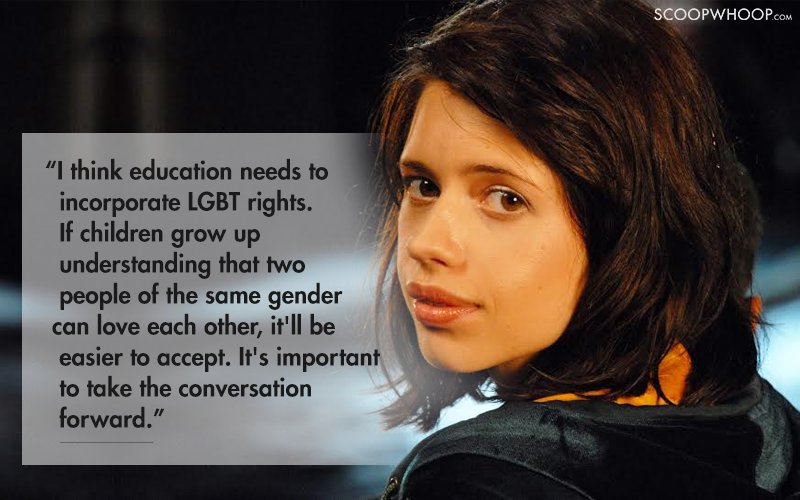 On Bollywood's representation of women in the 80s and now.
"I think Bollywood is a reflection of society, if the society looks down upon women so will our films. All of us are to be blamed for the objectification of women in the society. Parents treating boys better than girls, teachers separating boys and girls talking to each other, sexist jokes in the office, stereotyping women in films etc."
On India's Daughter.
"I didn't think the documentary was particularly well made, however that doesn't mean it should be banned. It's one perspective, even if i don't agree with something, doesn't mean it shouldn't exist."
On equal pay in Bollywood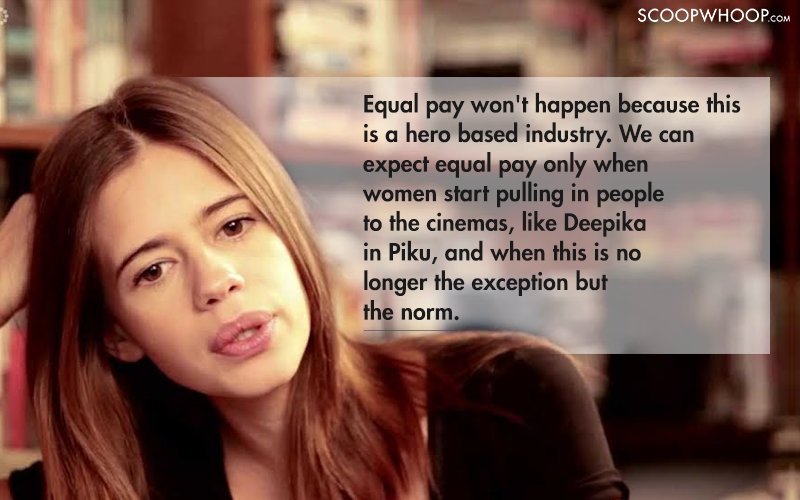 On the future of LGBT rights and portrayal of the community in cinema
"We're in uncertain times. I think we live in a diverse enough country, that there is always place for all kinds of people, and the LGBT community is strong in India, I have hope."
On rape culture
"I think the problem of rape is a worldwide phenomenon. I think it has to do with power, and asserting power over women, because of sexual frustration or class divides. The way to change this is by educating people about gender equality, getting boys and girls to study together, with equal opportunity and from a young age."
On the shortage of good writers in Bollywood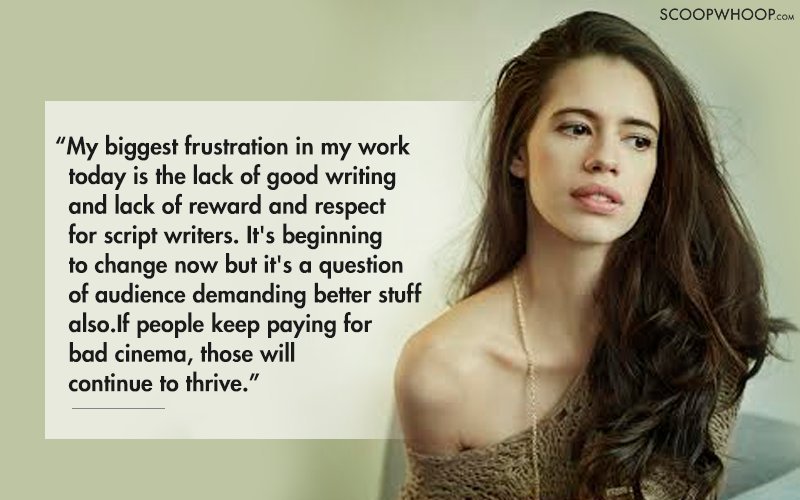 On Bollywood's social responsibility
"This is tricky because Bollywood is a business as is Hollywood. People are making money. While I agree, it's a great medium, sometimes we create art and sometimes we are doing a job to pay rent."
And – our favourite – her life advice to every 20-something:
"You're cooler than you think."
We'll take your word on that, Kalki.