Just this morning, two leading dailies had exclusive access to some of the emails Kangana Ranaut allegedly sent Hrithik Roshan, while she was under the impression that they were dating. Now, The Times of India, somehow, has even more incriminating emails from Kangana, and some from her sister and manager Rangoli, and things are not looking good for her.
TOI has mentioned right in the beginning that "Kangana's lawyer and a source close to her maintain that her account was hacked. Hence, it is not confirmed if these mails were actually sent by Kangana."
When they asked why there were no replies to Kangana's emails, a source close to her told TOI, "Hrithik was sending emails to himself to build a case that Kangana was in love with him, and he was not. When these supposed emails were sent, they were not in a relationship."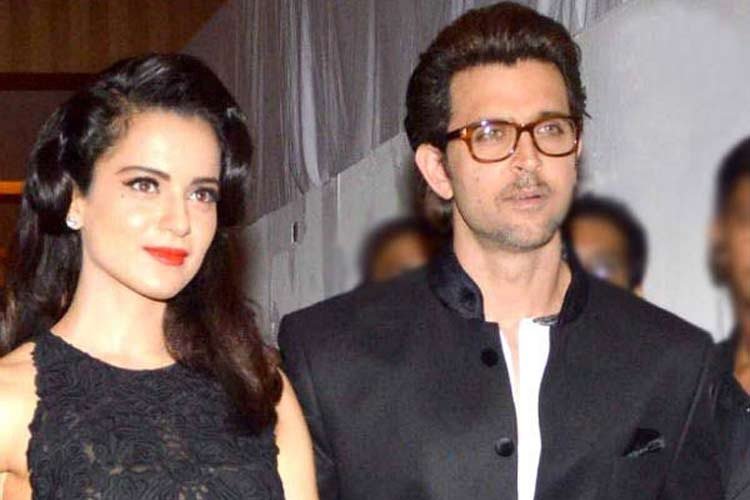 HERE'S THE RATHER DISTURBING TRAIL OF MAILS.
Rangoli's mail marked to Hrithik (along with the imposter's mail), dated 25 May 2014
Hi Hrithik
i have attached a mail from you that kangana one day sent me by mistake. but today that mistake makes all the sense. during your relationship with her, you hacked her account and you forced her to record many videos and click pictures as well in this mail you are clearly accepting everything. kangana is already very hurt leave her alone now.
Email from Hrithik's imposter, dated 5 May 2014
Saw the email flood, and i don't blame you at all. I am a little occupied so could not reply. Our life's different, unlike other couples. I so wish it wasn't the case, but sadly that's how it is.
Bear with me, as I emerge through all this with a clean slate, start afresh with new memories to be made.
P.S. I did see the video, and it was such a tease! I wanted so much more, but dint say anything since you were unwell.
Hrithik's reply to Rangoli's claim that Kangana's account is hacked, dated 25 May 2014
I have no idea what u are talking about rangoli.
What is going on rangoli??
What is this?
I can assure you I have not sent any such mail.
If this is a joke its not funny.
And if u are serious, u must meet me and get to the bottom of it.
I am free post 27th.
Rangoli – hroshan@email.com is NOT my account!!!
Somebody is playing a trick or is seriously demented!
My email is hroshan@mac.com.
Not hroshan@email.com!!
Rangoli's reply marked to Hrithik, dated 25 May 2014
okay, sir. We are very stressed. Kangana has been sending you pictures, videos, mails and messages. She has recieved a lot of stuff from you as well for last 6 months. Then her account has been hacked. we r ready to close the matter but if it wasn't you then lodge a complaint together because anything goes wrong your name will be dragged in it for sure.
KANGANA'S (ALLEGED) EMAILS TO HRITHIK:
July 13, 2014
Before i send you next mail, i'd like you to tell me where and how you like to receive my messages.
Would you like another account for us, or should we use text messaging?
Is there any other medium that you suggest?
August 15, 2014
when you has the other id at least you used to talk, this silence is hard to handle.
why don't you make another id?
do you find it weird to receive my mails at your work mail id.
it must be annoying, i dont mind it i got one id for everything, that too gets too much sometimes.
but for someone like you, it can be a nuisance to mix work and romantic mails.
i understand baby, should i try sending mails on your earlier id?
email.com one?
Kangana describing the first time she saw him
So i was thinking that when i saw you for the first time, in Manali in some hindi paper, i went in to a trance and thought to myself " this is the guy for me".
I told you about it but i have been very confused about that feeling because i never saw movies i never had crush on film stars and what i felt for you wasn't a crush, it was something uncanny.
everytime i looked in to your eyes i felt as if you are pulling my soul out of my body, that made me uncomfortable and frustrated.
I wasn't clear about my feelings for you because when i met you i felt so connected but your actions were just the opposite, you never said anything, you never did anything to meet me, i felt if we have this strong connection then why is he so oblivious to it?
Today i have no doubt that you love me and no one else and i am yours and can never be anyone else's.
But the realization of the same has been so different on your end, i used to look at you and think to myself, why this guy doesn't realize how much he love me, that used to make me so sad.
I hace been sad… God knows for how many years now!
Another email around the same time
I have so much to tell you in these mails but why didn't i ever speak to you?
We had so many opportunities, nut most of the time i remember sitting in awkward silence and later on feeling frustrated about it.
But now its making sense.
Its bit that i don't want to talk, I just don't know how to start talking, when we were in Dubai, in Rakesh ji's room that night, Priyanka spoke all night and my stories were on the tip of my tongue, that could've been our last night together and i had so much to say.
But i just didn't know when to say it, everytime my turn came i became nervous and everything went blank, i just managed to look calm, that's how i am all the time.
When we meet i won't be this person you get to meet in these mails, i will be the quite girl who you know, who stares at you hoping to say something and never finds the right time or right words.
But i will mail you.
25 August 2014
here's the man of light story:
my mum knew about us, when she got to know about it, she got too concerned and without my knowledge, she went to her astrologer back home, he's 90 year old man from the valley and has no idea about the outside world.
when i got back she said the astrologer saw my chart and said this girl will end up with an extraordinary man and it will happen before november 2014.
that man will be more successful than her, he will have all the qualities of her, like innocence and honesty, he will be very tall, very good looking and very kind and soft spoken and he will belong to a very renowned family. he will be much older at least 10 years older than her, she will have a very fulfilling relationship.
then we got confused but he told my mum "don't worry about her future, he will be like a farishta, she is a gifted child no desire or wish of hers will go unanswered but she will get her treasure only after extreme struggle, that's her unusual destiny"
he said tell her to focus and meditate on this man and forget about the past.
when i got back to india my parents visited me and mum explained what astrologer told her.
anyway then i started focussing on this man and we called him the man of light.
in one of my mails i said i am destined to follow the path of love with the man of light is because this pandit's predictions are always true. 
September 3, 2014
its just that its too hard to be sending these mails and never hearing anything back.
September 6, 2014
you have not accessed my mails and details show its being accessed all the time even now as i write to you, now we know there is someone else other than us, so we know what to do.
October 2, 2014
Baby did you read Kabir's mail?
Lets talk about it.
Kabir is a sufi and Fakir kind of man, he travels all the time and smokes pot whole day but he's deeply spiritual.
He's close to me and he is madly in love with his woman, though they don't share very healthy relationship but he still enjoys it.
2-3 days back he was talking about love and Sufism.
I was in pain and felt lost.
I told him about us as he can be trusted.
He asked me to keep my heart very very pure for you, he said I must believe that you are Shiva and I am your Shakti.
He said he has an intuition that I have come all the way to this city for you.
That shocked me, I told you this before.
He suggested that I behave in a way that I am your woman, he said that's the only way I will allow you to come close to me, according to him I am the one who is not letting you come to me.
According to him your journey towards me has been much bigger and greater than my journey for you but I am stopping you now and he explained how I am doing that.
I was convinced and I started crying.
I decided to follow him but not everything that he says.
He teases me as Mrs. R.
I think that's childish but I agree with everything else that he said to me.
I don't believe in marriages but I do believe that you are Shiva and I am your Shakti.
October 9, 2014
so i am calling.
take my calls today please.
i will say hi and you say hi back and we disconnect.
just your voice just one word please jaan.
November 15, 2014
switch on your phone hrithik i am not joking you will regret this