In a new bout of violence, Rajput Karni Sena on Wednesday attacked a school bus in Gurugram while protesting against the release of Sanjay Leela Bhansali's Padmaavat. 
According to reports, a group of protestors reportedly pelted stones at a bus belonging to GD Goenka School. The incident took place at Sohna Road in Bhondsi village while the bus was ferrying children back home around 2 pm in the afternoon.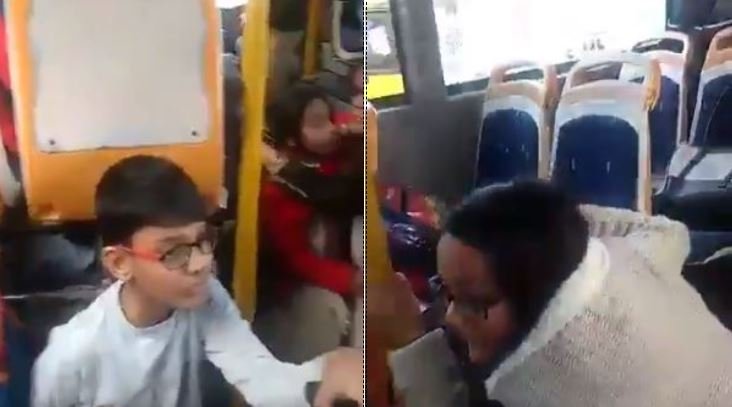 A 15-second video clip surfaced on the internet showing little kids and teachers taking shelter under the seats, crying for help. 
Look how the Karni Sena goons attacked GD Goenka school bus at Sohna Road of Gurugram as children and teachers took shelter under the seats, crying for help. Bus somehow managed to escape even after much destruction as visible. When will Haryana Govt arrest these cowards? pic.twitter.com/NQRK6tcXuN

— Aditya Raj Kaul (@AdityaRajKaul) January 24, 2018
It's quite unfortunate that an incident like this happened even when section 144 was imposed in the state. So much for your honour Karni Sena. You terrorise young children, whose honour are we protecting?
Condemning the attack, many took to Twitter. 
Attacking a school bus is not an agitation. It is terrorism. The people who did it are terrorists. Please refer to them as such.

— Farhan Akhtar (@FarOutAkhtar) January 25, 2018
Nothing is more inhuman than stoning a school bus with children hiding behind the seats. I strongly condemn the despicable act of #KarniSena in the name of protest against #Padmaavat movie in #Gurugram ,

— Rajat Sharma (@RajatSharmaLive) January 24, 2018
There will never be a cause big enough to justify violence against children. Violence and hatred are the weapons of the weak. The BJP's use of hatred and violence is setting our entire country on fire.

— Office of RG (@OfficeOfRG) January 24, 2018
Children of my country shiver with fear and cry….as karni Sena attacks a school bus….The elected Government looks the other way..The opposition party diplomatically reacts…aren't u all ashamed to trade our children's safety ..for ur vote bank politics..#justasking

— Prakash Raj (@prakashraaj) January 24, 2018
आपकी पार्टी के लोग 'पावर ऑफ पत्थर' से स्कूली बच्चों का सिर फोड़ने में लगे हैं। उनकी इस हरकत ने लाखों ऐसे माता पिताओं की नींद उड़ा दी है, जिनके बच्चे स्कूल में पढ़ते हैं। उन बच्चों को रात में नींद नहीं आई होगी, जिनकी स्कूल बस पर पत्थर पड़ा..प्रधानमंत्री जी! कुछ करेंगे भी? https://t.co/0ChGC82Fxq

— Manish Sisodia (@msisodia) January 25, 2018
Pellets and bullets are reserved for protesters in Kashmir. Karni Sena and Ram Rahim supporters get free publicity, state protection and impunity. Horrified to see the video of Gurgaon bus attack. Thoughts with the kids who had to go through this.

— Shehla Rashid (@Shehla_Rashid) January 24, 2018
Karni Sena is doing what any terrorist group does; spread terror and violence. The real shame are the craven state govts/netas who stay silent. By the way, how about calling the Karni Sena 'anti national'?? #Padmavaat

— Rajdeep Sardesai (@sardesairajdeep) January 24, 2018
Harayana Police have managed to arrest 13 attackers in the case but the fear among people remains and even cinema halls in the state have put up notices stating they won't screen the film. 
Despite Supreme Court and the Central Bureau of Film Certification paving the way for the release of film Padmaavat, protests across the country against the period drama refuse to fade away.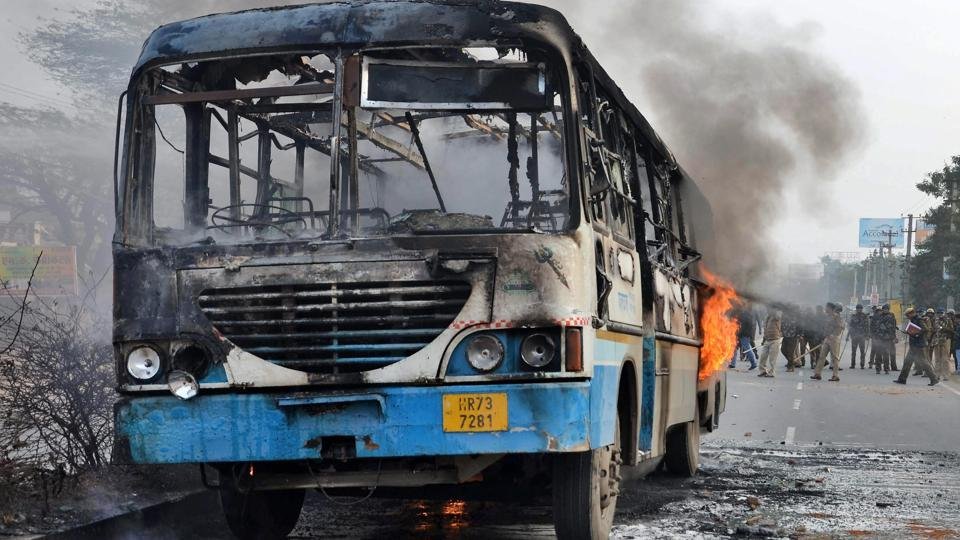 Earlier, on Monday, a group of unidentified men took to vandalism in different places in Gurgaon to allegedly protest the release of Padmaavat. Around 15 men had broken LCD TVs and glass panes at Raheja Mall in Sohna road and had also broken the windows of a bus on Sector 37 highway.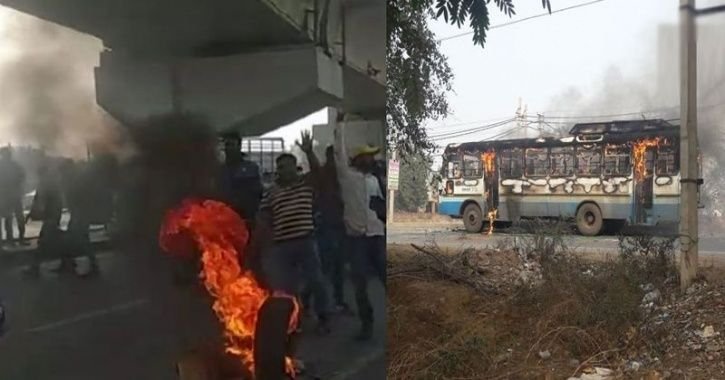 But that's not all. 
The protests were seen in several other states. 
जिस मीडिया को ये करनि सेना,और हिन्दुओ इन्सानियत नही दिखा तो अपनि बन्द आन्खे खोल लो और भन्सालि कि गोद में जाकर बैठजाओ.@abpnewshindi@ZeeNews@aajtak @anjanaomkashyap#BanPadmaavat#KarniSena pic.twitter.com/XD1YNhCB1I

— ChUnNu ModiFan (@CHuNnUK40425477) January 25, 2018
They had set vehicles ablaze outside a multiplex in Ahmedabad, which was to screen the movie. And even created ruckus in Surat. 
#KarniSena Terrorists attacks Police in Surat. #Padmavat pic.twitter.com/2VWbZDriyY

— Unofficial Sususwamy (@swamv39) January 24, 2018
As the film braces for release today, the mood across the country is extremely tense. The law and order situation is dire, and it has made a mockery of our democracy. This is all for a film, after all. If a movie like Padmaavat is degrading your culture, Karni Sena, then what are these attacks doing?