Koffee With Karan has one thing in common throughout its 8 seasons – the sizzling and interesting questions. From revealing secrets about their dating lives to talking about their future projects, these questions disclose a lot about our favourite celebrities.
There have been times in the show where we were like "oh, why didn't the host ask another question to this celebrity?". So, we decided to fullfil their wishes. We asked people about the interesting questions they would ask the celebrities if they were hosting the chat show.
Let's take a look, shall we?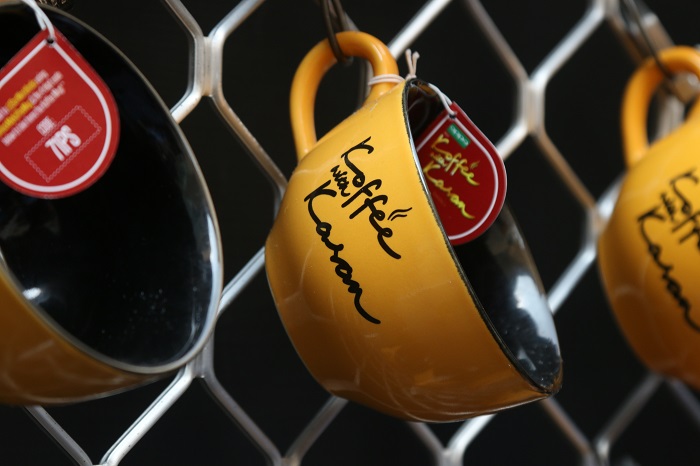 1. "I would ask all the celebrities about their skin and beauty secrets. I would ask them where they get their facials, which spas they go to and which is their most reliable skincare product." -Harshita Singh
2. "I would want to ask celebrities (like Salman Khan and John Abraham) about their 'real' fitness routines. We already know that millions of people get inspired by their favorite celebrities and it would be the best way to encourage them to live a healthy lifestyle." -Aarushi Sharma 
3. "I want to ask Shah Rukh Khan ki kya khaake paida huye the, bhai?" -Bhavik Kapoor
4. "Everyone needs motivation to keep going when they are in their lowest phase. I would ask these celebrities about the things that kept them motivated when they were feeling low in their careers or were about to give up on their careers." -Dhruv Joshi
5. "I would want to ask them about an important life lesson that they have learned the hard way in Bollywood?" -Snigdha Oreya
6. "I would like to ask Sunny Deol why he did Gadar 2?" -Manya Ailawadi
7. "I really want to know about their investments and savings. I always think about what do they do with their money – which is in crores. Obviously, my question would be regarding the same." -Raghav Sharma
8. "I would invite the Ambani khandaan to the show and ask them for a job or at least ask them about how can I apply for a job in their huge residence." -Pranav Bindra
9. "I would have loved to host Imtiaz Ali and ask him about the inspiration behind his story, and how much of it is based on reality. I would have followed up by delving into some of the anecdotes." -Prakriti Srivastava
Now, these were some interesting questions!