Kolkata is popularly known as the cultural capital of India. And food, as we know, goes hand-in-hand with culture. Here's a list of the street food in Kolkata one must try when here, barring, of course, the obvious choice of 'Mishti doi' (sweetened yoghurt). Read on;
1. Phuchka, Churmur
2. Jhalmuri
3. Kathi Roll
Nizam's is usually credited with the invention of this magnificent idea of a Kathi roll supposed to be held in the hand and eaten. Essentially a chapatti or a parantha (handmade unleavened bread) filled with the juiciest of mutton kebabs, fried chicken pieces, mutton keema, paneer or fried egg, rolls are easily one of the most devoured and preferred of street foods in the city. Kathi rolls are pretty much like the Mexican burritos, or the Spanish handheld tacos, only necessarily Indian.
4. Telebhaja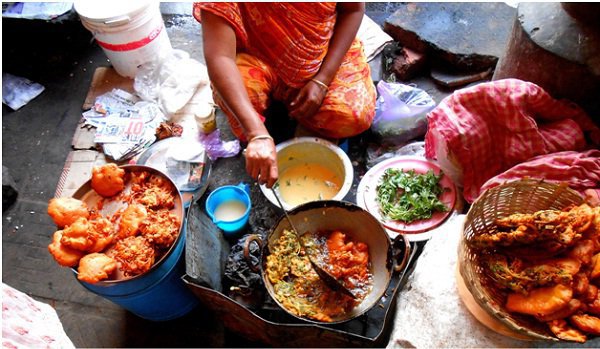 Beguni, Phuluri, Peyaji, Alu'r chop, Vegetable chop and for the truly adventurous , quirky additions to the traditional list with Aam'er chop, Aada'r chop, Lotey maachh'er chop, et al.The city is most frequently dotted with shacks and stalls which provide one with the tastiest of fried snacks. Deliciously oily and sinful, the crispy cornflour (or besan) battered fries of items ranging from onion rings, potatoes, aubergine slices to quirkier stuff like raw mangoes, ginger, Bombay Duck (lotey maach), coriander leaves, et al are what every Calcuttan outside the state detest missing out on. These are as mouthwatering as it gets without leaving a dent in your wallet.
5. Ghugni
A typical Bengali dish, ghugni, is made of yellow dried peas or white peas, boiled and tossed in with chopped coriander, coconut, onion, chillis, tomatoes and tamarind water and seasoned with spices. A spoonful of Ghugni will burst into a plethora of unthinkable flavours into your mouth.
6. Papri Chaat, a.k.a Batata Puri
Another happy addition from the northwest of India, Papri Chaat in Kolkata is a slight twist of a popular snack in places like Mumbai, Delhi, Goa, etc. Papri or deep fried chips are laid down first and topped with spiced potatoes, chopped onions, coriander, chillis, yellow Indian peas boiled, and dressed in red tamarind chutney that tastes tangy sweet. It's quite like the Mexican nachos, only Indian, and if you ask me, way tastier.
7. Dahi Vada or Doi Bora
Also known as Dahi Bhalla in Punjabi, this dish is popular all over India and deservedly so. They are deep fried vadas that are softened in water and then transferred in a bowl of beaten yoghurt. Mostly, the yoghurt is seasoned with masala, chilli powder, lime, coriander or pudina leaves, pepper, coconut, cumin, etc. Dahi vadas are not harsh on your tummies and in fact, serve as nice snacks to have during the sultry months of summer.
8. Samosa or Shingara
Usually an evening snack, shingara or samosa, as it is called all over India, are generally vegetarian and often had with chutneys or ketchup. Shingara is a tetrahedral shaped fried or baked pastry filled with potatoes, peanuts, onions, etc. They may also be available with fillings of mutton keema (minced mutton cooked), chicken, lamb, et al. Shingaras over tea used to be a quintessential snack for guests who paid a quick evening visit in a Bengali household.
9. Chowmein
Street food at Kolkata has undergone heavy influence of Chinese cuisine, thanks to the Chinese community living in the state. Chowmein or 'Chow' as it is usually called, is stir fried noodles topped with chicken strips, fried scrambled eggs, stir fried vegetables, chopped onion and cucumber salad and ketchup. The noodles are quite hot and spicy, unlike its Chinese cousin, just the way Indians love it.
10. Kulfi
A popular frozen dessert had around the streets, kulfi is Kolkata's own ice cream (though found all over the subcontinent) and comes in various flavours. A must try during the sultry summers if you happen to be in the city. Kulfi's creamier and heavier than ice cream and if you ask me, better than most ice-creams.
11. Jalebi (locally known as Jilipi)
A crystallized sugar syrup coated pretzel-like sweet, one cannot simply explain how a Jilipi or an Amreeti tastes. It is sort of chewy and eaten hot or cold depending on one's preference. Ishould probably mention Kolkata's own variation of the Jalebi called 'Channa'r Jilipi' or 'Paneer jalebi' which is made of Channa or thick, fresh, unripened cottage curd cheese.
12. Radha Ballavi, Masala Kochuri
A very famous deep fried, lentil-stuffed puri, Radha Ballavi is usually served with ghugni/ chhola'r dal/ alu'r dom or alu'r torkari. In fact, Radha Ballavis are a rage in the city and vanish really fast from the sweetmeat shops here. Masala Kochudi as well as my personal favourite, Koraishuti'r kochuri, is dished out the same way as Radha Ballavi barring the fact that they have either masala or Green Indian peas pasted and pureed inside. Go, try, now.
13. Fish Cutlets , Fingers (Fish/Chicken), Egg Devil
Minced fish, chicken, mutton and sometimes beef, fried in batter, Cutlets are an addition to the Indian Cuisine from the European palette. In fact, the word 'cutlet' originates from the French word 'côtelette' which meant a portion of meat. Fish or Chicken Fingers are just as popular and can be bought from little shacks dotting the streets of Kolkata. Egg Devil, unlike what the name suggests, comprises of a boiled egg and cooked and spicy potato fillings fried together in the shape of a ball, dipped in batter. All of these make for really tasty snacks without burning a crater in your pocket.
14. Alu Kabli
One of the easiest snacks in this list to rustle up when in a hurry, Alu kabli are boiled cubes of potatoes tossed in with roasted chick peas (previously soaked, usually overnight), chopped onions, tomatoes, coriander, tamarind paste, chopped chillis, and seasoned well. This hot and spicy street food was what I considered my comfort food when a kindergarten kid.
15. Ghoti Gorom, Badam Makha
Every Bengali once made memories of summer evenings with Ghoti gorom sellers walking past dark lanes, while their bells/keys sound as they move. Ghoti Gorom basically is chanachur with onions chopped, chillis, peas and nuts and masala.
A quintessentially Bengali thing, this, it must be tried when taking a quiet stroll in Maidan or after a late visit to the Victoria Memorial.
16. Cha/Chai in 'Maati'r bhaaNr' or Earthen Cups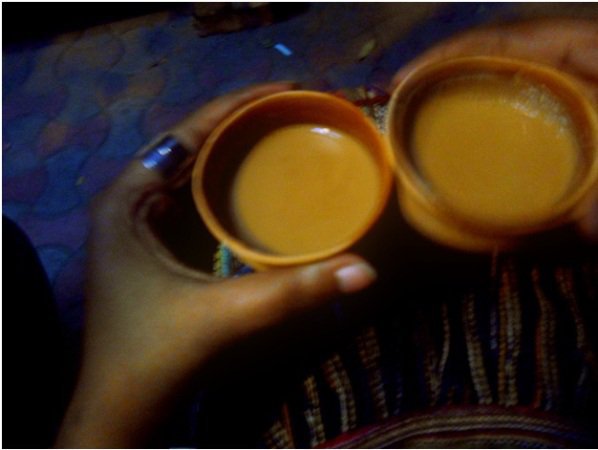 The USP of the cha/chai at the little ram-shackles dotting the streets at Kolkata is the bhaaNr or the earthen cups that it comes in. People who have had tea in a maati'r bhaaNr would probably tell you how Cha actually acquires a different flavour in the bhaaNr. In fact, these little shacks serving tea (generally with milk and a lot of sugar, just saying; though sometimes with lime or ginger), with toast biscuits and even little cakes are one of the best things about experiencing Kolkata (especially in wintry nights), in my opinion.