Siblings are the best and the worst. You always have someone to share your happiness with, and you also have someone to annoy you 24/7. Many Bollywood stars have siblings, but most of them like to stay away from the limelight. 
Here are 12 lesser known Bollywood siblings you might not know about.
Shah Rukh Khan's sister, Shahnaz Lalarukh
SRK's elder sister is an alumnus of Lady Shri Ram College. She suffered from depression after their father's death, and presently lives with his family.
Parineeti Chopra's brothers, Shivang and Sahaj
We all know she is Priyanka Chopra's cousin, but she also has two younger brothers, Shivang and Sahaj, who often accompany her to award shows.
Sushmita Sen's brother, Rajeev
Sushmita Sen has a younger brother, and they are often spotted at parties and vacations together. They once walked the ramp together too.
Akshay Kumar's sister, Alka Bhatia
Akshay's sister got married to entrepreneur Surendra Hiranandani in 2012.
Aishwarya Rai Bachchan's brother, Aditya Rai
Aishwarya's older brother is an engineer in the Merchant Navy, and is married to Shrima Rai, Mrs India 2009. He co-produced one of her films, Dil Ka Rishta.
Anushka Sharma's brother, Karnesh
Anushka's elder brother Karnesh used to play state-level cricket, and played for the U-19 Bangalore Ranji cricket team. He joined the Merchant Navy later. The two have recently started their production company, Clean Slate Films. 
Deepika Padukone's sister, Anisha
Deepika's younger sister started playing golf at the age of 12, and is a professional golfer now.
Ranveer Singh's sister, Ritika Bhavnani
In an interview, Ranveer mentioned that his elder sister Ritika is responsible for his sweet tooth, as she gave him chocolates almost every day when they were kids. 
Priyanka Chopra's brother, Siddharth
Priyanka's brother works in the hospitality business. He is a trained chef, and studied in Switzerland. He owns The Mugshot Lounge in Pune.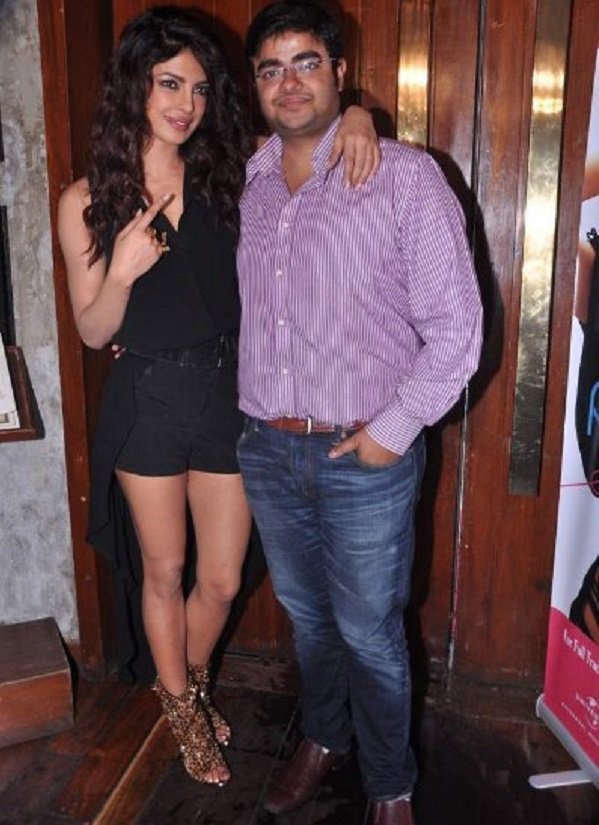 Preity Zinta's brothers, Manish and Deepankar
Preity is often seen with her elder brother Deepankar, who is a commissioned officer in the Indian Army. Her younger brother, Manish, lives in California.