Remember what happened last year at the Miss Universe pageant? The host, Steve Harvey, took the wrong name on stage. His faux-pas saw the crown going to Miss Colombia for a bit and then it switched heads as Harvey admitted that he misread the cards. The actual winner was Miss Philippines, Pia Wurtzbach.
Though Harvey was apologetic, his initial tweet did not help his case.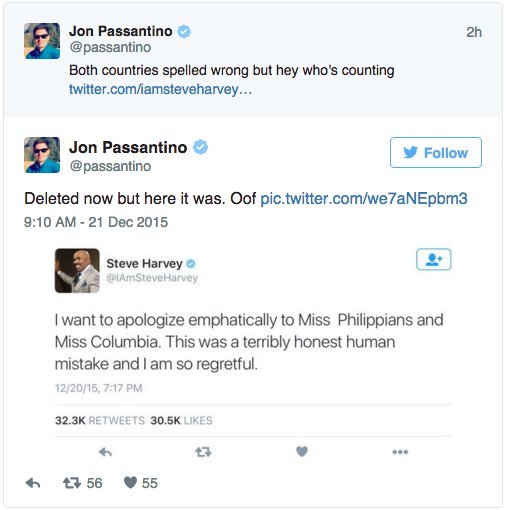 Needless to say, everyone involved was embarrassed. Even Pia faced a lot of criticism from angry Colombians and she even reported a lot of contestants blaming her for what went down.
Cut to 2017:
A new year, a new pageant but the same host. But just before Steve was set to announce the new Miss Universe, Pia appeared onstage and made sure that the same mistake was not repeated this year. 
And she did so by trolling Steve in the most epic way:
Steve did his best to deal with the trolling: "Thank you so much Pia. A year late, but thank you."
It's nice that they can both see the funny side of last year's fiasco. 
Pia said, "Steve, I never got to thank you, but thank you for making me the most popular Miss Universe." 
To which Harvey said, "That's okay. I wanna thank you for making me the most famous host of Miss Universe." 
The crown for 2017 went to Miss France and Steve got it right the first time!