Six years ago, on this day, Queen released and it started a revolution in Bollywood and the country. While young women were looking up to Kangana Ranaut's eccentric Rani and aspiring to be like her, filmmakers were trying to make rip-offs of the same film. In a talk show, Kangana told Naseeruddin Shah how, post the success of Queen, several filmmakers would come to her with similar scripts. So, what made Queen the iconic film that it is today? Let's seek the answer through some memorable moments of the film.
1. When Rani decides to go on her honeymoon alone 
We were mad at Vijay (Rajkummar Rao) for breaking Rani's heart. We cried when Rani locked herself up in the room and saw her married life dreams crashing one by one. But, when she decided to go on her honeymoon alone, we cheered. Attagirl! All women should go for solo honeymoons because self-love is the best kind of love.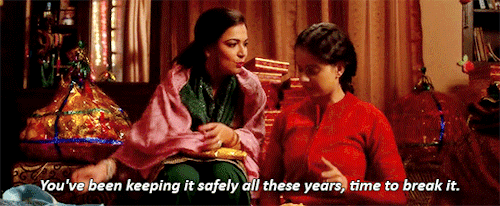 2. When Rani protected her purse from a robber 
She was broken-hearted and vulnerable but she mustered up all the courage she had to protect her bag from a robber. That was the first insight the audiences got into Rani's strength of mind and determination.  
3. When Rani gets drunk and goes on an emotional and hilarious rant 
It's one of the most iconic scenes of the film because Rani vents out her frustration for the first time since her breakup. And listening to her rant and break down is Vijayalakshmi (Lisa Haydon), Rani's new friend and one of the best supporting characters Bollywood has ever given us.  
4. When Rani and Vijayalakshmi go around Paris and paint the town red 
Vijayalakshmi and Rani's friendship is one of the highlights of the film. It shows us just how fulfilling and amazing female friendships can be. In fact, their friendship and camaraderie has now received cult status in pop culture.
5. When Rani asks for garlic and chillies in her Italian food 
Ask an Indian to eat bland food and they would look at you like you have lost your mind. Something similar happened with Rani when she ordered Italian food and didn't find it suitable for her taste buds. The eventual discussion between Rani and the chef is one of the most hilarious and truly desi moments of the film.  
6. When Rani doesn't understand that she's shopping in a sex toy shop 
If your friends don't laugh at or make fun of you, are they even your friends? You have to watch this scene to understand how Rani's friends gang up on her and laugh while she shops for a wide variety of sex toys, seemingly oblivious of their actual purpose.  
7. When Rani goes for a cooking competition 
It's one of those moments that makes Rani realise that she had the potential to start something of her own. With the help of her friends, she finally understands that she can be independent and that she doesn't need any man to support her.  
8. When Rani dumps Vijay 
Everyone screamed, "YAAAS QUEEN!" when Rani dumped Vijay and his misogyny. Not only did it liberate Rani from a toxic relationship but it also helped millions of women understand that it's never worth being with a sexist man who controls you, shames you for your choices, and tries to change you according to your whims and fancies.  
Don't you feel like watching Queen to amp up your mood and feel better? Go ahead and stream it on Netflix!