Director: Pan Nalin
Cast: Sandhya Mridul, Sarah Jane-Dias, Pavleen Gujral, Anushka Manchanda, Tannishtha Chatterjee, Amrit Maghera and Rajshri Deshpande.
Rating- 4 ****
If entertainment for you is Shah Rukh and Kajol falling in love on an iceberg, then we'll suggest waiting for a couple of weeks. Because nothing about Angry Indian Goddesses is unrealistic or fake. The best part for us was the ability to relate to each of the Goddesses at one point or the other. You're either one of them or work with one of them or are dating/married to them. So in that sentiment, AIG is a movie for everyone.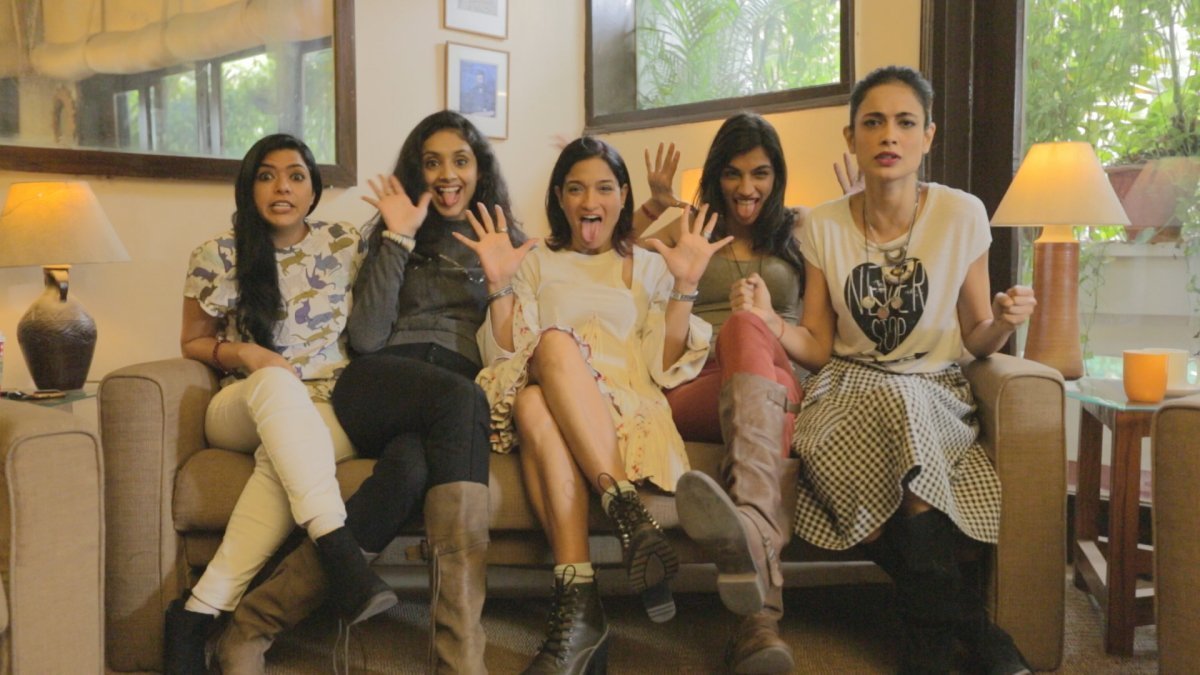 Through the trailers and promotions, we know that AIG is about female friendship which is worth acknowledging in itself. Apart from the bond between Kangana Ranaut and Lisa Haydon in Queen and Ayesha Takia and Gul Panag in Dor , we haven't really seen that sentiment being captured on the big screen.
We have the talented and passionate photographer Freida, the boss woman Suranjana, the trophy wife Pam, the rebellious musician Madhureeta, the wannabe actor Joanna, the activist Nargis, and the one-woman army Lakshmi. Their problems are just as relatable as the characters, and are things that we've all bitched about with our own girlfriends.
Source: TIFF
Director Pan Nalin has captured our favourite women in all their natural glory and we love that none of the Goddesses have been retouched or given designer outfits. So Frieda has dark circles and Anushka is owning her skin tone and Pam is wearing kurtas that we've spotted in Sarojini Nagar.
The Delhi girl in us has special love for Pamela AKA Pam AKA Pammi played by the very talented Pavleen Gujral. Without using the exaggerated hyper tone that Bollywood has always given to women from Delhi, she brings to life the perfect trophy wife we've seen and often judged perfectly. We'll take a minute to hate on the Censor Board's unnecessary cuts and mutes because they ruin the tone of the movie. Picture this scene from the trailer, where Anushka's character is describing her boyfriend and says, "Guitar bhi achi bajaata hai, mujhe bhi acha ******* hai." Seriously Censor board? It's okay for Bollywood actors to take the creep quotient to preposterous levels with lots of zooming in on the heroine's boobs, belly and butt. But when the actresses check out their hot neighbour, a word as basic as 'lunch' gets beeped out.
Make time this weekend, gather your friends, both girls or guys, and go watch Angry Indian Goddesses. The movie may not have a perfect ending, but neither does real life, and this film does not pretend to be anything else. And that is precisely why AIG deserves a theater-watch more than many other recent Bollywood movies.
If an AIG makes money, we can hope for many more 'real' characters to find their way towards the big screen.