I know, I know – it's Valentine's day and I'm posting this list. But there's a reason – to me, Valentine's Day means nothing. This day changes nothing. But these movies – watching them with that special person – that means a lot. 
Here's a list of 38 hand picked films, I believe will help you figure out who's that special someone in your life. Don't worry, if you like watching movies alone – that means there's at least one person who loves you a lot – you.
1. The Lobster (2015)
IMDB – 7.3, RT – 92%
Somewhere in the near future, single people are sent to 'the hotel', where they have 45 days to pair up with someone. If they fail, they're turned into an animal of their choosing. This is one of those films that people will either love, or absolutely loathe. But to me, it's a classic. Made by Yorgos Lanthimos, the same man who gave us the disturbing Dogtooth, The Lobster is in a way an extreme mirror to as dark a romantic film can get. 
Cast – Colin Farrell, Rachel Weisz
2. The Science of Sleep (2006)
IMDB – 7.3, RT – 71%
A frustrated graphic designer's waking life takes a backseat to his colorful dreams, which are as vivid as his imagination. His predicament does not make it easy for him to woo his cute neighbour. Beautiful film, and a brilliant performance by Gael Garcia Bernal. Oh, and did I mention it's made by Michael Gondry, the same guy who made Eternal Sunshine of the Spotless Mind?
Cast – Gael Garcia Bernal, Charlotte Gainsbourg
3. The Beauty Inside (2015)
IMDB – 7.2, RT – 75%
Every morning, Woo-jin wakes up with a different body. His gender, race or nationality may change every day, but he's the same person inside. He likes Yi-soo, but he must figure out new ways to impress her every day, thanks to his predicament. A surprise hit at Cannes, The Beauty Inside asks the question – where does love begin? A remake of a 2012 American film of the same name.
Cast – Hyo-ju Han, Seo Joon Park, Juri Ueno
4. Safety Not Guaranteed (2012)
There's something about low-budget sci-fi films. They know their success totally depends on the script. Safety Not Guaranteed is the story of a girl who investigates this ad posted by a mysterious but awkward guy – 
WANTED – Someone to go back in time with me. This is not a joke. You'll get paid after we get back. Must bring your own weapons. Safety not guaranteed. I have only done this once before.
Cast – Aubrey Plaza, Mark Duplass
5. Mr. Nobody (2009)
It's 2092. Humans have figured out how to not die. The last mortal human looks back on his long past and the lives he could have potentially lived. It's not your typical 'love' film. But it's one hell of a movie. This, along with Requiem for a Dream, made me a lifelong Jared Leto fan.
Cast – Jared Leto, Sarah Polley
6. TiMER (2009)
IMDB – 6.6, RT – 58%
Another low budget victory, TiMER is about a woman named Oona, who buys a bracelet that has a countdown timer, one which counts down to the exact moment a person will meet their soulmate. If the bracelet is blank, it means the soulmate hasn't bought their TiMER yet. One day, Oona's bracelet suddenly starts the countdown. A movie that went largely under the radar, TiMER is a perfect film if you're tired of everyday rom-coms.
Cast – Emma Caulfield, John Patrick Amedori
7. Stranger Than Fiction (2006)
IMDB – 7.6, RT – 72%
Harold, the taxman, lives and ordinary life, which you might even call boring, because it's all so routine. But one day, he starts hearing this woman's voice in his head, who's narrating his life. And only he can hear it. One of Will Ferrell's best performances, Stranger Than Fiction is one of those films you'd want to watch alone, or maybe with just one or two people around. Escapism at its absolute best.
Cast – Will Ferrell, Emma Thompson, Maggie Gylenhall
8. 3-Iron (2004)
IMDB – 8.1, RT – 87%
By day, Tae-Suk rides around his motorbike putting takeout menus in people's homes. He breaks into the ones where the menus haven't been removed, knowing that no one's at home. But he does not steal anything; instead, he fixes broken things and washes the dirty laundry. But one day, he enters a house where he meets a woman who doesn't mind his breaking and entering. One of the most surreal films I've ever seen, 3-Iron is one of the finest examples of the brilliance of Korean cinema.
Cast – Seung-yeon Lee, Hyun-kyoon Lee, Hyuk-ho Kwon
9. True Romance (1993)
IMDB – 8.0, RT – 92%
Written by Quentin Tarantino, True Romance was critically acclaimed despite failing at the box office. I'm guessing people assumed it was a lovey-dovey mushfest (thankfully, it wasn't). It's a dark, romantic comedy with a heavy amount of violence mixed in. It's a Tarantino script after all. But amidst all of that, I couldn't help fall in love with the two central characters. When the ending credits song comes in, you realize you've just watched something special.
Cast – Christian Slater, Patricia Arquette, Dennis Hopper
10. Sparrows Dance (2012)
On one side, there's an agoraphobic (one who fears open or public spaces) former actress lives in her tiny New York apartment, secluded from the outside world. She survives on delivery food and the money from her residuals. And on the other side, there's a charming plumber who this woman has to reluctantly invite to her flat due to an emergency. But between them, there's a huge mental health issue that is bigger than a football field. Can the magic happen? Sparrows Dance is one of the best 2013 movies that you never saw. Fix that.
Cast –  Marin Ireland, Paul Sparks
11. Once (2007)
IMDB – 7.9, RT – 97%
A busker (street musician) in Dublin meets a Czech immigrant, who's a musician too, and over a week they write, rehearse and record a demo. A modern day musical made on a shoestring budget, the soul of Once is only surpassed by its simplistic brilliance. 
Cast – Glen Hansard, Marketa Irglova
12. About Time (2013)
IMDB – 7.8, RT – 70%
When he turns 21, Tim Lake's father tells him that men in their family have always been able to time travel. They cannot change historical events but can make small changes to make their own lives better. Tim uses this to start a relationship with the girl he likes. But it's easier said than done. About Time is a film about love and relationships but not restricted to that between couples. The father and son moments are the best bits.
Cast – Domhnall Gleeson, Rachel McAdams, Bill Nighy
13. The One I Love (2014)
IMDB – 7.1, RT – 80%
A couple whose marriage is failing decide to undergo a unique therapy session, where the counselor asks them to spend a week at a unique and beautiful getaway. I can't reveal anymore without ruining the plot, which is right up there as far as crazy, brilliant plots go. Mark Duplass and Elisabeth Moss play the perfect on-the-brink-of-separation couple and by the time you're done with the film, you realize there was no point in choosing sides, in case that's what you did.
Cast – Mark Duplass, Elisabeth Moss
14. Enough Said (2013)
IMDB – 7.1, RT – 96%
Every parent knows what it feels like your kid is leaving home. And that empty nest feeling is stronger when you're a single parent. Julia-Louis Dreyfus and James Gandolfini play two such people in this charming romantic comedy. As a fan of The Sopranos and Seinfeld, it took me a while to get used to a sweet Gandolfini and a non-cynical Dreyfus, but the experience was totally worth it.
Cast –  Julia-Louis Dreyfus, James Gandolfini
15. Ruby Sparks (2012)
Calvin, a young writer who achieved phenomenal success early in his career, is now struggling with his writing – as well as his romantic life. He finally makes a breakthrough and creates a character named Ruby who inspires him. When Calvin finds Ruby, in the flesh, sitting on his couch about a week later, he is completely stunned that his words have turned into a living, breathing, very real person. Ruby Sparks is at times funny, at times dark – and overall a must-watch.
Cast – Paul Dano, Zoe Kazan
16. Annie Hall (1977)
IMDB – 8.1, RT – 98%
I don't need to talk about Annie Hall. It's the Godfather of romantic relationship films. And if you haven't seen it yet, let me just say you're missing a whole universe of one-liners. Woody Allen at his most cynical is Woody Allen at his best.
Cast – Woody Allen, Diane Keaton
17. The Little Death (2014)
IMDB – 7.1, RT – 61%
Australian writer-director, Josh Lawson, perfectly captures the secret lives of five suburban couples through this film, which I found deeply twisted, funny and overall entertaining at the same time. There's something about Australian humour that sets it apart from what you usually see in everyday sex comedies. By the way, 'little death' means orgasm, just so you know.
Cast – Bojana Novakovic, Damon Herriman, Josh Lawson
18. Submarine (2010)
IMDB – 7.3, RT – 86%
Directed and co-written by Richard Ayoade (The IT Crowd), Submarine is the story of a 15-year-old Welsh boy who's trying to save his parents' marriage and also lose his virginity before his next birthday. This first person narrative was one of my favourite films from 2011. No wonder I keep coming back to it every once in a while. Also featuring, a terrific soundtrack written by Alex Turner from the Arctic Monkeys.
Cast – Craig Roberts, Sally Hawkins
19. Wristcutters: A Love Story (2006)
IMDB – 7.4, RT – 67%
Zia kills himself only to realize that the pain of life does not end with death. He finds himself stuck in a bleak metaphysical landscape filled with people who, just like him, are here because they killed themselves. One day, the depressive but likable Zia realizes that the girl, for whom he took his own life, has committed suicide too. Wristcutters is a quirky, charming and yet dark look at love and happiness through the eyes of people who've given up trying to find them.
Cast – Patrick Fugit, Shea Wigham, Shannyn Sossamon
20. Obvious Child (2014)
Part-time stand-up Donna, uses her relationships and life-experiences as material for her gigs, which is a blend of gross and relatable. But then she gets dumped, loses her other job and has to deal with unwanted pregnancy. Yep, more material for her gig but how does that translate onto her off-stage life? A movie all funny people can relate to.
Cast – Jenny Slate, Jake Lacy
21. Only Lovers Left Alive (2015)
IMDB – 7.3, RT – 86%
Thanks to What We Do In The Shadows and Only Lovers Left Alive the vampire genre is suddenly exciting again. No thanks to you, Twilight. Tom Hiddleston and Tilda Swinton are coolest vampires ever and despite being apart for years, they love each other. It's not to difficult to imagine since vampires live a long, long time. Haunting cinematography and a trippy soundtrack too.
Cast – Tilda Swinton, Tom Hiddleston
22. The Trotsky (2009)
IMDB – 6.9, RT – 83%
High-Schooler Leon Bronstein thinks he's the reincarnation of Leon Trotsky, the famous Russian revolutionary and social theorist. He organizes a strike in his dad's factory to overthrow the capitalists and seize the means of production, fights 'fascist' school teachers and has a crush on a girl named Alexandra, which was the name of Trotsky's lover too. Jay Baruchel plays one of his most vulnerable characters ever.
Cast – Liane Balaban, Jay Baruchel
23. Cashback (2006)
IMDB – 7.2, RT – 46%
After Ben gets dumped by his girlfriend, he develops insomnia, and to cope with it, he starts working late night shifts at the local supermarket. There he meets a colourful cast of characters who've developed their own way of passing time during 8-hour shifts. Fair warning – there's a lot of nudity here; laptop viewing recommended. 
Cast – Sean Biggerstaff, Emilia Fox
24. Her (2013)
IMDB – 8.0, RT – 94%
A withdrawn writer falls in love with his computer's highly intelligent operating system. The fact that it's voiced by Scarlett Johannsson makes it easy I guess. Her is a brilliant story about love, loneliness and technology – things our entire generation can relate to.
Cast – Joaquin Phoenix, Amy Adams, Scarlett Johannsson
25. The Crying Game (1992)
Fergus, an IRA volunteer in Northern Ireland, botches up a kidnapping and ends up getting the victim killed in an accident. An earlier promise to the dead guy makes him look up the victim's girlfriend in London. Yep, it sounds pretty ordinary but let me tell you, The Crying Game, is far from that. Anything else I say would be a spoiler.
Cast – Stephan Rea, Jaye Davidson
26. (500) Days of Summer (2009)
IMDB – 7.8, RT – 86%
What happens when you fall in love with someone who 'doesn't believe in love'? Tom Hansen finds out the hard way when he falls for Summer Finn. Marc Webb's non-linear film is one of the best romantic tragicomedies of our times. And boy oh boy, what a soundtrack!
Cast – Zooey Deschanel, Joseph Gordon-Levitt, Geoffrey Arend
27. Natural Born Killers (1994)
IMDB – 7.3, RT – 46%
Young couple Mickey and Mallory are united by their want for each other and their love for violence. Written by Oliver Stone and Quentin Tarantino, this 1994 film polarized the critics. But the one thing I have to concede is, there's no other movie like it. No, I'm not talking about the plot – which is generic Bonnie and Clyde stuff, but I'm talking about the style, the execution. One of the boldest narratives I've ever seen in the romance genre.
Cast – Woody Harrelson, Juliette Lewis
28. Eternal Sunshine of the Spotless Mind (2004)
IMDB – 8.4, RT – 93%
I watch this film by Michael Gondry, once every couple of years. Maybe I'm searching for that feeling I had when I first watched the film. Sigh, if only I had a machine to wipe out any memories of this film, just so that I could watch it again. See what I did there?
Cast – Jim Carrey, Kate Winslet
29. Punch-Drunk Love (2002)
IMDB – 7.3, RT – 79%
Barry is the socially awkward owner of a small business that distributes novelty toilet plungers in the San Fernando Valley. He is dominated by seven sisters, has doubts about his manhood and believes romance is the least likely thing. But one day he calls a phone-sex operator and everything changes. Punch-Drunk Love shows a side of Adam Sandler you'll rarely see in his goofy films. 
Cast – Adam Sandler, Emily Watson, Philip Seymour Hoffman
30. Mozart and the Whale (2005)
A young couple suffers from Asperger's syndrome, where a person cannot relate to or empathize with others. Even though you can see they're meant for each other, their relationship is tested to its limits owing to their condition. A much more realistic portrayal of Asperger's than My Name is Khan.
Cast – Josh Hartnett, Radha Mitchell
31. Happy Accidents (2000)
IMDB – 7.3, RT – 72%
After a bunch of failed relationships, Ruby Weaver has finally found Mr. Right. But he claims to be from the year 2470. Is he telling the truth or is he a complete loon? Or could he be a fraud? Happy Accidents is one of my favourite romantic films ever. Vincent D'Onofrio is perfect as the 'futuristic man'.
Cast – Marisa Tomei, Vincent D'Onofrio
32. 9 Songs (2004)
IMDB – 4.9, RT – 24%
Okay, before you judge me, hear me out. Michael Winterbottom's 9 Songs is a weird film. It's the story of a two people who meet in a concert and after which they have sex. The entire film is shows the ups and downs of their fling through nine live songs and sex-scenes. Graphic to the core, 9 Songs is also beautiful if you let it be. And who can say no to a musical line-up that consists of Black Rebel Motorcycle Club, Dandy Warhols, Franz Ferdinand, Primal Scream and others?
Cast – Kieran O'Brien, Margo Stilley
33. The Giant Mechanical Man (2012)
IMDB – 6.7, RT – 71%
Down on her luck Janice lives with her overbearing sister, Jill, who constantly tries to meddle in Janice's affairs. When Janice finally finds a kindred spirit in a man who's a performs on the street as a tall statue, she finally sees hope for romance in her life. But none of them have sorted out the 'paying the bills' routine. The Giant Mechanical Man is a movie for those lazy afternoons when you want to watch something light and yet not stupid.
Cast – Jenna Fischer, Chris Messina, Topher Grace
34. Drive (2011)
IMDB – 7.8, RT – 92%
Yes, many would call Drive a stylistically shot, slow action film. But at its core, the story is about a man who's in love. It's just that he happens to have this violent streak. I can't praise this film enough – that soundtrack, the long silent shots, the chemistry between Gosling and Mulligan – Drive is a perfect film.
Cast – Ryan Gosling, Carey Mulligan, Bryan Cranston
35. Warm Bodies (2013)
If Bella could fall in love with a vampire, then why can't zombies find love? Warm Bodies is a classic take on Romeo and Juliet, set in a Zombies vs Humans world. Nicholas Hoult plays R, the zombie who falls for the human, setting a bizarre and often comical chain of events. A must watch if you're tired of the Twilight bullshit.
Cast – Nicholas Hoult, Teresa Palmer, John Malkovich
36. Never Let Me Go (2010)
IMDB – 7.2, RT – 71%
Never Let Me Go, directed by Mark Romanek and based on the 2005 novel by Kazuo Ishiguro, is a story about three friends who grow up in an idyllic country school called Hailsham in the late seventies. They are among a group of fellow children who were raised for one single purpose – to reach adulthood and start donating their vital organs to people who need it, until they die, or as the story puts it, when they 'complete'.
Cast – Keira Knightley, Carey Mulligan and Andrew Garfield
37. Eagle vs Shark (2007)
IMDB – 6.8, RT – 54%
Quirky New Zealand humour, kick-ass soundtrack and one of the most awkward leads ever in Jemaine Clement, Eagle vs Shark is one of those secret treasures you wouldn't want to share with too many people.
Cast – Loren Horsley, Jemaine Clement
38. Hazaaron Khwaishein Aisi (2003)
IMDB – 8.0, RT – 91%
My personal favourite Indian film ever is Sudhir Mishra's love-letter to the '70s generation. Hazaaron Khwaishein Aisi might have bombed at the box-office, but fuck that. There'll never be a movie like it, there'll never be a 'love triangle' like it and Swanand Kirkire will never ever come up with a song like 'Baawra Mann'.
Cast – Chitrangada Singh, Kay Kay Menon, Shiney Ahuja
39. Ijaazat (1987)
IMDB – 8.2, RT – NA
A classic in Indian 'art' cinema, Ijaazat is the story of a separated couple who meet once again in a railway station years later. What follows is them getting to know the stories of each other's lives post-separation. 
Cast – Rekha, Naseeruddin Shah and Anuradha Patel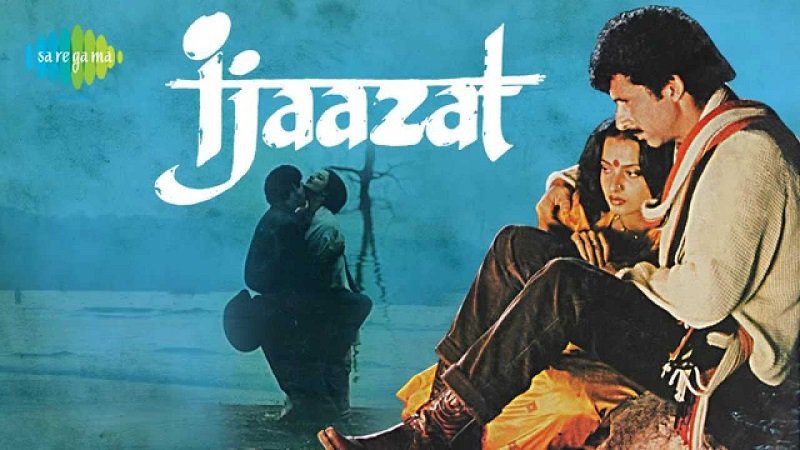 P.S. Don't let the Valentine's Day hype get to you. It's just a marketing tool.