Social media was taken by storm after a video of a Kashmiri man, Farooq Ahmad Dar, tied to a jeep went viral in April. He was allegedly being used as a 'human shield' to deter stone pelters in Kashmir's Budgam district. 
Here's the video as well. A warning can be heard saying stone pelters will meet this fate. This requires an urgent inquiry & follow up NOW!! pic.twitter.com/qj1rnCVazn

— Omar Abdullah (@abdullah_omar) April 14, 2017
The video was first shared by the Former Chief Minister of Jammu and Kashmir Omar Abdullah on Twitter. The move to tie the man to the jeep came under heavy criticism. 
Later, it was found that the man wasn't even a stone-pelter but a carpet weaver who was on his way to attend a funeral at his sister's residence but was picked up by Army men. 
It's been a little over a month now but the matter has refused to die down.
And now, Bollywood actor and BJP Lok Sabha MP Paresh Rawal has come up with a tweet that both justifies the act and mocks activist-author Arundhati Roy: 

Rawal's tweet garnered a lot of reactions, including a sharp jibe from Congress general secretary Digvijay Singh.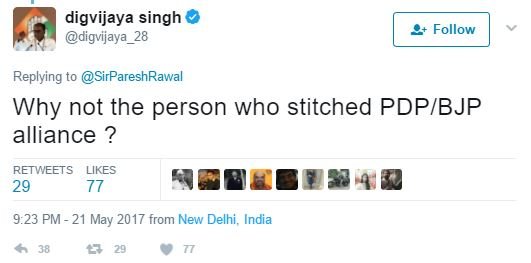 @SirPareshRawal Am deeply moved by your empathy that brings every character to life in movies. But I'm shocked by your ability to be so violent with words!

— Priyanka Borpujari (@Pri_Borpujari) May 21, 2017
Of course, the haters of Arundhati Roy latched on to the tweet and had fun with it. 
But why is Rawal going after Roy?
Roy, an award-winning writer whose book 'The God of Small Things' won a Booker prize, is often in controversies for her views on Kashmiri separatism. She has also been a strong critic of Prime Minister Narendra Modi for decades.
Roy's second novel, 'The Ministry of Utmost Happiness', is all set to release next month, making her hog headlines again.
(Feature Image Source: AFP)