Oscar-winning composer A R Rahman enthralled a packed audience at the iconic UN General Assembly hall with his renditions of Indian Carnatic legend M S Subbulakshmi's music, Sufi songs and the foot-tapping 'Jai Ho' at a concert to mark India's 70th Independence Day in New York.
Rahman, 49, became only the second Indian artist after Subbulakshmi to perform in the General Assembly hall, which is the usual platform for global leaders to address the world. The concert, organised by India's Permanent Mission to the UN with the support of Sankara Nethralaya, an India-based civil society organisation, on India's 70th Independence Day, was a tribute by Rahman to Subbulakshmi on the occasion of her birth centenary.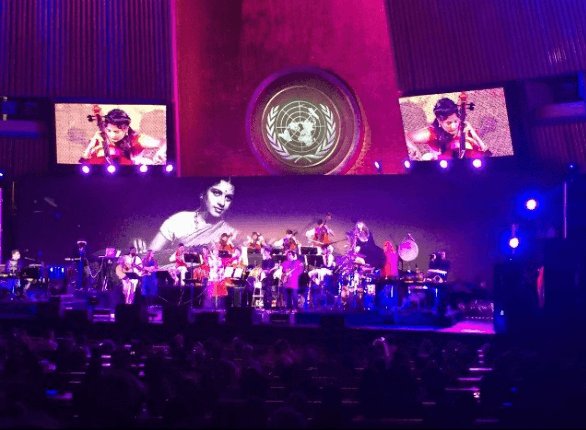 This year also marks the 50th anniversary of her performance at the UN. The first ever musician to be awarded India's highest civilian honour the Bharat Ratna, Subbulakshmi was invited by the then UN Secretary General Late U Thant to perform at the General Assembly in October 1966, becoming the first Indian to perform there.
The audience of ambassadors, diplomats and Indian- Americans welcomed Rahman with a thunderous applause and loud cheers as he stepped on stage, dressed in traditional Indian attire. Through the nearly three-hour long concert yesterday, Rahman and his troupe performed Subbulakshmi's music and compositions.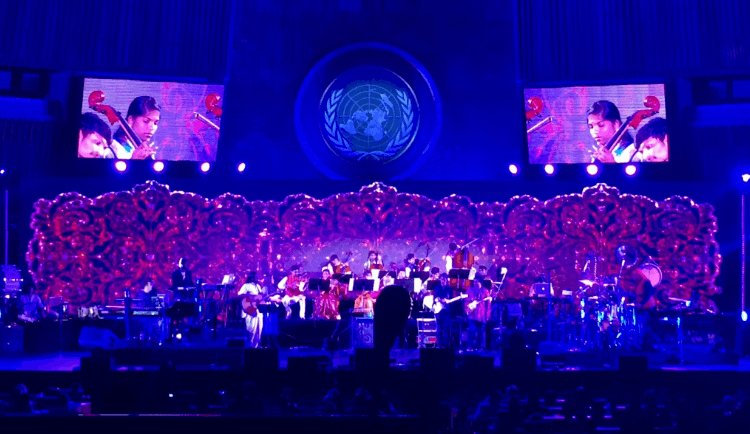 A highlight of the concert was performances by students of Sunshine Orchestra, an initiative by the A R Rahman Foundation, that teaches music to underprivileged youngsters. "From today, you are privileged, you are not underprivileged anymore," Rahman said as a word of encouragement to the students as they geared to perform on the UN stage. 
Rahman's two sisters also performed on stage along with noted singers Javed Ali and renowned percussionist Sivamani. Rahman, sitting amid his musical instruments on one side of the UN stage, rendered one soulful number after another as his troupe gave mesmerizing performances of Subbulakshmi's Carnatic music.
As Rahman and his troupe began the song, several people in the audience broke into a dance. Closing the concert, Rahman made an appeal for peace saying killing one another will not solve the world's problems.