Bollywood seems to have its share of ups and downs this week – while it is expressing delight at Salman Khan's acquittal in the infamous blackbuck case, the lows are coming from the backlash at veteran actor Naseeruddin Shah's views on the Hindi film industry's decline and mediocrity ushered in by late actor Rajesh Khanna.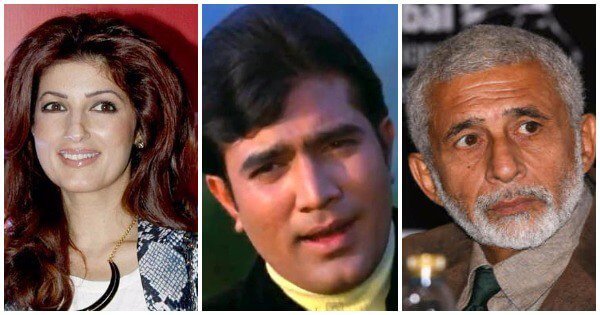 The film fraternity has not taken to his comments lightly and demanded and apology from Naseer, a request that he has duly and gracefully acknowledged. While one assumes that Shah's remarks are not be driven by any personal intent to insult the late Superstar, the one person who is obviously and rightfully miffed is star wife and newbie author Twinkle Khanna, who, besides being an ex-starlet and Akshay Kumar's wife also happens to be Rajesh Khanna's daughter. 
In her first tweet reacting to Naseer, she tweeted: 
Post Shah's explanation for his statement which she acknowledged, Twinkle seems to have given everyone closure in her witty style – 
This has gone far enough,can everyone please stop,we have all stated our opinions now can everyone go play Pokemon! https://t.co/Jf1fKSHcBq

— Twinkle Khanna (@mrsfunnybones) July 25, 2016
Smart, wise thing to do.
The question though is, is Rajesh Khanna the flawless thespian, the fraternity and his daughter claim he is?
What is remarkable about Khanna is that his iconic superstar status was built without professional cookie-cutter advice and algorithmic responses. Whimsical and impulsive by his own admission, Rajesh Khanna was a celebrity phenomenon like no other.
If you're in the mood for a light conversation with your mother, call her and request her to mentally rewind to the 70s and Rajesh Khanna. Don't be surprised if she comes up with a friends' story of getting married to his photograph; or people writing letters to him in blood. It was common those days.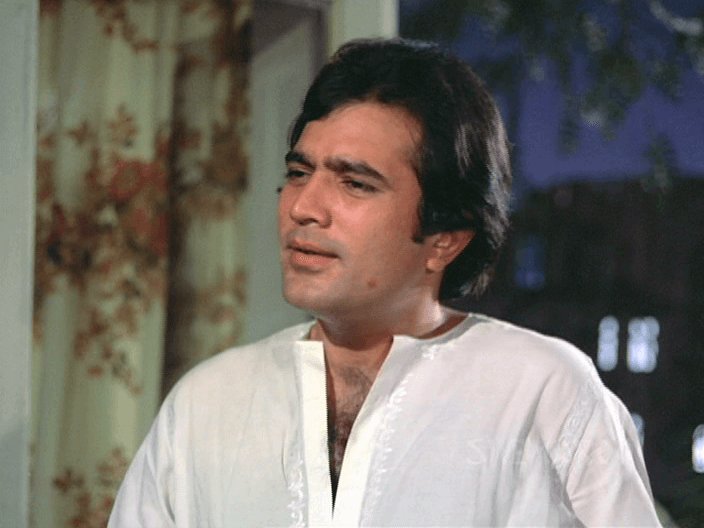 According to industry veterans who witnessed Khanna's journey of stardom, he was undoubtedly the first Indian star to generate such mass hysteria among the post- Independence Indian youth. Whenever he shot on location, word would spread rapidly and crowds would gather in no time. 
Once during the shooting of Amar Prem, a love story between a Bengali gentleman and a prostitute played by Sharmila Tagore, authorities had to prevent a scene from being shot on the Howrah Bridge in then Calcutta. They feared a stampede and foresaw a possible scenario of a bridge collapse under the weight of an unprecedented number of crowds. This was in a city as far removed from Hindi cinema as possible.
For Rajesh Khanna, it was normal to hear his name being chanted by large crowds and for him to get mobbed during public appearances, mostly by female fans who would line the road, and his car would often be covered by lipstick marks. Khanna redefined romance in Hindi films with his unique, distinctive style and gained a massive fan following during his golden era, mostly in the early 1970s.
The early 1970s was also the turning point in popular Indian cinema, where themes were altering from that of post-Independence social change, transformation of family systems and relationships to match the needs and aspirations of a new generation – India's 'Midnight's Children'- youth who had come of age during this period into a nation of newfound hope and optimism. 
In the two decades after 1947, pop culture in India had traversed a unique journey, retaining a lot of legacy and exploring newer sensibilities. Film music was being redefined by newcomer RD Burman and Kishore Kumar. Romance was changing. Pre-marital sex was acknowledged, and a repeat theme in many movies.
Khanna seemed to have all the right ingredients of modernity, softness, emotional appeal and looks to cater to this new demand in romantic leads, as the earlier pack comprising Dev Anand, Dilip Kumar, Shammi Kapoor and Manoj Kumar were ageing.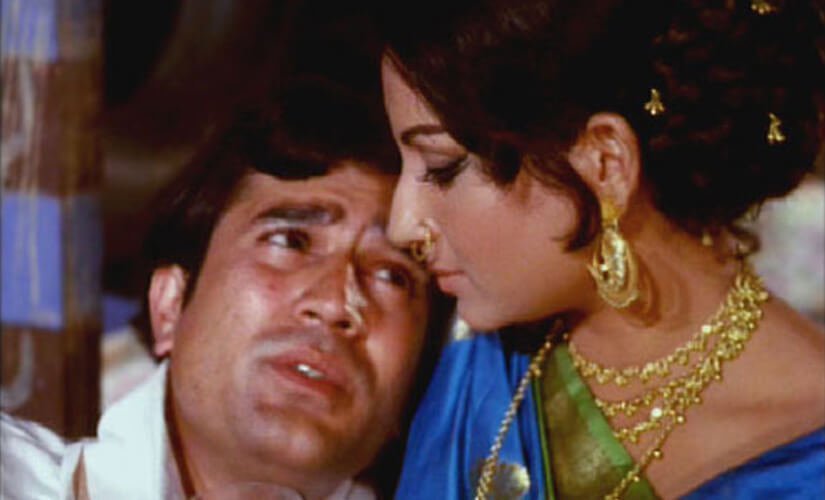 This was a ripe time for newcomer Jatin Khanna (his real name), who had made it to the industry on sheer merit – via a talent hunt organised by Filmfare way back in 1965. He was one of the eight finalists who went on to win the contest, which had more than 10,000 participants. He soon went on to star in 15 consecutive solo hit films between 1969 to 1971. This gave him the undisputed title of the first or original Indian Cinema Superstar. In his acting career spanning three decades, no one else but Rajesh Khanna holds this unmatched record.
Superstardom went to his head, which is a natural outcome of such an achievement. It takes an extraordinary, almost divine quality to hold back one's primal feeling of superiority and display of arrogance – Khanna was only human. He landed up late at shooting schedules, spent hours obsessing about himself and often provided no explanation to victims of his unreasonable social and professional behaviour. 
But we all know star arrogance is tolerated in Bollywood, a practice seen even today, where an individual can claim to carry the business on his beefy shoulders alone and everyone simply rallies around him like cheerleaders. No one wanted to come in the way of a successful machine and things went on as usual, till one day when a new star emerged on the scene.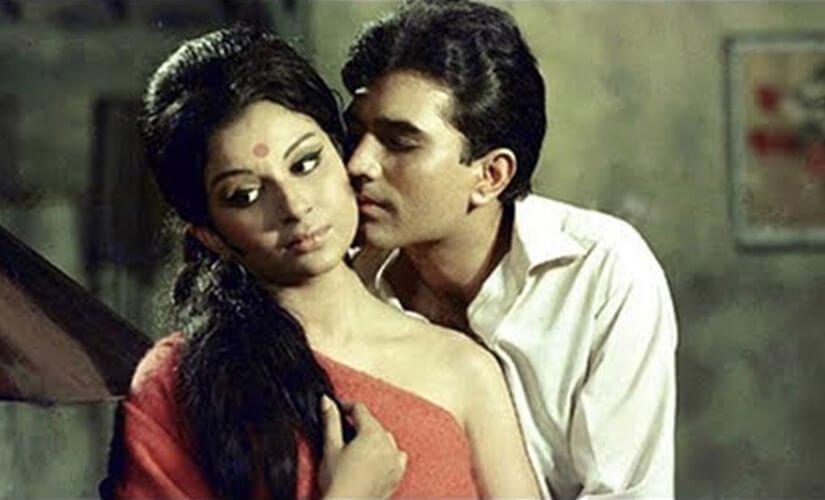 Between 1976 and 1978, he had fewer successes and more commercial failures, as the Indian audience had started lapping up a new hero archetype – the Angry Young Man. This was the industry's response to the prevailing state of Emergency in the country and people were now looking for a different kind of escape through cinema– action-oriented films to vent their anger against the establishment. But Khanna's lack of versatility ensured he was trapped in his romantic image.
Not surprisingly, this romantic image spilled over into his personal life as well. Throughout his career, it was a known fact that he was in numerous relationships with various attractive and famous women – the longest one perhaps with actress Anju Mahendru. Insiders say that their break-up was bitter. 
Impulsively, he married 15-year- old Dimple Kapadia before the release of her debut film, Bobby (1972) after which she became a mother twice over and stayed away from acting till 1985. While they soon separated, they never filed for divorce. He was also in a relationship with Tina Munim (now Ambani) for a fairly long period of time. 
With Dimple and their two daughters, however, Khanna made public appearances and continued to be on talking terms. Before his death, he was living with Anita Advani in his house Aashirvad. A relationship which ended messily when she was denied any access to Khanna's estate by his family. The point though, is that Khanna, unlike other Bollywood superstars, was never one to hide his relationships or affairs.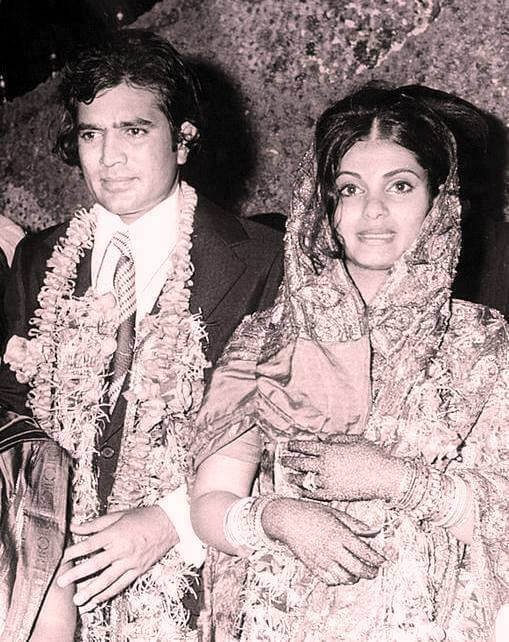 Millennials might recall 'Kaka', as he was fondly nicknamed, in a TV commercial for Havells fans not too long ago. He was not his original self, his fans would recall, but rather emaciated as he was being treated for cancer around that time, before passing away on July 18, 2012. 
His dialogue had been crafted cleverly to speak to Babu Moshai, his companion in Anand, one of his best films in which he played a cancer patient who lives life to the fullest, a role for which he won a Filmfare award for best actor. Sadly, for many people who never watched his films, Khanna will be remembered for this ad, which seemed more like a mockery of him.
Khanna's body of work does include some fine performances where he displayed tremendous acting range, and not necessarily with any female lead, such as Bawarchi. Before entering politics in the early 1990s, after a request from Rajiv Gandhi, he did make an attempt to re-invent himself by working in non-romantic movies.
So it does seem a tad unfair to attribute the decline of quality of Hindi films to him alone and label him as a mediocre actor. But no one should be above criticism, and it is Naseerudin Shah's personal opinion. As he explained he was commenting on a phenomenon, and not a person. 
But it seems everyone has moved on to playing Pokemon, as advised by Twinkle.
To get a real dose of Rajesh Khanna's superstardom, take the time out and watch BBC's 1974 documentary on him – Bombay Superstar. It truly sums up the phenomena that was Khanna.