Protests over Padmavati took a new turn today with Rajput groups coming up with fresh demands of title change and a review before the release even as Bhansali productions made it clear that there is no romantic dream sequence between Rani Padmavati and Alaudin Khilji. 
The demand was raised at a joint press conference which was convened by Rajput Sabha to announce that they and Karni Sena agreed over the demand that there will no distortion of historic facts in the movie. However, the president of the Rajput Sabha said that they have also demanded that a screening committee be formed by the group to screen the movie before its release but Bhansali productions are yet to act on the request. 
During the press conference, some of the members of the Karni Sena raised another demand that the film's title should be changed and there should be no film in the name of Padmavati at all which was supported by the state President of Karni Sena Mahipal Singh. "There is no romantic dream sequence or any objectionable/ romantic scene between Rani Padmavati and Allauddin Khijli. It was not a part of the script. It was misconception and considering the sentiments of the community, we have clarified to them. We are trying to present Rani Padmavati's courageous nature. We will make the film which will make the country proud on Rani Padmavati" Shobha Sant, CEO of the Bhansali Productions said.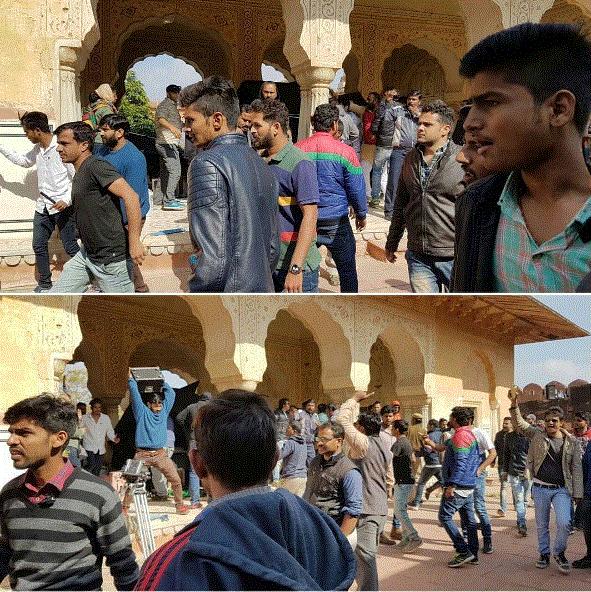 Mahipal said he put forward the sentiments of the youths of the Rajput community by demanding the title change. "We are thankful to the Bhansali productions that they have agreed to our demand that there will be no distortion of the historic facts in the movie," he said.  
Sant, however, said the demand to change the title did not come up in their previous discussions with the group. "They have made this fresh demand for which I have nothing to say. This is not in my jurisdiction. They also did not raise this point in our discussion held before," Sant said. 
Karni Sena members created a ruckus and manhandled Bhansali while he was shooting the movie at Jaigarh Fort in Jaipur on Friday. The incident drew sharp reactions from the film industry with members demanding action against the miscreants. 
Bhansali's production house released a statement clarifying the 'misconception' about the story but the team also cancelled its shooting in the city.
Feature Image Source: AFP and PTI