Rakhi Sawant: Entertainment, entertainment, entertainment.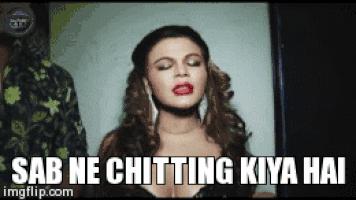 From random to ridiculous, Rakhi Sawant never shies away from being herself and flaunting it to the world. She has no qualms about log kya kahenge, one of the many reasons why we love her so much! Her Instagram videos are an absolute rage and a gift that keeps on giving. 
Let's take a look at a few instances where Rakhi was just Rakhi and oh Jeejus, did we love her for being her crazy self!
1. The time when she did 'naagin' dance like no one's watching.
The party begins where she is at! Check her out grooving on her own during her friend and colleague, comedian Bharti's wedding. 
#RakhiSawant doing NAAGIN DANCE & @karan009wahi clicking SELFIES 😍@bharti_lalli & @writerharsh's MEHENDI CEREMONY❤️…#bhartikibaraat #bhartiwedshhaarsh pic.twitter.com/yTt3Edahka

— India Forums (@indiaforums) December 2, 2017
2. The time when she made an entire video about how she wants to look beautiful.
Do you want some Khajoor, hazoor?
2. The time when she went bonkers over gold jewellery in Dubai.
We all do this when we visit a shop, don't we?
3. The time when she was heartbroken because her Instagram account got hacked.
The trauma was such that she had to take tequila shots to down her sorrows. 
3. The time when she went to 'Paris' and made a PJ about Paris Hilton. 
We are all nautankis inside but only Rakhi has the guts to be her funny self, abroad!
5. The time when the Kashmir ki wadiya gave birth to the inner singer in her.
Channel your inner Madonna girl!
6. The time when she endorsed a condom brand like a boss!
When the word itself is still a taboo, Rakhi chooses to go bold with this one.
7. The time when she had a"Main apni favourite hoon" moment on her birthday.
We all secretly love ourselves but never have the balls to say it like she does!
Seriously, there's no one like her!
(Feature Image Source: Instagram/Rakhi Sawant)