*Shrimaan jiiiii. Pyaari Shrimati ji!* Remember the 90's show we all eagerly waited for on TV? When we probably did not know what infidelity meant, this light-hearted show not only threw light on it, but also made many a funny bone tickle. We can't stop obsessing over 90's shows, and this one has to be one of our favourites. From the adorable Keku ji to Koki, it had everything going right for it.
Here are 10 reasons why we totally loved the show:
1. Keku and Koki's constant nok jhok.
The duo had just the right amount of chemistry and would make us laugh with their daily nok jhok.
2. Keshav's witty remarks.
We loved to see Jatin Kanakia on screen and still miss his presence on television. His witty remarks to Gangu mausi, his son and Dil were just hilarious.
3. Archana Puran Singh.
For us, Singh as Prema Shalini was reason enough to watch the show.
4. The flirtatious Dilruba.
Wasn't he just too adorable when he tried to impress Koki ji?
5.It was the first time when aneffeminate character, Dilruba, was one of the main characters.
He wasn't just a sidekick and we loved to see him.
6. The annoying but adorable little Chintu.
The cute little kid was annoying as hell, but the character was definitely relatable. PS: You can now see him act all macho in CID.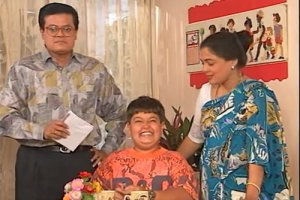 7. Ghokale's wisdom.
Ghokale was always up for giving his valuable advice to Kulkarni, which somehow always ended up with him getting into trouble!
8. The show taught usto love our neighbours.Literally!
9. Thetitle song still beats in our ears when we think about the show.
10. It upped the anteofcomedy shows in India.
We miss the good, old days when TV made sense to us.