After a Bengal cleric's open offer of Rs 10 lakh to anyone who shaves off Sonu Nigam head for calling 'azaan' "forced religiousness" and "gundagardi", the singer had left everyone guessing when he accepted the challenge on social media.
Nigam had announced on Twitter that at 2 pm on Wednesday, he would call his hairstylist, Aalim Hakim, home to get his head shaved off, and even invited the media.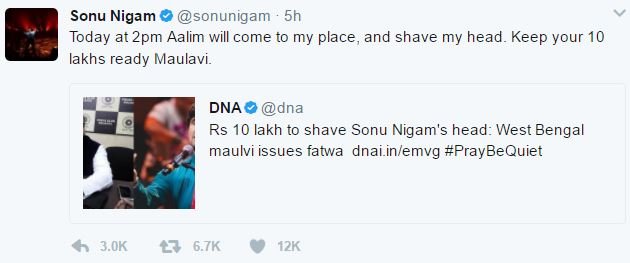 And much to everyone's surprise, Nigam went on to do exactly that.
It all began with a press meet that Nigam held at his residence, where he first clarified his stand that his statement on 'azaan' were not against Muslims. He said:
"It's not an agitation, not a challenge that I am throwing someone's way. I am shaving my head just to show that the person cutting my hair is a Muslim. It's all about interpreting things the right way. I exhort the media to present it like that and not in a confrontational way."
Nigam further said that he raised a social issue and not a religious one when he tweeted about being woken up by morning azaan and apologised if someone thought otherwise. 
"What is happening to the country? Anyone can lynch anyone or anyone can issue a fatwa. I'm not talking about any single religion, also wrote about temples and gurudwara which no one seemed to notice."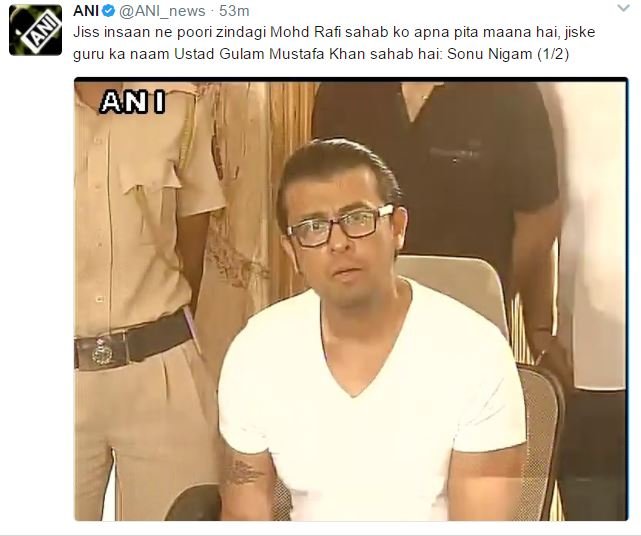 "I am a secular person. It was not about azaan, it was about the loudspeaker. Using a speaker is gundagardi for me," he added.
Sonu concluded by quoting Congress leader Ahmed Patel's remarks made yesterday, "Azaan zaruri hai, loudspeaker nahi" (Azaan is important, not loudspeakers).
Nigam then proceeded to have his head shaved by Aalim Hakim and emerged out minutes later with a shaved head.
Aalim also gave a statement to the media, where he challenged the cleric to give the cash prize and keep his word.
The ball now in the cleric's court, Syed Sha Atef Ali Al Quaderi reacted saying Sonu Nigam is yet to fulfill all his demands for claiming the Rs 10 lakh offer.
While issuing the fatwa, Quaderi had said that any person who dared to shave Nigam's hair, put a garland made of torn shoes around his neck and tour him around the country will be rewarded with a cash prize of Rs 10 lakh. 
(Feature Image Source: ANI)