Bollywood superstar Shah Rukh Khan on Wednesday hailed the Centre's 'Make in India' programme, terming it as the most important initiative by Prime Minister Narendra Modi that is generating jobs in the country.
"Make in India is perhaps the single most important initiative by our honourable Prime Minister Narendra Modi, which propels companies in India and abroad to make it in our own country and our own land, thereby creating job opportunities, skill enhancement," the actor told reporters.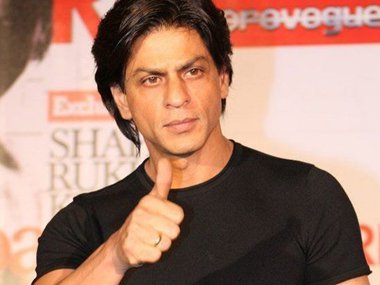 Shah Rukh was speaking at the launch of BJP leader Shaina NC's coffee table book, 'Movers and Makers' which is a tribute to Make in India.
The Fan star said the introduction of new technological enhancement through Make in India will be beneficial for several generations.
"For me, the biggest turn on is the introduction of new technology, which I believe is going to create a new era for our generation and generations to come," he said.
Maharashtra Chief Minister Devendra Fadnavis termed the book as the best documentation of the seven-day event, 'Make in India Week', held in Mumbai in February this year and said he became nostalgic while reading the book.