When we talk about Bollywood, we begin with the Baadshah. There is nobody bigger than Shah Rukh Khan. Right from the days of Fauji, he's had an ever-increasing fan following and his stature has only grown. It's no joke that he has 19 million followers on Twitter and when it comes to popularity, he's way ahead of most international celebrities as well. 
However, have you ever wondered, what made SRK so popular?
We got some SRK fans to recollect the exact moment when they first fell in love with the actor/ the star/ the phenomenon: 
1. Everyone has applauded SRK's peformance in Chak De… India & I am no different. He was phenomenal in the entire movie. But the way he delivered this dialogue – "Aur vo sattar minute, khuda bhi tumse nahi chheen sakta!" made me his instant fan.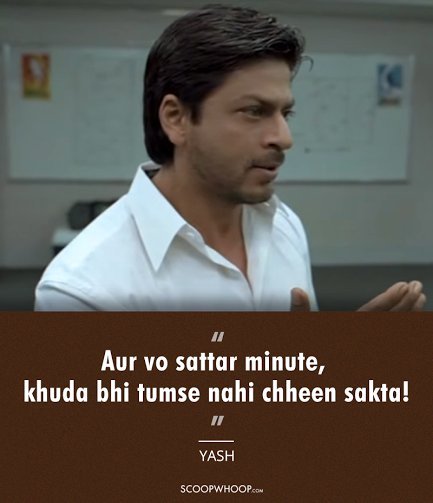 2. I first admired SRK in Kabhi Haan Kabhi Naa. Almost all SRK scenes in the movie made me love him. But then came Chak De… India and that scene where he enters the stadium wearing simple formals and super cool aviators, with that stubble made me a super fan all over again.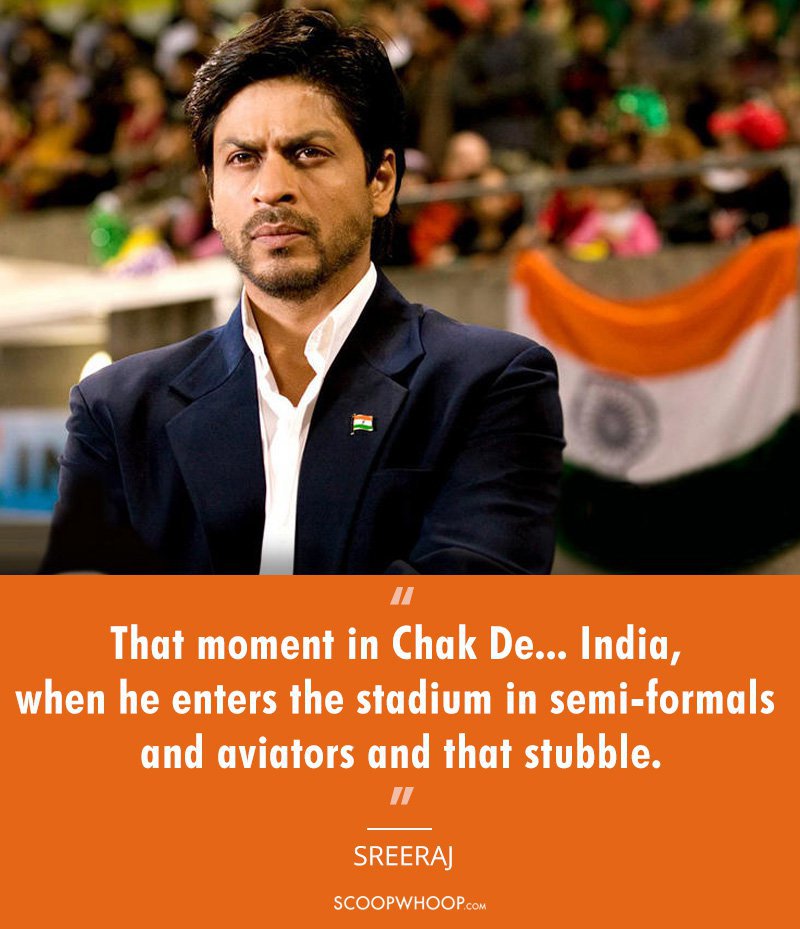 3. Fauji was SRK's first ever screen appearance and that has been my favourite all these years. He was the coolest Fauji I'd ever seen!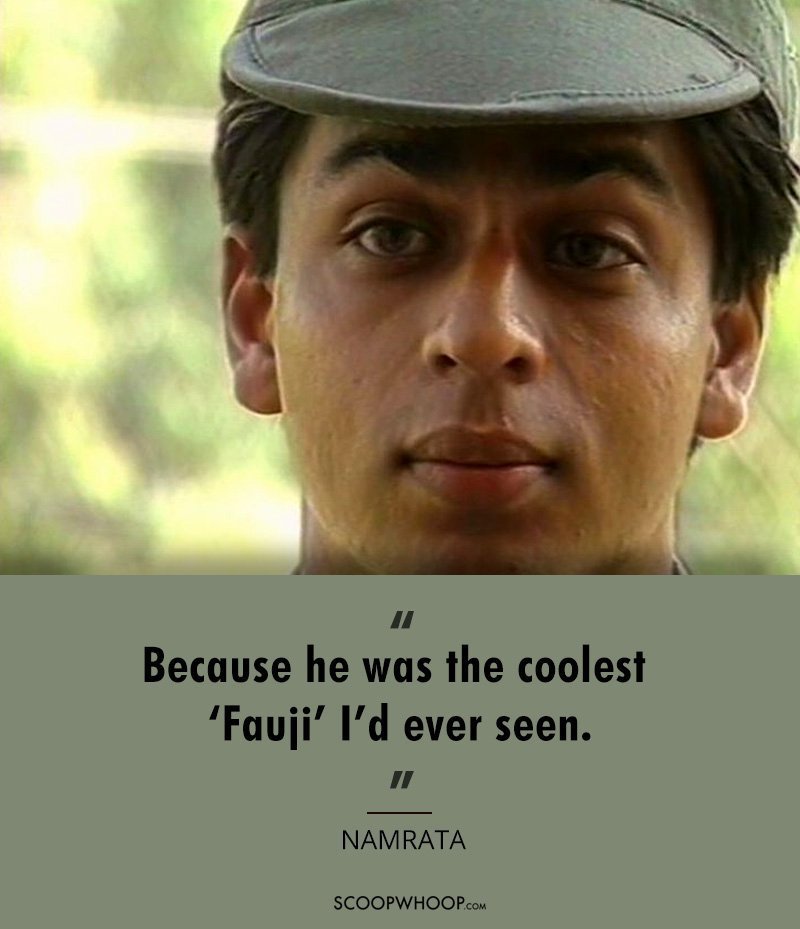 4. Kabhi Haan Kabhi Naa was an unforgettable SRK movie for me but the scene where he is crying and playing the mouth organ is one scene that made me an instant fan. He was too good in the movie. 
5. I was never much of an SRK fan. I liked him as a person, whatever of him I saw in interviews and award shows, but I didn't like his films. Then one day, in college, while discussing Bollywood and stars, a friend of mine told me of all the struggle he has gone through, and the hard-work he has put in to actually reach this stardom. I have had huge respect for him since then.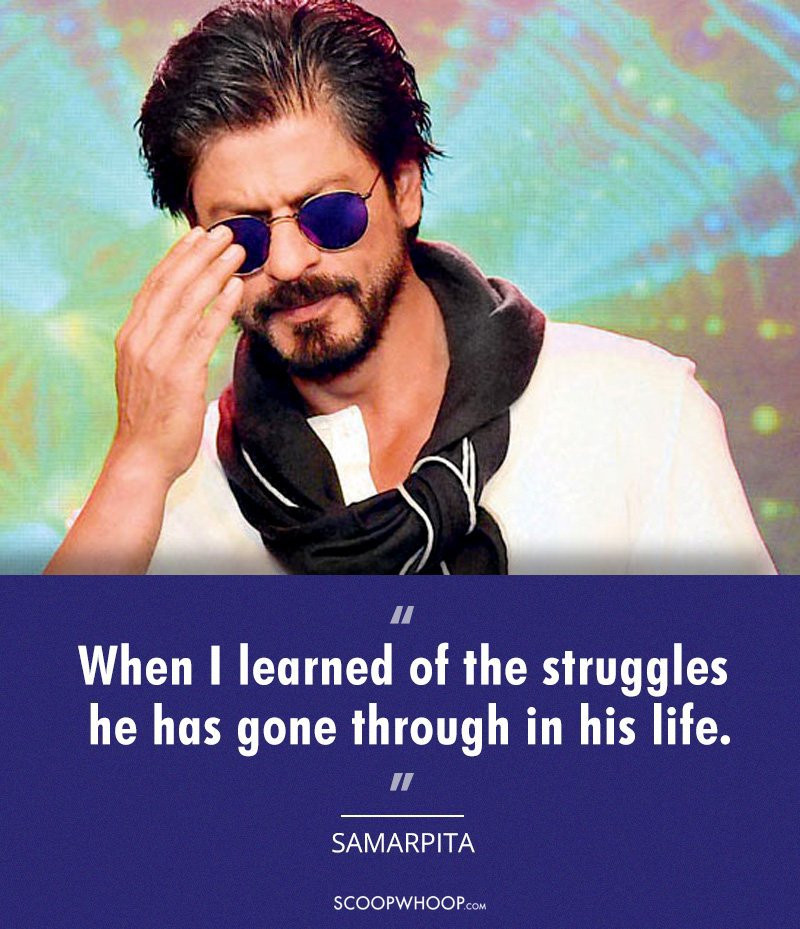 6. I don't have a particular moment or scene or dialogue but just seeing him in Kabhi Haan Kabhi Naa and Raju Ban Gaya Gentleman made me realize that I like this man, and this actor.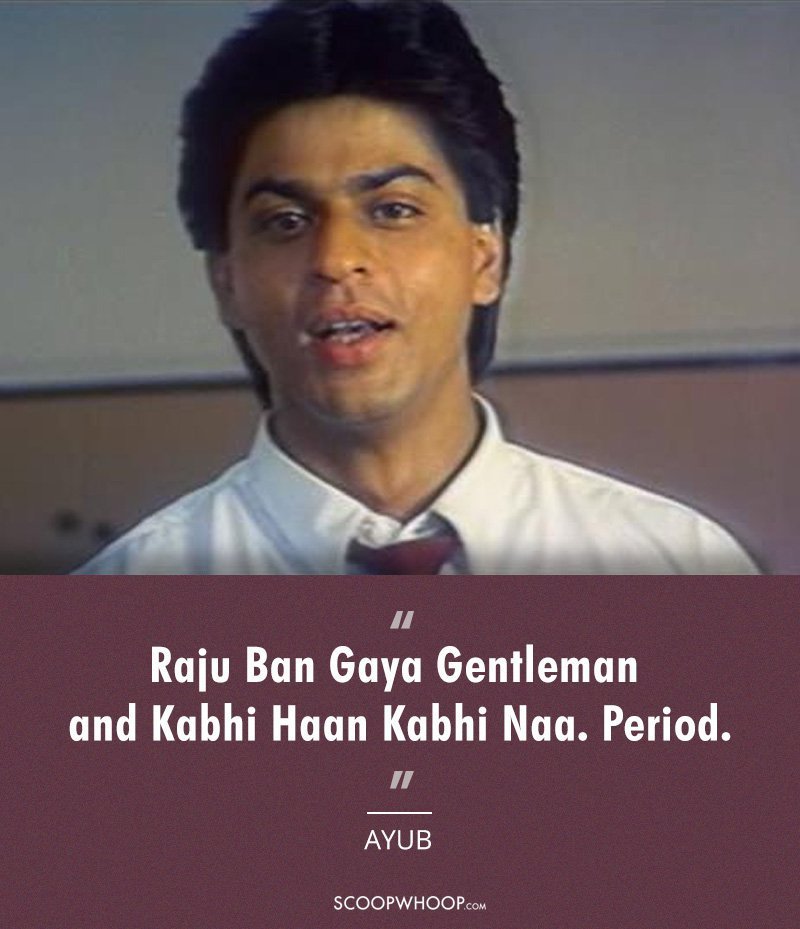 7. Mohabbatein came out at a time when I was just realizing what 'love' means and then I see SRK playing the violin and making all those students believe in love, I just became a fan right then.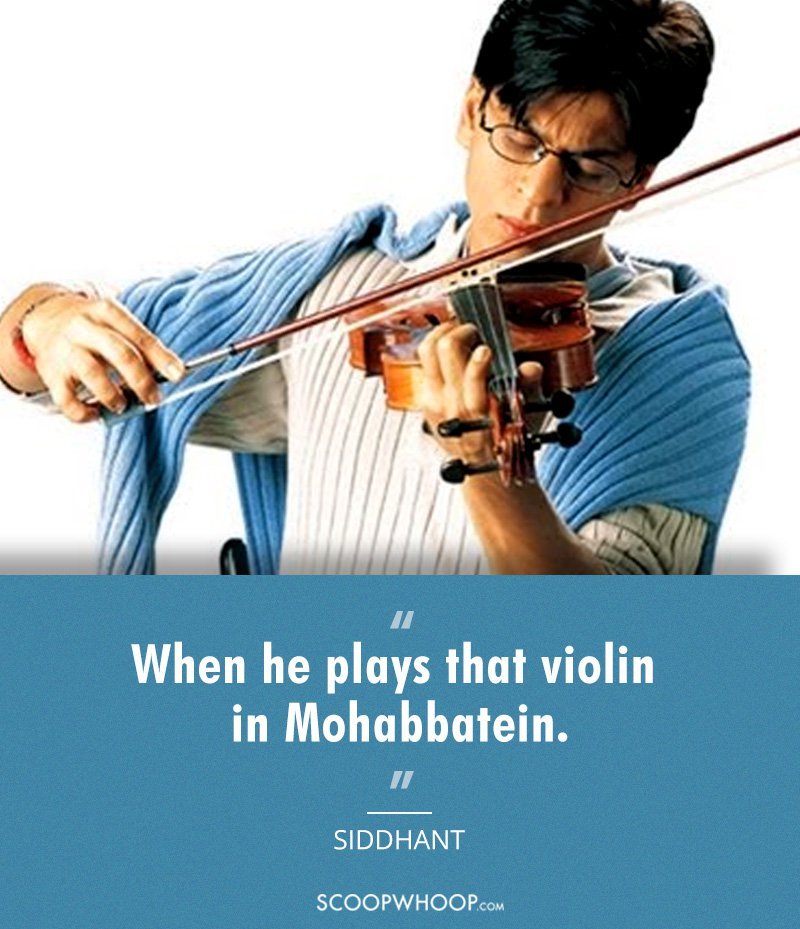 8. I became his fan when I saw Fauji and that fandom continued on all the way to Swades. In Swades, there's a scene where he says, "Mai kuch nahi janta, mai bas itna janta hu ki ek julaha jo kheti badi karke, apne baccho ko roti nhi de sakta, unhe shiksha nhi de sakta, bas unhe bhook se marte hue dekh sakta hai." This scene blew me away. His expressions, his dialogue delivery, his overall performance, it was amazing. I cry every time I see that scene and SRK's brilliant acting.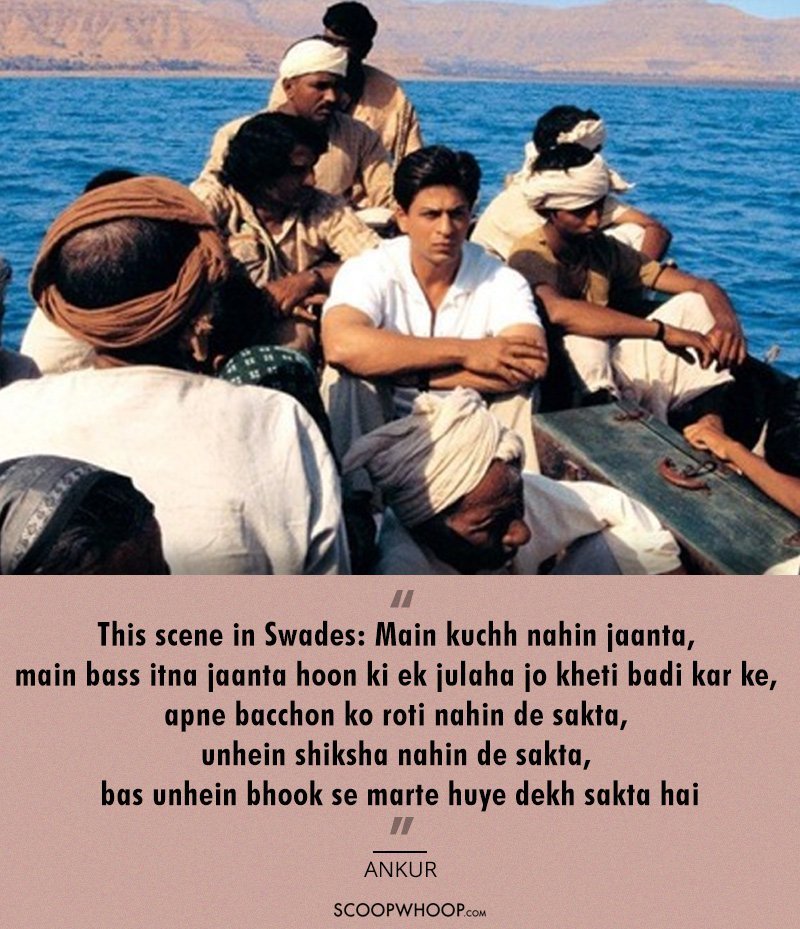 9. Only SRK can pull off something that is cool and hilarious. Example – Badshah! All those cool gadgets and the way he used them and his reactions to each one of them was endearing. That was what made me an SRK Fan.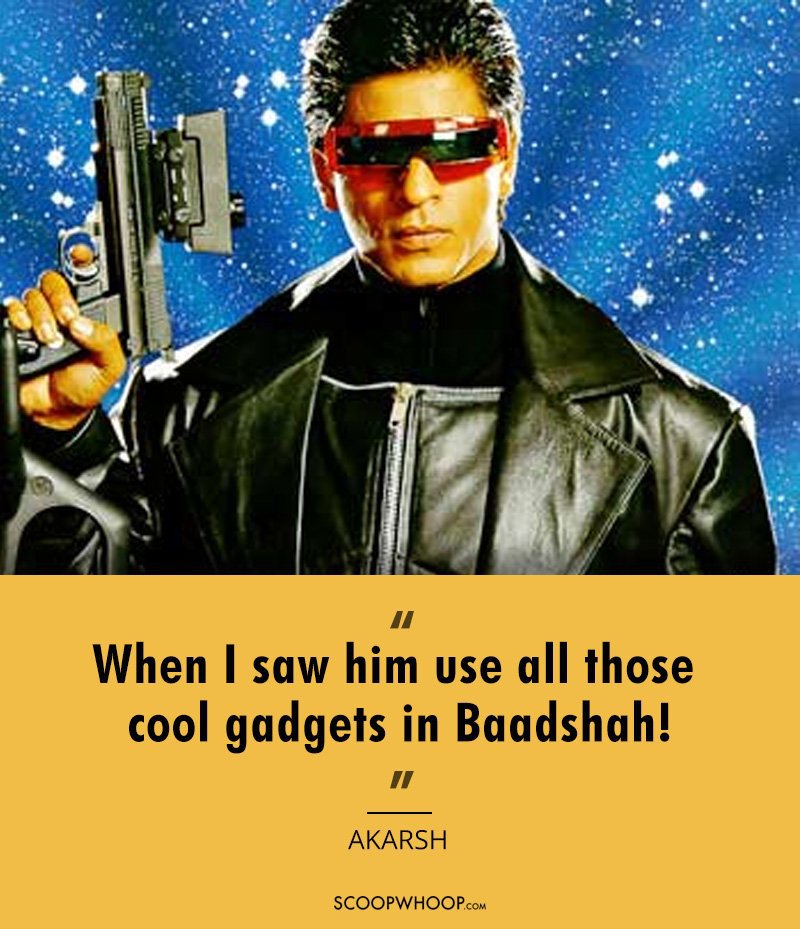 10. The first memory I have of Shah Rukh Khan is from the movie Baadshah. I was probably 3 at that time and my parents tell me how I wanted his Baadshah shades. That shows how he can create an impact on even a 3-year-old.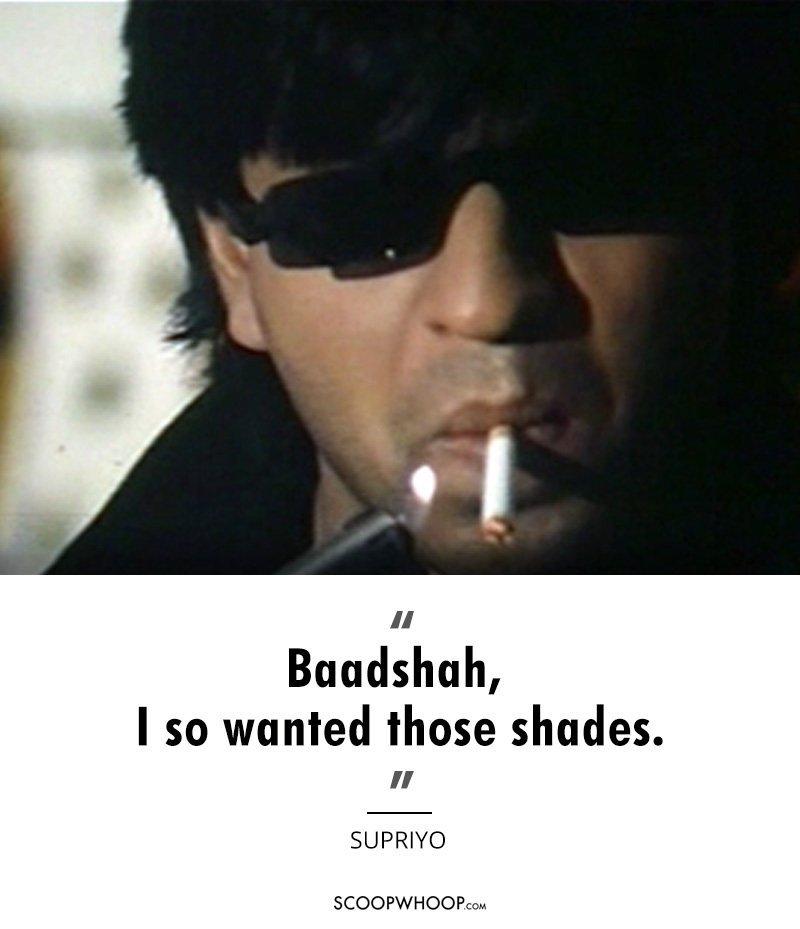 11. So, I have seen Kuch Kuch Hota Hai more than 100 times now. I was 5 when the movie released. Sony or Zee Cinema (don't really remember) used to run the film every next day and I remember coming back from school, finishing my homework as quickly as possible because I wanted to watch KKHH at 8pm.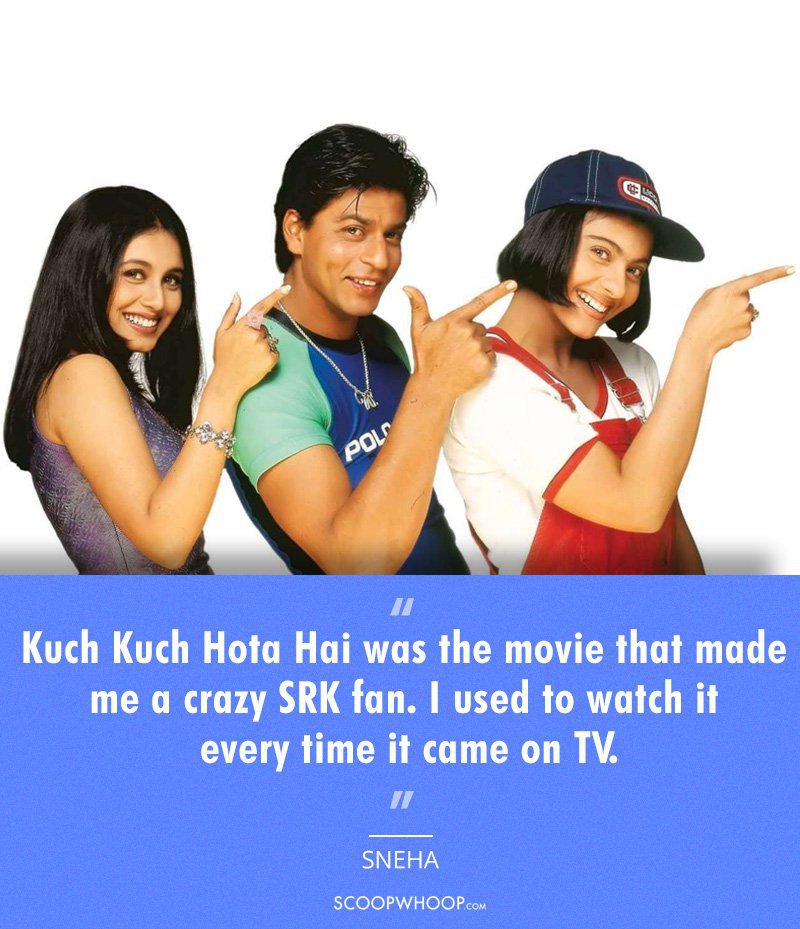 12. The way he pulled off the line "Don ke dushman ki sabse badi ghalati yeh hai, ki woh Don ka dushman hai." And generally, his performance as Don made me like and respect Shah Rukh Khan.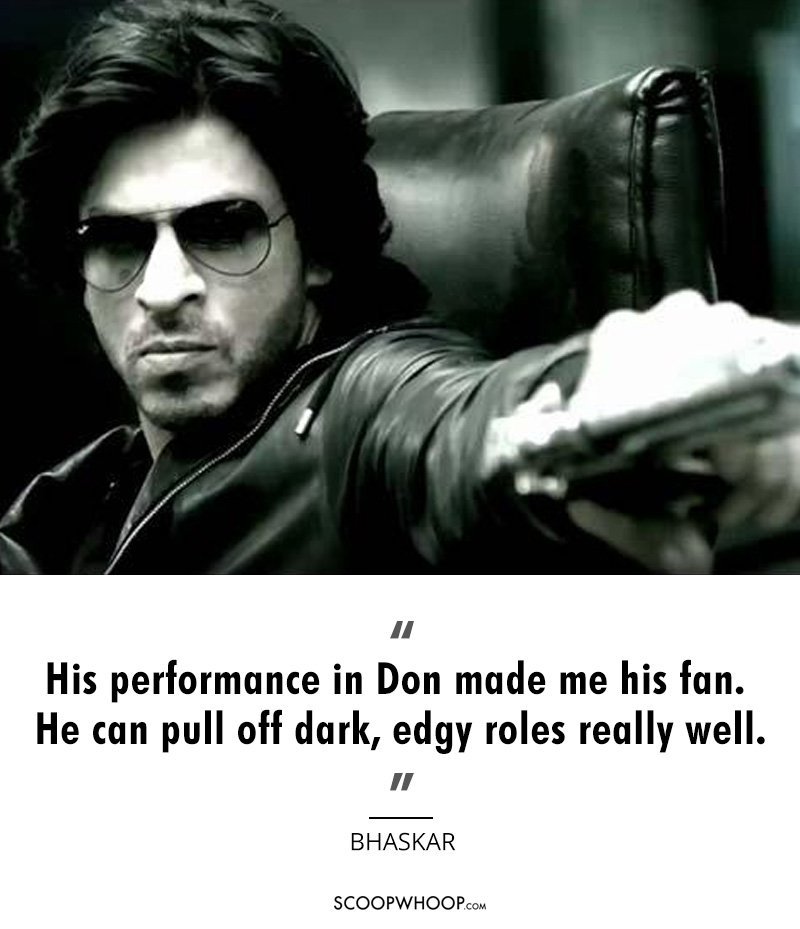 13. Seems like I have been an SRK fan since I was born. But the first clear memory I have is of Dilwale Dulhania Le Jayenge. The moment he plays that mandolin, or when he is teasing Kajol, each screen with him romancing Kajol made me love him more and more. He truly is the King of Romance.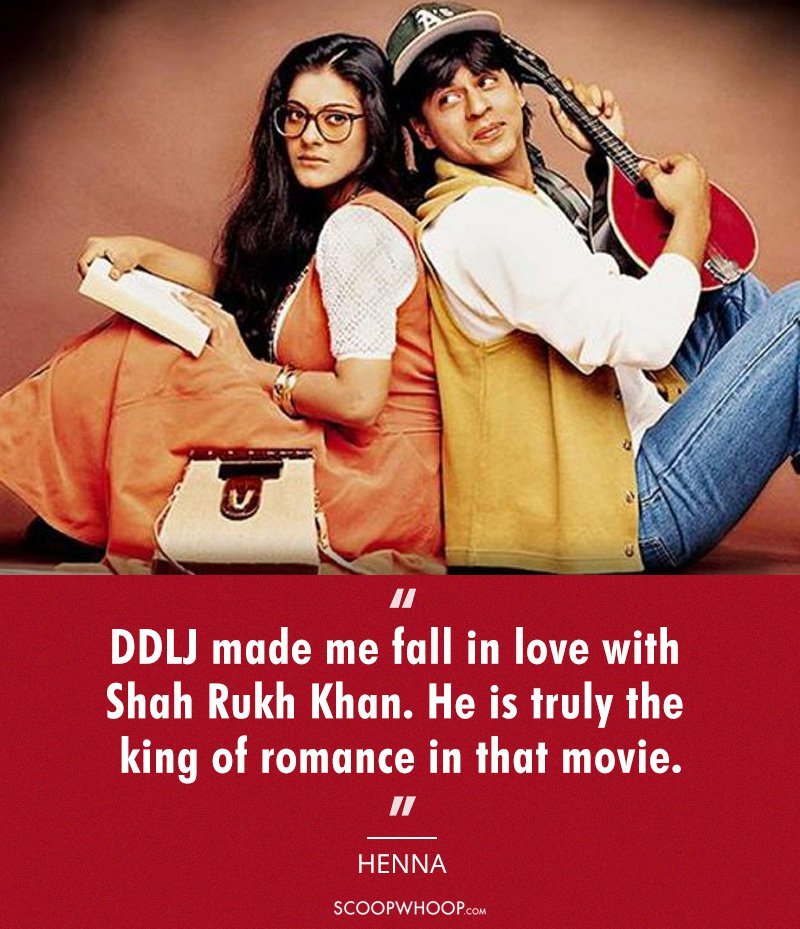 14. I am an SRK fan because of how he can influence an entire generation. He is the reason we bought friendship bands and boys started to play violin with sweater sleeves hanging on their shoulders. He made everyone named 'Rahul' important and heroic. He was the one who inspired people and made them believe that a man with dimples, and humble beginnings can become a superstar. Off-screen also he is witty, friendly and an amazing human being.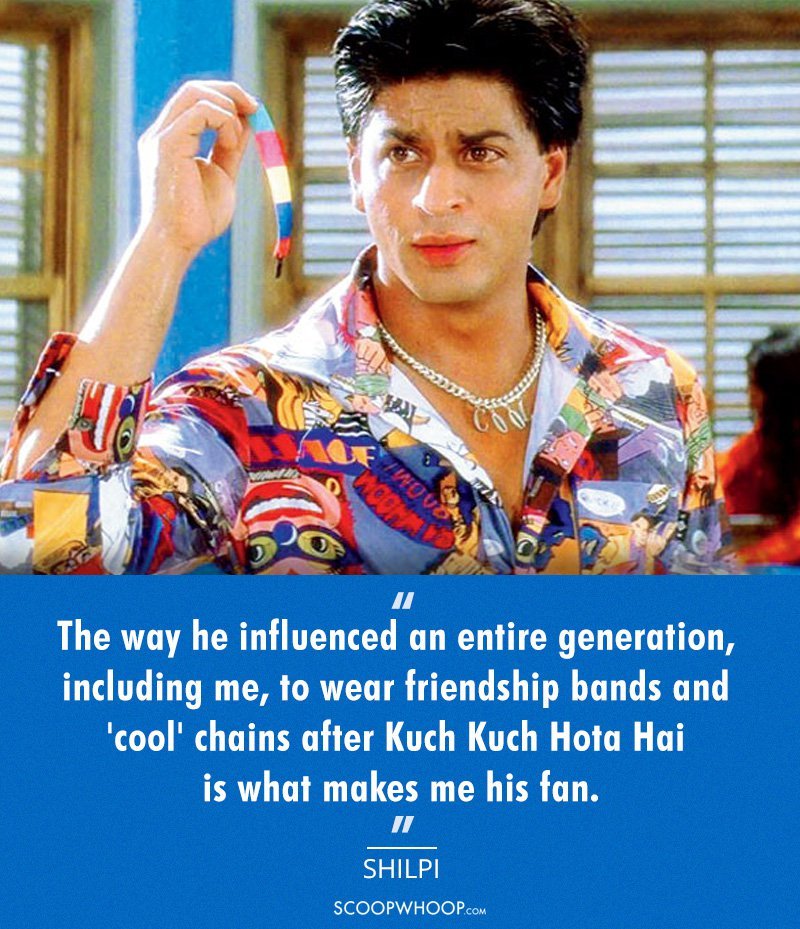 15. When he says, "Har team mei ek hi gunda ho sakta hai, aur is team ka gunda mai hun" in Chak De! India. I think SRK looks amazing when he plays dark roles.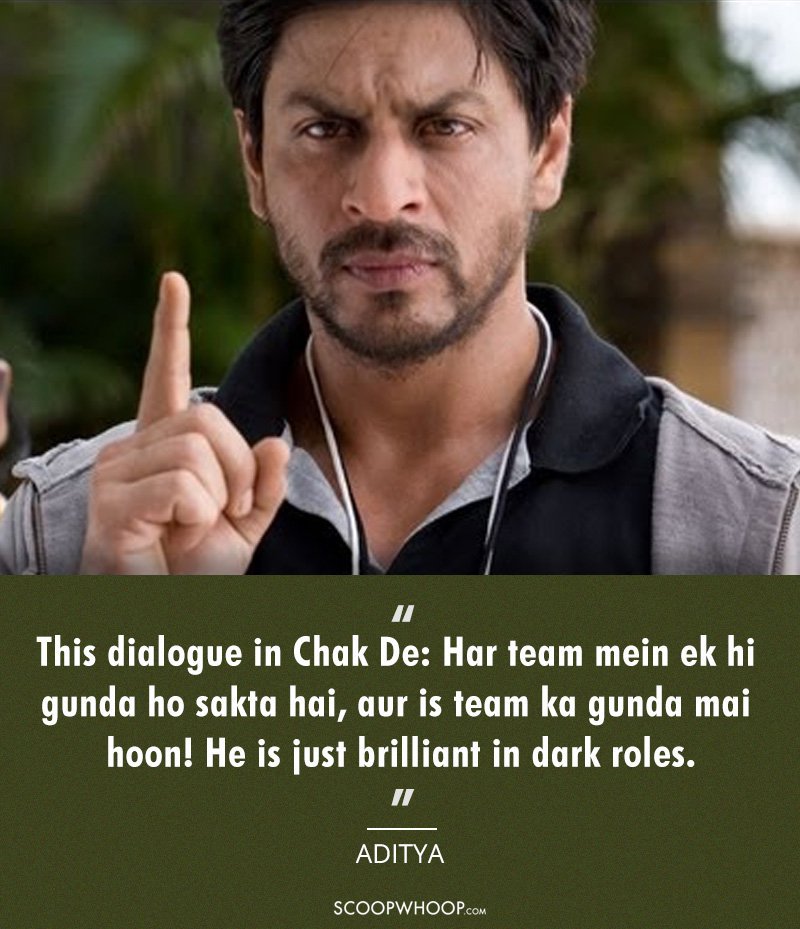 16. I was 8 and I had just started to play basketball in school. That was when I saw Kuch Kuch Hota Hai for the first time and I saw SRK-Kajol play basketball and instantly fell in love with him. I wanted that kind of 'friend' in my life, someone who would play basketball with me and be my 'buddy'.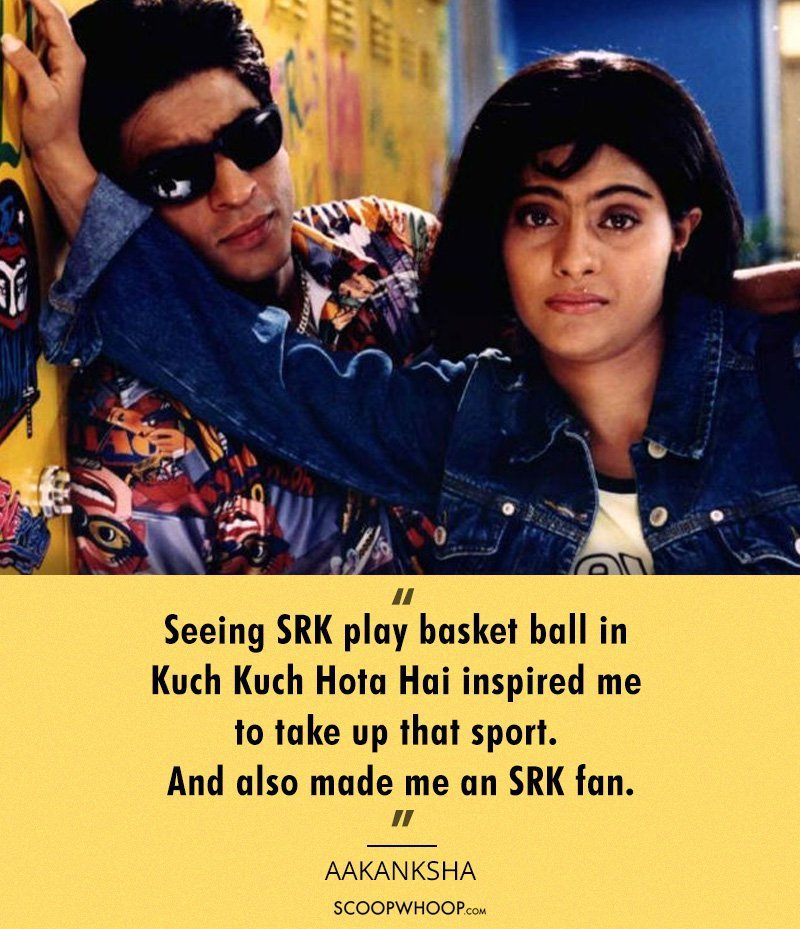 17. That moment in Kuch Kuch Hota Hai where he plays air piano and asks Kajol to dance. The rain, the chemistry between them, the entire setting! That was the moment I fell in love with SRK.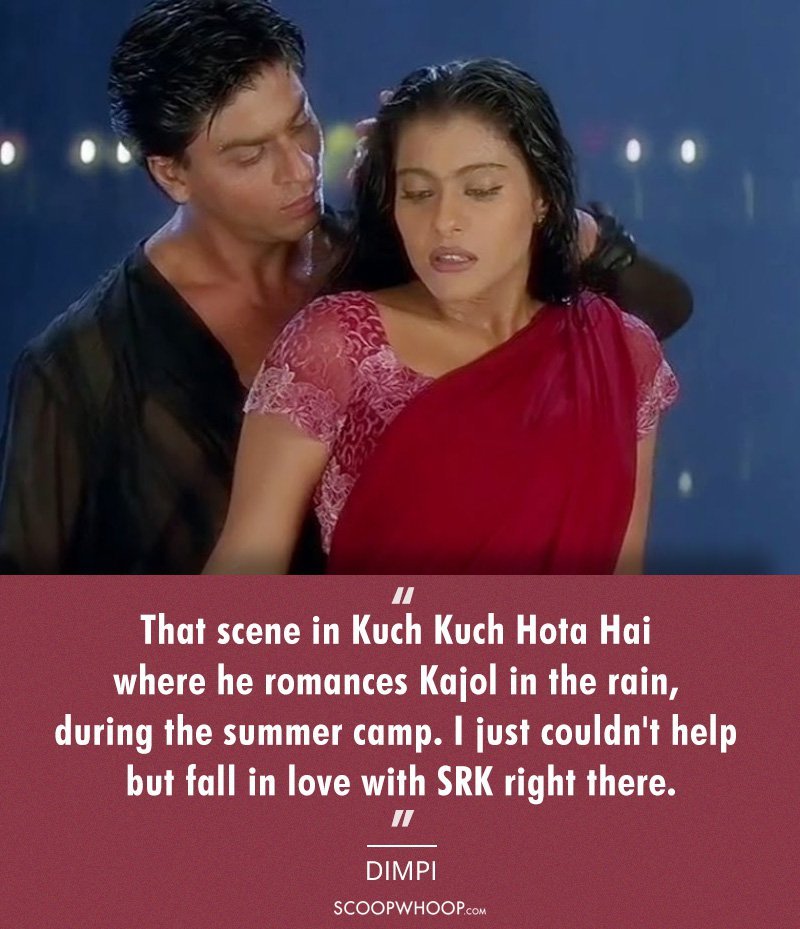 18. That moment in DDLJ when 'Mere khwabon mei jo aaye' starts and Shahrukh is on a bike and this girl asks for a lift and he stops. He turns around in those black round sunglasses and smiles. I died.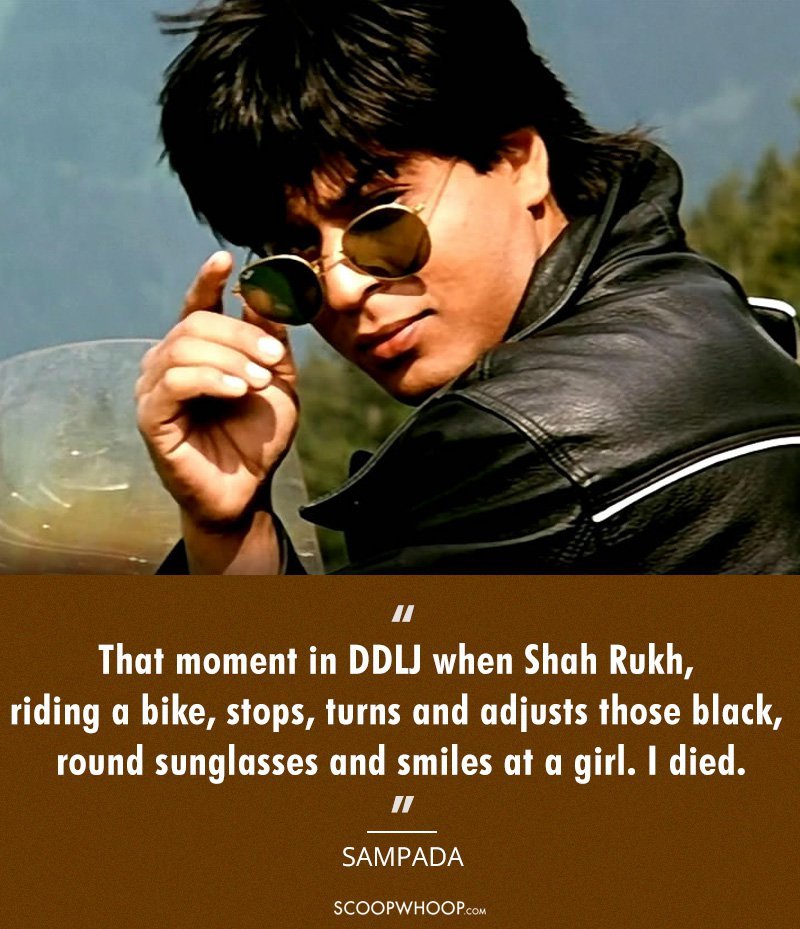 19. That phase when I kept my faith in him even after the release of Ra.One, Chennai Express and Happy New Year!
Design Credits : Rohit Jakhu
And now that you've read what his fans have to say, how about you watch the trailer of the movie of SRK's biggest FAN: