For some of us, it's very difficult to express our deepest feelings. There's hesitation, a constant fear of judgement and even apprehension of coming across as a weak individual. And somewhere in this rut, we find ourselves alone and frustrated.
Dear Zindagi flawlessly worded those tucked away feelings that never find place in our conversations. 
In fact, in the movie, SRK gave us a way out of this circle in one simple line: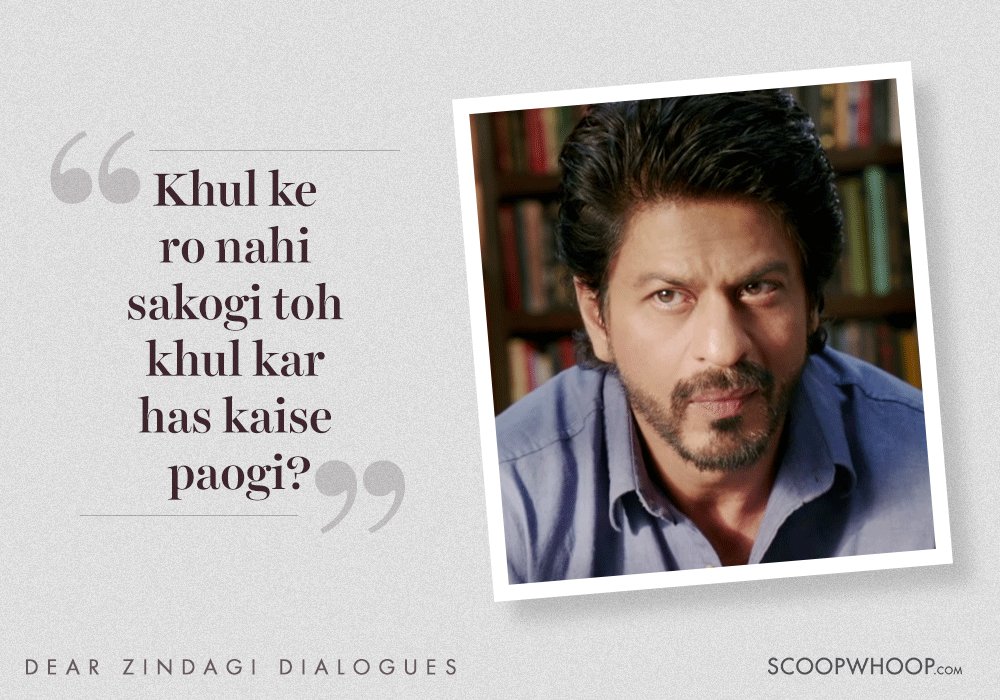 While in his latest avatar, he's playing mentor to Alia, fact is, we've seen SRK do the same in a lot of other films too. And each time, he nails the part! 
Whether it's Raj from DDLJ or Kabir from Chak De! India, SRK has given us characters who sealed the deal with that single-most important monologue. 
He stares into the camera with complete shiddat and romances it only like he can. The King of Bollywood is the King of Monologues too. And each of those monologues are worth a thousand memories!
Here are 8 of his most memorable monologues that'll give you all the feels:
1.  Chak De! India: Sattar Minute 
Who says that SRK can only do romance? He proved us all wrong, the minute he stepped into the shoes of Kabir Khan! 
We loved him as the tough coach who gave away his emotional yet ambitious side in the timeless "sattar minute" monologue.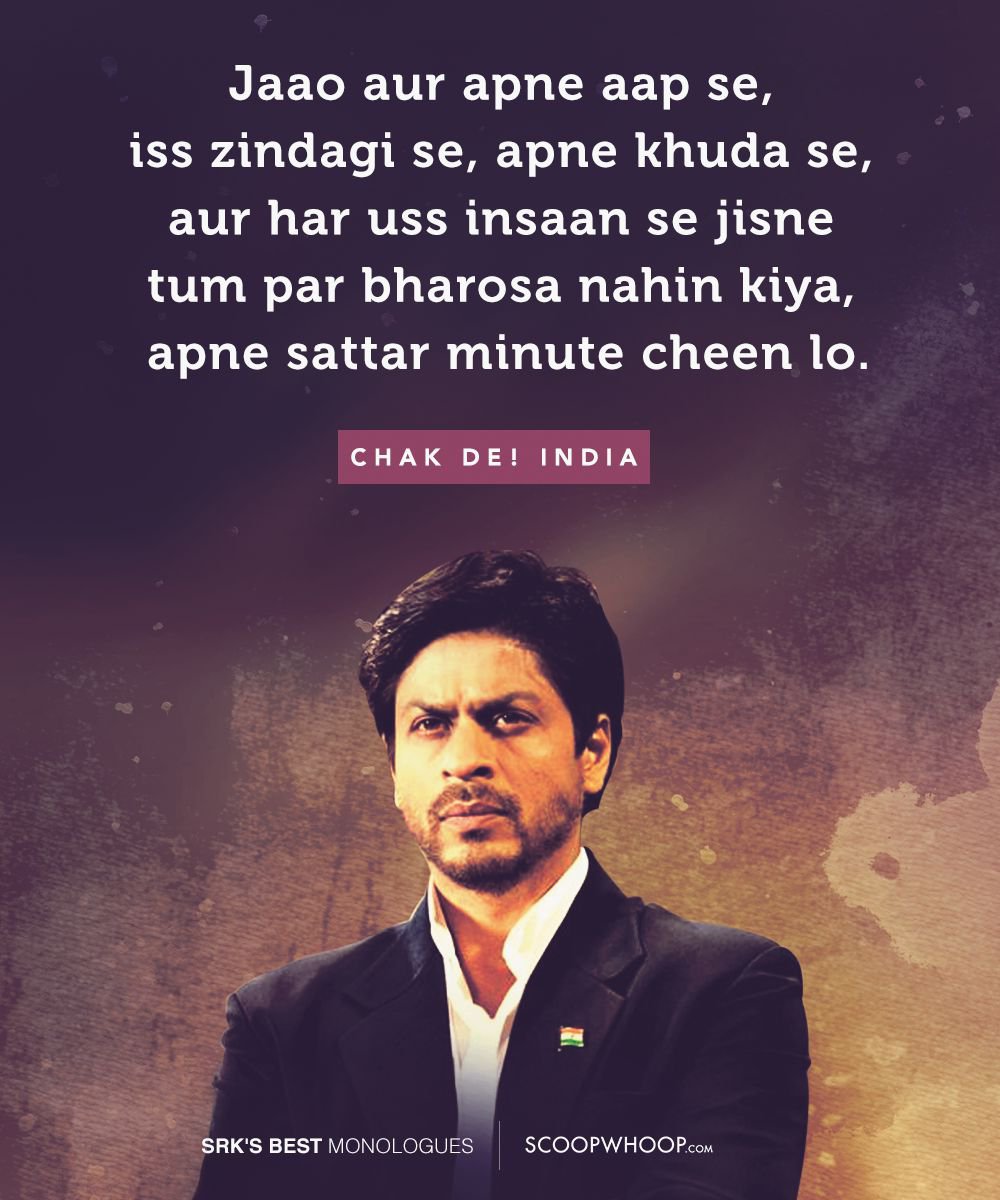 Watch the scene here
2. Dil To Pagal Hai: Keh Do Ki Tum
His search for Maya ends at Pooja and all you want is for Rahul to finally get her. 
The intensity of this monologue still gives us goosebumps. And who can forget the iconic 'aur paas, aur paas' scene from the film.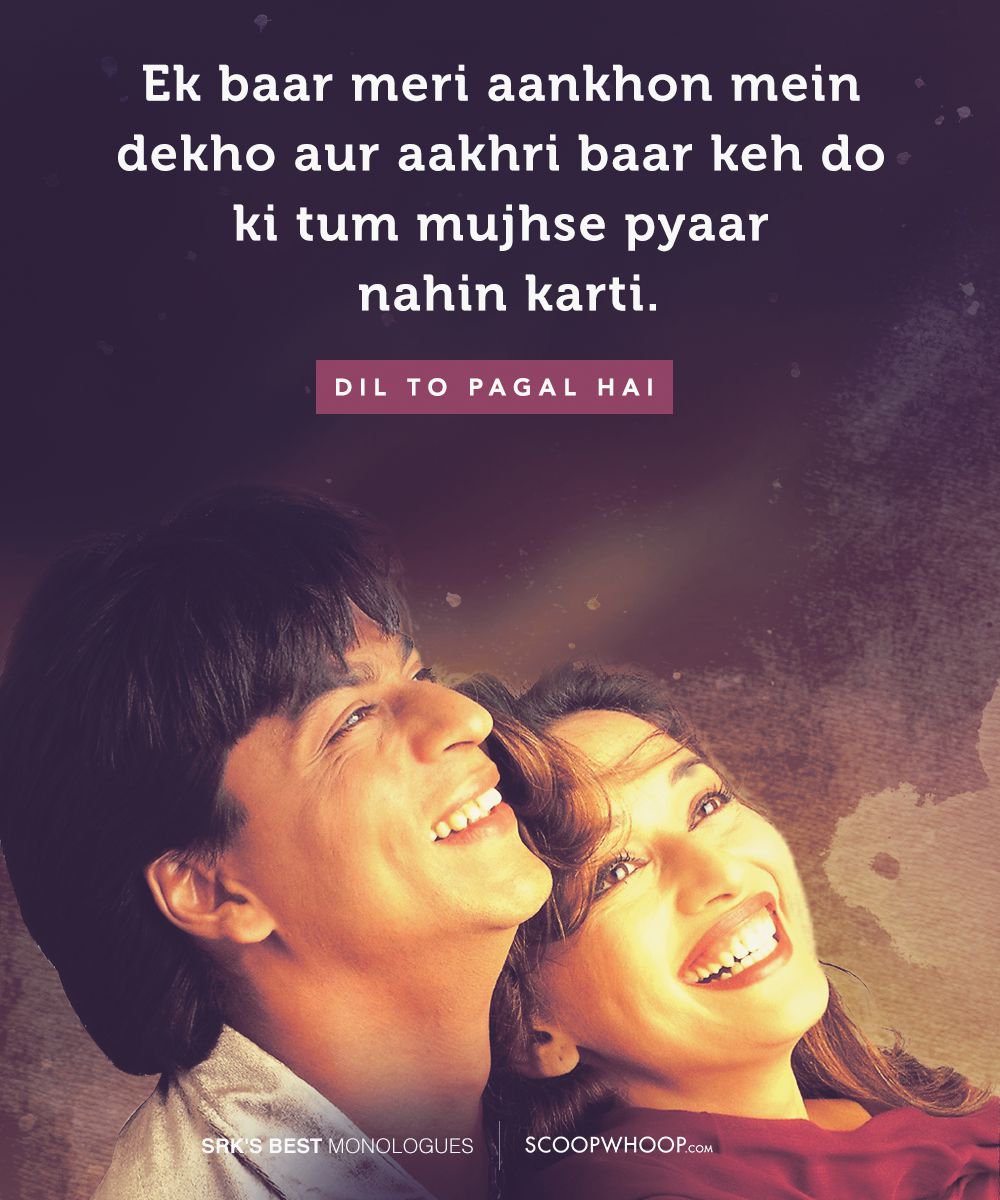 Watch the scene here
3. Kal Ho Naa Ho: Scene at the station
Rohit's secret diary finally sees the light of the day when Aman reads it out to Naina, in the middle of a station. 
He says everything that he always wanted to, while all of us in the theatre were struggling to fight back our tears.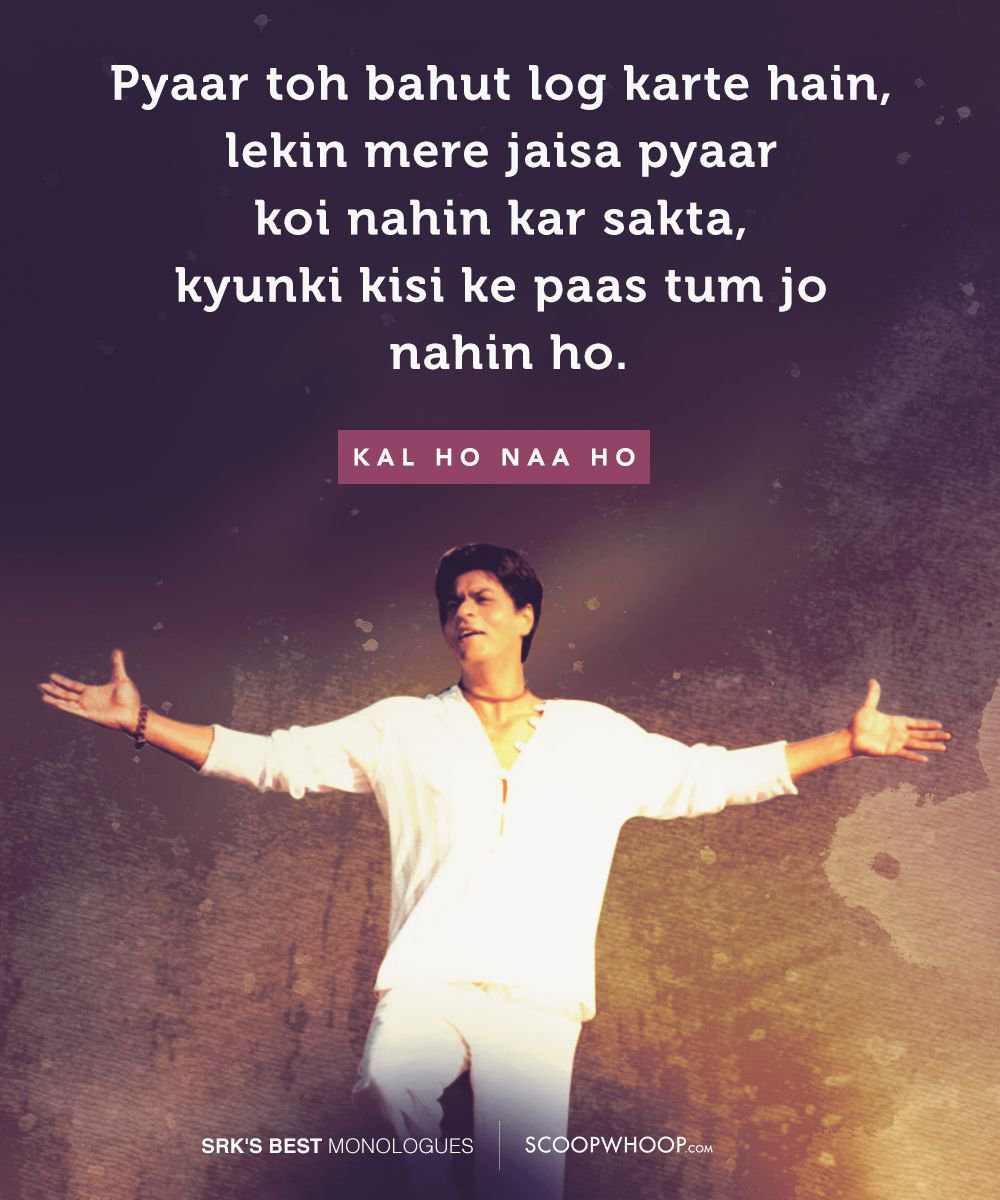 Watch the scene here 
4. Om Shanti Om: Award acceptance speech
Shah Rukh practices his award acceptance speech and gives us just the right kind of feels. 
He made kainaat and shiddat everyday words and we can't thank his enough.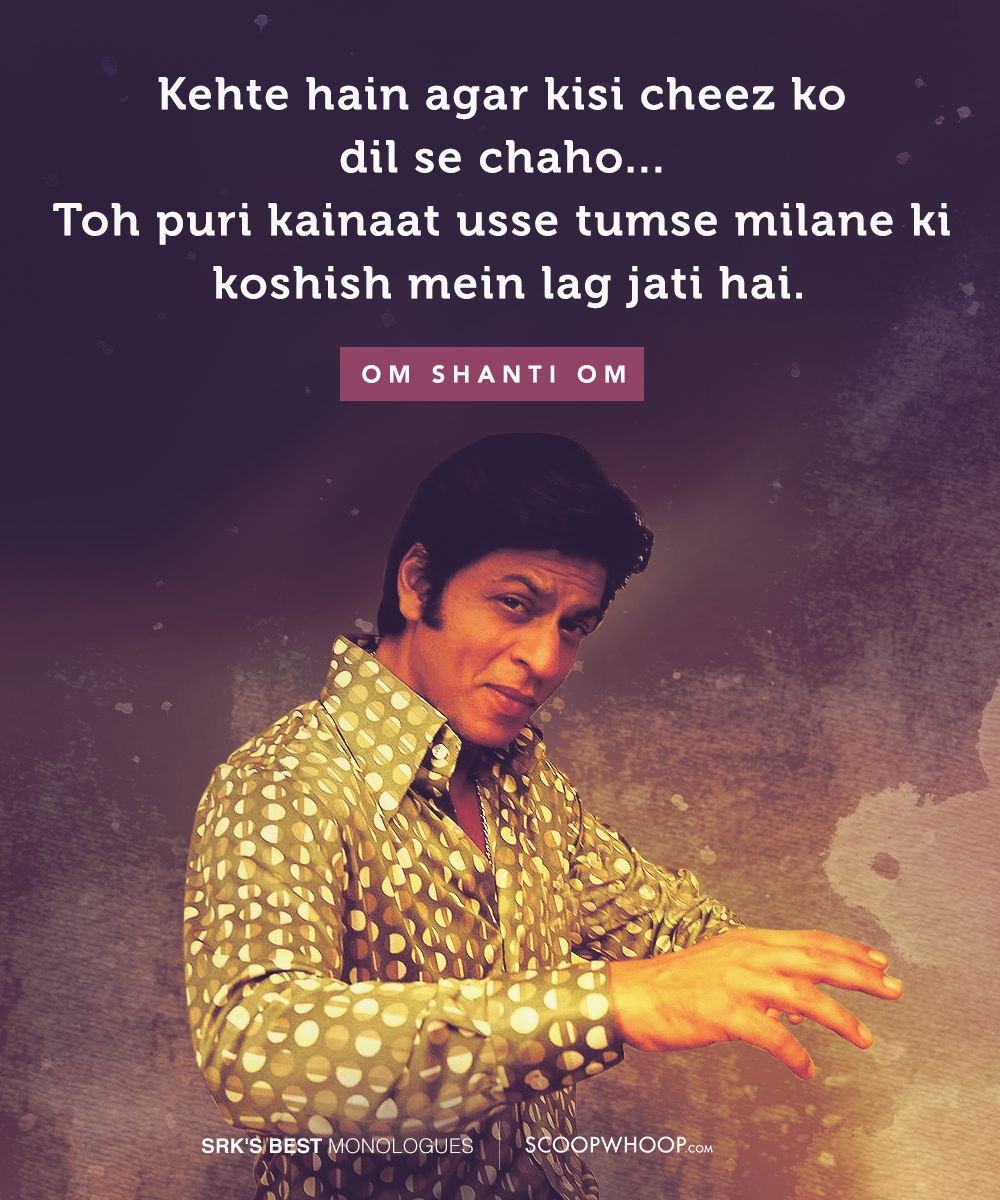 Watch the scene here
Raj became every girl's dream man. His dreamy eyes and intense words still manage to get us weak in the knees. 
With major #BoyfriendGoals and this monologue, SRK gave us priceless moments that still manage to give us the chills.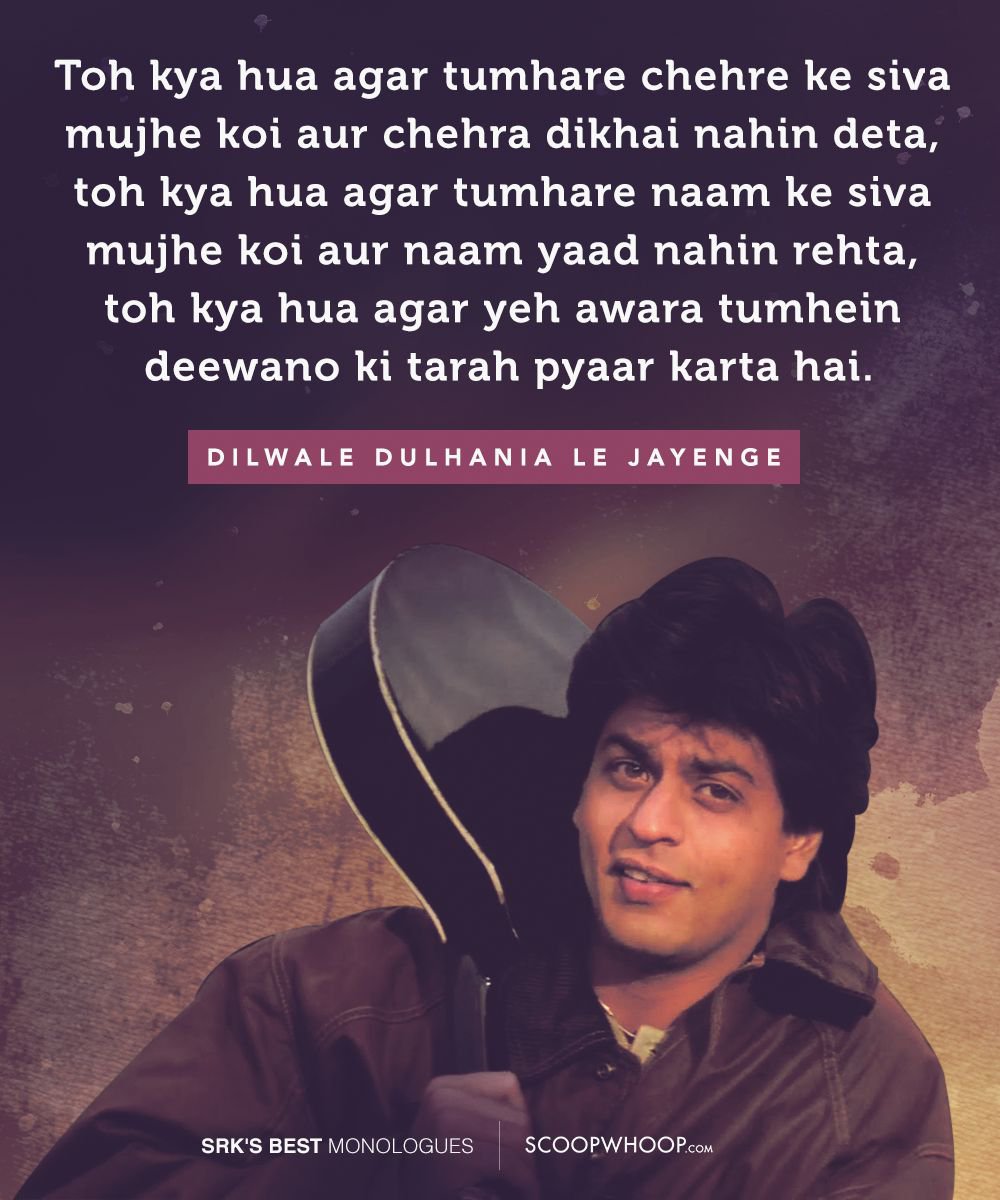 Watch the scene here
Discussion at the village school's inauguration
One of his most acclaimed performances, with this one, Shah Rukh broke out of his romantic hero typecast and how! 
Swades addressed and solved every national issue that we find ourselves cribbing about. This monologue started a conversation and the film gave us hope, if not anything else.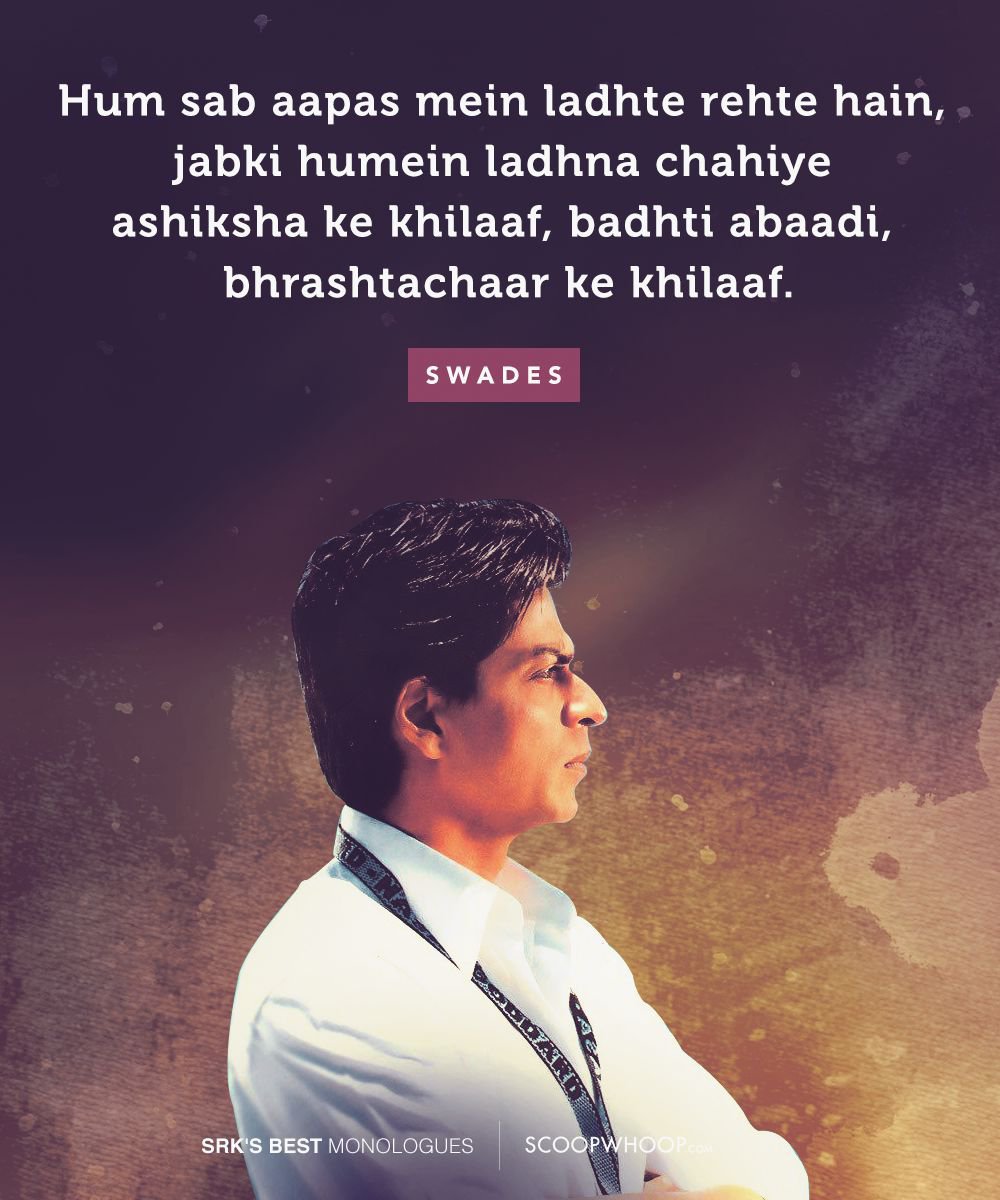 Watch the scene here
7.  Kabhi Khushi Kabhie Gham: The iconic bench scene
Apart from the sassy Poo, the other great takeaway from this film was the scene where Rahul is telling Rohan to be strong, while sitting on that iconic white bench.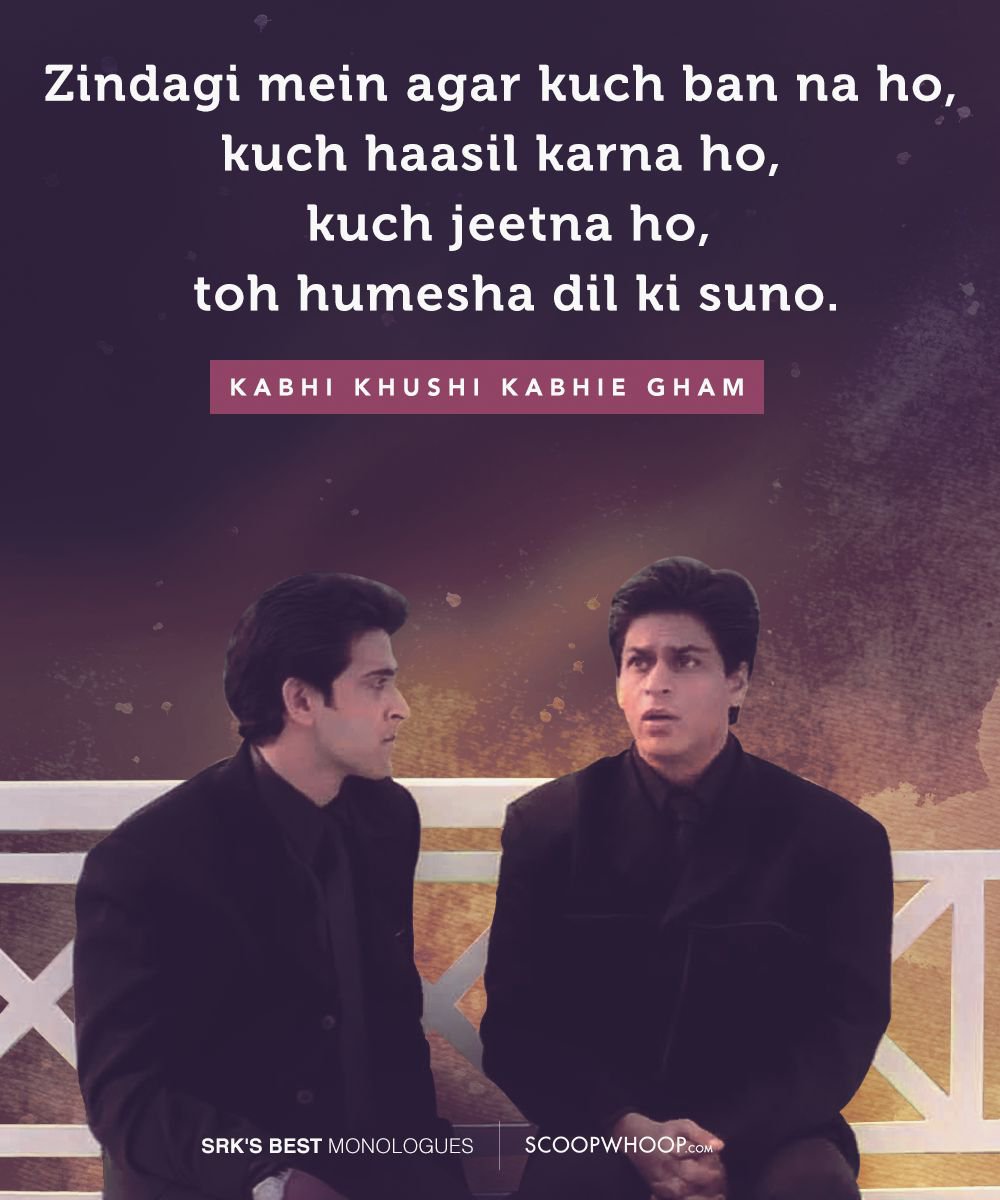 Watch the scene here
The courtroom speech
A story of lovers separated by boundaries, religion and the system, Yash Chopra managed to fuse romance and patriotism in a way that was unheard of. A prisoner in Pakistan, SRK finally gets out after decades and gives us one of his most memorable monologues. 
From his love for the country to his love for Zaara, this monologue leaves us with tears every single time.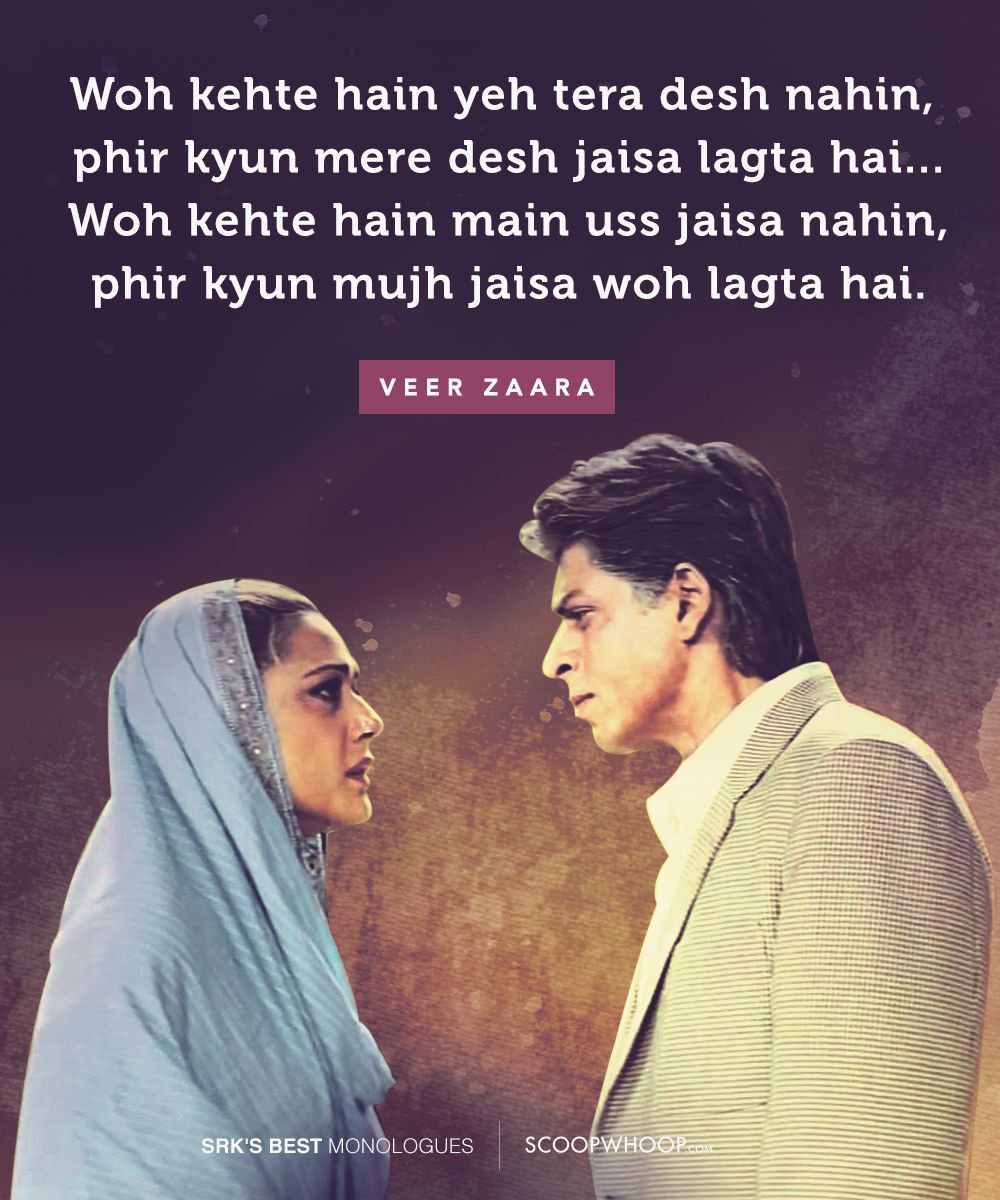 Watch the scene here
His conviction as an actor has made us believe in each of these characters. His charm has made us fall head over heels in love with him. And his monologues have given us the strength to face, if not speak, about our deepest feelings.
He's truly the King!
Soulful designs by Suvojyoti Ray