Shahrukh Khan's meteoric rise as the biggest movie star on the planet is well documented. Closer home, he has borne the brunt of a being a 'sell-out', a 'commercial' actor or even a 'marketing guru'.
But what about his origins? Did you know that this film industry's favourite 'son' or 'lover' actually made a mark with a spate negative characters. Be it Baazigar, Anjaam, Darr or Ram Jaane. That he invested in recreating a historical figure and lost out on a fortune?
Here are 13 reasons why Shahrukh Khan will continue to make bullshit movies for the rest of his life. And he has every right to.
1. Raju Ban Gaya Gentleman v/s DDLJ
DDLJ is NOT a bad film.
But it started the whole phenomenon of Rahul/Raj and Khan's lover-boy image. He did a great job (and might I say even better?) as the humble small-town guy trying to make it big in Mumbai.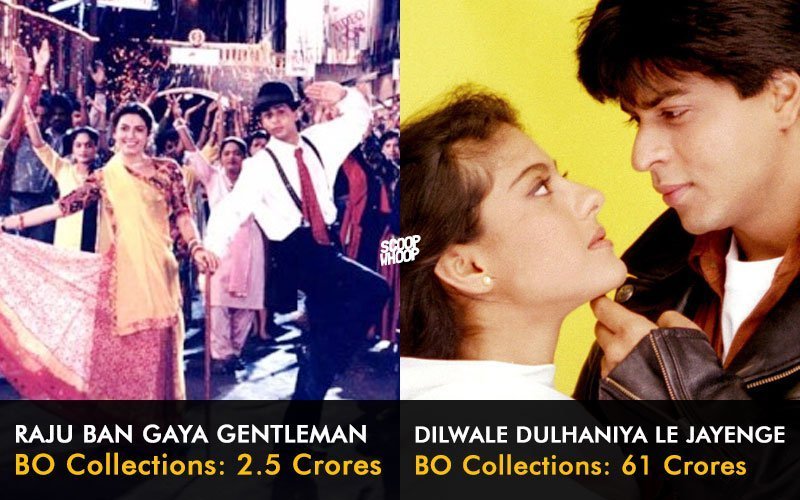 2. Maya Memsaab v/s Dil Toh Pagal Hai
Ketan Mehta's adaptation of Madame Bovary stars Deepa Sahi in the title role while Khan plays her much younger lover. The movie is only known for Sahi's topless scene – I doubt how many know about the thriller element of the story. Dil Toh Pagal Hai – on the other hand was a safe, candyfloss love story where Yash Chopra tried to recreate the magic of DDLJ.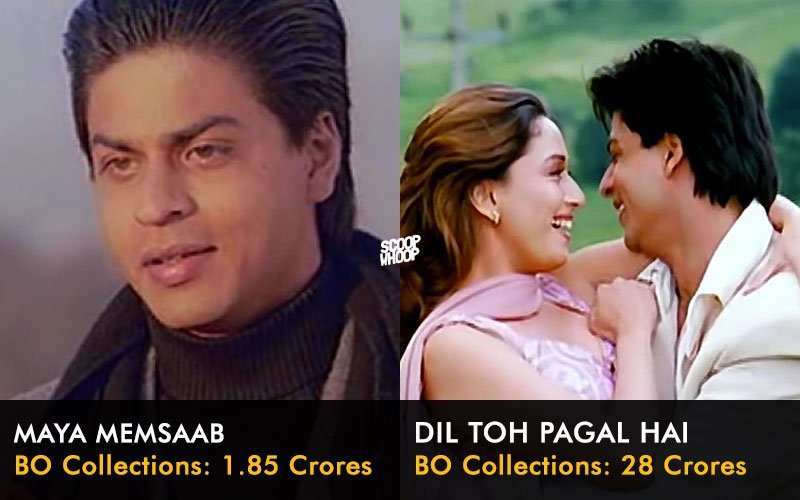 3. Kabhi Haan Kabhi Naa v/s Kuch Kuch Hota Hai
Khan's own favorite role was that of Sunil in Kabhi Haan Kabhi Naa, who broke all the stereotypes of a 'hero' in the mid-90s. In comparison, Karan Johar announced his arrival with a bang going one-up on DDLJ with the pretty clothes, emotional scenes and hyperbole drama.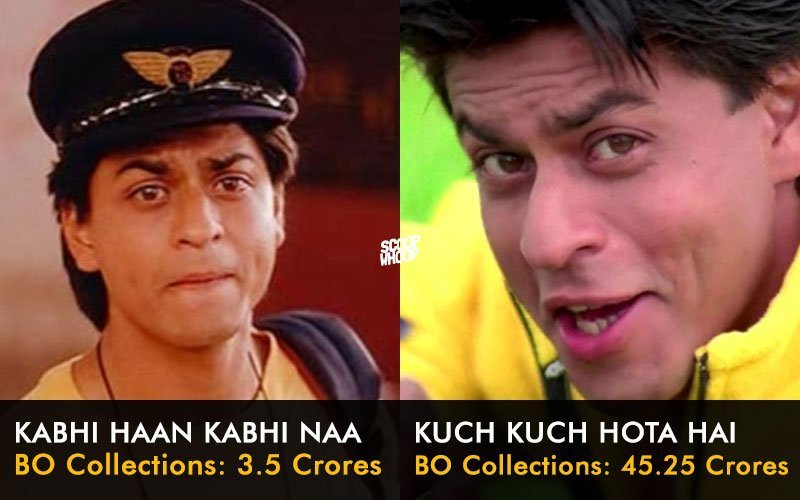 4. Oh Darling! Yeh Hai India v/s Mohabbatein
This little known satire by Ketan Mehta may not have been the most polished film, but it was sure an inventive one. On the other hand Mohabbatein was just another 'Yashraj' rehash featuring the powerhouse of Amitabh Bachchan and Shahrukh Khan taking on each other.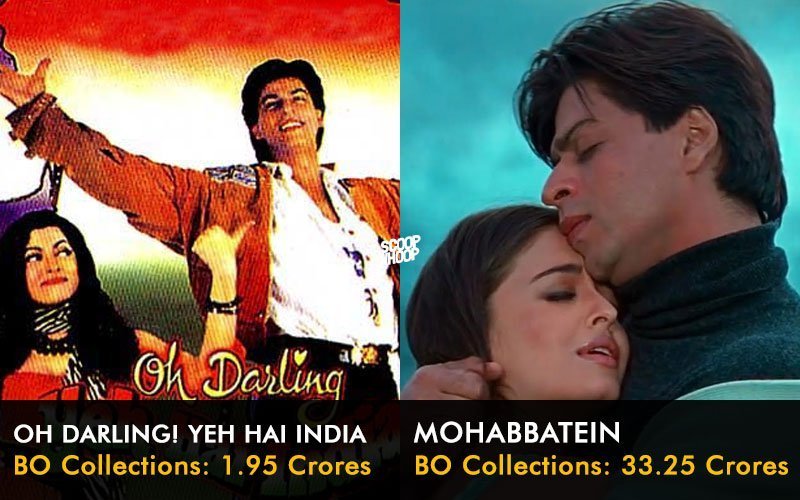 5. Dil Se v/s Kabhi Khushi Kabhi Gham
One particular scene in Dil Se has Khan speaking to Koirala on the office corridor, while there's continuous opening and shutting of the doors and people passing by which causes the conversation to break off. Multiple times. That one scene shows Khan's acting chops. Instead the audience were more gracious towards his un-performance as Rahul in K3G. Familiar rehash, don't ask.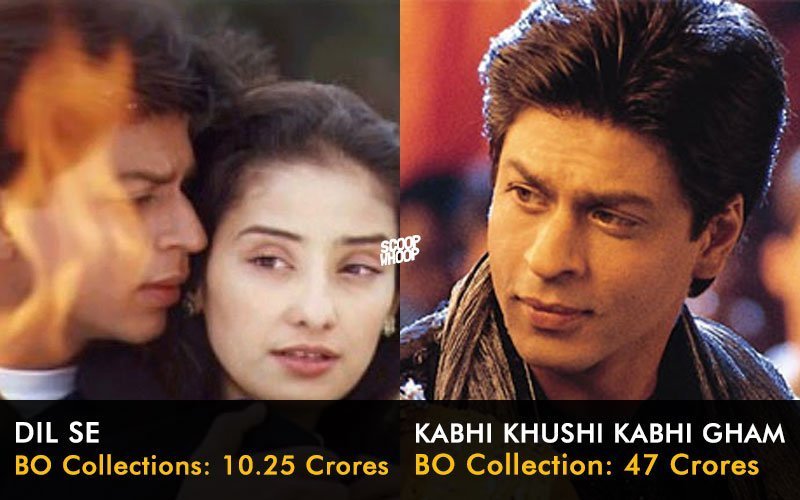 6. Josh v/s Rab Ne Banaa Di Jodi
Mansoor Khan's Josh was a cool concept about 2 gangs beating the shyt out of each other in the beautiful locales of Goa. Instead people showed more love to Khan's nth rendition to Punjab with his overly Punjabi-accented Surinder.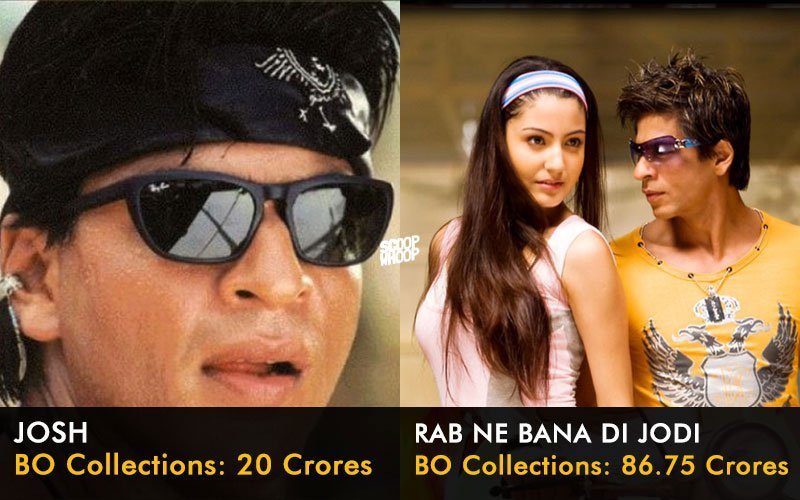 7. Hey Ram v/s Veer-Zaara
Khan plays a integral supporting role in this period-opus starring Kamal Hassan about Hindu fundamentalists and their hate for Gandhi around the time of the partition. Veer Zaara had Khan play to his patented lover-boy image.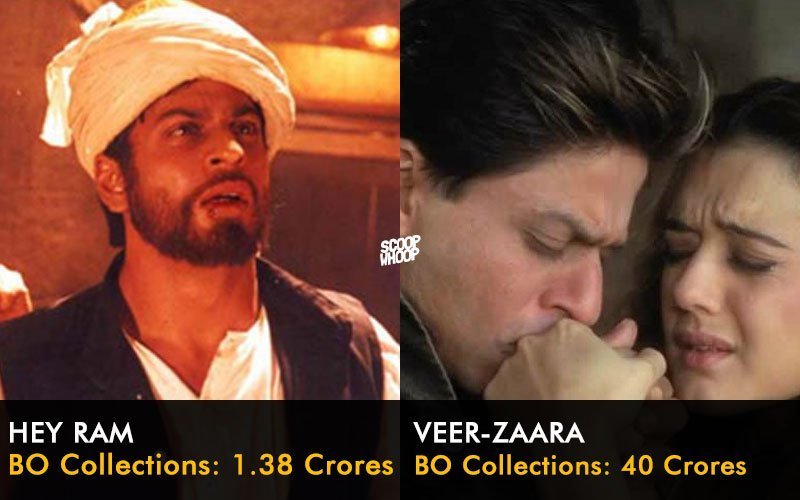 8. Asoka v/s Main Hoon Na
Shahrukh tried his hand at recreating a historical figure fused with fiction. Worse fact? He himself produced it. The movie wasn't great, but still a departure from his patented roles. In comparison a smaller-budgeted Main Hoon Na described by the director as a 'formula film' worked wonders for Khan making huge profits.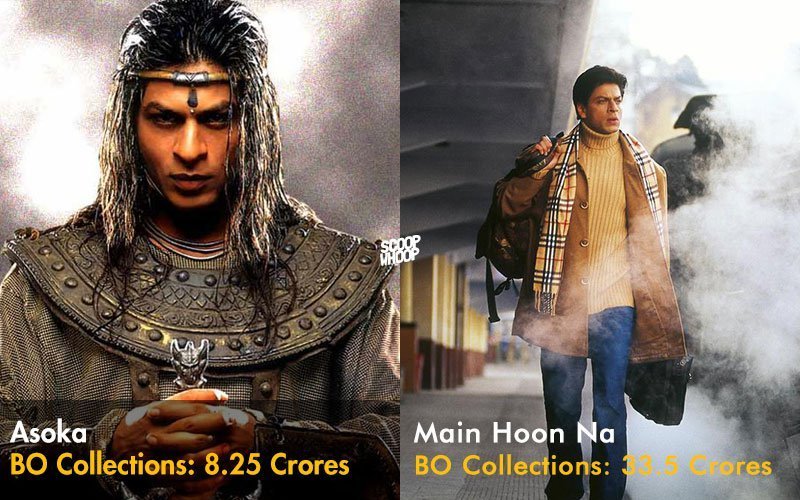 9. Swades v/s Om Shanti Om
Khan's best performance till date as NASA scientist Mohan Bhargava – was beautifully topical about the country, the grass-root level, patriotism. However, the film didn't do well in contrast to its big budget. Om Shanti Om blew the box office away with Shahrukh six-pack abs alone.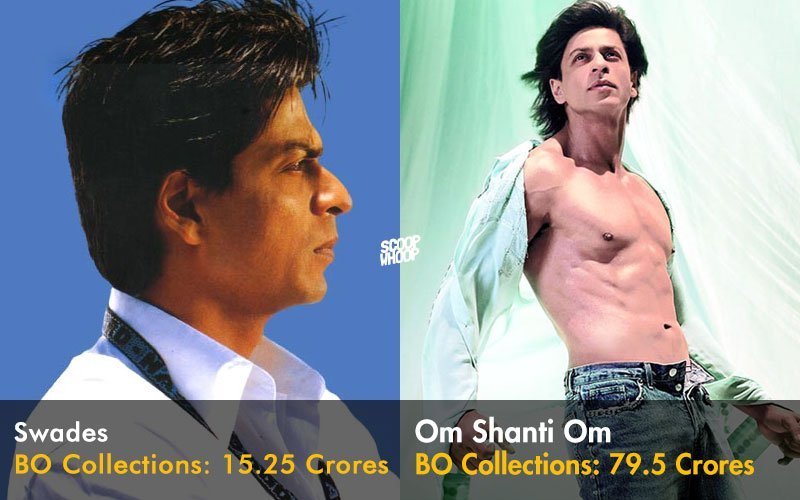 10. Paheli v/s Ra.One
Shahrukh tried to make this fable-like movie where a woman in the hinterlands of Rajasthan fell in love with a ghost. The film is directed by yesteryear actor Amol Palekar and did not do well. In comparison, his superhero film Ra.One did exceedingly well even for its pricey budget.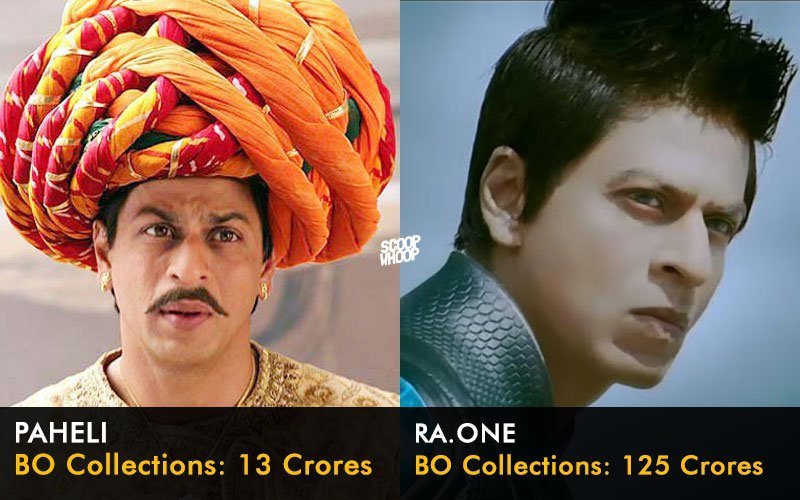 11. Kabhi Alvida Na Kehna v/s Chennai Express
Kabhi Alvida Na Kehna is one of those few films by Khan, which caters to the grown-ups. He plays a middle-aged, bitter, unhappy husband. His character is despicable and he plays it with brilliance. In comparison, his 'masala movie' – Chennai Express goes all the way laughing to the bank stirring up no storms.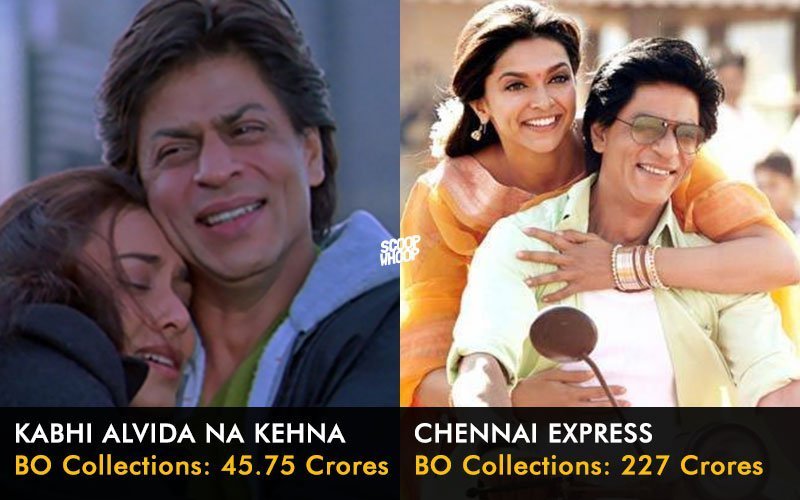 12. Chalte Chalte v/s Jab Tak Hai Jaan
Chalte Chalte was a small film with a big heart, trying to delve into the 'happy ever after', after the hero and heroine walk into the sunset. It does a decent job in capturing the domesticity of everyday life. It's blonde sibling was Yash Chopra's last directorial venture with an IQ of a 11-year old. In Jab Tak Hai Jaan, Shahrukh has an accident in the same way, twice. You read that right, twice. No guesses who won.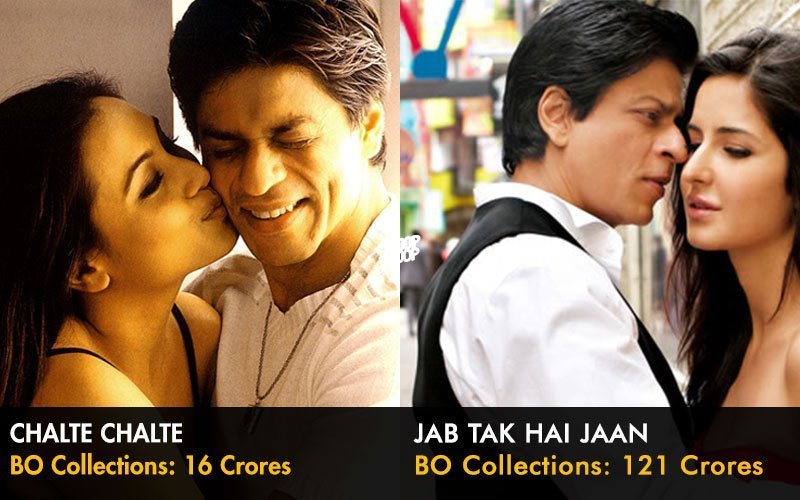 13. My Name Is Khan v/s Happy New Year
Karan Johar along with Shahrukh Khan tried to step away from their candy-floss genre and capture post-9/11 America and the climate for Muslims. The movie was daft and sincere at the same time. Happy New Year on the other hand was a mockery of the heist genre as it set out with the objective to be a 'family entertainer'.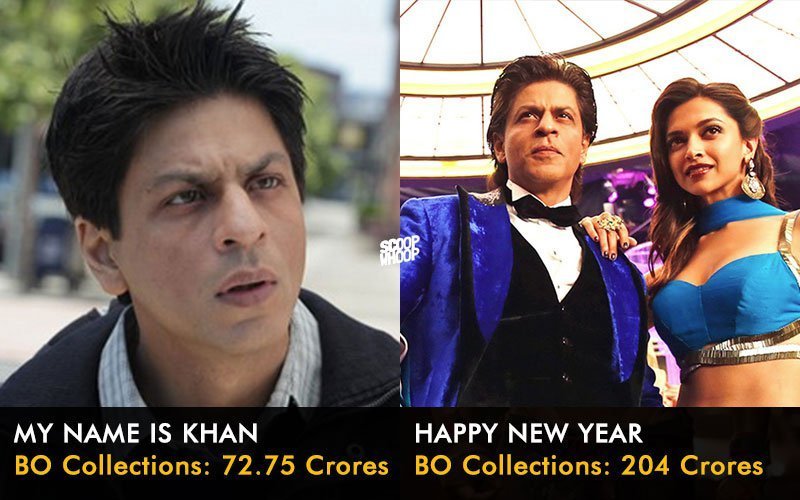 So when SRK comes back with many more god-awful movies in the coming years, you know why he does it. And who is to blame. Ciao!