Some people are just too stupid for Twitter. They spur vitriol and pointless debate. Time and again, celebrities have been known to indulge in the world of social media, to make their voice heard loud and clear. It seems like they're there just for the publicity.Here is a list of Indian celebrities that have gained popularity, sheerly out of being the laughing stock on Twitter.
1. Kamaal R Khan
A self proclaimed film critic, who is not only known for his poorly worded tweets, but is weirdly offensive and obnoxious just for the sake of "trending".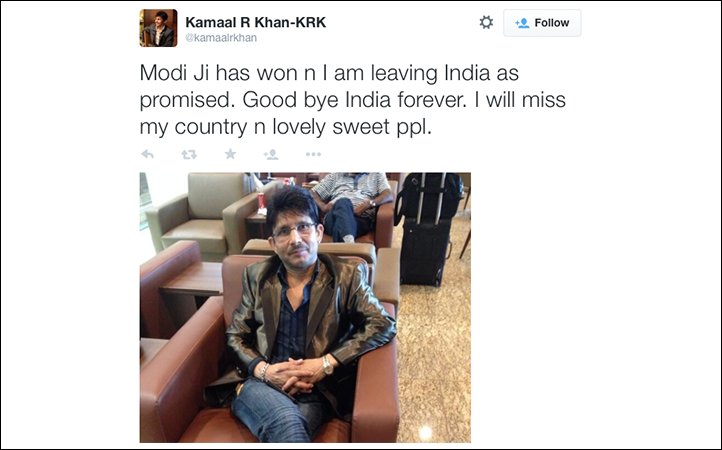 2. Farah Khan Ali
This one's hard to ignore. Farah Khan Ali loves to come across as someone who always has an opinion about everything. In the recent wake of the Salman Khan "hit & run case", she went all out to portray her ignorance and lack of application, whilst coming out in support for Khan.

3. Abhijeet
Sometimes it's wise to keep your opinions to yourself. Being one of Bollywood's well known singers, Abhijeet decided to express his thoughts on the famous "hit & run" case, but not without coming across as a total dumbfuck.

4. Rishi Kapoor
He decided to go off twitter, just to see how his fans would react. I rest my case.

5. Ram Gopal Verma
These days, RGV prefers to make headlines with his outrageously uncalled for tweets. I wonder if he's losing his director mojo, or genuinely feels like being a dick (his words, not mine).

6. Rakhi Sawant
If there is one person who glorifies the essence of being mocked with pride, then Rakhi Sawant would take the cake with the cherry on top of it. She's known for her non-apologetic naivety. As they say, bullshitting is an art in itself. Kudos Rakhi.

If there is anything that you'd like to add to this list, feel free to tweet at me – @zoran24x7 .