While Salman Khan is busy promoting his upcoming film Race 3 on social media, Sylvestor Stallone, has been quite active wishing Bhai good luck for his new project.
Last week, the Rocky and Rambo actor had upset Salman Khan's fans on social media by accidentally sharing Bobby Deol's poster from Race 3.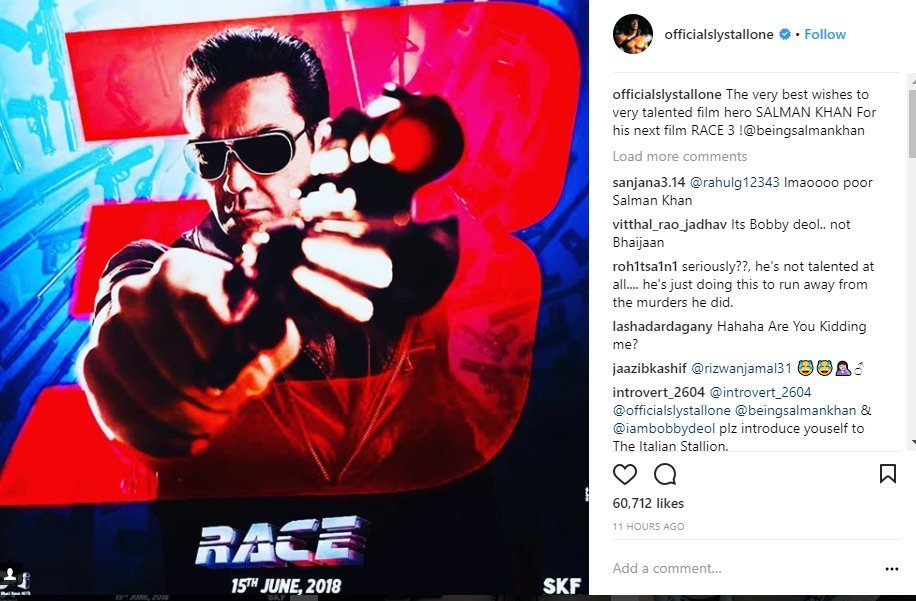 However, in a new Instagram post, the Hollywood veteran has tried to rectify his mistake. He wrote, "OK, EVERYBODY let's try this AGAIN , good luck to the very talented SALMAN KHAN on his upcoming new film RACE 3 ! ( if this is wrong I give up ! ) LOL"
Fans have been speculating about Sylvestor Stallone's connection with Race 3 after Salman Khan shared a clip of the Rocky star, promoting his flick Creed II.
Directed by Remo D'Souza, Race 3 stars Salman Khan, Anil Kapoor, Bobby Deol, Jacqueline Fernandez and is scheduled to release on June 15, 2018.