For most, the title of this obituary will be an oxymoron. How can masculinity be benign, especially of the Bollywood variety. Our men are supposed to be like the summer sun in Delhi, overwhelming and unrelenting. 
In 1970s, when Vinod Khanna broke into the scene, Bollywood was reeling under two prototypes of Indian masculinity. The flamboyant Rajesh Khanna, a man who could do nothing wrong and the reedy Amitabh Bachchan, a man who seemed capable of anything. Vinod Khanna was a foil to both of them. Actually, Khanna, who died in Mumbai today, was the designated foil of the 1970s. He was also Bollywood's most consistent and deserving sex symbol.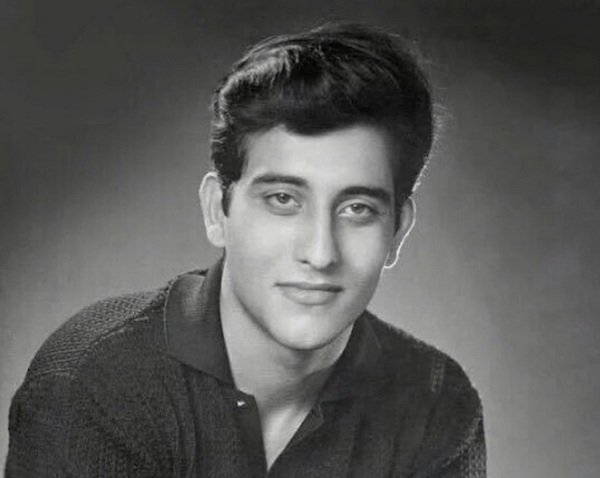 In his breakthrough film, Gulzar's Mere Apne (1971), which was a remake of Taapan Sinha's Apanjan, Shyam (Vinod Khanna) is a lout. But he is the decent lout. His half-sleeved shirt is starched to perfection, there is a wistful song in his lips. A queer mix of middle-class genteel and street-side roughness, Shyam is the project every woman, and some men, would love to undertake. In contrast, Shatrughan Sinha's Chennu, a ruffian with a heart of gold, is too toxic. He stands out too much. Not surprisingly, Sinha garnered more attention than Khanna when the film was released. His performance was singled out. Khanna had to make peace with being the equally-competent foil. 
Maybe that's why Vinod Khanna's brand of sexuality thrived through the decade. Apart from being an insanely good-looking man with a commanding screen presence, Khanna had the magical ability to immerse himself into his role without any pomp and show. In Gulzar's Achanak (1973), he plays an army officer, Major Ranjeet, who realises that his wife is cheating on him with his best friend. The shock of this discovery, pushes him off the edge. In a fit of Othelloesque rage, he murders both the friend and the wife. The rest of the film shows him coming to terms with the consequences of this act. The film is inspired by the real-life sensational 1958 murder case KM Nanavati vs State of Maharashtra, which also inspired the film that won Akshay Kumar his National Award, Rustom.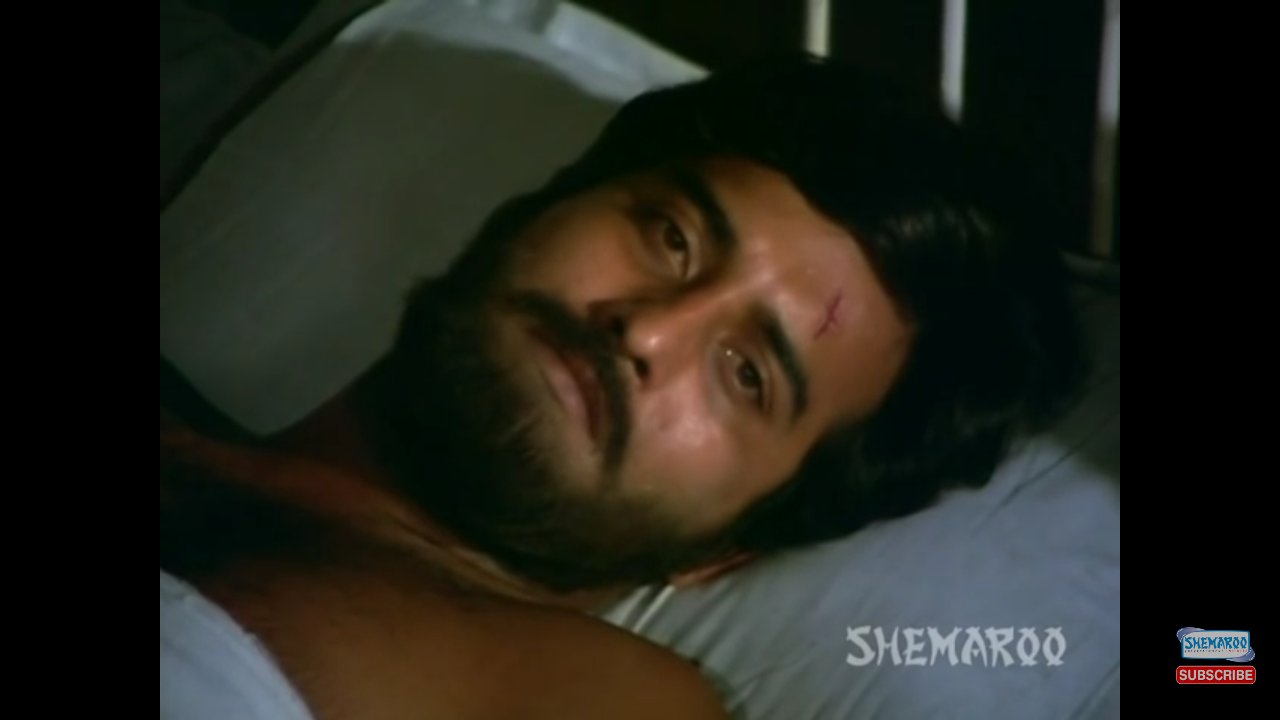 Khanna layers his performance with a great sense of empathy. His Ranjeet is an emotionally fragile protagonist who battles his demons throughout the film. Khanna, under the able guidance of Gulzar, doesn't end up making a misogynistic hero out of Ranjeet. And that says a lot about him as an actor. 
In mid 1970s, the Amitabh phase of Khanna's career began. During this phase, he mastered the art of blending into the background so that Bachchan could take the centre-stage in a series of Manmohan Desai and Praksah Mehra films. Yet, no one can fault Khanna for not doing enough in these films. Prakash Mehra's Hera Pheri is one of those rare films where Khanna has the meatier role. There are parts of the film where he is shown to be morally ambiguous, those are the most delicious part of an otherwise assembly-line production.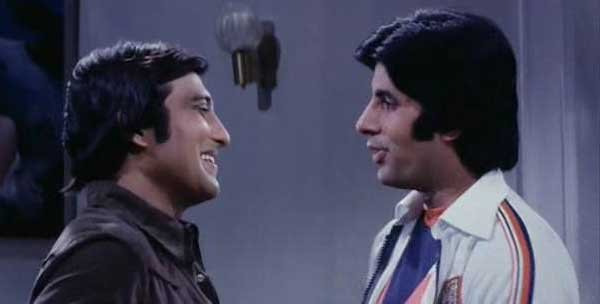 But it's probably Manmohan Desai's Amar Akbar Anthony that set the tone of this pairing. Amitabh gets to have all the fun, while Khanna cleans up after him. He is the moral compass of the enterprise. In Prakash Mehra's  Muqaddar Ka Sikanader (1978), he was struck with a role that was meant to pale in comparison to Amitabh's Sikander. Yet, Vinod Khanna's Vishal had a quiet dignity that almost seems to make Sikander ashamed of himself. How can Kaamna (Rakhee) opt for Sikander, when Vishal is such a good guy? 
In the 1980s, Khanna aged like Cabernet. The wholesomeness gave way to full-bodied smoothness. In Qurbani (1980), he played a single father who is trying to give up a life of crime. There is an overwhelming sense of tragedy about him that makes him irresistible to Shiela (Zeenat Aman), a nightclub dancer who is already in a relationship with Rajesh (Feroz Khan). It was Khanna's sexual charisma that made Shiela's conflicted emotions almost comically exhausting. Who would not want to be with this fine wine of a man? 
In the mid 1980s,  Khanna was at the peak of his career. He was being flooded with offers that gave him more to do than just be a second fiddle to Amitabh Bachchan. Finally, the Amitabh eclipse on Khanna's career was waning. But that's when Khanna decided to join Osho Rajneesh's ashram, where he spent a good five years (1982-1987). Five years in an actor's career is a long time. But when Vinod Khanna did make a comeback in 1987, he had changed. He chose primarily single-hero projects, brought a sense of gravitas to his characters that was missing in his previous roles and most importantly, he looked sexier than ever. 
In his comeback film, Insaaf, he was the undercover cop in a tumultuous relationship with a troubled woman (Dimple Kapadia). Khanna made a style statement with leather jackets and khaki pants in this film. This was to become his signature look for the second phase of his career.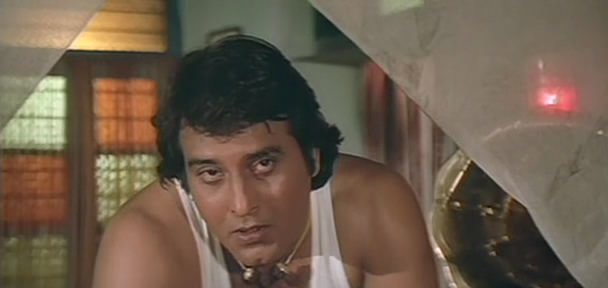 His Dayavan, the Hindi remake of Mani Ratnam's Nayakan (1987), was burdened by the obvious comparisons to the original. Nayakan was, after all, a much superior film, Kamal Haasan's performance as Velu Naicker is considered to be the best of his career. Yet, Khanna didn't get bogged down by all this. He interpreted the character of the South Indian gangster in his own way. His Velu was quirky, he had a sense of irony and had a definitive softness about him. And ever so often, between the cracks of a smirk, you could see a man with a sense of humour in Velu. 
I would like to believe that Vinod Khanna, Bollywood's original sex symbol, was somewhat like Velu in that respect. You did get a glimpse of a different man, a benign man, when he smiled.